GP and goop Staffers on Feeling Good in Your Own Skin
Written by: Jean Godfrey-June
|
Published on: September 27, 2020
|
Updated on: February 10, 2021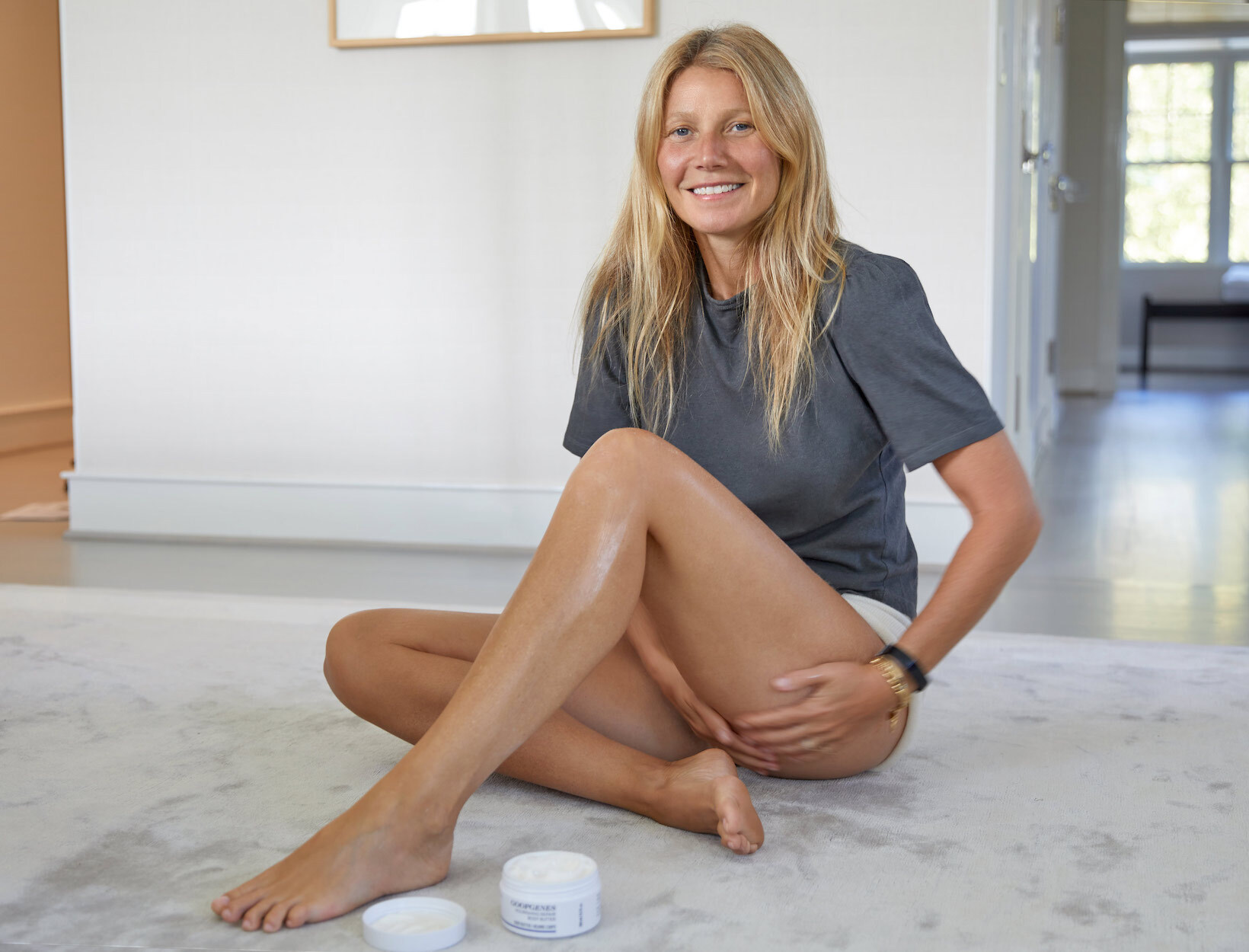 As GP and the goop team started brainstorming about a new (clean! super moisturizing! firming! luxe! heavenly!) body cream, what came up immediately was a distinct sense of optimism. What felt really transformative, for both the brainstormers and the evolution of the cream itself, was focusing on what we most appreciate about our bodies. "Loving our own bodies is powerful medicine," says GP. "It's also a pretty radical concept in our culture."
We talked about how body love might work in the context of epigenetics—the ways lifestyle can affect how our genes express themselves—and got even more excited. "That idea of really inhabiting your most beautiful self, there's so much power in that," says GP. We wanted to create something that encouraged and supported our feeling good in our own skin.
"And this," she flashes a huge grin and holds up the finished body butter, a tub of thick, rich, sinks-right-in, citrusy-creamy lusciousness. "This is it! It's unbelievable. I use it every single day. I promise you, it's a head-to-toe miracle for your skin—you are going to be obsessed."
"It's made with clean ingredients that are both incredibly nourishing and groundbreaking in terms of results," she says. "It feels so good on skin, and it can address the signs of aging in a way that's really potent and allows us to feel our best."
Indeed, the clinical and consumer tests on the GOOPGENES cream show results that sound more like those of a face cream: After a single use, 100 percent of subjects experienced significant improvement in skin hydration. After four weeks of use, 93 percent agreed their skin felt significantly more elastic, nourished, replenished, supple, and smooth, and 91 percent agreed the look of skin crepiness was minimized (that last one especially amazes us).* And it's clean, points out GP: "Body cream is something that comes into contact with so much surface area on our bodies, and our skin is incredibly absorbent, so we don't want to put anything on our skin that's potentially harmful," she says. "That was just table stakes—it had to be clean—but then the fact that we were able to make it rich and super active on top of that is what's exciting for me."
The conversations that grew out of those first brainstorms on the body are still going at goop. We've been thinking more about what we love about our bodies—our favorite features, what our bodies can do, what we're most grateful to them for—and incorporating that self-love into our self-care, whether that means smoothing in the body butter as part of a morning routine (see Erica Chidi's advice on that here) or just noticing and gently rerouting our self-talk into a place of greater acceptance and generosity. We polled six goop staffers (all of whom were early samplers) to talk about the body butter—and their bodies.
"I see a huge difference: It's full-on moisturizing and firming all day long."
—Noora Raj Brown, SVP of communications and brand marketing
I love my legs, but my skin is really dry, and I have some scarring. The body butter smooths everything out so that it looks much better and feels supple and silky. I've been using it twice a day because I'm a total moisture fiend—it feels good and smells good, and I just love the results. I feel great in my skin when I've got no makeup on and I'm just with people I love. And I'm grateful for the fact that I have Brown skin all year round (I have friends who feel they have to tan to look their best).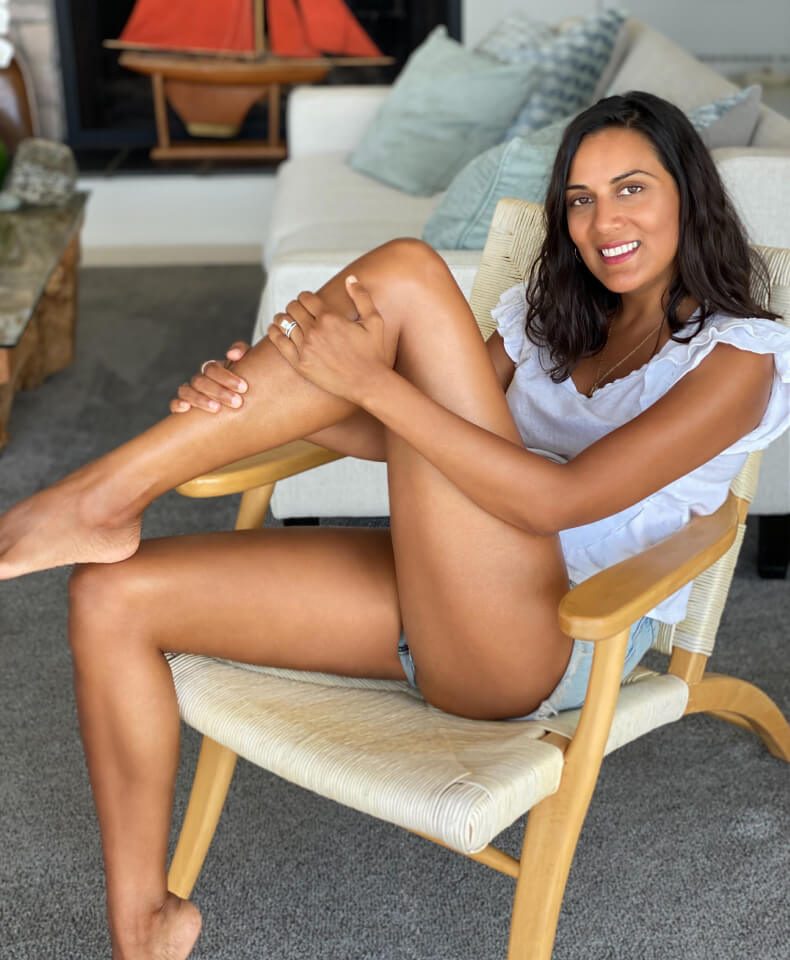 "Nothing makes my skin feel as moisturized and clean as this body butter. I love the scent and use it all over my body."
—Anjelica Rivera, senior retoucher
Right after I shower, I smooth on the body butter. The scent is soothing: earthy with a touch of citrus. I use it all over my body—it's even a great hand lotion. I feel good in my skin in the morning, right after I do a sound bath, when my mind and body are super relaxed. I really like the freckles on my stomach and also my hair color, and I'm proud that my body has an internal alarm clock and I don't have to rely on technology! Mostly, I love that my body doesn't lie to me. It's my best friend.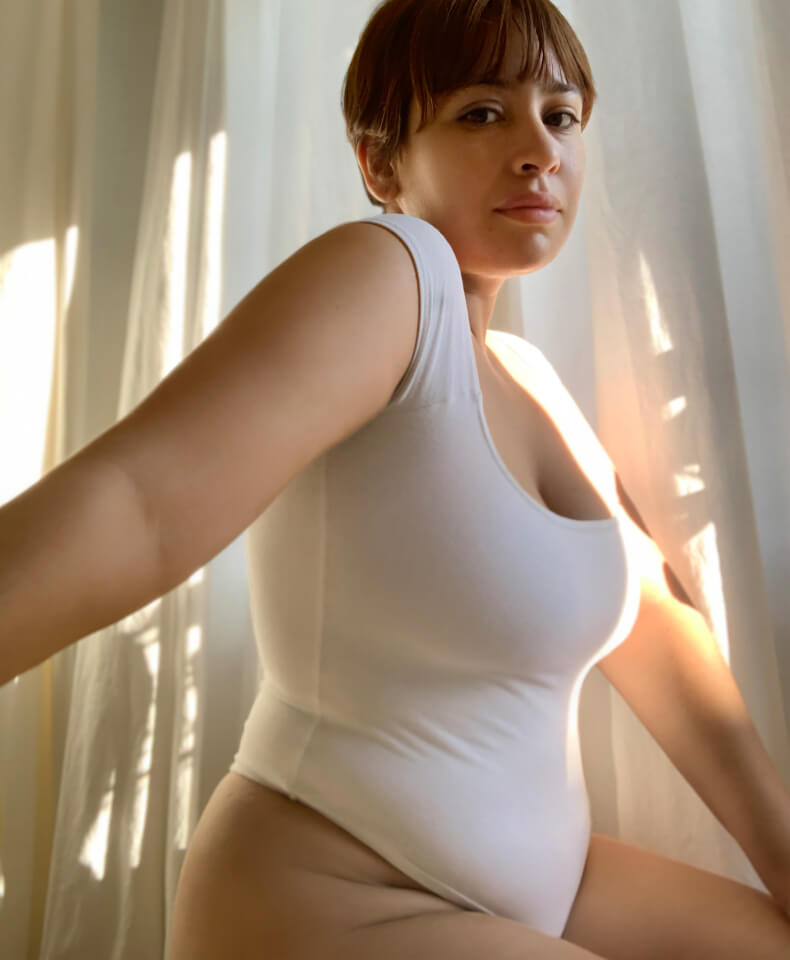 "It's thick and super moisturizing, it smells so good, and it goes on so smoothly—a little bit goes a really long way."
—Melissa Torres, recruiting and people ops coordinator
I love to use this every morning after I get out of the shower— my skin never feels dry, which is amazing considering it's so hot and dry in LA right now. I love it for my legs, especially my knees and the feet-ankle area because it's really easy for my skin to dry there, and I love it on my shoulders—I appreciate the way they look. What I like best about my body is that it's strong and it keeps me healthy. And it's gotten much more flexible, which I'm proud of. I feel most comfortable in my skin when I'm on the beach and soaking up the sun.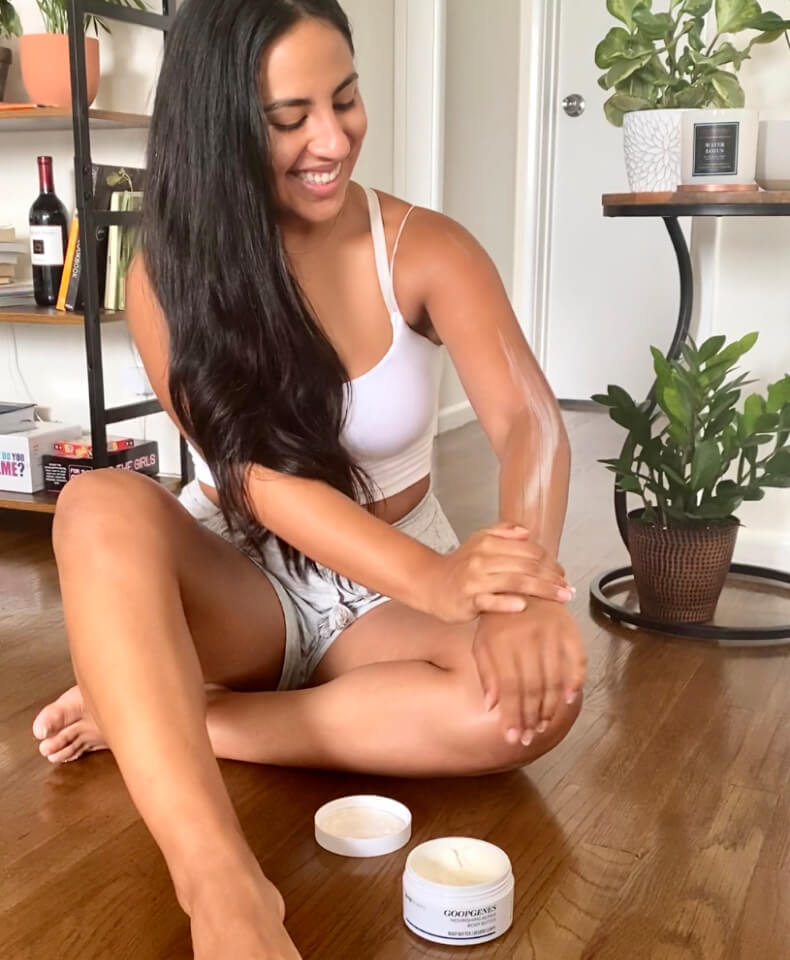 "Ooh, I really like the color of my skin. I just think brown is a beautiful color, and the way it looks after I massage in the cream is amazing."
—Iyana Stewart, social media coordinator
I use it morning and evening—it leaves my skin super soft, hydrated, and incredibly smooth, and I love the fresh, clean scent. I also really like it on my legs. I'm a bit on the shorter side, so my long legs make me appear a bit taller than I actually am. I'm grateful that I have a healthy and functional body. Because not everyone has that.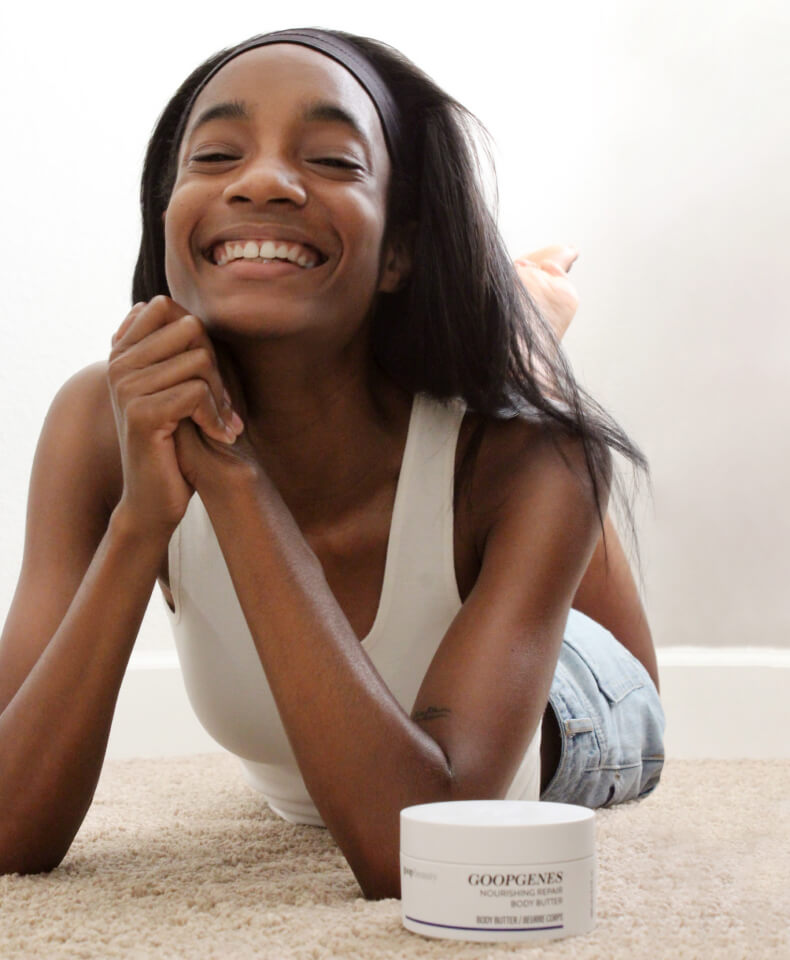 "It's ultracreamy, and it sinks right into my skin—I don't know how I ever lived without it!"
—Olivia Robinson, social media strategist
I have pretty dry skin, and every day I like to put this on all over, right after a shower. It's creamy but not too thick (it smooths in really nicely). My legs are the longest and strongest part of my body. I'm always surprised at what my body is capable of—I'm grateful for its strength. I feel great in my skin right after a workout: super confident and energized. I love to sweat.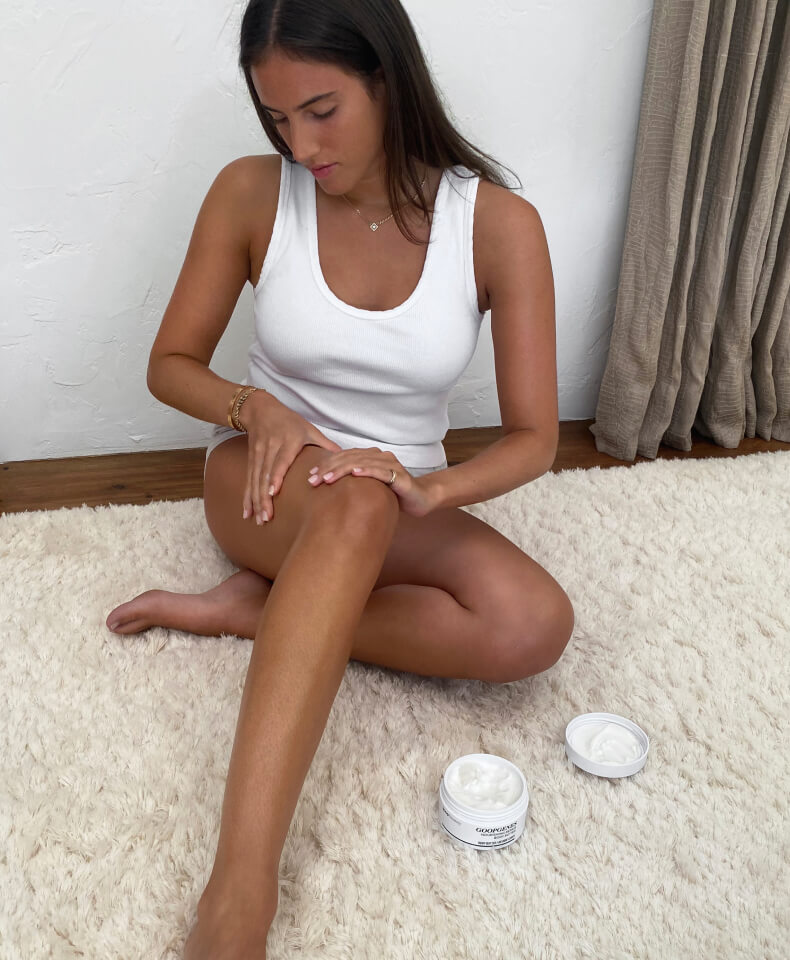 "I love the whipped texture and how it's rich yet absorbs easily. I'm more interested in feeling good at this point—and this feels fantastic."
—Elise Loehnen, chief content officer
This sinks in easily to my skin, which is great because I'm impatient! I never learned to put on lotion or sunscreen. With sunscreen, still, I will literally just walk around with a white face until it all gets absorbed.
It's funny, because I'd say one of the nice and unexpected parts of COVID is that maybe for the first time, I don't feel at war with my body. If anything, I'm just grateful that I'm well and strong and healthy. I was going through photos looking at old college pictures, and I'm sure I'm not alone in having this experience where I was like: God, I looked good! And I didn't appreciate it. My experience throughout my life has been of judgment verging on extreme when it comes to my body. I always said I'd never wear shorts because I just looked like a fat kid in pants. Since COVID, I've been like, Man, I have one life, may as well enjoy it and—who cares? I'm more interested in feeling good at this point rather than looking good.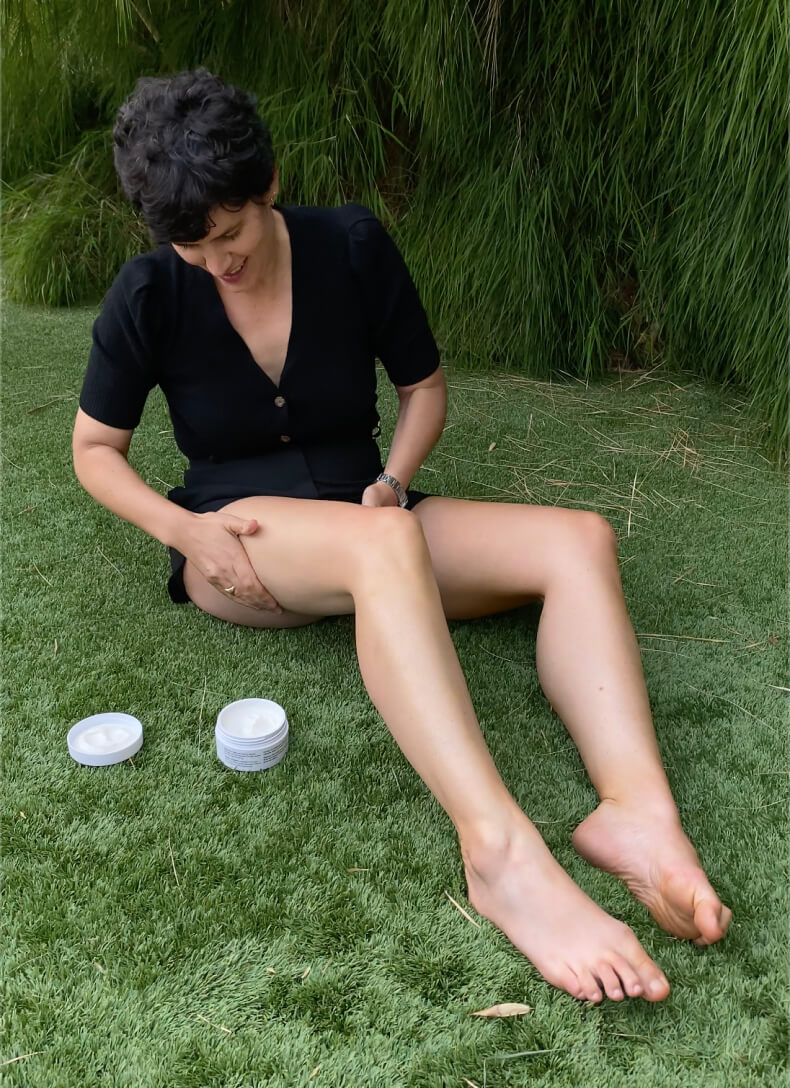 ---
*Based on an eight-week third-party consumer-perception and clinical study conducted on thirty-three women ages thirty-five to sixty-five.