Turmeric-Lavender Sunscreen, Italian-Girl Eyeliner, and the Best New Hair Oil: Our Beauty Editors Are Obsessed
We cover things we're into and think you might be, too. If you purchase through an external link here, goop may earn a commission.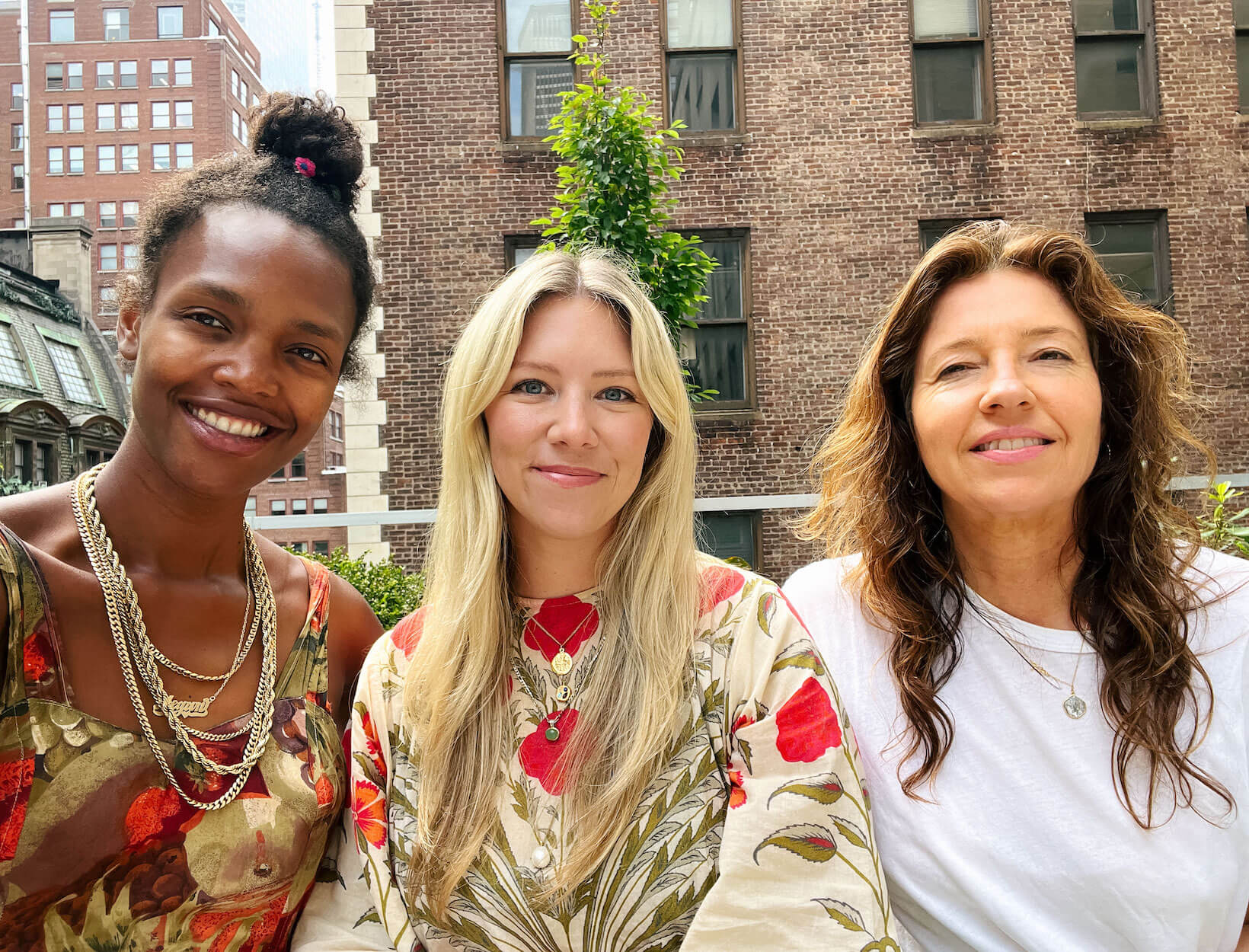 We are here to report a solid month of good hair days—for all three of us. Since we launched the aptly named Shinebath hair essentials in June (above, our team at the launch party at The Well in NYC), our hair is shinier, bouncier, and decidedly healthier-looking. If you haven't tried them yet, do not delay—your life is about to change.
Beyond that, we're feeling especially glowy between the upcoming blockbuster for skin (we've been sampling it after swiping it from the product-development lab), gorgeous new lipsticks, a fresh-peach perfume, and, believe it or not, chic mosquito wipes.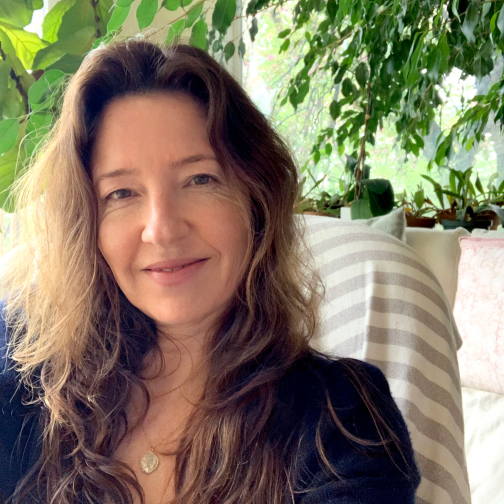 Jean Godfrey-June
executive beauty director
"
I wore the exact same thing every day in Hawaii, whether I hiked (in Haleakalā National Park), attempted to surf (with the very patient surf pro and teacher Shane Miller), and camped in a field north of Hana on Maui or lounged by the pool (at the sleek Four Seasons at Ko Olina), explored the reefs, and climbed the Pink Pillbox on Oahu: this unbelievably fantastic SPF 50. The gorgeous pure-lavender scent lifted my spirits every time I put it on, as did the chic blue apothecary tube. It smooths in more easily than you'd imagine an SPF 50 ever could, and while the turmeric is appealing from a calming-skin-care-ingredient standpoint, the silky cream is neither yellow nor a danger to outfits (even white ones). I love sunscreen, but I've never looked forward to putting one on: It's an instant good mood, along with serious reef-safe sun protection that lasts.

How I ended up moderating a sex talk at Dumbo House in Brooklyn is a long and wandering tale, but how I managed to show up glowing, as if I'd just done the deed myself, is a shorter one: I'd had half a facial with skin whisperer Annee de Mamiel. It was only half because of ill-calculated scheduling on my part, but it involved a face massage with this magical new cleansing oil; the radiance it resulted in was definitely full-power. The oil is luxe and so skin-coddling, I think of it more as a treatment than a cleanser. De Mamiel has mixed active, brightening botanicals and rich, nourishing oils into a potion (tinged a gorgeous blue-green with skin-soothing blue tansy oil, which also makes it smell like heaven) that easily sweeps away makeup (mascara included) the city at once. But work it into your skin like an oil, massaging with your fingers, a gua sha tool, or my favorite, the Jillian Dempsey vibrating T-bar, and that's where the glow (and the plumpness and suppleness) really gets going. It feels amazing, and it also leaves you looking amazing.

I showed up and immediately launched into talking sex with The Happy Vagina author Mika Simmons—but she stopped me. "Sex is great, and we'll get to it," she said. "But first you have to tell me about your skin."

The scent of an actual ripe peach is fresh and even a little sharp, and master perfumer Douglas Little mixes this almost-impossible-to-create note (are you with me that most perfumes get it cloyingly wrong?) with an airiness and a cool-girl grittiness that make this perfume complex and supremely wearable. I spritz it on my pulse points and in my hair; it lasts like a dream, and everyone asks why I smell so good.

When goop fell in love with Kosas lipstick in Rosewater, we fell as an entire office: The coolish pink somehow flattered almost every skin tone; what's more, if you dabbed a bit on your cheeks after smoothing it on your lips, people would comment out loud on your incredible skin, or they'd demand to know whether you'd just gotten your makeup done by a professional. The reply was always the refrain, "Kosas!" usually accompanied by a delighted I-don't-know-how-it-works-but-it-does shrug.

The refrain remains the same, but the shade—it now comes in a sleek metallic-blue tube and is both more moisturizing and longer-lasting than before—is called Daydream. As a person who was often sent to the principal for daydreaming in first grade, I could not love the name more. But the color, whatever you might call it, is the thing: Try it once and watch it instantly become the most-used item in your makeup bag. And watch yourself become a Daydream evangelist, just like me.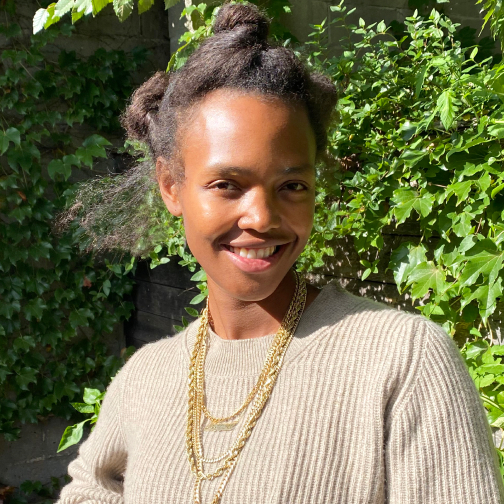 Megan O'Neill
associate beauty director
"
What do you pack for a quick, gloriously sun-soaked vacation in Italy? A few easy outfits to trot around in that aren't so precious that you can't plop down on the weathered marble steps of an ancient Roman piazza to bite into the tastiest mortadella panini of all time. Tevas or Birkenstocks for the walk from the Pantheon to a 100-year-old biscotti bakery for crumbly, mind-warping deliciousness. And this fantastic eyeliner: It leaves you looking fresh and properly Italian during the day, low-key polished for spritzes at sunset, and effortlessly sexy for languorous dinners that roll on deep into the night. The inky pigment glides right on—jojoba oil and shea butter give it the perfect texture—so it's brilliant for tight definition, as in the crisp Italian-girl cat-eye flick I gave myself in a restaurant bathroom in Ravello before sitting down to a buttery heap of pasta.

"If you think you are too small to make a difference, you haven't spent a night with a mosquito." I read this from a book of African proverbs to my two-year-old son at bedtime as he studiously hunts for lint in the carpet, rolls around, demands coconut water, and does anything but settle down for bed. Now that it's summer, we're all spending too much time with the loathsome mosquito (a creature that, as a botanist friend explained to me, has proliferated in part due to the lack of plant biodiversity, yet another consequence of global warming).

So before going outside, I smooth myself (and my two-year-old) down with one of these insect-repellent wipes. They smell faintly of Indonesian citronella and vanilla and easily ward off pesty things, so I'm fully present for hikes, yoga sessions, or outdoor dinners. They're clean, so I don't spiral thinking about dousing us in chemicals, and they're awesomely portable. Plus, I give them—along with the African proverb book—to friends with kids, and they invariably keel over with happiness.

The secret to a sun-kissed glow as I shift to my perpetually outdoors, summertime self? Moisture, layered with more moisture, sealed in with a final cocoon of moisture: I start with a silky, delicate, hydrating oil-to-milk cleanser. Made for dry or sun-blazed skin, it's like a tidal wave of rejuvenating goodness—barrier-supporting sea fennel extract, nourishing snow mushroom, grime-dissolving shiitake mushroom—that leaves my skin plumped, soothed, and beyond fresh. (I also massage it over my chest in the shower at night—working in the oil gently unwinds me from the day and moisturizes for beautifully supple skin.)

This instantly skin-reviving oil leaves my skin looking dew-drenched and bursting with life. The blend of acai, avocado oil, and the brand's special free-radical-targeting ingredient complex sinks right in and feels light as air on my skin. It's scentless and as incredible for dry skin as it is for sensitive types. I love it morning and night and as a pick-me-up during the day when my skin needs some rousing. Plus, the oil—and the entire Outset line—is the masterpiece of Scarlett Johansson, so it makes me feel as dewy-fresh as she famously looks.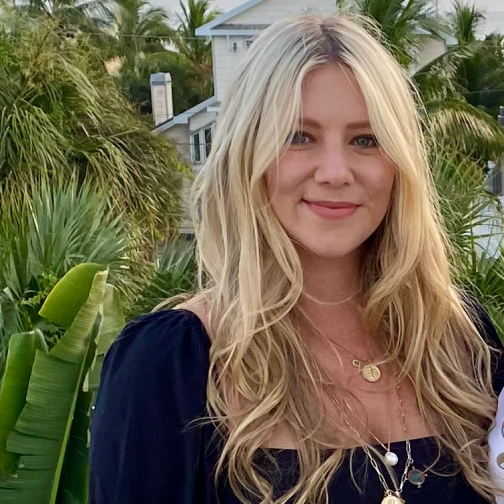 Brianna Peters
associate beauty editor
"
Smooth a bit of hair oil in your dry hair before you jump in the ocean or pool. I'm telling you, it works. This oil is the best conditioning treatment of all time, made with six active botanical oils including kukui nut, sesame seed, and jojoba to repair, condition, boost shine, and protect. The scent—a stunning blend of vetiver, jasmine, neroli, and geranium—is unreal. I actually use the oil anywhere I'm feeling dry, from my cuticles to my elbows. And the pretty bottle has a brilliant cap dropper that releases just a tiny bit of oil at a time, so you never sacrifice a drop more than you need (and never inadvertently use too much).

I can't believe how good this sheer, shimmery liquid highlighter (or is it a primer?) is. I love the smooth, serum-like texture and the gorgeous dewy finish that's both subtle and flattering. It blends like a dream, evens my skin tone, hydrates, and smooths with a nourishing blend of active ingredients, including vitamin C, tsubaki oil, and avocado oil. You can wear it under foundation as a glowy base, on top of foundation for a pretty sheen, as a spot highlight, or (my personal favorite) mixed in with a tinted moisturizer for all-out luminosity. My favorite shade is Peau de Soleil—bronzy and glimmery with just the perfect amount of warmth to make my skin look as if I've been vacationing in the South of France. It's exceptional for summer, of course, but I'm definitely going to be wearing it all year.

I'm back after a painful shoulder injury and loving my workouts, from The Class in Tribeca (Karla's amazing) to trainer Isaac Boots's cardio-burn class Torch'd (he does virtual Instagram Live classes as well as private sessions in NYC, LA, and the Hamptons); moving my body again feels so good. What did not feel good were the crazy breakouts I started getting on my chest and back. But this ultragentle bodywash has saved my skin. The blend of glycolic, lactic, and mandelic acids, plus papaya and pineapple enzymes, exfoliates and dissolves all traces of dirt, sweat, and oil, while allantoin soothes, moisturizes, and nourishes. My skin has never felt softer or smoother, and I haven't seen a blemish since I started using it. It's a dream for anyone with sensitive skin like mine, and the melty orange-Creamsicle scent makes me look forward to getting in the shower.