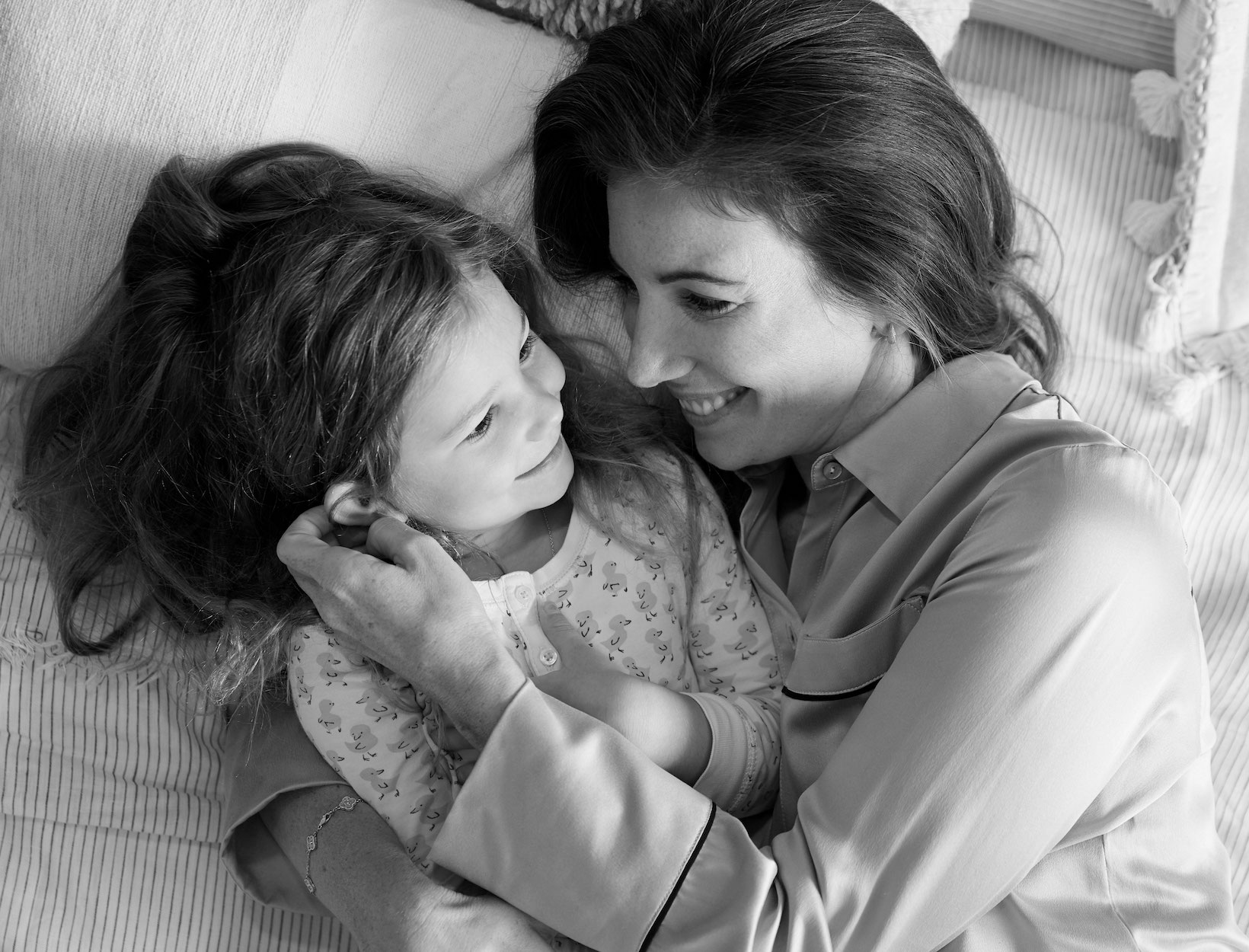 my nighttime routine
Coconut Water, Lavender Steam, Bath Time, and a Really Amazing Vegan Mattress
In partnership with our friends at

Kim Kreuzberger | CRO, goop
There's fully present. And then there's Kim Kreuzberger, goop's chief revenue officer: Whatever project she's working on or whomever she's speaking to gets Kreuzberger's laser-focused attention, not to mention her open, sparkling warmth and brilliance.
Kreuzberger is goop OG. She started here in 2015, when we were little more than a barn in GP's backyard, and she is one of the big reasons the company's expanded exponentially since. Her job is a big one, yet she manages to switch gears as soon as she's home with her family: husband Bryan; son Cole, six; and daughter Cate, four. "I jump right in," she says.
"Bryan has been pulling the weight all afternoon, coaching soccer, and making it all happen, so when I get home, I'm on. From 6:30 to 8:30, it's me running the ship."
6:30 p.m.: Right when I get home, I have a glass of Harmless Harvest Coconut water and start up my Vitruvi diffuser with some essential oils—it sets a great mood and chills us all out.

6:40 p.m.: I'm usually exhausted, and so are the kids, so bath time is just a great moment for all of us. I use mostly Seventh Generation stuff for them—I love the goop Martini bath for myself, but I think it would be too much for them!

7 p.m.: After the tub, I do a quick dry-brush and then take a shower to wash the day off. My favorite thing in the shower is the goop body scrub. It feels so clean, smells so good—I just love it. I keep it pretty simple in the shower beyond that: Seventh Generation body wash and the goop Instant Facial once a week.

COYUCHI Towels, goop, $128

7:10 p.m.: My nighttime skin-care routine is easy: I wash my face with the Oat cleanser from Naturopathica, then do a little vitamin C serum, plus moisturizers from my facialist (Vanessa Hernandez in Brentwood—she's amazing).
7:15 p.m.: Sometime between 7 and 8, the kids and I pile into bed to read a book together. Our favorites right now are Love You Forever and The Giving Tree. In what is just the best moment of my day, we all snuggle together—our new mattress from Avocado Green Mattress is so incredibly comfortable. We got it just a month ago, and we got them for the kids, too. Everything the company makes is totally nontoxic—such a big deal for us, considering all the off-gassing and other problems you can have with many mattresses—and they're sustainable, so it was a really easy decision. It's vegan: made of natural latex rubber and certified organic cotton, with no polyurethane foams or toxic fire retardants. We even got the pillow toppers and the sheets.

8 p.m.: While Bryan's having his downtime with TV, the kids and I put the books away, set out backpacks and stuff for school, and brush teeth, and I get them into bed, which they're pretty good about. They always start out in their own beds, but it's the cutest thing: By morning, they're always curled up together in one bed.

8:30 p.m.: Finally, it's my time to catch up with Bryan. He doesn't drink, so we don't have booze, but it's that same sort of nice, winding-down feeling, reconnecting and talking about the day. We go to sleep pretty soon after—back to our fantastic new bed!