My Morning Routine
How a Skin-Care Founder Melds Science, Ayurveda, and a Few Easy Makeup Tricks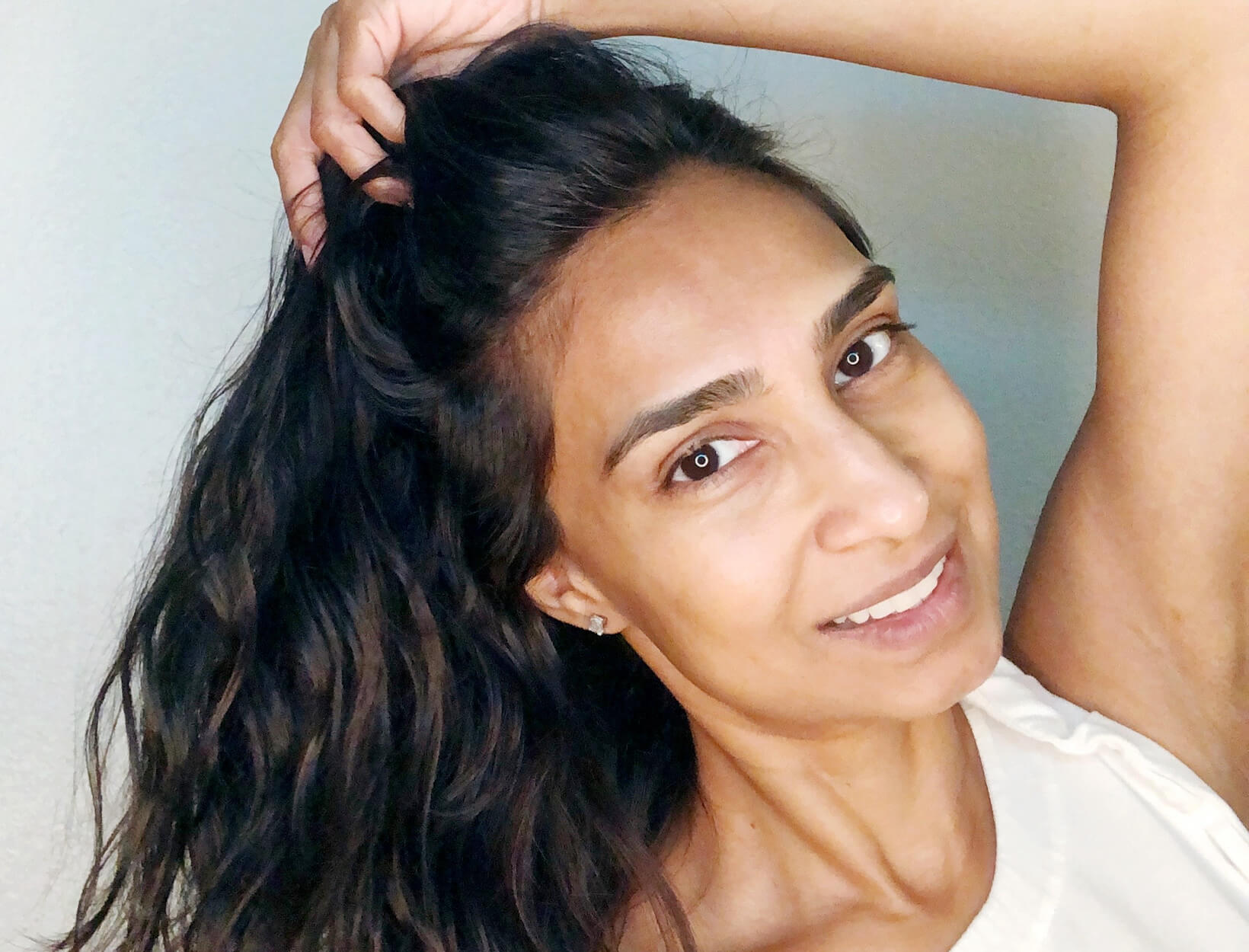 Before Sejal Patel was the CEO and cofounder of a beautifully original, scientifically tested clean skin-care line, she was a mom at her wit's end. "My daughter was diagnosed with pigmentary mosaicism—a genetic condition where skin cells' melanin production is compromised, resulting in dramatic hyperpigmentation—so I started researching safe and effective skin care for her to use," says the pharmacist for biotech start-ups and Orlando, Florida-based mother of two, whose dissatisfaction with what was out there drove her to make her own silky formulations. "I created Plantkos to address skin concerns like the redness, dark spots, and dryness that are very common in people with melanin-rich skin and, of course, experienced by all skin types."
Her interest started early. "Growing up, I didn't see skin care that targeted those issues without causing other issues," Patel says. "When I'd use a product to help with my dry skin, I'd break out, and then the breakouts would lead to superficial scarring and dark spots."
She also didn't see models in beauty ads who looked like her. "It made me think there weren't products made for my skin," she says. Her solution—for herself, her daughter, and everyone else—is a brilliant line of treatments made for all skin types and shades that meld powerhouse clean active ingredients like niacinamide, panthenol, and salicylic acid with prized Ayurvedic herbs that she grew up using, like bakuchiol, a natural retinol alternative; antioxidant turmeric; and energizing schisandra berry.
Like any parent, Patel finds her mornings are hectic. "My routine has to keep everyone on schedule and set the whole family up for a successful and productive day," she says. Part of that success hinges on moisture-bombing her skin and hair and five minutes with the easiest-ever no-makeup makeup all-stars.
6:30 a.m.: I press snooze a few times, then say my morning mantra while I'm still in bed. My grandfather instilled this habit in me when I was six years old, and it's been a habit ever since.
6:45 a.m.: I start my day with a glass of warm lemon water. While we sleep, our organs are detoxifying our bodies, and not only does lemon water help replenish some of the overnight water loss, but it also helps flush things out. While I'm sipping that, I get my coffee going in a French press—I always add a scoop of Vital Proteins collagen. After that first taste of coffee, I'm ready to roll.
goop Picks
7 a.m.: On school days, I get the kids up and prepare their breakfast and lunch. When they leave for school, I work out—usually a mix of yoga, strength training, and an outdoor run, using the Peloton app.
9 a.m.: I put myself together for the day. On hair-wash mornings—I try not to wash my hair more than twice a week—I work in Sahajan's Nurture Hair Oil while my hair's still dry. The blend of nourishing oils feels like heaven and leaves the best shine.
10 a.m.: My no-makeup makeup: tinted mineral sunscreen to smooth my skin out, ILIA mascara, GOOPGENES Nourishing Lip Balm, and Kosas lip oil layered on top.
10:05 a.m.: I dive into Zooms, emails, in-person meetings with my glass of green juice next to me (thanks, Megan O'Neill, for inspiring me to get back to Green-juicing–it definitely tops off my morning routine).