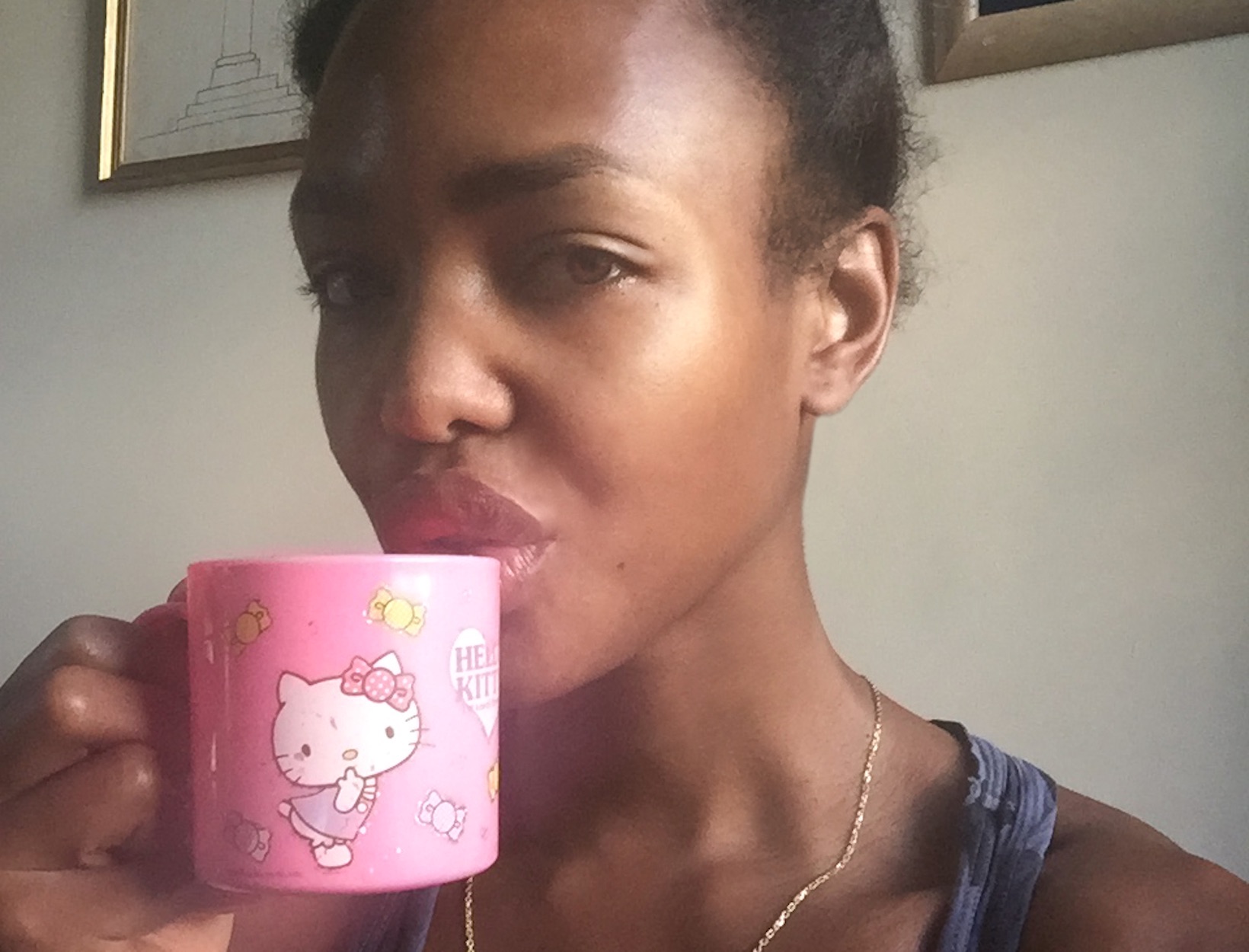 MY MORNING ROUTINE
Night Cream, Yoga, and a New Antioxidant Elixir
Megan O'Neill |
senior beauty editor
If I didn't have places to be, I'd take several showers a day. Few things on this earth are more comforting, energizing, and straight-up blissful than a hot shower (and I mean hot—so scalding that romantic showers will never be a thing because the water feels, my husband says, like fire rain). I live in a charmingly rickety walk-up in Bushwick with a rickety water heating system, which means sometimes my shower doesn't get as steamy as I'd like. When the water does come out piping hot, it's day-making.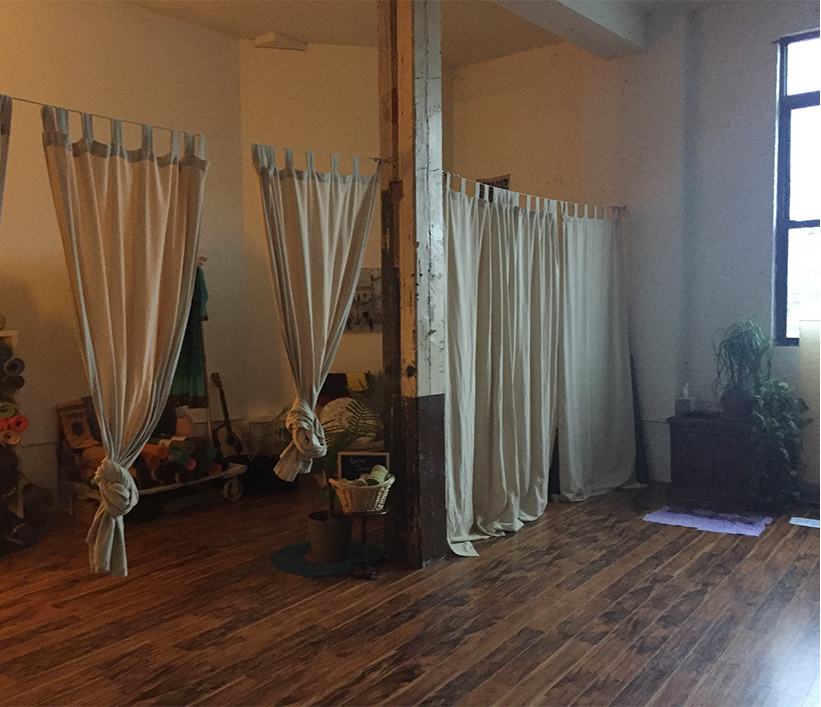 Many mornings, I first stumble to a 7 a.m. class at Daya Yoga, a few blocks away. It's hellacious wrenching myself out of bed, but when I'm there moving and contorting, I'm invigorated and thrilled I got myself up.
Back home, I get in the shower and complete as much of my routine in there as possible. I wash my hair once a week, so I'm obsessed with shower caps. There's a special place in my heart for the old-school, gigantic drugstore ones I grew up using, but the one I use now is not-at-all embarrassing and very '70s Bianca Jagger. You wouldn't have to pay me to wear it outside.
I brush my teeth in the shower, biding time until the window becomes so completely fogged that I know my pores are good and open. I wash my face with the Restorative Cleansing Balm from de Mamiel, inhaling deeply to take in the botanical scent.
I'd like to spend ten more minutes in the shower, but I get out, pat my face with a towel so that it's sort of dry and my cream can better sink in. I smooth on the Replenishing Night Cream from goop by Juice Beauty. (If you have dry skin, night cream for day is the move.)
I pad into the kitchen and chug a glass of water mixed with goopglow powder—it has antioxidants and carotenoids, both of which are excellent for skin. It tastes citrusy and tangy—I bet it would make for good summer popsicles. For some reason, I always drink it out of a pink Hello Kitty cup, and I swear my skin has had more of a glow in the two months I've been downing it.
I'm rarely starving in the morning, since I tend to have dinner super late, but I love Honeycrisp apples and have one most mornings sliced into wedges, along with granola (I make a big batch on Sundays). Plus, I'll pop my ashwagandha and keratin supplements (working on my hair strength after having the time of my life bleaching it white-blond last summer). Sometimes I'll crawl out my living room window in my towel and eat on the fire escape, looking down at the little neighborhood backyard gardens.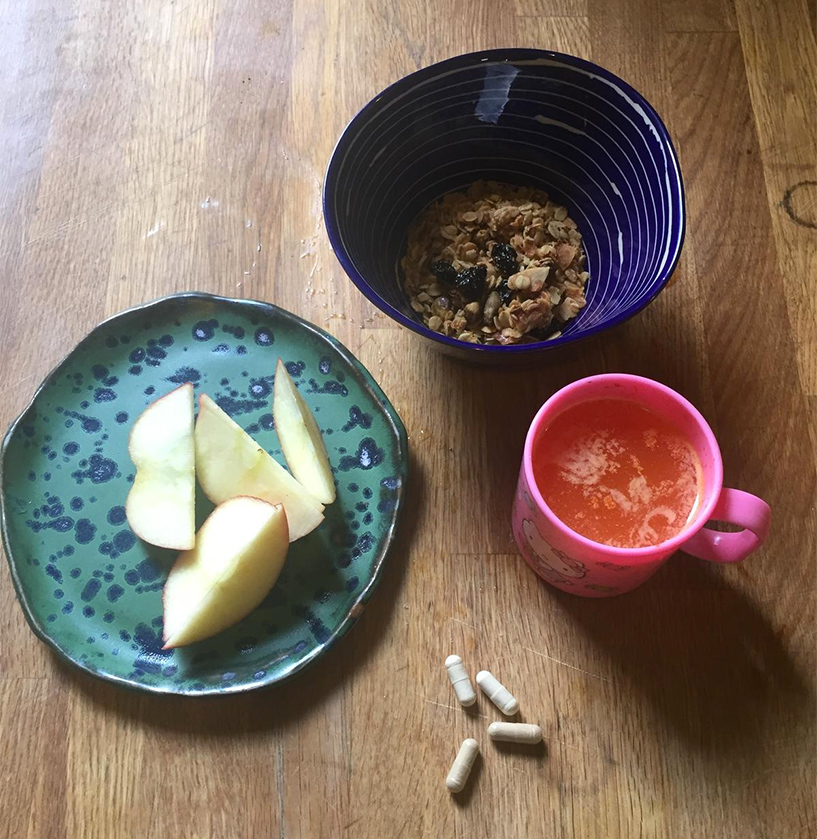 Back inside, I douse myself in Absolute Anti-Aging Body Oil from Uma. This stuff smells incredible—the scent lingers faintly all day—and makes my dry legs silky. I also massage it into my stomach: Maybe it's that the oil is teeming with especially luxurious botanicals or maybe it's that I'm purposefully touching my stomach, but the ritual helps me feel better about the day and all the things I've got to get done.
When I'm dressed and my hair is twirled up in a thousand bobby pins, I dab a little frankincense or lavender on the back of my neck. My mom employs essential oils for everything; she told me to rub lavender on the back of my neck, and it became a habit. The ritual is just…calming and somehow life-affirming. Which I think is probably the magic of all morning routines.