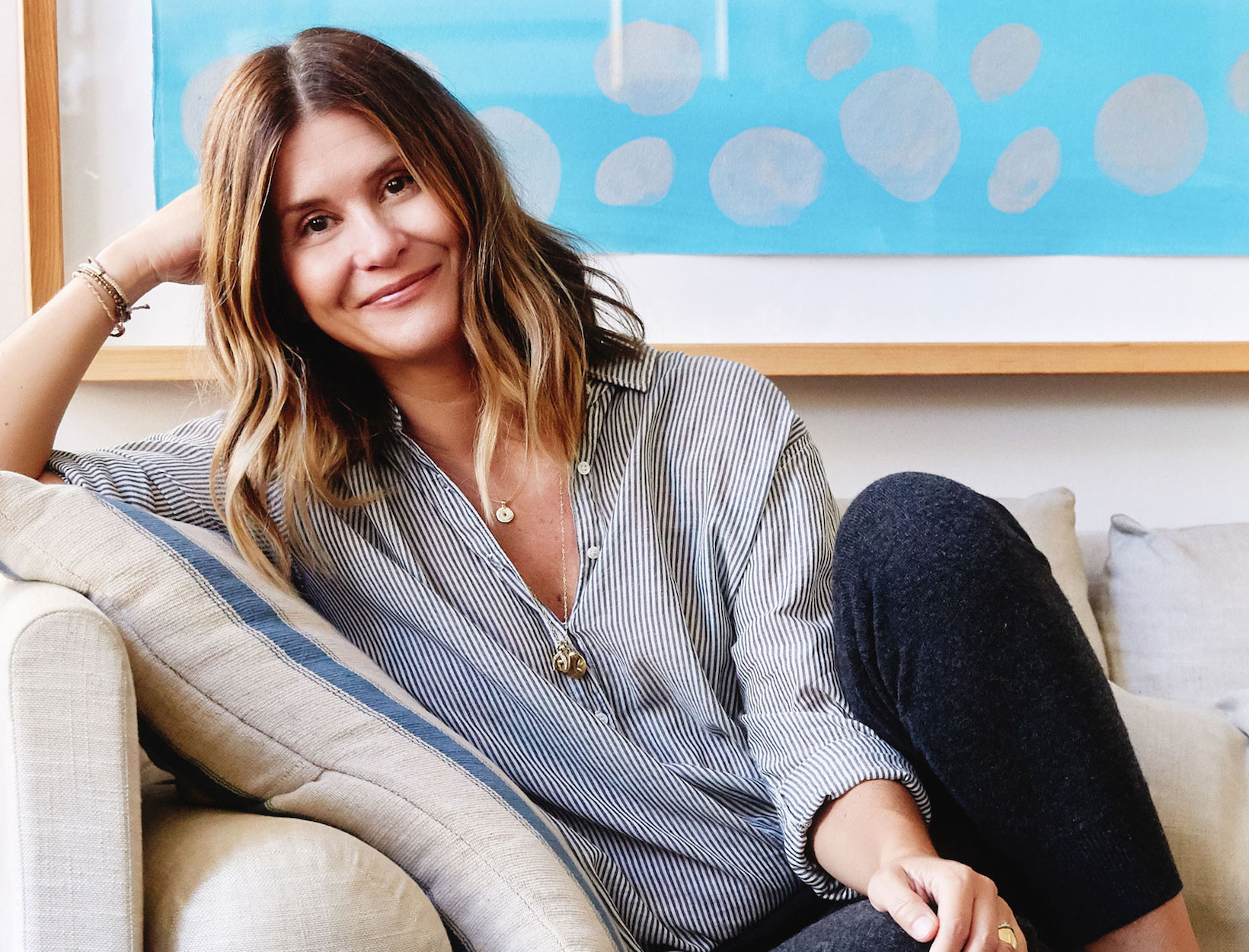 my morning routine
Meditation, Bach's Goldberg Variations,
and Coffee (Two Ways)
Larissa Thomson | cofounder of ONDA Beauty
A quiet, serene morning might not be what you'd imagine for a busy mom/former fashion editor turned company founder/native New Yorker/not exactly a morning person who loves coffee. But somehow, Larissa Thomson manages it. Cofounder of the exquisite clean beauty boutique ONDA in Tribeca and Sag Harbor, Thomson builds in flexibility: Some days, she's getting her son ready for school; other days, her husband does. Some mornings, she's off to exercise; on others, work takes priority. "I'm consistent in my inconsistency," she laughs. "I try to do the things that make me feel my best each day, so I change things up—and feel the freedom that comes with that."
Thomson's apartment reflects her devotion to simple, clean lines warmed with eclectic flourishes, much like the beachy-by-way-of-Tulum ONDA boutiques in Tribeca and Sag Harbor. We spent a somewhat typical weekday morning with her there, and it was really hard to leave.
6:45 a.m. – 7 a.m.: I open my eyes. If it's a day that my husband is getting my son ready for school, I meditate in bed for ten to twenty minutes. I've learned that if I wait to do it, things start to get hectic, and it may not happen at all. I practice Vedic meditation, but sometimes I like to do my own—what I guess you might call intention-based meditation. I set up a scenario in life I'd like to manifest, then practice feeling the feelings that coincide with that scenario. I am a pretty big believer in making things happen for yourself.
7:15 a.m.: I'm definitely a morning coffee person, and quite specific about it: dark roast with oat milk and a bit of maple syrup. I've been trying to cut out processed sugar, gluten, and dairy—not always easy, but I'm doing okay. If I'm lucky, my husband brings me my coffee—he does it perfectly.
7:30 a.m.: After I've had enough coffee to wake me up, I ask Alexa to play classical music, which I've always loved in the morning (especially Bach's Goldberg Variations). If I'm alone, I light some incense (since no one in my family likes it but me).
I pour a tall glass of water and add a tablespoon of The Beauty Chef's Hydration and Collagen (it tastes heavenly), a squeeze of lemon, and a half teaspoon of Pure Essentials C Buffered powder. I take three or four Catalyst Gold capsules for energy, healthy skin, and hair. I also think it helps with sugar cravings. Finally, I take a dropper of VeganSafe B12.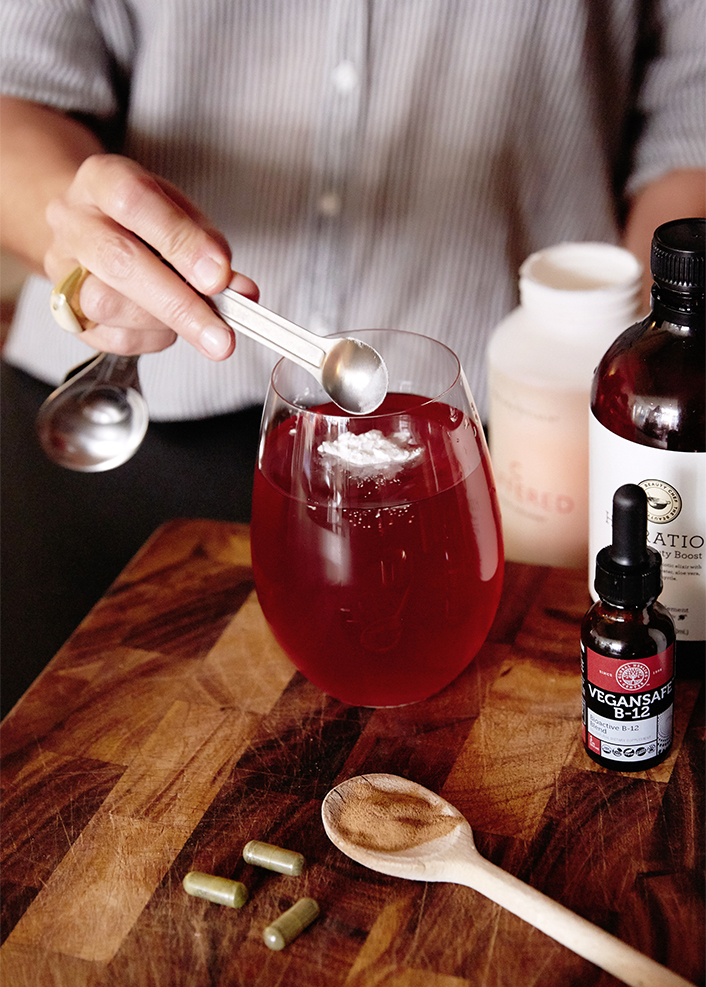 7:40 a.m.: I brush my teeth with my ionic toothbrush and Davids Whitening Toothpaste, scrape my tongue (no matter what, I do this twice a day, and I've got my whole family doing it, too) with a copper tongue scraper, floss with Dr Tung's Cardamom floss, which I'm addicted to. Then I do some work—post on Instagram for ONDA, answer emails and texts—and then head off for either The Class or SLT (Strengthen, Lengthen, and Tone, a mix of cardio, strength, and
stretching work).
10 a.m.: When I return, I make a smoothie with a frozen banana, frozen wild blueberries, spinach, raw coconut water, a tablespoon of raw almond butter, and two dates. Then I add a mix of Sun Potion powders (whatever I'm feeling that day): Yin Power, Cordyceps, Mucuna Pruriens, or Tocos
10:15 a.m.: I really like my bathroom, and a hot steamy shower is my thing; I take my smoothie with me. I start with face cleanser, which I switch up quite a bit, but when I'm needing a luxurious clean, I use May Lindstrom's Honey Mud cleanser/mask and let it sit while I wash my hair. (Side note: It's delicious, in case a little drips into your mouth.) Right now I'm using the True Botanicals or the Reverie shampoo, along with the conditioner—the scents are fresh and slightly herbal. Then I wash with Tammy Fender Très Rose Shower Gel.
Next I do a deep scrub with our ONDA Calendula + Bergamot Coffee Body scrub. As I said, I love my coffee! It's solar-infused and wildcrafted in upstate New York. The ingredients are soothing, mildly astringent, and beautifully cleansing. My skin feels smooth, perfectly hydrated, and alive after I use it.
I rinse the Honey Mud off my face, and two or three times a week, I use the goop Exfoliating Instant Facial for serious skin polishing afterward. It leaves my skin looking like I just left our treatment room at ONDA!

If I still want some more skin love, I use a body oil like Goe or Living Libations Best Skin Ever Seabuckthorn right after my shower to trap in the moisture while my skin is still wet. The Goe smells like summer all year round, and the Best Skin Ever has the most beautiful golden-orange color and smells faintly of vetiver, lavender, and patchouli.

10:30 a.m.: After cleansing, my skin-care routine always starts with True Botanicals Nutrient Mist, which smells unbelievable—and nourishes and preps my skin to receive what comes next. Sometimes I put on Marie Veronique's Soothing B3 Serum to soothe, then her Vitamins C + E + Ferulic Serum, which is a skin-smoothing powerhouse, and finally, goop Perfecting Eye Cream to depuff. I put Tammy Fender Quintessential Serum on for my last, profoundly moisturizing step; it smells divine, and it's like food for the skin. Some days, I change up this routine depending on what my skin needs, what the weather is, and what my mood is dictating, but I always believe in layering your serums and the obvious results that provides for your skin.

10:35 a.m.: I like to keep my makeup simple, light, and natural. I apply Marie Veronique Everyday Coverage Tinted Sunscreen SPF 30 for sheer coverage and protection, a little lip/cheek cream from (M)anasi 7—the Kobicha shade is a great fall color! I use RMS Master Mixer all over my face to give me a bit of a shimmer and glow, a bit of Adventurine Kiss Lip Serum, and I'm set for the day.

Last of all, my new favorite scent is Ayu Smoking Rose. It reminds me of a trip we just went on to Morocco—floral but smoky and exotic. I grab my things and head to the shop or an appointment, or I work from home for a while. Once I enter the shop, it's hard to sit down and get to business. I just want to talk to everyone about products and the store. That's my comfort zone. : )

Weekends? That's a whole different story.