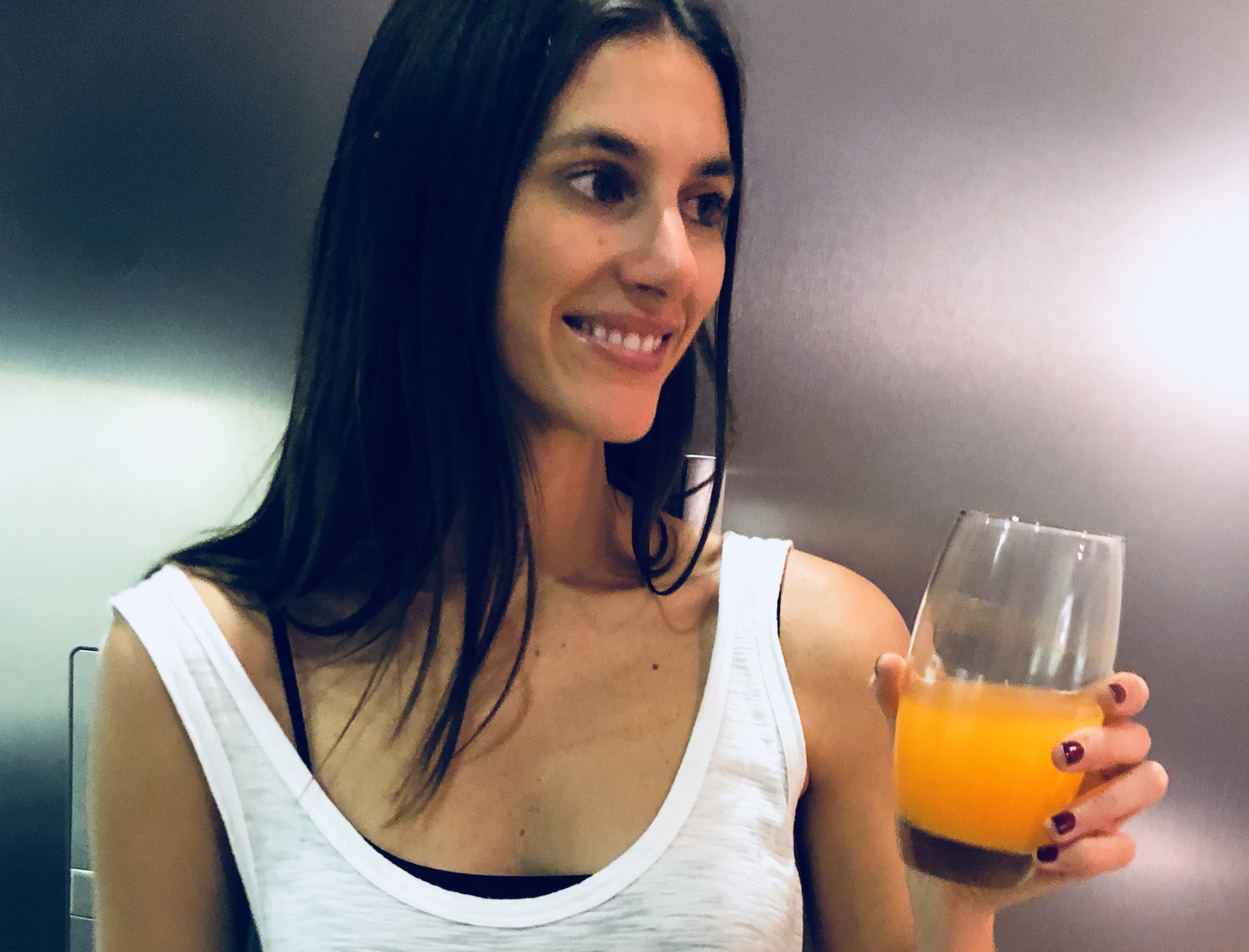 MY MORNING ROUTINE
Healthy, Homemade, Seriously Glow-Inducing Treats (and a Good Stretch)
Jacqueline Schulze |
associate communications director
I like to take my time in the morning. My alarm is usually set for 6:30 a.m. and I get out of bed by 6:45 a.m. I love hitting snooze and need those extra minutes to mentally get ready for the day.
Depending on how I'm feeling, I switch up my morning drink:

1. No matter what, I start with hot water with lemon.
2. Next, I take a tablespoon of raw apple cider vinegar (I know some people don't love the taste, but I don't mind it). Sometimes I mix it with water if I'm feeling dehydrated.
3. Instead of pills, I take a shot of Fresh Coconut Water Probiotic. It's bubbly and tastes kind of like kombucha.
4. I'm already pretty good about staying hydrated throughout the day—I keep a 1.5-liter water bottle at my desk—so it's nice to switch it up with a flavored goopglow drink in the a.m. I've always noticed a big difference in my skin based on what I'm eating and drinking (or not).
5. I've been experimenting with my morning smoothie and have almost perfected the recipe: maca, collagen powder, Spirulina Manna, greens powder, chia seeds, flax seeds, hemp seeds, and kale—mixed with almond milk. If I'm feeling fancy, I'll add a spoonful of my homemade almond butter.
6. I wash my face with OSEA Ocean Cleanser and then put on goop's face oil–it makes my skin feel silky and instantly hydrated.
7. I don't go to the gym in the morning, but I try to get on the roller to stretch for 10 minutes or go for a walk on the Santa Monica bluffs by the beach. The fresh ocean air helps wake me up.
MAIAMI MOHAIR BIG SWEATER, goop, $350
8. Since I think most clearly in the morning, I like to get to the office early. Energy bars are my current go-to snack on the way out the door. (My homemade version is a combo of almonds, cashews, dates, chia seeds, hemp seeds, and flax seeds, plus coconut oil to smooth out the texture.) I also like grabbing breakfast at Bondi Harvest; they make a good midday pick-me-up almond milk latte, too.