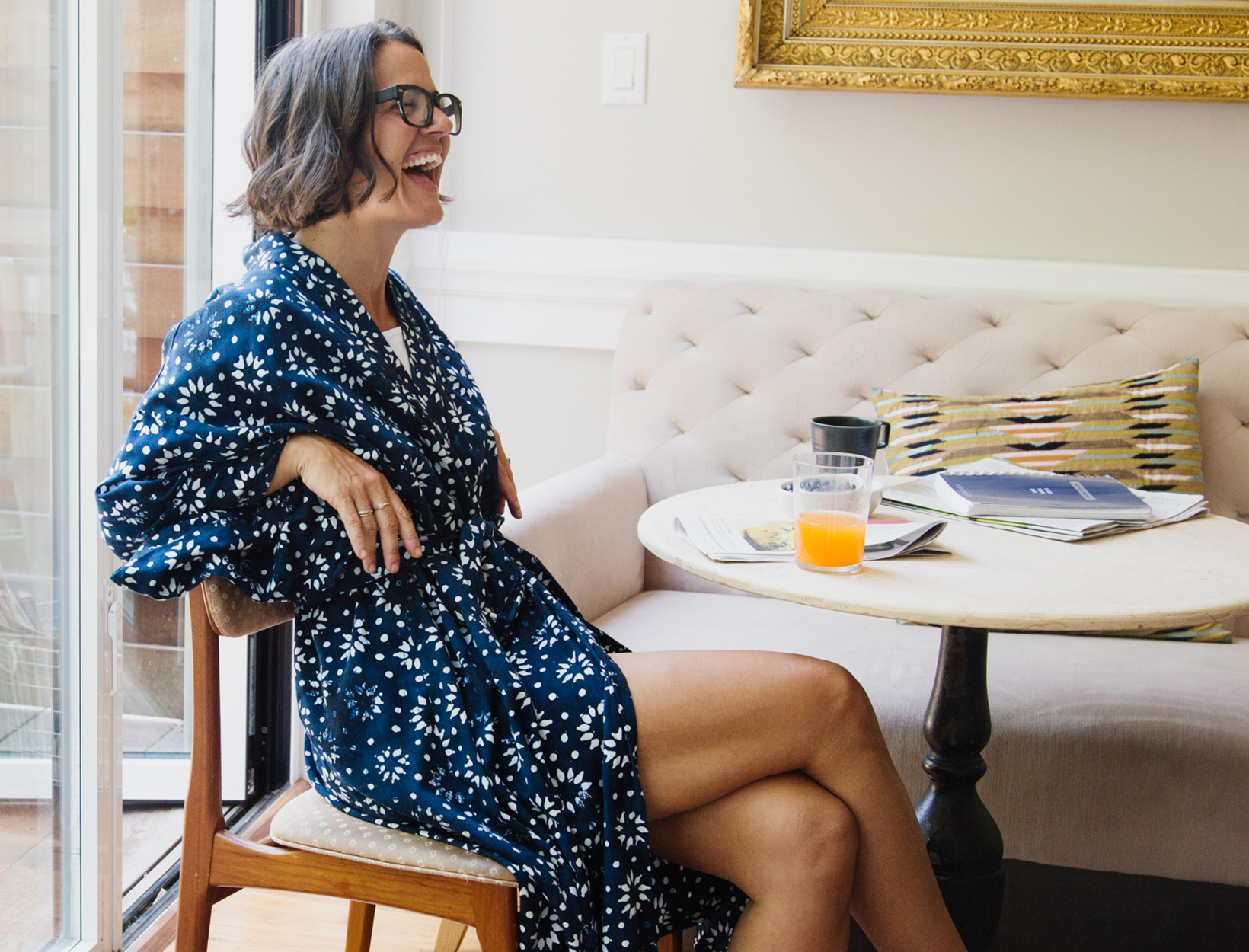 My Morning Routine
Farm-Fresh Eggs, a Brooklyn Bike Ride, a Really Great List
Michelle Mannix
| founder, Cook Space Brooklyn
We've learned a lot about cooking, eating, hosting, and having fun at the airy, buzzy loft in Brooklyn known as Cook Space. Some of us have learned to make dumplings, Vietnamese street food, or a week's worth of Whole 30 meals, and others have just attended the (really) epic dinners. The cooking school/elegant event space mashup launched in 2016. It's the brainchild of Michelle Mannix, a former restaurateur and caterer (Ted & Honey and Parker Red)—and it's an incredible way to learn, meet people, or become more intimate with people you already know (the whole space is often rented out for parties and events). Mannix lives nearby with her eight-year-old son, Jackson, and her husband, Dan, and she has mastered the art of a busy but relaxed morning routine.
6:30 to 6:45 a.m.: Jackson is now at the age where he slips by our room on his way downstairs, already dressed for school. It's around this hour that Pretzel (our cat) is apparently dying of starvation, and she's usually the lure.

I follow Jackson downstairs and make a glass of goopglow. I started drinking it two months ago primarily as a way to force myself to drink

water in the morning. I thought the vitamins would be a great plus, too, but I've honestly noticed a huge difference in my skin. I'm not sure if it was an intended benefit, but I've even noticed that my eyes are less puffy than they have been since, it seems, my twenties. I also love the taste, which reminds me of Tang in an odd yet wonderful way—a healthy take on the chemical drink from the '70s.

7 a.m.: I start breakfast. Eggs are my favorite food, and it's the rare day that doesn't start with them. If we've been out to the North Fork, I'll have a month's-plus worth of eggs from 8 Hands Farm, which remain on my countertop. I soft-scramble the eggs in (probably too much) butter. Dan likes them as breakfast tacos, with sliced avocado and grilled Hermosa corn tortillas, topped with the last of the Ted & Honey hot sauce. Lately, I've been topping mine onto toast with this Vietnamese aioli that Cook Space's culinary director, Nini Nguyen, introduced me to in one of our classes. It's just perfection.

7:30 a.m.: In between breakfast and lunch-box assembly, I read whatever section of The New York Times my husband has left on the table. Reading the actual paper is a must for both of us. That's when I have a cup of coffee, or a matcha latte, or both.

7:45 a.m.: It doesn't take me long to get ready. I dry-brush my body (another new part of my routine courtesy of goop). I was initially hesitant, but I am fast becoming addicted to the little buzz it gives my body. Too soon to tell whether it's made any visible differences, but I'll take the sensation!
I love face oils. My bathroom counter looks more like a science lab than a vanity—it's all oils and serums in little vials with droppers. I wash my face with Cold Spring Apothecary cleanser, then use Lotion p50 PIGM 400. I'm trying to lighten a hyperpigmentation burn scar with a correcting serum I picked up at Shen Beauty in Brooklyn. It seems to be working!
I smooth in Vintner's Daughter serum followed with sunscreen, and Dr. Hauschka's clarifying face oil, which I've been using for over twenty years. To top it off, I have just begun using Niod eye concentrate serum.
I'm not big on makeup. I use RMS "Un" Cover-Up on my fading scar, and if my glasses don't fully cover any dark undereye circles, I do a bit there, too. I curl my eyelashes and add cream blush—currently, Olio e Osso.
I have the finest hair; it looks best when it isn't washed often. I've also been working around food for twelve years, so my hair is always tied up in some form of knot or bun. I use a lot of dry shampoo, and I love the dry powder from Cold Spring Apothecary and Water Killer Dry Shampoo.
8:15 a.m.: I bike Jackson to school. I absolutely love our Brooklyn neighborhood, and it's such a lovely way to start the day. If I haven't made matcha at home, I get one before heading home, to the studio, or to The Class by Taryn Toomey (I go to several times a week). I love matcha with oat milk. I don't have an aversion to dairy, but it just tastes really good.
9 a.m.: Once I'm home, I try to meditate or at least sit quietly and have some form of prayer or grounding moment before I get myself going (again) physically. I read an interview with Russell Brand that I keep on my bulletin board—I love what he says about daily prayers, and I often use that as my guide.

9:20 a.m.: I've always been driven by lists. I've heard you're approximately 76 percent more likely to do something if you actually write it down. After closing my former café, I participated in an accountability group with a

small community of women. We used a template to help guide areas of our lives, like career focus, wellness, family, and work on our emotional, internal selves. The tools created with this group became the prototype for a planner we're launching at Cook Space very soon.

The planner has space for my schedule and top priorities but also accountability for self-care—that is, doing what I need to feel the way I want. I use it to both signal the official start of my day, and as a guide to frame my week, days, and my goals. It includes how I want to feel and be. I start there, and I find the day unfolds in a new and exciting way.