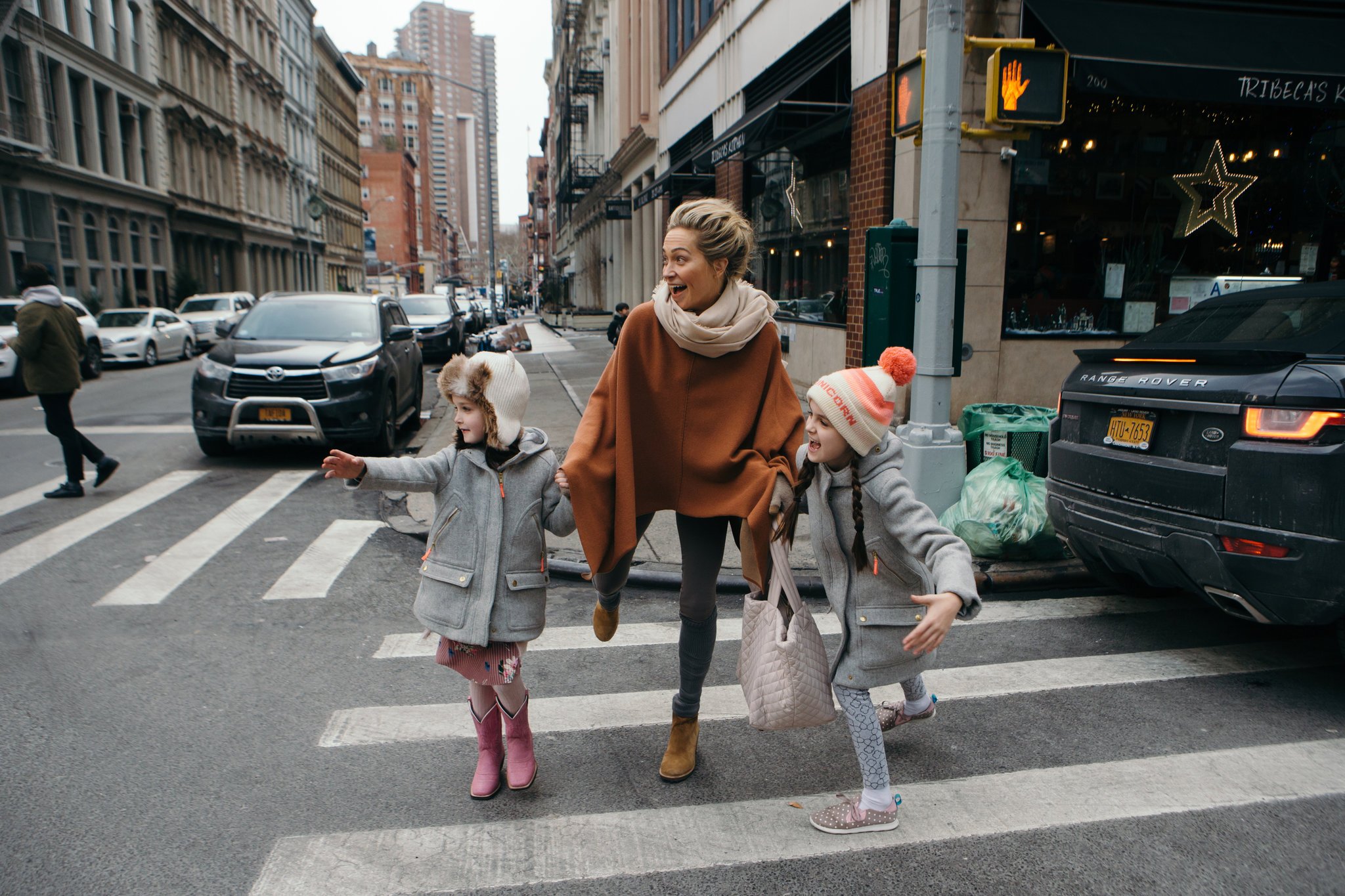 Photo credit: Anthony Geathers
My Morning Routine
Face Masks, Meditation, and
Cranked-Up Music
Taryn Toomey
| founder, The Class
Like everybody's, my morning is a practice in multitasking. I switch things up depending on the day. Some mornings I teach an early Class or meeting; some mornings I have some time alone or am with the kids at home.
Either way, my routine is consistent: I wake up, brush my teeth—and my tongue—and rinse my face. Right away, I always put on a mask. I've learned if I don't put it on first thing, I won't ever do it. I love Dr. Barbara Sturm's mask—it's clear, so I don't scare my kids. But I try lots of different ones, too. Twice a week, I change it up to exfoliate with the goop Instant Facial. You have to keep your eye on that one. If you leave it on too long, your face is on fire—but it's so good!
I go to the kitchen with the mask on and have a large glass of water with lemon and add a little turmeric or cayenne. A few rounds of uddiyana bandha [yogic breathing] feels best on an empty stomach, so I do that, too.
If I'm teaching an early Class—I am a big fan of morning workouts before eating—I take 100 milligrams of L-carnitine, a type of amino acid. I take it on an empty stomach before working out. It transports fatty acids into the mitochondria so they can be used as fuel.
Photo credit: Anthony Geathers

If I'm at home for a little bit, I take
Lypo-Spheric Packets in vitamin C and GSH from LivOnLabs. Then I make my smoothie: a packet of goopglow, one scoop of Vital Proteins Collagen Peptides, a scoop of something seasonal—like raw pumpkin—plus cinnamon, cardamom, chocolate plant protein powder, unsweetened almond milk, and chia seeds. I follow that with coffee with unsweetened almond milk. I used to do a probiotic in the mornings, but now I've switched to taking it at night (Triplex Combo from MyPlexus).

I ask my girls to get themselves dressed, and I meditate, ideally for twenty minutes. Sometimes I don't have time get twenty minutes in, so I will do what I can. I sit on my BioMat, and it's an antidote for all that buzzing energy I have. A meditation session with everything going on in the morning sounds like I'm dreaming, but as it becomes my routine, and my kids' routine, it happens. My kids flow with it—they know they can come in if the house is on fire, but overall they respect that time. Kids thrive on structure and routine, so my making this habit creates this great container for them, too. And I believe learning by osmosis is key.

Getting ready, for me, is much more about skin care than it is about makeup. I think of makeup as this masking sort of impulse, whereas skin care…you wear your face every day, so treating it holistically makes more sense to me than piling on the makeup. That's why I'm so into the goopglow and the collagen in the smoothie: good skin from within.
Photo credit: Anthony Geathers

Photo credit: Jaimie Baird

I have a very simplified morning makeup situation: I have my brows and lashes dyed, so just curling my lashes makes me feel somewhat pulled together. If you're devoted to skin care, drink a ton of water, sweat a lot, get the right nutrients, and meditate, your skin will get into better shape, so you don't need so much else. So I curl my eyelashes and sometimes do a few dabs of cream blush on my cheeks.
BONUS: TARYN MORNING-TIME WISDOM
Taryn Toomey is a tip machine—she genuinely overflows with good advice. Below, she gives us some seriously useful ideas on navigating life in general:
Switch Up the Energy in the House
When you have a rough morning, if the energy is a little low, or sad, or bad, crank the music. I do it with my kids, and some silly jumping-jack song lightens the whole house, switches up the mood, insta-hijacks all the negative energy. It works if the day started out on a bad foot, but it works if you're alone, too: If you're feeling sad or heartbroken, listen to something. There a vibration in music for us when we need a little help—use it.
Make (or Change) a Habit
The thing I've learned about making something a habit is that you need your will, discipline, and energy mostly at the beginning of that process. Say you want to implement something: Commit to it for a certain amount of days, and it takes effort at first. Simply use discipline while you create a new process and it gets easier every day. This is true with meditation, exercise, diet, practicing any kind of new skill: Implementing is where the discipline comes in. Lots of times, we give up too soon on things because we're used to immediate gratification: "Oh it's not working…" From social media and everything else, we've gotten addicted to immediate feedback. *[Note: For more on this kind of practice, goop loves The Power of Habit by Charles Duhigg.]
Get Your Kids to Eat Less Sugar
I let them eat sugar—I think forbidding it can backfire. I am sure this annoys them to the umpteenth degree, but when they have the inevitable meltdown, I say, "Ooh, yes. How are you feeling? That feeling you have in your body right now? That's sugar!" I try to teach them through their own experiences.