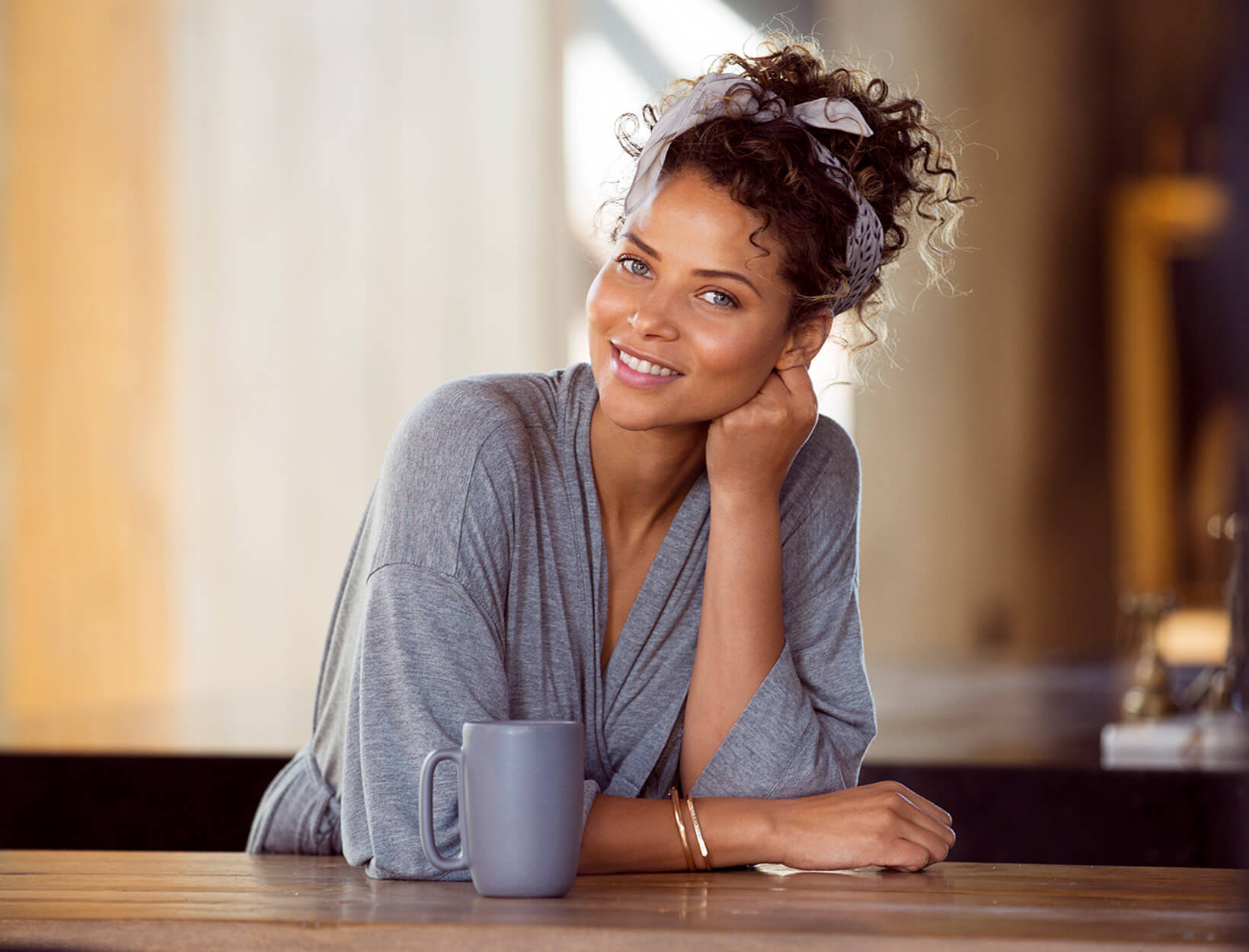 My Morning Routine
A Dream Kitchen,
Circle Time, and a (Delayed) Cortado
DENISE Vasi
| entrepreneur (maed.co), mom, actress
I'm not a morning person. But since September, I became a school mom, and now I set four alarms. The saving grace is, because I'm a night person, I've prepped my three-year-old Lennox's lunch the night before.
I start the day with cuddles with my little girl. Then I brush my teeth, wash my face with Ursa Major's famous face wash (someone gave me a sample at some point and I was instantly obsessed), spray my face with Nutrient Mist from True Botanicals, and walk into the kitchen.
I love my kitchen so much. I think of it as my meditation space. Cooking in it—and just being in it—makes me happy. My husband, a morning person, is already there, making fruit plates. I drink warm water with lemon, take supplements, and prep Lennox's breakfast.
I mix a packet of goopglow into a glass of water—I'm obsessed. In all honesty, water is the most difficult thing for me to drink. I mean, it's one of the healthiest things ever, and I…just don't love water. I use Daily Water, this app that reminds me to drink enough, but the goopglow changes everything. It makes water far more interesting. It's delicious, and I get the benefit of antioxidants, plus the

necessary water intake. (I love the packaging, too. We went to Mexico over New Year's, and I brought only the exact number of packets that I needed. And there's no scooper, it's just easy.)
I go back into the bathroom sipping my goopglow. I put on moisturizer from Dr. Dennis Gross, and exfoliate my lips with a scrub. (If you wear red lipstick, which I do, you have to exfoliate.) I spritz Devacurl in my hair—it's amazing if you wear your hair curly— and smooth some Ritual hair oil from Playa into my ends. My makeup is pretty simple: I'll wet a brush, dip it into brown eyeshadow, and smudge it into my lash line. I add some mascara from Lily Lolo and a red lip—RMS Beauty "Rebound"—and I'm ready.
Once Lennox finishes breakfast, I usually have to chase her around to get her dressed. I'm always convinced we're going to be late, but we usually make it. Occasionally, my husband will make me avo toast for the car.
I drop Lennox at circle time at pre-school and go for a real breakfast at Bondi Harvest. My order: A Caveman Bowl without meat, a green smoothie, and an almond-milk cortado. There's so much that's good with coffee—and so much that's bad: Certain times of the day, you don't want it—a cup of coffee overstimulates your adrenals. But then, it's one of the top ways Americans get their antioxidants. My feeling is: if you're having coffee to get through life, it's a problem. It's good to have some, but it's important to set limits. We're ovo-vegetarians in general—but I do 80 percent-20 percent if we're in Paris or Italy. (I'm not going for gluten-free croissants or dairy-free ice cream over there!) In general, I don't eat meat, and I'm about 90 percent no dairy or gluten.
While I eat, I attack email, set my calls—I even take meetings at Bondi. The transition from actor to entrepreneur happened as I became a mom. I didn't end up wanting to go back to work—I wanted to be home with my kid—and that conversation, all those questions, played out on my social channels, and it's just grown organically.
As those conversations started to change, things evolved—I lost the male following from the minute I started talking chapped nipples. They were like, we're out! But my female community really grew, which helped me make a huge career pivot.
This month, I'm launching a content site called maed.co to put everything in one place. It's all about that evolving conversation—along with how our family lives, from exercise and recipes to our general outlook. We're not very conventional—I had a home birth—and we're much more likely to be taking Chinese herbs and adaptogens than tackling a cold with Robitussin. But I think we're doing something right—people seem to like it. I'm so excited.