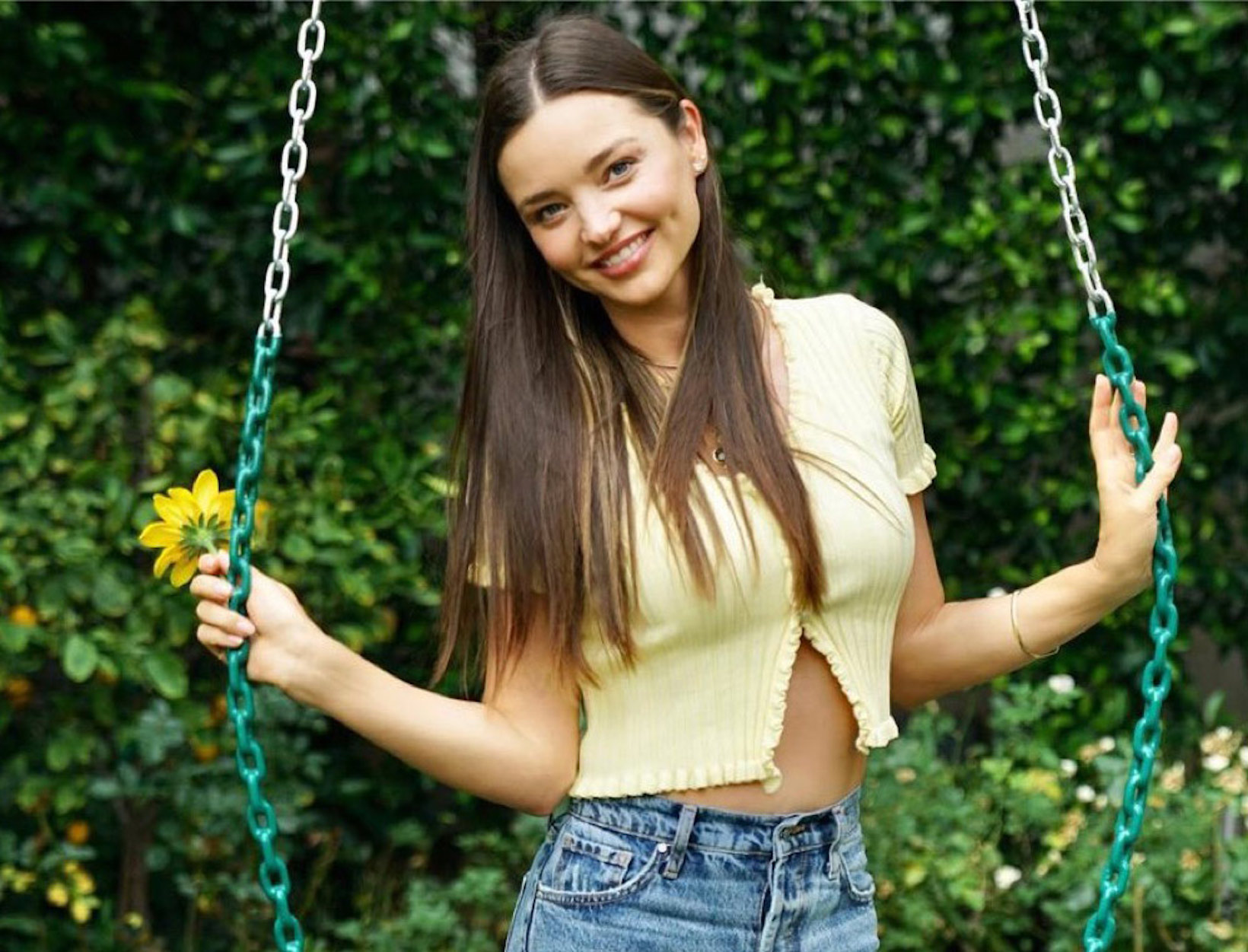 Miranda Kerr's Summer Glow Secrets:
Turmeric Cream and Lavender Self-Tanner
Languorous beach days are coming, and Miranda Kerr—founder and CEO of KORA Organics, supermodel, and mom of three—is ready. "There's a vitality in the air specific to summer, and summer nights are pretty special—something about eating outside under a warm sky," says the LA resident dreamily. "My family and I go on picnics, and I love feeling the sun on my legs. I try to be outside as much as possible, and I do this thing where I stick out my hands, palms open, and visualize the sunlight's energy going through every part of my body."
To offset her joyful basking, Kerr is diligent about sunscreen, and she doubles down on skin care, too. "I definitely do more exfoliating and moisturizing, plus some self-tanning to get a bit of a head start," she says. "I'm about to be thirty-eight, and I like how my skin looks now more than I ever have." Kerr's get-ready-for-summer regimen includes a gorgeously silky turmeric face cream that's heaven after a day at the beach and a gentle milky cleanser we couldn't be more obsessed with, along with dry brushing, a nighttime superserum, white Birkenstocks, and date night with her husband (under the warm sky when possible).
Day
Most days, and especially in summer when my skin gets dry from being in the sun and swimming, I dry brush before my morning shower. It's exfoliating and leaves my skin so smooth—I'm obsessed. It might sound funny, but I get excited to wash my face with our new mushroom cleanser. You shake it to blend and activate the ingredients: moisturizing aloe leaf juice, silver ear mushroom—which acts like hyaluronic acid—apple seed and sunflower oils, and more. I take three to five pumps and massage it into my skin. It gently removes oil, and at night, it's beautiful for taking off makeup. The subtle scent of rose geranium and basil is so therapeutic; it makes me feel centered.
Our products are all filtered through rose quartz crystals, and the cleanser is also charged with clear quartz. We print a different word on the back packaging of each type of product, and all the cleansers say "Forgiveness." A friend told me that when you're brushing your teeth in the mirror, you should say out loud, "I forgive myself, and I forgive anyone who's hurt me intentionally or unintentionally." I wanted to make a product to prompt that action of making peace with yourself. There's energy behind words.
Some mornings I use our turmeric face scrub after cleansing. It's made with tingly peppermint oil, as well as papaya enzymes and fine rose-hip-seed granules, so you get both chemical and physical exfoliation. I smooth it all over as a body scrub, too. For intense exfoliation, once a week I do the overnight peel pad from goop. It's so good and so brightening.
goop Beauty

GOOPGLOW 15% Glycolic Acid Overnight Glow Peel

goop, $125/$112 with subscription

SHOP NOW
My hair gets oily at the roots, and I love this scalp scrub shampoo for a deep clean. It smells so fresh—I do it once a week, and it's just a fun experience.
Out of the shower, I apply vitamin C serum, then on top of that, my new turmeric moisturizer. The texture is creamy, and smoothing it on feels almost like a spa treatment. Turmeric, noni fruit, and licorice are encapsulated in these tiny liposomes that pop open when they hit your skin—it's an incredible way to keep ingredients highly active. The moisturizer is rich (but not too rich for summer and not too rich for blemish-prone skin). My cousin has oily skin, and she loves how it melts right in and gives her a glow. The jar is refillable, and over the next two to three years, we plan to do that with the whole product range.
I'm pretty intense about protecting my skin, so I put on mineral sunscreen every day. When you're running around with kids, it's just one less thing to think about. I like to start the season off looking a little golden, and the best trick is layering the noni body oil over self-tanner. The oil is to-die-for hydrating, and I smooth it over the tanner, which leaves this natural sheen and smells like lavender instead of chemicals. KORA isn't just clean; it's certified-organic, and I'm so passionate about that. People have this idea that when something is organic it's less potent, but there's a study out of Cambridge showing there can be up to 60 percent more antioxidants in certified-organic crops.
My summer uniform is a little dress or denim shorts with white Birkenstocks. I'm also a big hat girl—I don't go anywhere without one.
goop Picks
I like enhancing my skin without looking like I'm wearing makeup. My trick is mixing a drop of face oil with RMS concealer and then smoothing it around my eyes.
My face is quite wide, so I blend a little pink blush from RMS high up on the apples of my cheeks at a slight diagonal to bring it in a little. I dab a touch of my luminizer onto my Cupid's bow and at the inner corners of my eyes—it's made with crushed rose quartz, so it gives you that easy summertime luminosity.
Night
I'm very much about date night with my husband; it feels good to make an effort and put on a flirty dress and kitten heels—and then I bring that energy to dinner.
goop Picks
My routine for night is pretty much the same as during the day except sometimes I take a bath—I love the goop Martini bath and throw some crystals into the tub with it—and after washing my face, I apply our exfoliating resurfacing serum. It helps brighten, smooth lines, and refine texture while you're sleeping.