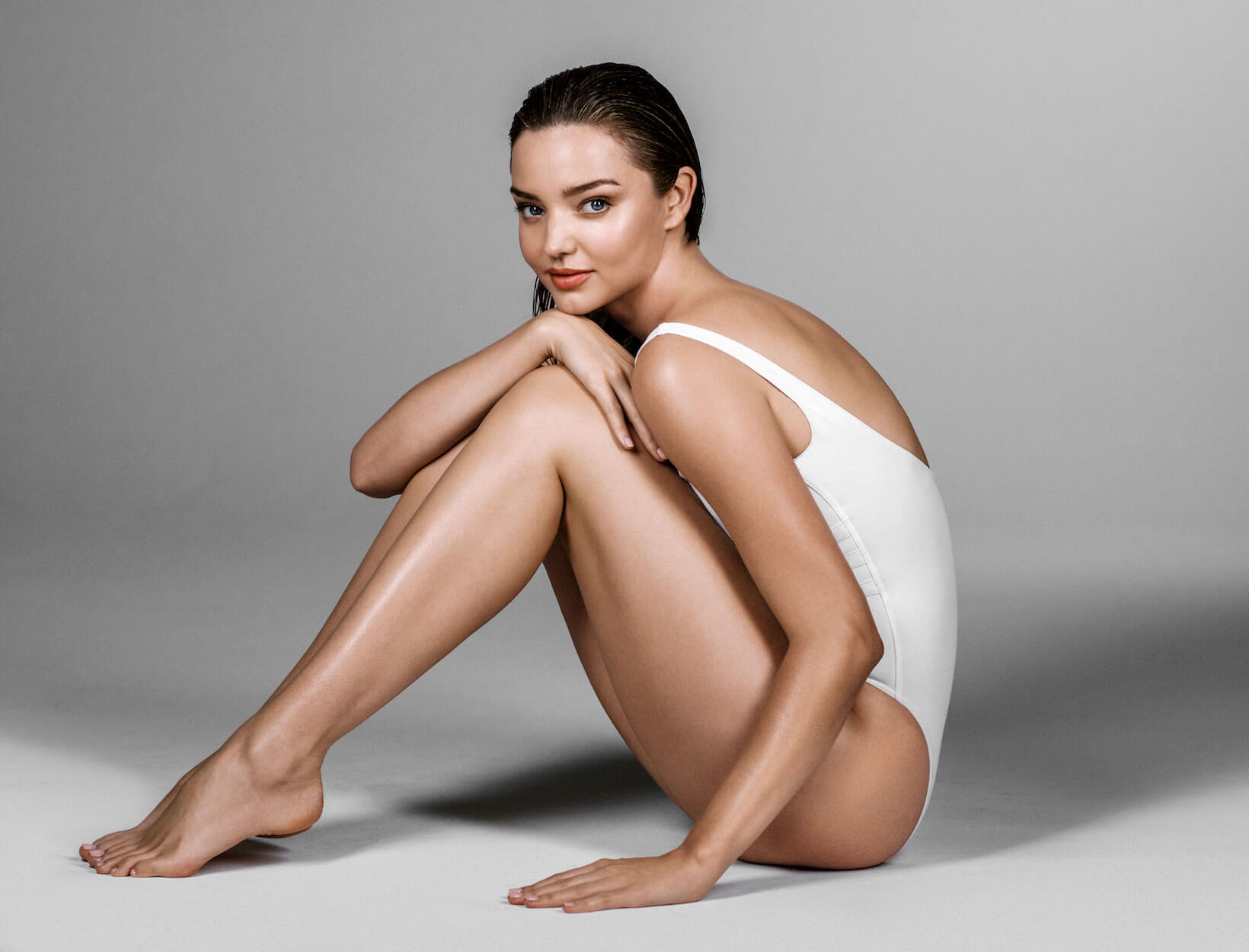 Miranda Kerr's Rose Quartz Obsession
It makes some dreamy kind of sense that entrepreneur/mom/supermodel Miranda Kerr has managed to build her clean beauty empire, Kora Organics, on pink crystals. Every oil, every salve, and every cream she makes is filtered through rose quartz crystals, and her new ingeniously heart-shaped, face-sculpting gua sha tool is pure rose quartz, as is the rollerball applicator of her noni-oil-infused eye oil.
"I use these together every morning; it makes such a difference in how I look and feel," she says. "It's great after a flight, too—and I once found my baby using it
as a teether."
Kerr's skin, of course, glows to such a degree that pink crystals quickly start looking like the answer to everything. "Certified-organic ingredients—and the right ingredients, like noni-fruit extracts, pure rose hip oil—are really the secret," says Kerr, who woke up to the realities of potentially toxic ingredients in beauty products during some of her busiest times as a model. "I starting reading about ingredients, and I had to switch," she says. "There wasn't a lot out there then in terms of clean beauty, but I switched."
"I don't want to carry moisturizer around in my handbag, which is why I made this," Kerr says of Kora's Noni Glow Body Balm. "It's brilliant for travel, the office, the beach, and I used it all over my tummy when I was pregnant. It's so nourishing, and the aromatics are this heart blend of rose otto and sandalwood. The best part is that it makes your legs so gleamy. I'm always like: Wow!"
Kerr's connection to organic farming—and to crystals—goes back to her childhood in Australia. "I had a wonderful example in my mom, who was a busy working mom," she explains. "So my grandmother often took care of me. She was so into health—she had an organic vegetable patch, she was a great cook, and she even introduced me to the noni fruit. It had a big effect on me. My grandpa was always bringing her back treasures, and my favorites were geodes, rock formations with crystals inside. My grandfather would put the geodes at the base of this willow tree. I was fascinated by them, attracted to them, and I didn't know why."
"We used pure rose quartz for the rollerball applicator," Kerr says. "It feels incredible going on."
It wasn't until she was much older that Kerr learned about crystals' metaphysical reputation: "I remember standing in a crystal shop and it dawning on me that crystals were not just pretty. After that, I read all the manuals, and I understood."
"It might sound hippie-dippie, but crystals have this magical element, and they're very personal to me and super helpful in my life," she says. "Rose quartz nurtures the heart chakra—for me, it's about love, a non-egotistical form of self-love. We can be our worst critics, and I think rose quartz helps us be kind to ourselves."
In 2006, when she began working on formulas for what would become Kora Organics, the rose quartz filtering was a nonnegotiable, as was using 100 percent certified-organic ingredients. "It's much harder, the standards are much stricter, but the results are so much better," she says.
Organic noni oil from Australia figures prominently in many of the of the formulas, along with organic pomegranate, sea buckthorn, and rose oils. "My grandfather planted a rosebush, and he'd always pick roses for my grandmother, so that's how I fell in love with roses," says Kerr. And if you think her skin looks good, she says, you should see her grandparents'.