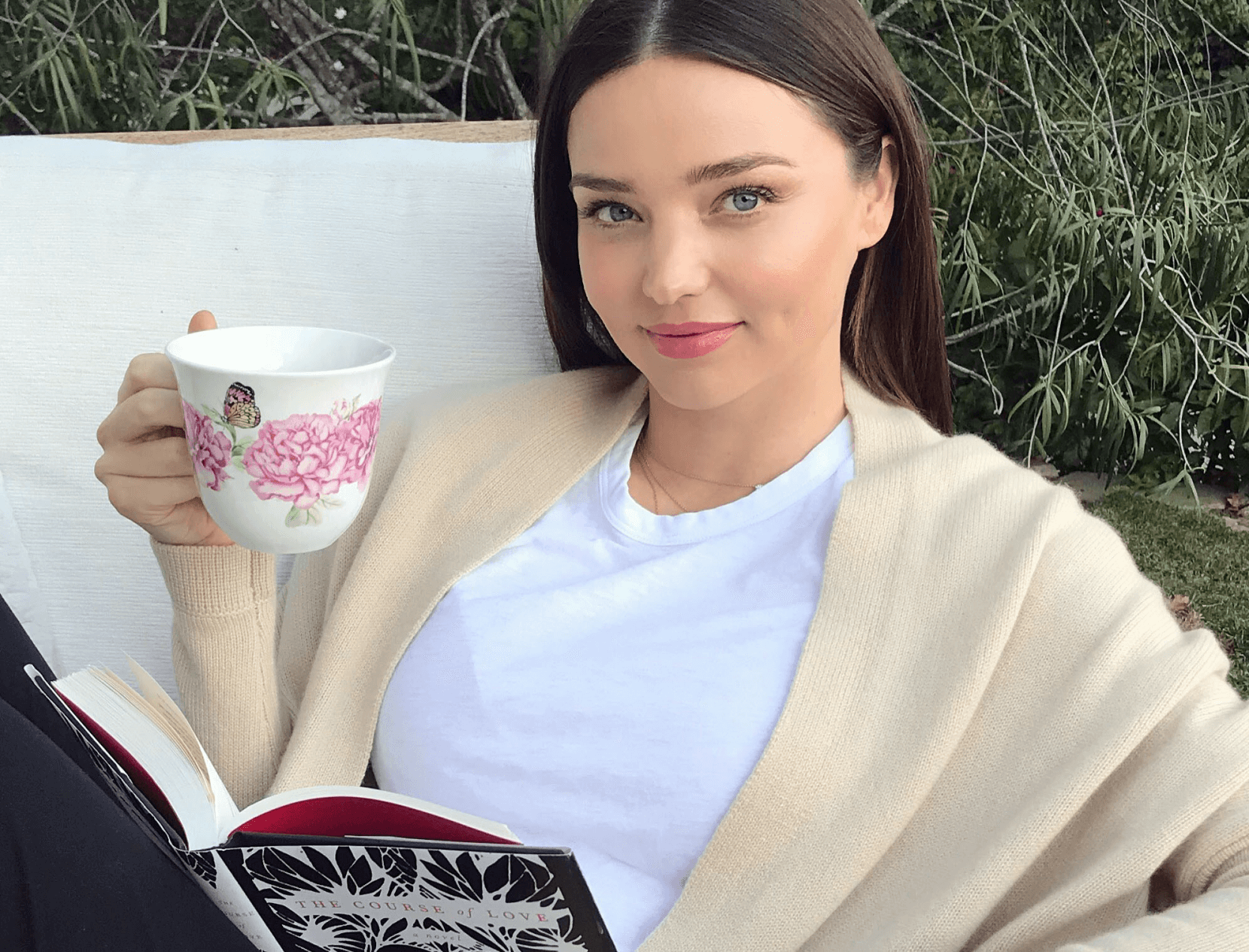 my nighttime routine
How Miranda Kerr Winds Down before Bed
Miranda Kerr
CEO and founder of KORA Organics
Like many of us, KORA founder and CEO, supermodel, and mom of three Miranda Kerr is adjusting to being at home all of the time. "I'm feeling a mix of emotions," she says. "I'm grateful to everyone who's working around the clock to keep us all safe as we do our part and stay home. I also feel guilty for having the luxury to be able to stay home when others don't. I hope this crisis will make us all appreciate each other—and our world—even more."
To deal with stress, Kerr's been fitting in more meditation. "That or a Kundalini yoga class on FaceTime when the kids are napping," she says. Another part of her coping strategy: keeping to an evening routine that she already loves. Her bedroom manages to be cozy and airy all at once, and her bathroom, off to one side, is something of a laboratory for in-the-works KORA products. She keeps her tried-and-true products close at hand, too, for a nighttime routine that balances skin care, self-care, some beautifying, lots of kid time, and the occasional second dinner.
We got a peek into her indisputably beautiful world when we recorded a podcast with her some months ago, and we were happy to return to get all the details on the evening routine that keeps her mood calm and her skin looking…the way it does.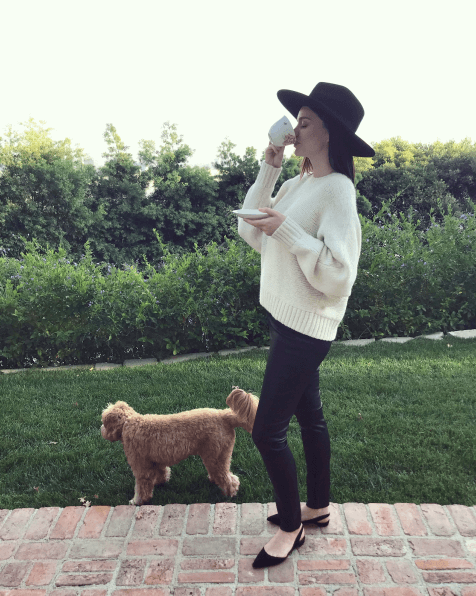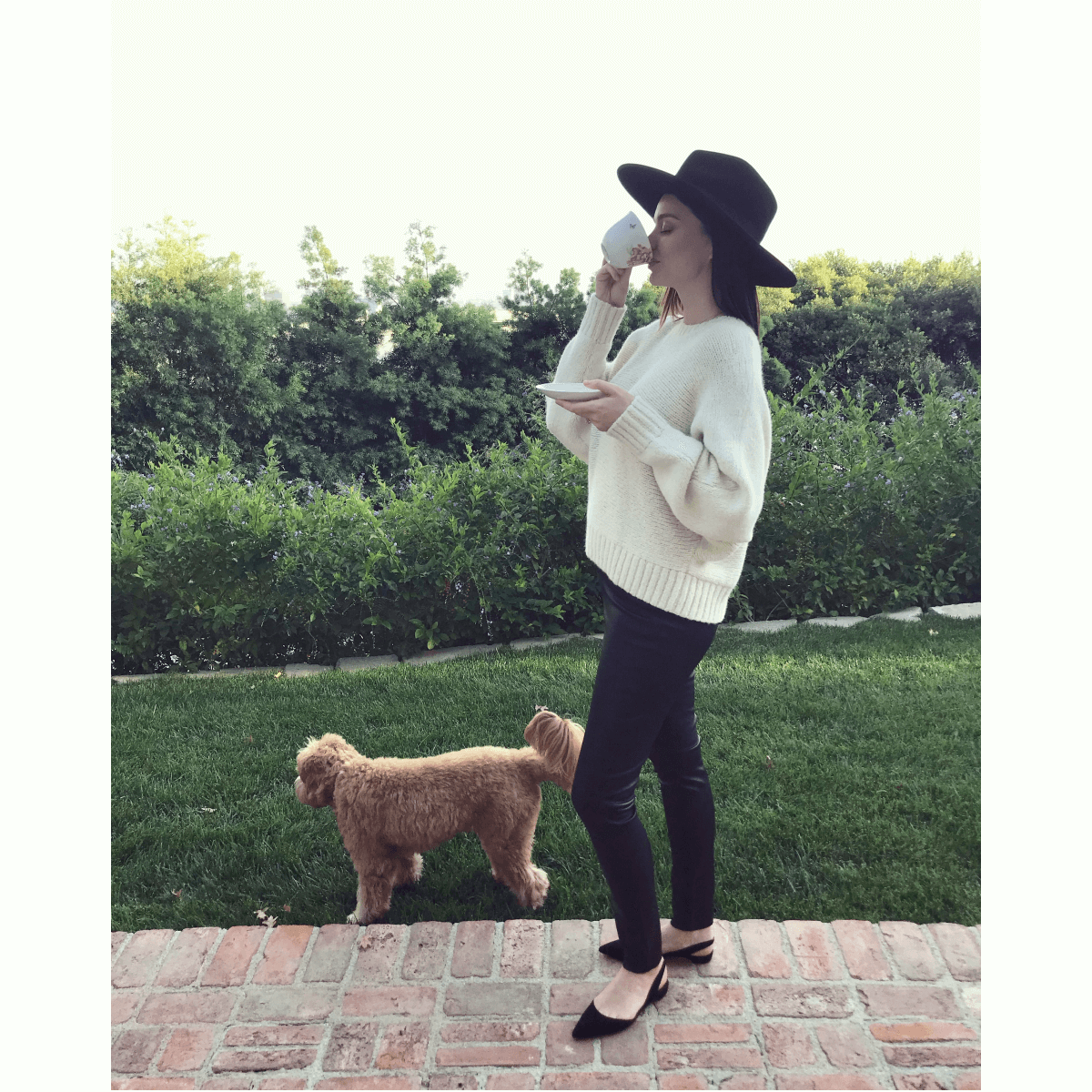 5:30 p.m.: I bathe with Hart [two years old] and Myles [five months old]. This is our little ritual, and I look forward to it every night.
6:15 p.m.: I read Hart a few books—he loves anything with cars and trucks!—and put him to bed by 6:30 p.m., feed Myles, and put him to bed by 7 p.m. Then I draw or read books with Flynn [nine], before I tuck him in.
8 p.m.: Time to pamper my skin a little. When we're sleeping, our skin cells regenerate—this is why a consistent evening skin-care routine with nourishing products is so key. I double-cleanse, first using the Cream Cleanser from KORA, which is very gentle and soothing, then removing it with an eco-friendly Face Halo cloth.
I apply the Noni Night AHA Resurfacing Serum—it's new, and I'm obsessed. It's certified-organic and uses natural AHAs, BHA, and fermented lemon peel to resurface skin. I've been using it every night for the last few months, and my skin feels amazing—smoother, more refined—and my pores look smaller.
Next I smooth on Noni Glow Face Oil, which I use morning and night to keep my skin healthy and glowy. And the Noni Eye Oil after that: Its rose quartz rollerball feels so cooling and soothing. It contains kahai oil to help soften the appearance of the fine lines around my eyes. (Sometimes I roll it onto my forehead wrinkles, as well.)
8:10 p.m.: If I have time, I do a little bath ritual. I make a cup of lemon balm tea with honey, tie my hair up, dim the lights, light a few candles, burn palo santo to clear the space, and play some relaxing music (I love Snatam Kaur). I'm loving the "Martini" bath soak—it smells incredible and eases me into relaxation mode. This little sequence helps me unwind for a good night's sleep and also recharge for the day to come.
8:30 p.m.: Once I dry off after the bath, I apply the KORA Gradual Self-Tanning Lotion all over my body about twice a week to keep a year-round bronzy glow. It's the only self-tanner I've ever used that doesn't have that stinky self-tan smell—it actually smells like lavender! And it's a beautiful, buildable warm color. Once it's dry, I put on my pj's—a silk set from Helena Quinn that I love right now.
10 p.m.: Read and send a few emails before I put my phone on airplane mode for the night.
10:15 p.m.: Right before bed, I smooth on my Noni Glow Sleeping Mask, and I don't wash it off until morning. It dries as a translucent veil, seals in all the moisture and nutrients from the other products, and doesn't rub off on your pillow. It hydrates with hyaluronic acid, which really plumps the skin. Being a busy mum and working across different time zones, I'm often sleep-deprived and my skin suffers, so this helps give the illusion of a full night's sleep.
10:30 p.m.: Sweet dreams.