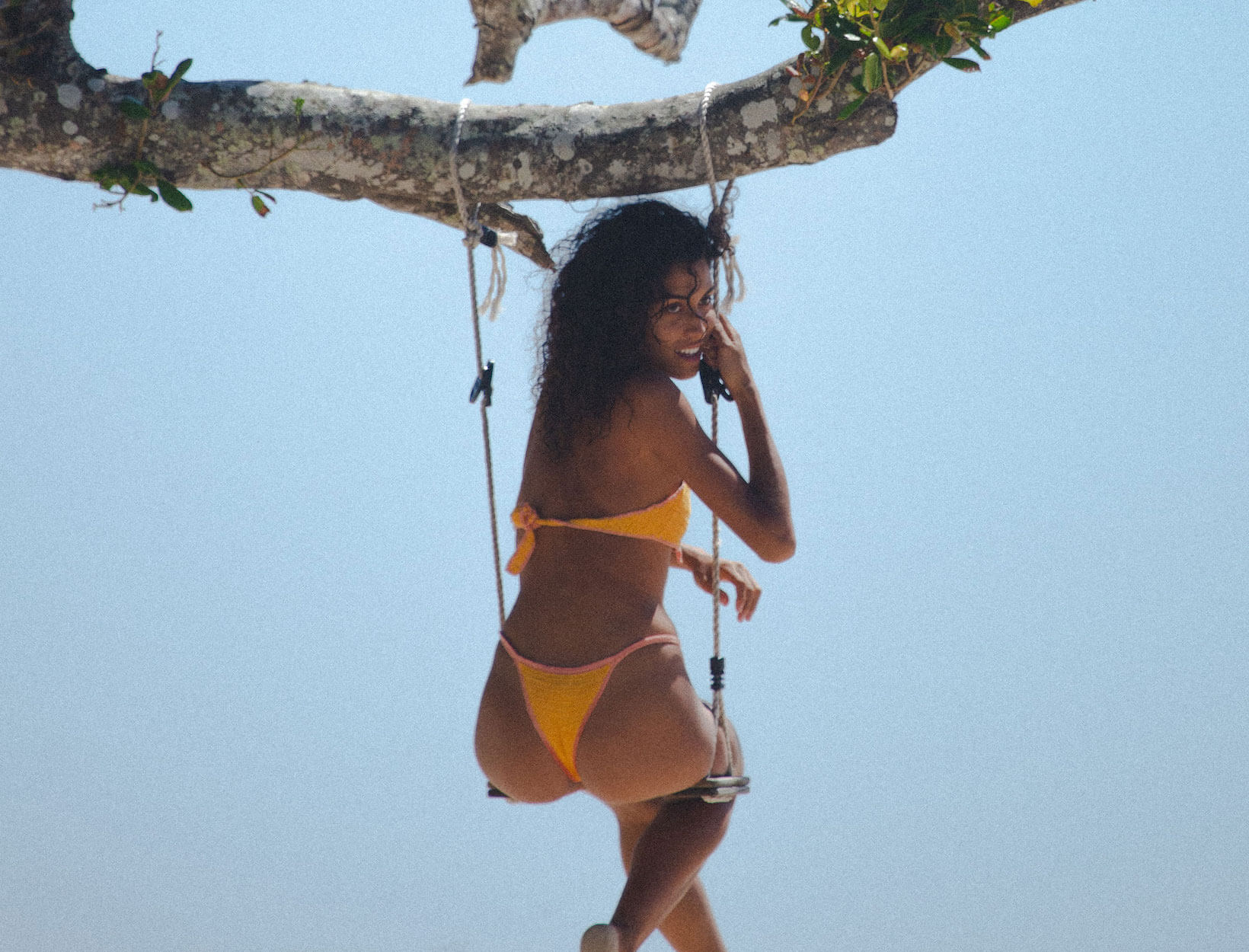 Photo courtesy of Ben Rayner
The 2021 Guide to Mineral Sunscreen
(for Every Skin Tone)
Most of what we think of as the signs of aging are actually the signs of sun damage, so daily sunscreen is the most essential step in any skin routine—it's truly the most powerful miracle cream there is, not to mention critical protection against skin cancer. With coral-bleaching chemical sunscreens now banned in places like Australia and Hawaii and clean mineral sunscreen formulas becoming ever more luxurious and easy to apply (the Environmental Working Group's brilliant yearly sunscreen report is out this month, and the good options are many), we talked to the experts to get answers on everything from skin cancer to nanotechnology. There were some surprises: Many of us forget to put sunscreen on the undereye area and along our lip lines, and it turns out spray sunscreens are a terrible idea. Not so surprising? There are absolutely gorgeous, effective mineral-only lotions and creams that work beautifully no matter what the situation and no matter what your skin type or tone.
Mineral or physical sunscreens (identify them by looking at the active ingredient box, which should list only zinc oxide, titanium dioxide, or both) provide protection by physically blocking UVA and UVB rays, sitting on top of the skin like a shield. By contrast, chemical sunscreens provide protection by absorbing the UV rays in your skin.
GREAT SPF 30S FOR FACE
Sinks into skin like magic

Unsun

Mineral Tinted Face Sunscreen SPF 30

goop, $29

SHOP NOW
In its yearly reports, the EWG has consistently warned against common chemical sunscreen ingredients (as has goop), and this year, the nonprofit cites even more studies showing their potentially harmful effects. The report is the most comprehensive one the EWG has made in the fifteen years it has been issuing annual sunscreen reports. "We're excited we were able to access about 1,800 sunscreen products in this report," says Nneka Leiba, the vice president of healthy living science at the EWG. "Unfortunately, we can only recommend about a quarter of the sunscreens we looked at—many still don't provide adequate protection, or they contain problematic ingredients."
Endocrine Disruption
Some of the most common chemical sunscreen ingredients are problematic, experts say: Oxybenzone, avobenzone, and octocrylene are three. Among the worst effects of some chemical sunscreen ingredients is their potential to disrupt our endocrine systems. "There's new science on the endocrine-disrupting effects of chemical sunscreen ingredients," Leiba says. "At this point, there are quite a number of data points showing endocrine-disrupting effects from avobenzone and oxybenzone, ingredients that are still common in chemical sunscreens. And while there's talk in Europe about limiting concentrations of those ingredients, the truth is no one knows what a safe amount would be."
In addition, she says, chemical sunscreen can contain ingredients that may affect other aspects of cell growth and health: "Retinyl palmitate is an example of that type of ingredient," she says.
On top of that, ingredients in chemical sunscreens (others to look for are octinoxate or octyl methoxycinnamate, homosalate, and octisalate) can also be potent skin irritants. Mineral sunscreen ingredients, on the other hand, can soothe the skin (titanium dioxide is what most baby-bottom cream is made of).
"Mineral sunscreens are typically tolerated by all skin types—I recommend them to everyone, but especially my clients with sensitive skin, rosacea, eczema, or sun-induced rashes," says New York dermatologist Elyse Love, MD. "Chemical sunscreens can be allergenic, whereas reactions to physical sunscreens are uncommon. Physical sunscreens also tend to be better at preventing sun-induced reactions."
What about Sprays (Even Mineral Ones)?
Across the board, the EWG advises that spray sunscreens—chemical or mineral—should be avoided. "When inhaled, sunscreen particles can get deeply into the lungs, and when you're using a spray, the potential to inhale those particles into the lungs is high," says Leiba. "Use a cream or lotion, where absorption is minimal and inhalation is not a factor."
GREAT SUNSCREENS FOR BODY
What SPF Numbers Do and Don't Mean
"SPF factors in only how well a sunscreen protects the skin from UVB rays, and you need to protect against UVA as well," says Leiba. "The FDA's broad-spectrum labeling requirements set such a low bar, it's very hard to tell from the label what you're getting when it says 'broad-spectrum'—whether you're getting adequate UVA protection." Leiba explains that within a given formula, the level of UVA-protecting ingredients should move with the UVB-protecting ingredients so that the ratio remains the same: "And this is not what we see in many formulas, particularly ones with a very high SPF, which is why we don't recommend SPFs above 50."
Another reason to avoid sunscreens with an SPF over 50 is that while they're harder to rub in, the increase in protection they provide is vanishingly small over that of an SPF 50. Compared to the difference in skin protection between an SPF 15 and SPF 30, the difference in protection between an SPF 50 and an SPF 100 is much smaller.
"In terms of efficacy, there's lots of variation across the board," says Leiba, who recommends downloading the EWG's Healthy Living app, which enables you to look up any given sunscreen and even scan sunscreens in the store before you buy them to see their EWG ratings.
People of Color and Mineral Sunscreen
Distressingly, some proponents of chemical sunscreens have argued that they are a better choice for people of color, because they're easier to rub in. "The premise that mineral sunscreens all leave a whitish cast isn't true," says Leiba, a Black woman. "And if there's a product that leaves a whitish cast, it's going to leave it on all skin tones, not just darker ones. Mineral sunscreen textures have improved over the years, and that benefits everyone, including people of color." Katonya Breaux, who is Black, created Unsun, a mineral sunscreen company for all skin tones. It comes in two tints: "We tried the formulas on every skin tone there is," says Breaux. "With two tints, the palest pale skin tone is covered, and so is the darkest dark."
How Often Should You Apply?
Every two hours or so. "All sunscreen will break down over time," says Leiba. "And you have to put on a decent layer to protect your skin. "Inappropriate use of the products is a real problem—if you don't put enough on, you don't get the benefit. Staying out of the sun altogether and wearing protective clothing are even more effective, of course."
Make Sunscreen a Habit
"Most people understand that repeated sunburns increase the risk of skin cancer and skin aging, but daily sun exposure over many years also increases the risk of skin cancer and skin aging," says Love, who notes that the lower eyelids, upper lip margin, and ears are common places for skin cancer because people often overlook those areas when they're putting on sunscreen.
For Lips and Hands
"If people are anything like me, cooped up in apartments, sunscreen is a practice they may have forgotten about," says Leiba. "I have ventured out and forgotten. But we're used to remembering our masks, so in that same self-protective moment, remember the sunscreen."
The Effect of Sunscreen on Oceans and Coral
"Chemical sunscreens definitely have an impact on the oceans," says Leiba. "There isn't enough science yet for us to speak definitively to the effects of mineral sunscreens on the oceans. Oxybenzone has been banned in Australia because it has been shown to contribute to the bleaching of coral reefs. Reef bleaching can also be attributed to rising water temperatures due to climate change, but wash-off of oxybenzone contributes. A study in the Archives of Environmental Contamination and Toxicology showed oxybenzone can be fatal to baby coral and damaging to adult coral in high concentrations."
In March 2021, the Hawaii state legislature passed a bill that, beginning January 1, 2023, bans the sale, offer for sale, or distribution of any sunscreen that contains avobenzone, octocrylene, or both without a prescription issued by a licensed health care provider.
Leiba says more ingredients are being considered for the banned list in Hawaii but that ideally states wouldn't have to institute bans in the first place. "It should be national," she says. "Along with banning unsafe chemicals, what we need is for the FDA to prioritize approving more active ingredients for sunscreens: There are many options in Europe that aren't available here. Establishing a basic threshold for health and safety—for people and for the environment—would be ideal. Then states wouldn't have to deal with these issues on their own."
Are Micronized and Nano Minerals Okay?
Every expert we spoke to agrees more research is needed into micronized and nano mineral sunscreens. Manufacturers can grind zinc oxide and titanium dioxide into tiny micronized or nano particles to make the formula easier to smooth on, but the small size of these particles makes it easier for them to penetrate skin. "Our position at EWG on nanoparticles of mineral sunscreen and micronized mineral sunscreen is that for intact healthy skin, absorption is minimal," says Leiba. "We advise against using both mineral and chemical sunscreen sprays because they can disperse particles deep into the lungs."
"What research there is on micronized zinc oxide (in vitro, in vivo, ex vivo, and clinical studies) shows that very, very minute amounts, if any, reach the blood and urine," says goop senior science editor Denise John. "Some studies report that micronized zinc oxide and zinc nanoparticles don't reach the deep layers of the epidermis, and there's research to support the theory that zinc oxide nanoparticles do not cause toxicity to the skin."
In terms of toxicity to coral reefs, the research is clear that some chemical sunscreens cause coral bleaching, and the effect of nano or micronized minerals is much less clear. "We need more studies," says Leiba.