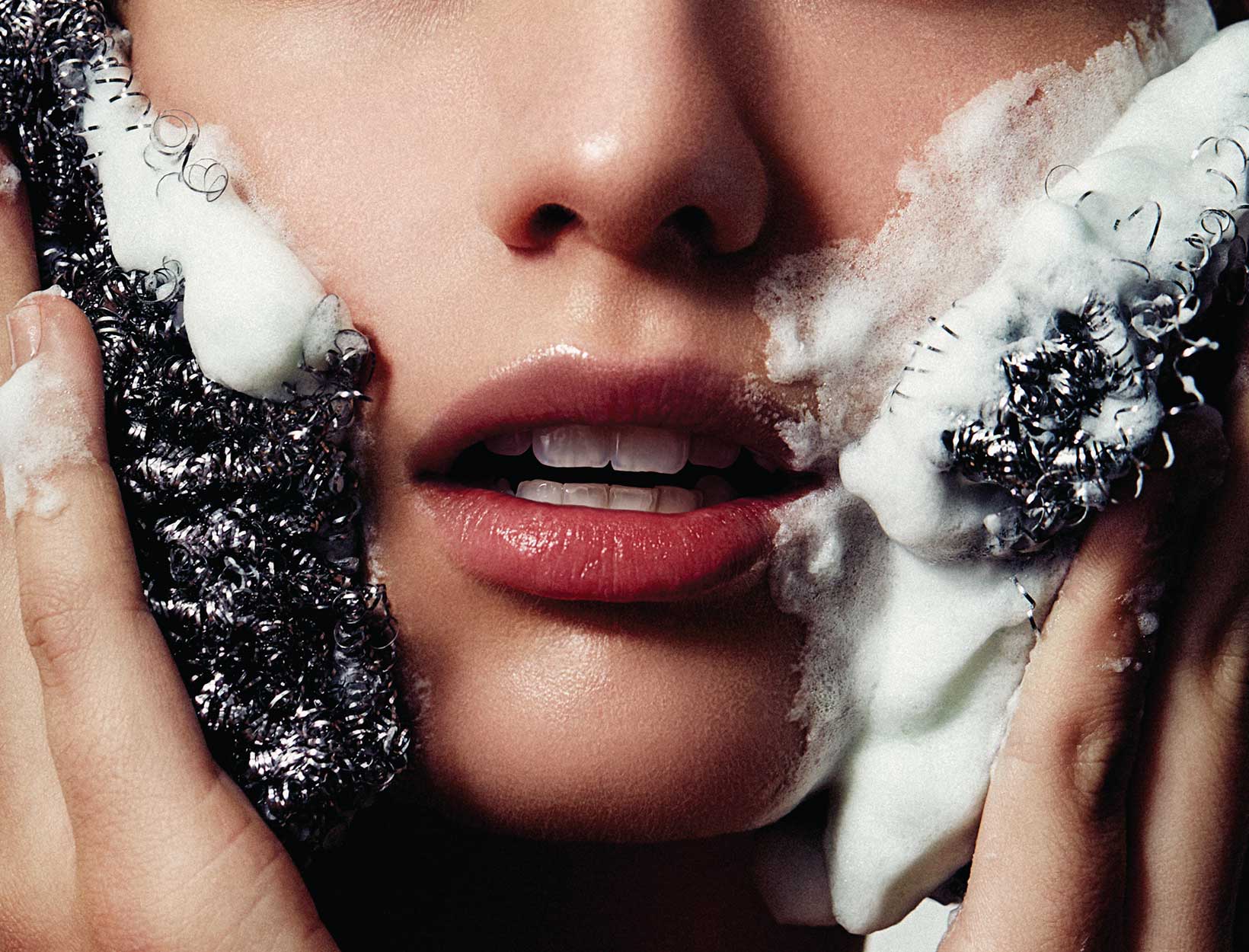 3 Ways to Get the Benefits of Microdermabrasion at Home
If you want to improve the appearance of wrinkles and fine lines, dullness, dark spots, marks from blemishes, or sun damage, getting a microdermabrasion treatment can make a considerable difference in how your skin looks and feels. Generally an in-office procedure, microdermabrasion intensely exfoliates skin using a device that spews a stream of ultrafine crystals to physically slough away the top layer of dead skin, dirt, grime, and any other debris that can leave your complexion lifeless (and clog pores). The skin-smoothing, brightening, glow-inducing results are impressive, but there are some downsides: number one being the expense (dermatologists often recommend having the treatment done monthly or bimonthly), and number two, the time it takes to get yourself to (and wait at) a salon or doctor's office.
Fortunately, there are now incredible at-home treatments that physically exfoliate skin to give you similar radiance-boosting results without the expense in terms of both time and money. (And for those with sensitive skin, at-home treatments can be used more gently, so you can avoid the interval of redness and sensitivity that may follow an in-office session.)
1

GLOW-BOOSTING SKIN POLISHER (WITH GLYCOLIC ACID)

GOOPGLOW Microderm Instant Glow Exfoliator is inspired by the transformative brightening, smoothing effects of popular in-office microdermabrasion treatments.

It's a dual-action microdermabrasion exfoliator that delivers the benefits of both physical and chemical exfoliation, instantly polishing away roughness, smoothing uneven texture, and revealing a healthy-looking, glowing complexion. The air-whipped, almost marshmallow-like formula is densely packed with a blend of four powerful, glow-inducing, microexfoliating minerals (quartz, garnet, aluminum, and silica) plus glycolic acid to help sweep away dry, dead skin cells and refine the appearance of pores for skin that is visibly softer, smoother, and more radiant.
2

Ultrabrightening Turmeric Mask

Brighten, soften, and revitalize skin with this potent mask. Incredibly fine rose-hip-seed granules and papaya enzymes gently polish skin, leaving it soft and glowing, while turmeric, aspen bark, and peppermint essential oils purify pores, leaving skin clean and even. It tingles a little bit after you smooth it on—wash it off and skin feels awake and refreshed.
3

Foaming Scrub with Ruby Crystals for Oily Skin

Ideal for oily and combination skin, Goldfaden MD's revolutionary, totally clean exfoliating treatment rivals in-office microdermabrasion procedures. Ruby crystals sweep away dead skin cells so organic red tea, ultrahydrating hyaluronic acid, and soothing seaweed extract can penetrate skin for deep rejuvenation. The pleasantly foamy treatment leaves skin radiant and healthy.
All skin benefits from regular exfoliation, and that includes both physical and chemical exfoliation. Physical exfoliation is brilliant for thoroughly sweeping away the top layer of dead skin cells and debris, while chemical exfoliation is great for dissolving the "cellular glue" that holds cells together, so the two methods work synergistically to brighten, even, and improve skin.
For microdermabrasion—or physical exfoliation—at home, avoid products that contain large, sharp granules (such as walnut shells and apricot kernels), which can leave microtears in the skin. Instead go for formulas that polish skin with gentle materials, like the microexfoliating minerals—quartz, garnet and silica—in the GOOPGLOW Microderm Exfoliator, the rose hip seeds in the turmeric mask from Kora Organics (both face scrubs have the added benefit of having chemical exfoliating properties, with glycolic acid in GOOPGLOW Microderm and enzymes in the Kora mask), and the super fine ruby crystals in the foaming scrub from Goldfaden MD. The rule of everything in moderation applies doubly to exfoliation; too much can have the reverse effect of making skin uneven and dried out. "People will come into my office thinking they've got extremely sensitive or dry skin, and when they tell me their skin routine, we discover they're doing at-home peels and scrubs and using exfoliation brushes—all at once," says top New York dermatologist Amy Wechsler. "Too much of a good thing is not a good thing! You can mess up your skin by scrubbing too much or too hard."