Introducing a New,
Hardest-Working-Ever Exfoliator
If you know anything about me, you know I don't love wearing a ton of makeup (or any makeup, most days). Those makeup-free selfies I take once in a while are how I look pretty much every day in real life, whether I'm at the office, at home, or, every so often, on vacation.
What I do love is really serious skin care—especially top-grade,
super thorough exfoliation. For me, exfoliating
is the ultimate way to get that lit-from-within glow
that makes anyone, at any age, look instantly
more beautiful.
Because I'm a bit of an obsessive exfoliator, coming up
with our new, incredible, fantastic GOOPGLOW
Microderm Instant Glow Exfoliator was something of a
journey. I wanted really significant results, and I was
inspired by professional microdermabrasion. But I wanted
results you could get at home. I love that totally clean, fresh,
baby-soft feeling you get from a really thorough exfoliation; this
new product had to give me that. And it needed to have the power
to instantly transform my skin from uneven and dull to smooth and
glowing. I wanted a skin-care unicorn.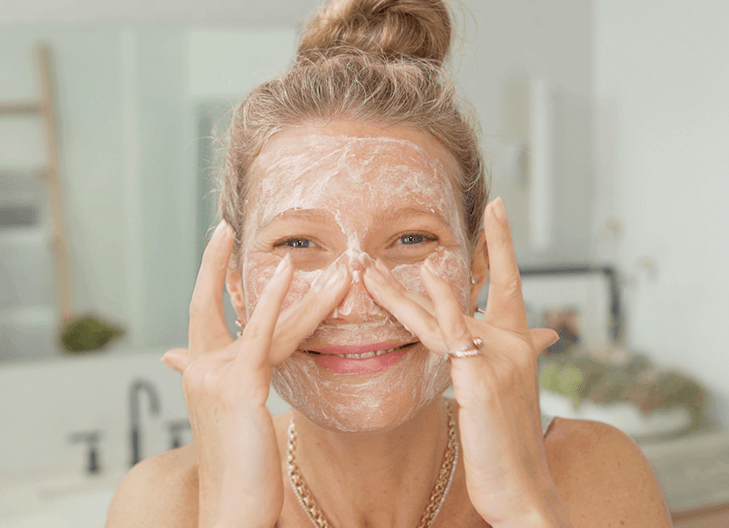 So—drumroll, please—this is it! After a lot of work, we came up with a brilliant formula. It's a physical exfoliator densely packed with four different microexfoliating minerals (quartz, garnet, alumina, and silica) and a chemical exfoliant kick (from glycolic acid), so you get all kinds of unbelievable exfoliation. (We had it tested in a consumer study, actually, and 94 percent of the women who tried it said just one use made their skin look and feel smoother.*) It's also got this super cool, almost marshmallow-like, pillowy texture that I cannot get enough of.
The dual action polishes your skin, refines your pores, and leaves you visibly more radiant—all this after using it once. You really have to try it to believe it.
Here's How
I Get the Glow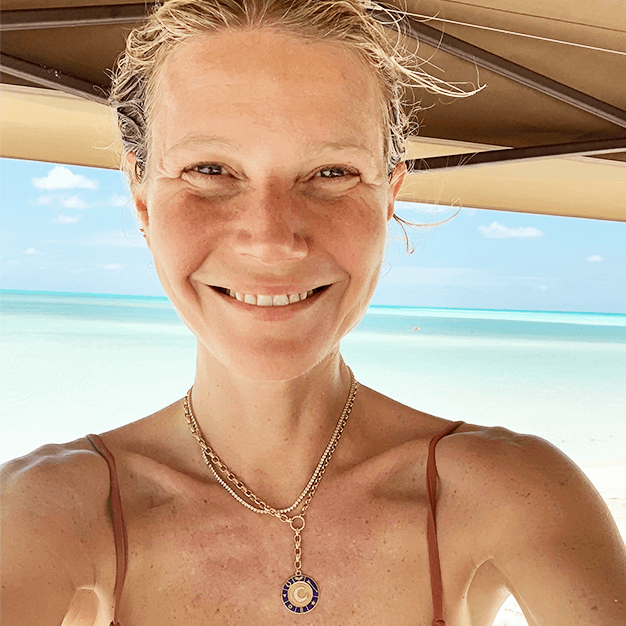 1. Once my face is clean (this summer I've been using our G.Tox cleanser), I put a whole bunch of this beautiful GOOPGLOW Microderm on. I use it two or three times a week.

2. I massage it in, and I can sense the microexfoliants going to work with the manual exfoliation. It feels amazing.

3. I leave it on my skin for a few minutes until my skin starts to tingle from that kick of glycolic acid. I rinse it off with water, and that's when I get a second dose of the manual exfoliant as the microcrystals wash away.
It's super simple. And what I love so much is seeing that improvement in my skin immediately afterward: It feels soft and smooth, and it's really glowing.
So welcome to the world, to our new GOOPGLOW Microderm Instant Glow Exfoliator. This baby's got some hard work ahead of it—to get us all those soft, smooth, super glowy results. And it is absolutely equal to the task. It's really something—I hope you love it.
Love,
GP