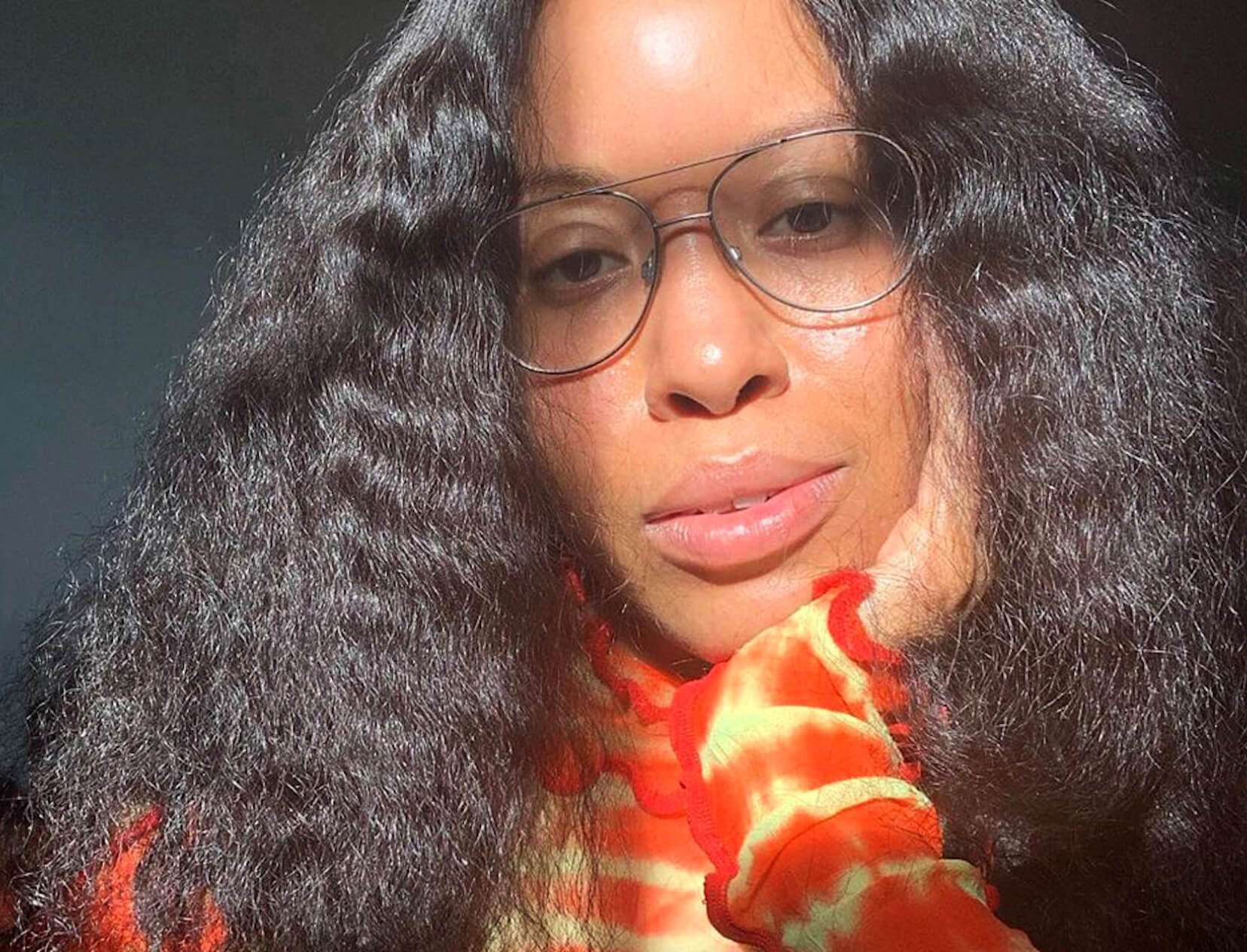 The Auntie Beauty Routine:
How Marjon Carlos Gets Ready
for Her (Fantastic) New Show
Every Thursday evening, we click over to Instagram to tune in to our latest obsession: Your Favorite Auntie, the addictive new advice show on IGTV hosted by Brooklyn journalist Marjon Carlos. From performative allyship to the WAP effect on dating, Carlos's willingness to "just kind of go there," as she puts it, keeps us coming back.
"An auntie, for me, is someone who's not as authoritarian as your mom and not as infantilizing as a big sis," says Carlos, who's worked in fashion journalism for over a decade. She'd thought about hosting a podcast but never acted on it until this summer, when the incident with Amy Cooper in Central Park and the killing of George Floyd on the same day galvanized her. "I reposted an article I'd written that dealt with the real violence that white women's tears have brought over the years," she says. "People responded to the piece, saying, 'We need more from you—we need more advice on how to navigate this moment in time.' I decided to go on IGTV where people could ask me questions and I'd answer them, and that's how Your Favorite Auntie was born."
The first episode aired at the end of May (new ones come out every Thursday at 7 p.m. ET on her Instagram account), and each week, Carlos's one-woman show (with the occasional guest) dives deep into topics as complex as ageism and microaggressions in the workplace, as well as equally weighty ones like hair and plastic surgery. "Quarantine's been a very interesting time for beauty obviously—we're confronted with our own images all day long now," she says. Carlos also talks about fat phobia and about colorism and light-skin privilege: "I think we need to be discussing these things more, even if they're provocative, as we start to unfold the layers of Black Lives Matter."
Carlos researches each theme exhaustively. "If we talk about misogynoir, for instance, then I give a working definition of what that means: prejudice against Black women specifically," she says. "If we're going to talk about sexual violence, here are statistics you can reference and learn something from." She also listens to her newly formed community: "I've learned to lean on my people more rather than thinking I have to figure it all out on my own."
We're always inspired by Carlos's whole vibe: her brushed-out waves and long braids, glowing skin, the occasional Jacquemus outfit, and the chic backdrop one of her former Vogue colleagues hooked her up with. "I set up my lighting, put on my makeup, drink a glass of wine. I've done my research. I know my touch points. Then I press live," she says. Here, she shares the beauty part of her getting-ready journey.
The-Right-Before-the-Show Routine
I like natural-looking makeup. If I'm filming, I put on tinted moisturizer, then Westman Atelier foundation, which I'm impressed I had a color match with. I think that's often a struggle for women of color, but the Westman looks natural and seamless, and it feels great on my skin—not like I'm wearing makeup. It just feels beautiful. Then I put on the Westman highlighter in Peau de Soleil, which also works well with my skin tone.
Saie mascara gives my eyes a little pop. And if I'm trying to be extra, I do a winged eyeliner. I want makeup to improve how I look rather than turn me into a fully different person.
The Always-Evolving Hair Routine
I think a lot of Black women in quarantine are finally learning how to do their hair, or they're feeling confronted with their hair—I know that I've been messing with mine a lot. And I've been wearing wigs lately, which has been an interesting hair journey. I initially bought one as a distraction during quarantine, but it's been a good way to give my hair a break and try something new. I've always been open to different hairstyles—I got braids yesterday. I don't want to do anything to my hair for the next month or two.
This scalp scrub is the perfect treatment now that I have the braids. I'm always worried about my scalp not breathing—so I massage it in a bit, let it sit for five to ten minutes, then rinse it out. I feel like it helps break down the buildup of oils and dirt. Plus the smell is divine.
Just before bed, I use a few dropperfuls of this castor oil along my edges and in the roots of my hair. I love it—it smells so good. I do that three or four times a week. And with my hair in braids right now, it's a perfect time.
Behind the Glow: The Skin Routine
Dr. Chaneve Jeanniton's line has been really good for my skin. I start and end every day with her True Calm Rosehip Gel Cleanser. It works and doesn't strip or irritate my skin. I follow up with her CoQ10 toner. I was always under the impression that toner should get in there and clean out your pores, but Dr. Jeanniton taught me that it should never make your skin feel squeaky-clean—instead it should add moisture.
Lord knows I am up way too late these days! I've developed real dark circles and bags underneath my eyes, so I'm obsessed with this new eye cream. I apply it at night, then also in the a.m., and I do a cooling gel eye mask afterward to help with the swelling. I'm finally getting to that age where if you don't take care of your eyes seriously, you're going to regret it later—and this cream is making all the difference.
Once a week, I gently exfoliate with the Barbara Sturm Enzyme Cleanser to get my skin feeling glowy, treat it, and give it some love.
I love sitting in the bath, luxuriating with a mask on, and listening to Sade, pretending I'm in a Nancy Meyers film. The Joanna Vargas masks are incredible, no lie. My friend Mara Hoffman put me on to them. They're infused with serum, so after you take it off, you work whatever is left into your skin. If I'm looking dull or ashy or I'm breaking out or dry and my eczema is acting up, it's so nice to give myself that moment.