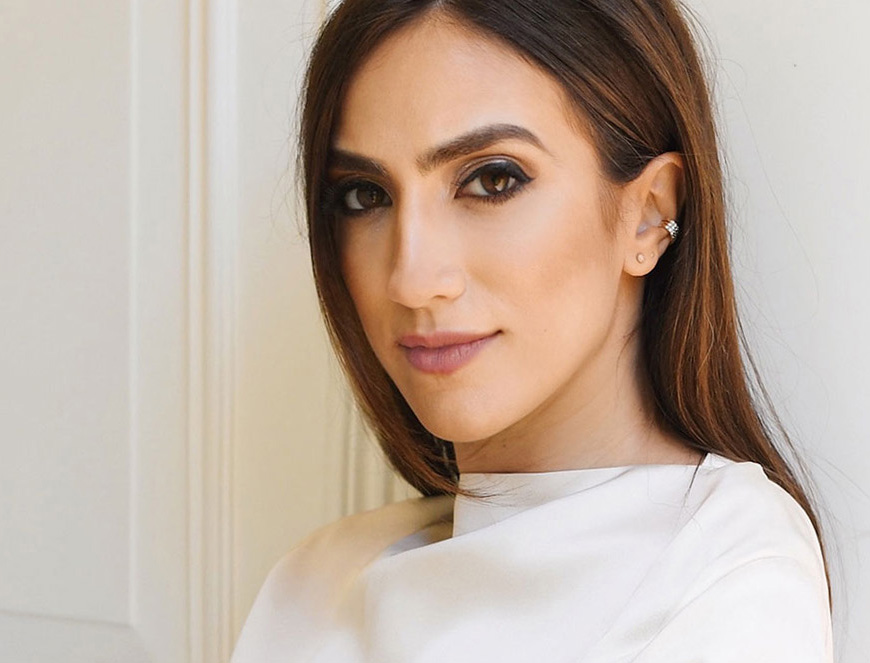 MY MORNING ROUTINE
Getting Ready—to Help the Nation Get Out and Vote
Mandana Dayani
|
cofounder, I am a voter.
Election Day is coming, and Mandana Dayani wants us all there in the voting booth, in record numbers. LA-based Dayani has had big careers in fashion, business, and law, but she's most proud of what she's built in the past two years, as a cofounder of the nonpartisan campaign to simplify voting and encourage voter participation, I am a voter.
(Even just the website is brilliant: You can register to vote, check your voter registration status, sign up for election updates, download pro-voting graphics to share on your Instagram, buy cool voter swag, and more.) "As an immigrant, I've always felt incredibly privileged to be an American, so it's heartbreaking to see our country so divided," says the thirty-eight-year-old mom of two. "After researching ways I could help, I saw an opportunity to reshape how we think about our role in civic engagement. The idea was—and is—a modern voting organization that really speaks to our generation: We want to capture how cool it is to be an active participant and maybe make you feel a little FOMO if you aren't yet involved."
Before she gets to work setting us all up to vote, Dayani sets herself up to prepare for busier-than-ever days, making time to take a mood-lifting shower, nourish her sensitive skin, and smooth on some subtle makeup to face the day's many calls, remote meetings, and lately, remote recordings of The Dissenters, the podcast she cohosts with actress Debra Messing. "We launched it as a way to meet our heroes and also empower people to chase their passions," Dayani says. "Almost everyone we've interviewed had no intention of becoming a hero. [Hillary Clinton, Jane Fonda, Patrisse Cullors, Sophia Bush, and Amanda Nguyen have all been guests.] Debra and I are supernerds, and we just fangirl over these people the whole time!"
Here's Dayani's All-Important Morning Prep
6 a.m.: Our six-year-old daughter, Anderson, runs into our room, and our two-and-a-half-year-old, Miller, starts yelling for us from her crib. Time to wake up. My husband, Peter, immediately makes me a cup of coffee (I treasure this act of kindness more than I can ever articulate) and warms up some milk for Miller.
6:30 a.m.: We go downstairs so I can make breakfast while Peter reads to the girls. We've been on a consistent rotation of breakfast burritos and eggs with turkey bacon. Once breakfast is ready, we all sit and eat together.
7:30 a.m.: I attempt to help Anderson with learning worksheets to prepare her for first grade next year, while Miller stays busy with Play-Doh. Or we all just hang out in the playroom, which is actually my favorite room in the house; it's fun and happy.
8:30 a.m.: I don't think I am ever fully awake until I take my morning shower. I'm in love with the scent of the G.Day Ginger + Ashwagandha body wash. For my face, I love foaming cleansers and usually use the one from Dr. Nigma. A couple of days a week, I use the GOOPGLOW Microderm face scrub. I massage it in and wait a few minutes before washing it off, and I instantly feel a difference.
9:15 a.m.: I dry off and put my AirPods in and watch the news (and catch up on all of Jessica Yellin's stories on Instagram) while I pat my face dry and apply eye cream, then moisturizer.
9:30 a.m.: I put on a little makeup while I start taking calls for I am a voter. With Election Day almost one hundred days away, we've been working around the clock trying to get as much election information out as possible. I dab on a bit of concealer from Kosas, then smooth on Kosas Tinted Face Oil, which is so lightweight and clean and just feels great on. For mascara, I love how dark and moisturizing the one from Westman Atelier is. For some extra glow, I use the Lit Up stick from Westman Atelier. I put it on multiple times throughout the day—it's the perfect little pick-me-up.
9:45 a.m.: I smooth body cream or the luminizer from goop over my arms and legs. I love how the luminizer makes my skin glow! I use it anytime I'm showing my arms or collarbone and whenever I have an event.
9:55 a.m.: The rest of the day I'm obsessively washing my hands. I spend most of the day at my computer on Zoom meetings and phone calls. I try to take a short walk with my husband for a mental break whenever I can, and we both make sure to sit with our daughters for lunch, always. I've never really taken a lunch break before in my career, and this time at home with my kids—getting to sit for meals and have more regular conversations—has been such a privilege.