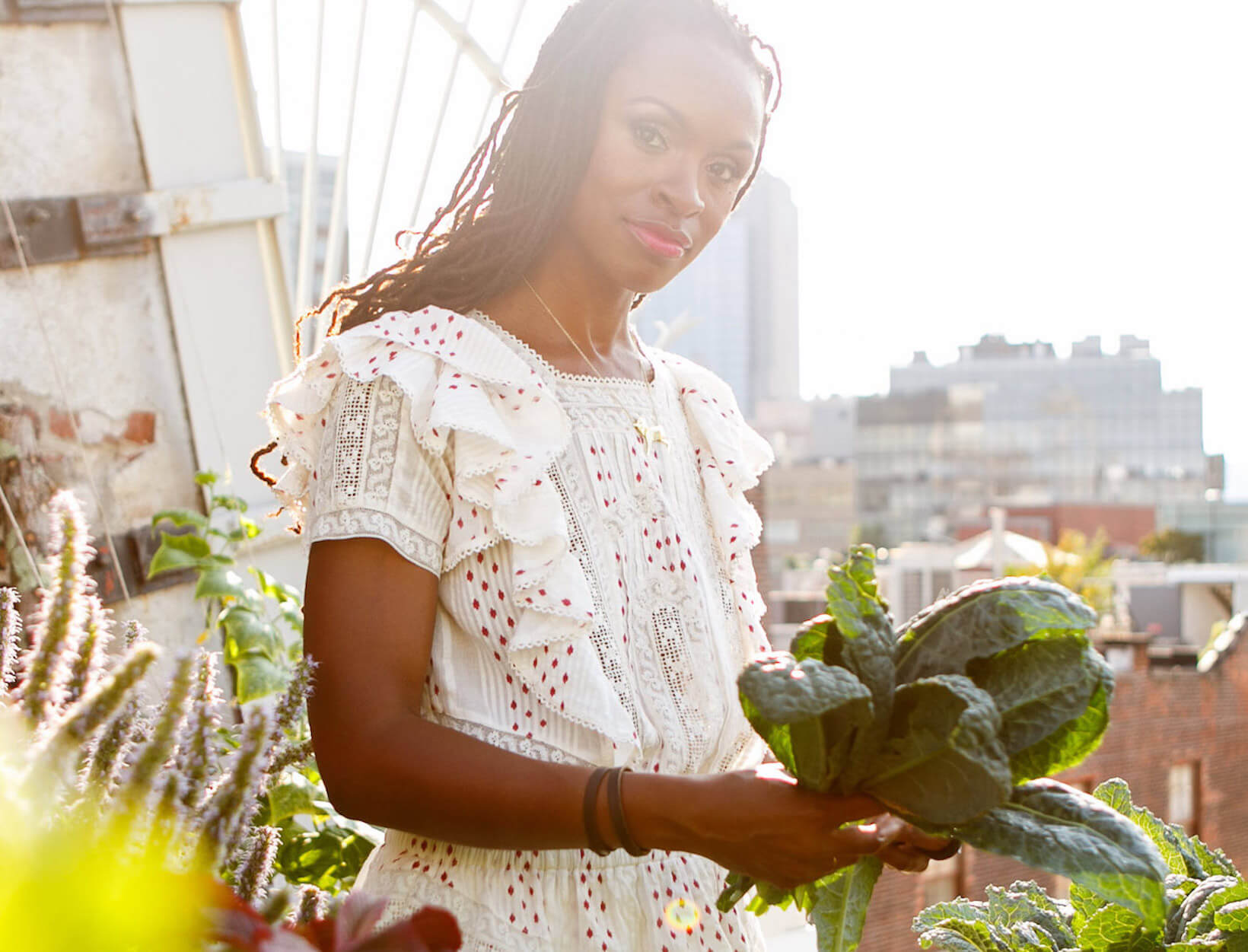 Hello, My Age Is: 40
My Great-Skin (and Pelvic Floor) Secrets
Latham Thomas
founder of Mama Glow, doula, and author
Even when you run into her on the street, a mask obscuring half her face, Latham Thomas is stunningly fresh-faced, especially for someone running an empire. Doula to singer Alicia Keys and supermodel Ashley Graham among others, Thomas is the founder of the hugely successful Mama Glow, a Brooklyn-based maternity wellness center for doula support, pelvic floor therapy, acupuncture, nutritional guidance, endless events and panels (now virtual, on everything from fertility and sex to breastfeeding and midwifery), and more. Somehow, between leading doula-training webinars—she's trained over a thousand doulas so far—and attending births, Thomas also managed to write two amazing books, Mama Glow: A Hip Guide to a Fabulous and Abundant Pregnancy and Own Your Glow: A Soulful Guide to Luminous Living and Crowning the Queen Within.
Thomas credits the way she looks and feels to loving what she does, a vegan diet (she studied at the Institute for Integrative Nutrition), a decades-long devotion to clean skin care, a healthy pelvic floor, and lots of exercise, including impromptu at-home dance parties. "Our culture hides older people, and certainly older women, but I celebrate aging," she says. "Moving your body, in whatever form that may be—maybe it's twerking, or maybe it's yoga—fosters a sense of youthfulness."
Thomas started Mama Glow in 2003, after giving birth to her own now-seventeen-year-old son, Fulano. "It was an intense and painful experience," she says. "But it was also transformative, and I wanted to help other people have safe, secure, amazing births."
Supporting women through such a momentous experience continues to be one of the aspects of her life that most energizes her. Here, she goes into a few others that keep her body and mind revved and her skin looking luminous (her eye cream obsession ranks high).
1
Stay flexible
My grandpa is eighty-six, and he hikes and can touch his toes. People talk about getting aches and pains when you're older like it's normal—it's not normal; it's just common. I walk (it's fun to discover new streets in NYC), jump-rope for twenty minutes, run when it's warm out, and practice yoga. I also do vocal meditation—you use your voice to awaken the body—with a shruti box [an Indian musical instrument that creates a simple drone chord to accompany singing] and other sound tools. My son DJs lots of house music, so it's like there's a dance party in my house every day, which I love.
2
Exfoliate, steam, moisturize, repeat
I studied with an herbalist when I was younger—I'm from Oakland—and learned to use oils and make my own products. So I've always been into clean and known what I was putting on my skin. I like the Tata Harper cleanser, the one with the soft granules, when I need to exfoliate (my son uses it, too). On days when my skin needs something creamier, I smooth on coconut oil to cleanse or remove makeup. Doing an herbal facial steam is great for deep-cleaning pores. Before moisturizing, I massage on the CBD serum from Prima—it's so restorative—and I'm an oil fiend. I remember first seeing the GOOPGENES face oil in GP's Instagram post, and I was just like, I need to try that! Now I love it. I pat it on, and my skin can't get enough. When it's really cold and I'm going outside, I layer the GOOPGENES face cream over the oil. It's creamy, sinks right in, and feels so nourishing—and I like how it seals everything in, so I'm dewy and glowy.
3
Love your work
Helping women through birth makes me feel tapped into the pulse of what it is to be alive. I had Fulano at a birthing center with a midwife, and it was an amazing, out-of-body experience. I felt connected to my ancestors and saw myself birthing my child. You know the episode of The goop Lab on hallucinogens? Something similar happened during his birth, and in fact, the same areas of the brain can light up when you're giving birth as when taking hallucinogens.
4
Extras like eye cream and face mist make a real difference
I dab on the eye cream from goop multiple times a day—I store it in the fridge and take five-minute breaks to tap it on. I love the cooling, tightening feeling, and the little tube makes it so easy to apply. Another little refresh I do when I'm stuck at the computer is mist my skin with the flower essence from Tata Harper (it also helps other products penetrate better when you spritz it on right before applying them). I sometimes store washcloths that I've soaked in essential oils and water in the fridge and wipe my face down with those during the day—it's very calming—then spray the Tata on after.
5
Hydrate your body
My son gets out of the shower and puts no lotion on, and I'm just so confused by that. If I don't moisturize, I feel like my skin is going to crack open. So I massage this body butter all over my body the second I'm out of the shower. It's rich and bathes my skin in shea butter, and the scent has this light, citrusy, yuzu vibe going on. When my legs are really dry, I mix the body butter with oil, but when I want to put clothes on right after, I use just the butter because it absorbs seamlessly.
6
Enjoy the people in your house
My son is so tall and so cool! He's fun to hang out with and have real conversations with. At a certain point, your kids don't need you as they used to, but they need you in different ways. Sometimes I say to him, "I had to wait a good portion of my life to give birth to one of my best friends." I feel so fed by being his mother.
7
Food is medicine
I've been vegan since I was fourteen. When food comes from the earth, it delivers vitality to our cells and influences how our skin looks and how we feel. I love okra for supporting the microbiome and healthy elimination. Avocado is full of healthy fats for radiant skin and is especially great for women's health. In the morning, I make tonics with adaptogens like ashwagandha and reishi mushroom. Sometimes I add coconut butter, oat milk, honey, and bee pollen, heating and whisking it all up.
There's something about honoring ancestral traditions through food that somehow makes it even more nourishing. What did your ancestors do to fortify themselves and their families against the cold? We did a lot of broths and stews growing up, so I'm really drawn to that type of food still. I love legumes and throw them into soups and broth.
8
Your family has great fashion advice
My mom used to say, "Dress for your dreams." I definitely dress in a way that reflects how I want to feel. If I'm going to a birth, I need to be mobile, and I also want to look cute. A jumpsuit, scarf, hat, and sneakers are really comfortable and sort of my uniform. My son got me into the sneaker game, and now I'm like, What are the hottest sneakers I can get? He helps me choose the good stuff. New York is all about walking, so I'm always in my Jordans and Jordan collabs. I love patterns and color, mixing something from Zara with high fashion, and vintage—I'm obsessed with vintage coats—and most of all, I just love jumpsuits.
9
Nourish yourself
My mom got me my first massage table out of college, and I was like, "Okay, girl—I can't afford massages, though!" But I hauled it everywhere I lived, and now I get massages at home. I love the sentiment behind it: When you're doing work out in the world intended to support other people, you still need to pour into yourself.
10
Have a nighttime ritual
My grandma always said that no matter what's going on in your life, take some time for yourself every morning and night. I used to love watching her get ready for bed—she had a beautiful bathroom with a huge tub. She'd wash her face, brush and wrap her hair, apply all her skin stuff—she had such a ritual. I learned from her that it's grounding to come home and wind down, anoint myself with skin care, lie back on my bed, and let it all sink in.
11
Spend time apart from
your partner
I just got married this past December. We got our license over Zoom—I wore a sweatsuit. But then we had a beautiful little private ceremony. My son walked me down the aisle. I wore a dress from LoveShackFancy, and we got vegan cake from Lael Cakes and some food from Butcher's Daughter—we pulled it together so fast! Being in a loving romantic relationship is amazing, but the challenge of right now is there's no opportunity to miss each other. We try to work in different areas of the house and take time alone, then later in the day, we take walks together and go out to dinner—we're like that Bernie meme, sitting outside eating all bundled up in the cold.
12
Take care of your
pelvic floor
If we're talking about youthfulness, we can't not mention the pelvic floor—the hammock-like seat that holds the pelvis and all your organs. We want it lifted, engaged, and healthy. When the pelvic floor is weak or has gone through any sort of trauma, problems can arise in reproductive health. Organs like your bladder or uterus can fall lower, which can cause pain, and tension in the area can cause uncomfortable sex. When people talk about the pelvic floor, it's often in terms of tightening it, but we most often want the opposite—pliancy and flexibility are key. You want to be able to squeeze your pelvic floor and then release it. I think of the pelvic floor as our seat of creative action: Everything we dream into the world—a book, a screenplay—comes from the brain, of course, but also from our loins. Emotion and trauma can be stored in that area, so when we maximize blood flow through movement and pelvic floor therapy, it helps unlock emotions. Sometimes during a pelvic-floor session, a client starts crying. Body literacy is so important, and the earlier we get comfortable and intimate with our body's topography, the better we'll treat our bodies.