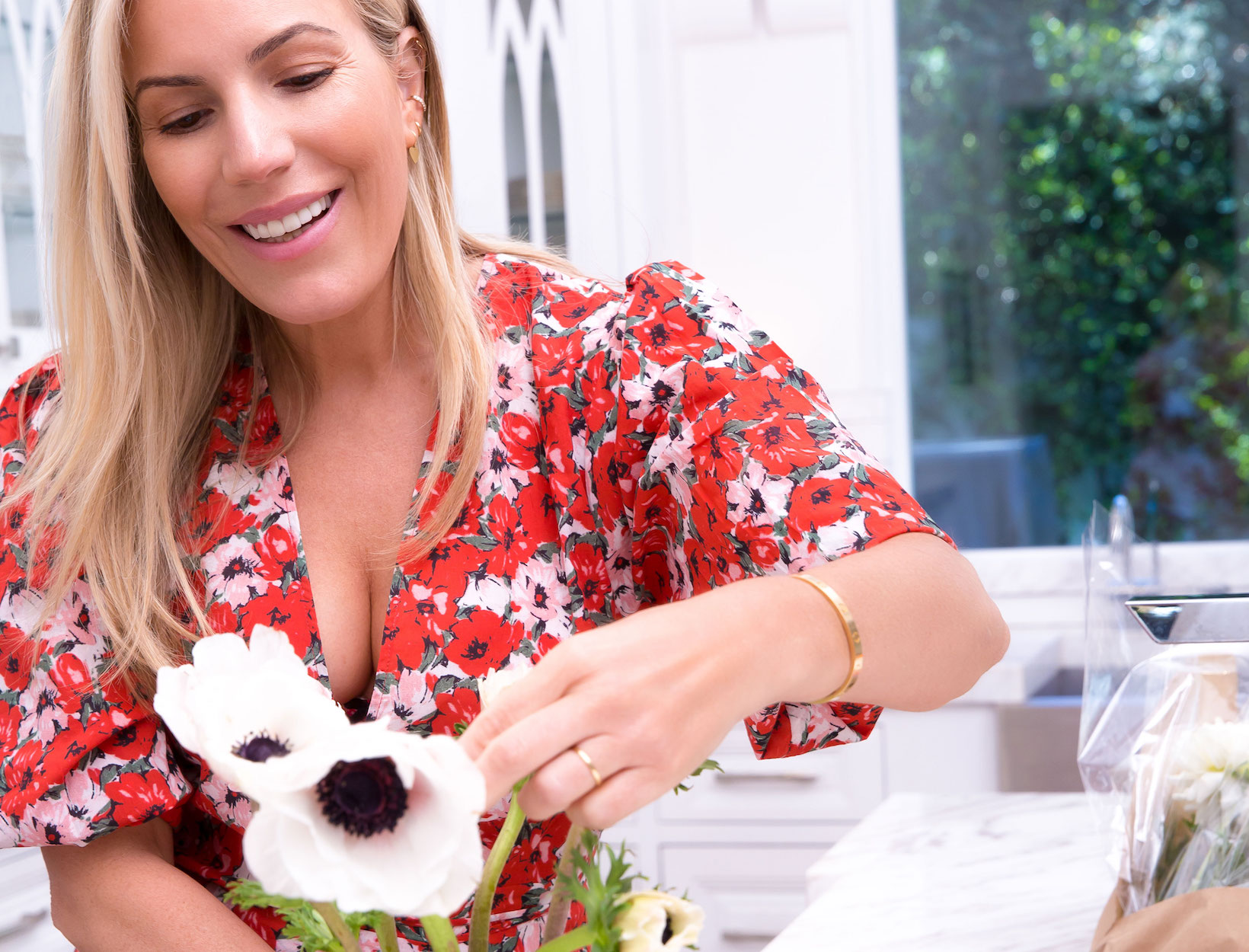 My Morning Routine
Coffee in the Garden, Avocado Toast, and a Ritual Called Abhyanga Massage
Cayli Cavaco Reck |
founder, Knockout Beauty
She grew up in a family of outsize fashion-world stars (both of her parents worked at Vogue and went on to found KCD, a leading fashion services agency)—but Cayli Cavaco Reck became a beauty expert in spite of her heritage. As she worked with fashion and beauty companies on branding, she started learning about skin function, ingredients, formulations, new scientific advances, even the ways hormones can affect how skin behaves. Cavaco Reck eventually started documenting her own routine on an Instagram account, Knocking on 40, which grew into a brick-and-mortar beauty store, Knockout Beauty, with locations in NYC and Bridgehampton. Her typical morning is a testament to all of the above and, especially now that she lives in Los Angeles, the importance of sunscreen.
6 a.m. I wake up, which gives me a chance to be with my husband and children before my team on the East Coast gets started. My husband brings me coffee—he's done it for fifteen years now—outside so we can enjoy the beautiful LA mornings. I am a huge sunscreen girl, but because this is before I do my skin routine, I pop on a UPF 50 hat from Soleil Toujours.

6:45 a.m.: I check my morning emails while my husband makes breakfast for the kids. (Because we're on the West Coast, I'm the parent on duty in the afternoons: My children get out of school at the same time my stores close.)

7:30 a.m.: I get dressed and drop my kids off at school. I do my morning conference calls on the ride back home, or I stop on at the farmers' market for fresh produce and flowers.

8 a.m.: Home. I eat breakfast, often avocado toast topped with salt from Jennifer Fisher. After I eat, I take supplements—including a glass of GOOPGLOW. I'm in my forties, I have breast cancer in my family, and I think epigenetics are really important, so I try to do everything I can, including supplements.

8:30 a.m.: Before I take a shower, I do a process called Abhyanga body massage, which was taught to me by my dear friend Erika Halweil, who's inspired me to incorporate the yogic arts and sciences in my daily life. Though it involves sun salutations and pranayama, it's not only postural practice—it's about the proper application of principles designed to uplift us and reconnect us to our true nature. (My enthusiasm for it is kind of funny, because before I knew Erika, I called yoga pants my "drop-the-kids-off-at-school-pants.") Abhyanga is traditionally done with sesame oil, but lately I've been doing it with the black pepper and rose hip body oil from goop.

9 a.m.: After my shower, I wash my face and then begin what some people might say is a lengthy skin-care routine: The right products with the right routine are what excites me most about beauty. I use the cleanest products possible with the highest level of efficacy. To balance out the pH of my skin, I never skip toning. I am currently loving Agent Nateur Holi Water. My next step is always targeted to what I am working on that particular day. So I might use a vitamin C, an AHA, or a hyaluronic, such as Dr. Barbara Sturm.
A big part of my ritual, which I have been sharing on Instagram for the past three years, is facial massage with Vintner's Daughter. I like to finish with a rich cream, which I never really enjoyed until I fleshed out my routine. And I always end with sunscreen—and I reapply it every two hours throughout the day.