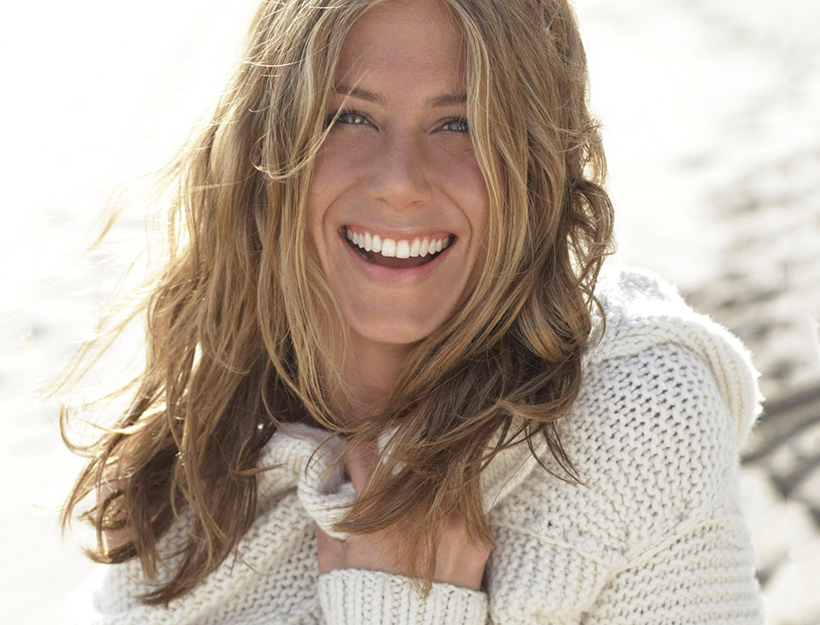 Jennifer Aniston Answers the goop Q&A
There's a good reason that Jennifer Aniston is known as being one of Hollywood's paragons of natural and ageless beauty—no small feat, considering that she's also one of its most industrious. (Next year, Mother's Day with Julia Roberts and Kate Hudson comes out on April 29th, she just wrapped Yellowbirds, with Toni Collette, Tye Sheridan, and Jack Huston, and she will start filming The Comedians with Robert De Niro imminently.) Known for being a long-time devotee of all the basics that add up to health and wellness (she's a well-known exercise enthusiast and has been the face of smartwater for years), we asked her some questions on how she keeps it all together.
Tips for staying sane during the holidays?

Don't over-extend yourself too much. There is nothing worse than wearing yourself down during what is already a busy time for everyone. I know sometimes it's hard to not over-commit to friends and family during the holidays but I try to be mindful of it.

Best gift you've ever received?

When my husband surprises me when I'm away working.

Best gift you've ever given?

When I surprise my husband when he is working.
Do you over-indulge and then compensate in January?

Well for the most part, I always maintain a healthy regimen in terms of diet and exercise. It's pretty much been a part of my daily routine for years now so its second nature to me. Having said that—during the holidays I have no problem treating myself to some indulgent foods but I usually don't go overboard with it in a way that I have to double up the fitness in January.

You're pretty ageless: What do you credit that to?

I have said this before but it's the truth—I really think hydration is so important…and sleep! I drink smartwater all day everyday and I like the new smartwater sparkling water at night with meals. I take care of my skin and try not to go into the sun as much as I used to. Also we are as young as we feel and treating yourself right is a great way to feel good. Being happy is also a key to looking and feeling younger.
Anything you take, or do, religiously every day?

I start everyday with a good, solid breakfast. I like to meditate every day for even just a few minutes—it helps clear the mind. I take a good multivitamin every day as well​.

Exercise routine?

I like to mix it up with some Power Yoga, treadmill, elliptical machine, and low weight training.
Tips for staying hydrated?

Carry bottles of water with you everywhere you go. During the not-so-hot seasons in Los Angeles I keep a case of smartwater and smartwater sparkling in my car. In the summer I keep a cooler in the car to keep it cold. When you carry a bottle with you all the time you just get into the routine of drinking a lot of water.

How do you reboot?

When I'm really wiped out its time to go on a trip. I have my go-to places in warm climates and sandy beaches like Mexico that really allow me to relax and get back on track. I like massages and spa treatments, too—they help if I can't get on a plane and go on vacation.
What's particularly sacred to you?

Spending time with my husband, my dogs, and long-time girlfriends. Those times are sacred to me and I would never give them up.

Strangest indulgence?

All sorts of weird facials: Chances are I've tried them all!
Go-to weeknight meal?

Most nights I have protein and veggies for dinner and a chopped salad, no tomatoes for lunch!

Favorite snack?

An apple with almond butter.
Favorite takeout spot for busy nights?

The Whole Foods salad bar.

Favorite Chinese restaurant?

I'm not big on Chinese food.
Favorite passion project?

St. Jude's always! I have been supporting St. Jude Children's Research Hospital for approximately 20 years now. The work they do for children is so inspiring and when you meet the kids your heart just breaks for their suffering. They are the most courageous little humans I know.

Top of your holiday wishlist?

The health and safety of all my loved ones—I know it may be corny but in these times we now live in, I wish for peace!