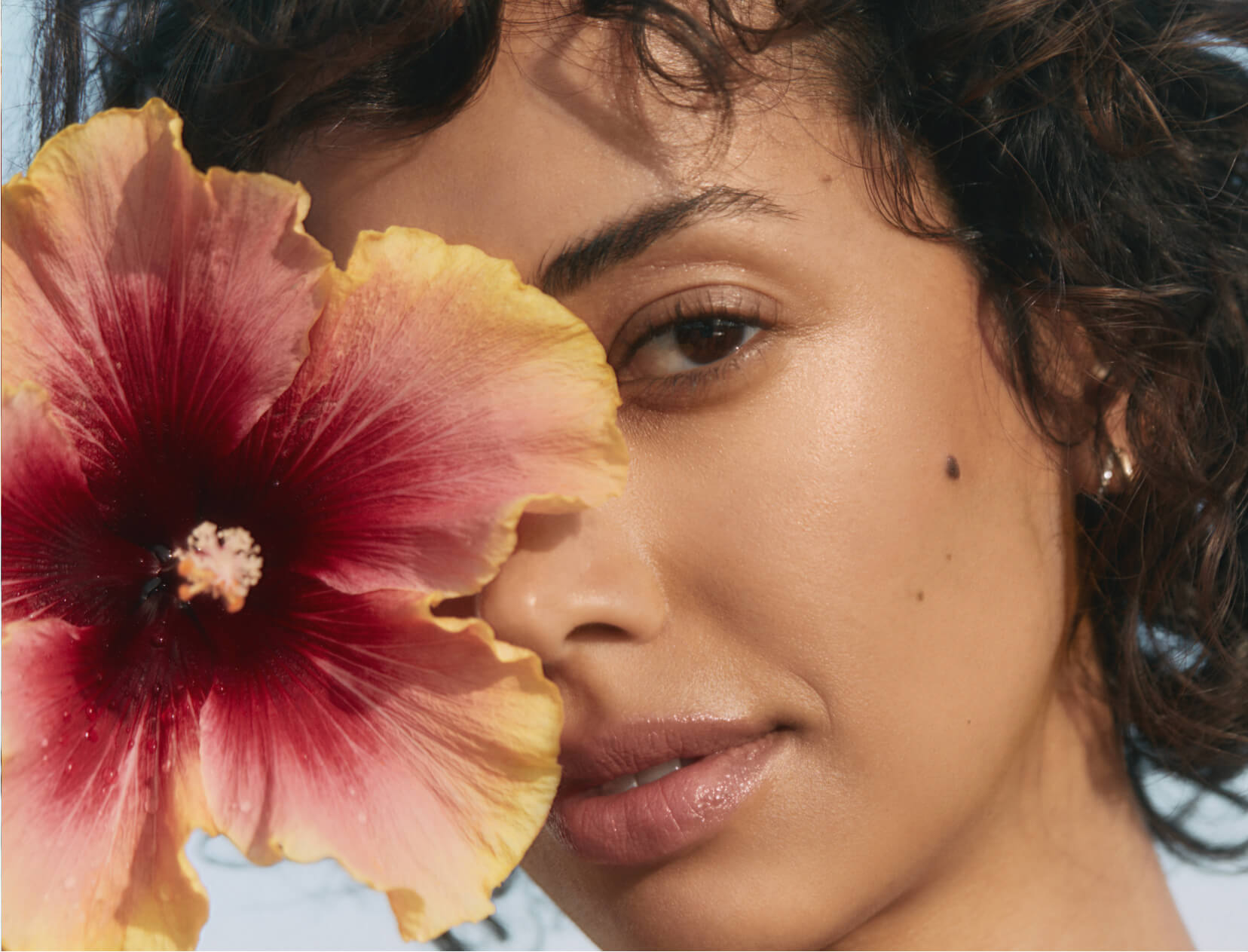 Flower Power
Skin of steel or gentle flower? No matter how you might answer that question, the new GOOPGLOW Flower Acids Resurfacing Toner is the easiest way to refine skin texture and supercharge your skin-care results—and it's gentle enough for anyone (even people with sensitive skin) to use every day, in any routine.
The secret is flower acids—extracted from hibiscus flowers and prickly pear flowers—which turn out to be as gentle and beautiful a way to soften, brighten, smooth, moisturize, resurface, and renew skin as they sound like they would be. "The great thing that's happening in clean beauty tech and ingredient science right now is that we're discovering ways to get the results we want without the irritation that used to be part of achieving those results," says Kate Vaught, senior manager of beauty product development at goop.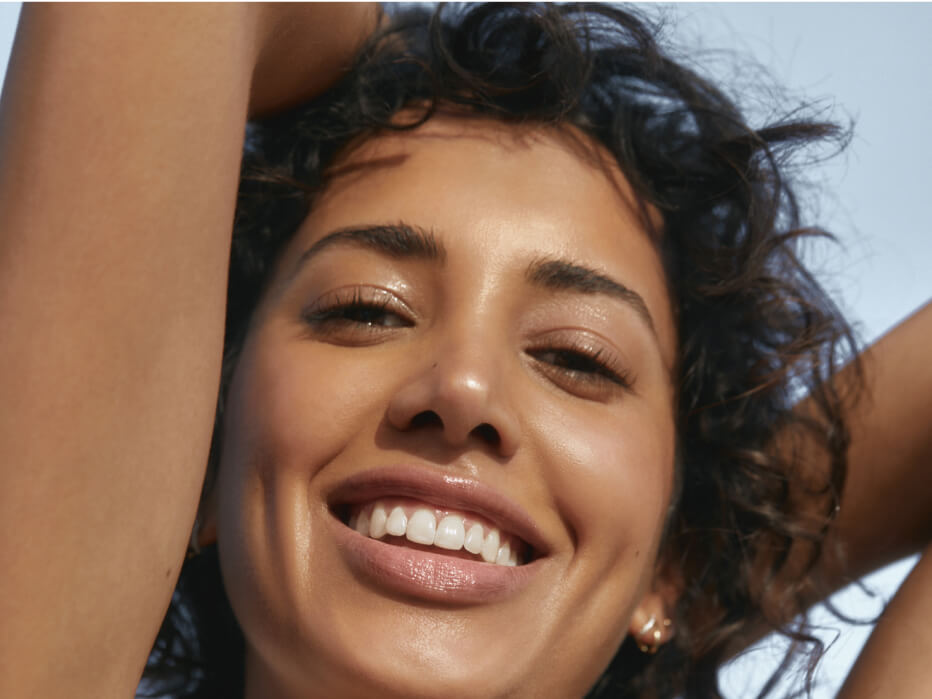 Even Gwyneth, who definitely falls on the "skin of steel" end of the spectrum (she often uses Microderm—an exfoliant meant to be used every few days—on a daily basis), can't believe the results. "I fell in love when I first tried it," she says. "The texture feels incredible on your skin—it's got this volume and body from the aloe juice base. It's the first goop product I've ever said 'yes' to on the first try."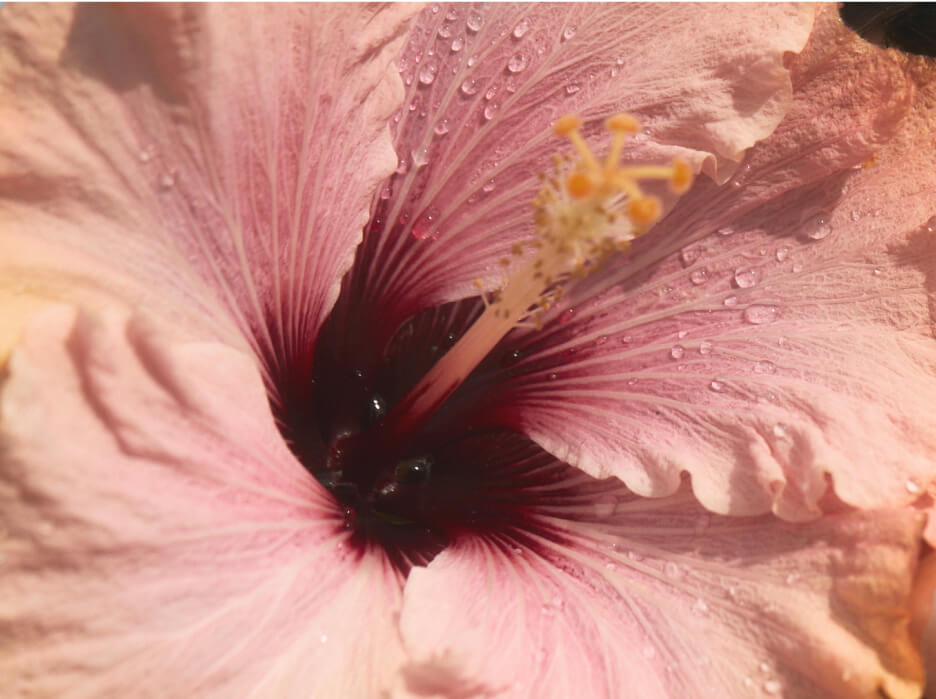 "Something that feels so good shouldn't make such a difference in your skin, but it's amazing," she says. GP loves that she can use it in conjunction with even intense treatments like GOOPGLOW 15% glycolic peel pads (people who use retinols and peptides will find the toner works with them, too).
goop Beauty

GOOPGLOW 15% Glycolic Acid Overnight Glow Peel

goop, $125/$112 with subscription

SHOP NOW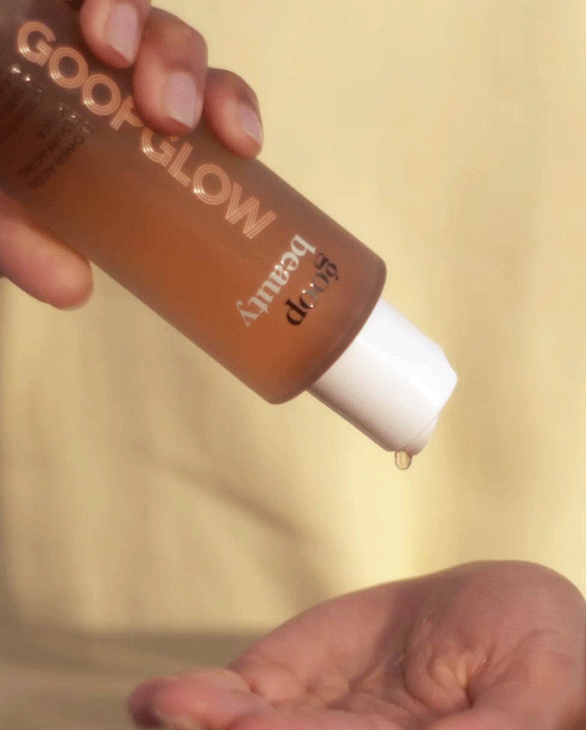 The reason it feels so good—and hydrates and plumps skin so beautifully—is moisturizers, humectants, tamarind-sugar molecules, and glycerin that, together with the aloe juice, deliver an addictively soft, rich sensation on skin. Combined with the flower acids, these elements work double duty on skin, retexturizing and hydrating at once without the irritation (or even the stickiness) of most acid-based toners.
For instant glow—and fresh, balanced, hydrated, gently resurfaced skin—this supercharged yet gentle-on-skin daily toner couldn't be an easier habit to embrace (and it's the habits you stick to each day that can make the most significant difference in your skin over time). The clinical results reflect the dramatic effects that you can expect to see, but use it for a few days and let your soft, smooth, glowy skin speak for itself.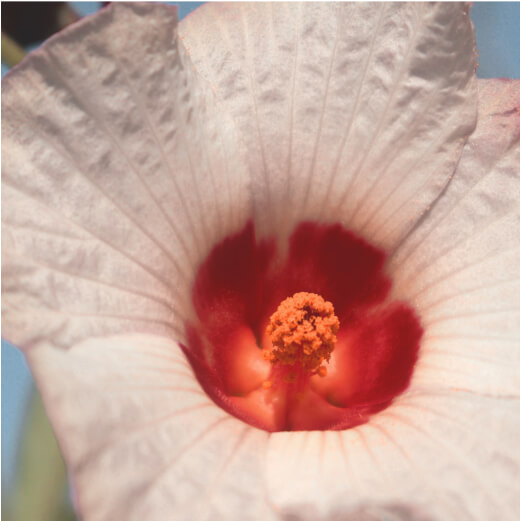 HIBISCUS FLOWER
You might have had tea made from hibiscus flowers (if you haven't, it's super refreshing—sort of the lemonade of tea). Sourced from Senegal, the hibiscus in GOOPGLOW is rich in keto acids that are keratolytic (meaning they help break down dead cells on skin) and are antimicrobial and sebostatic (to help balance skin).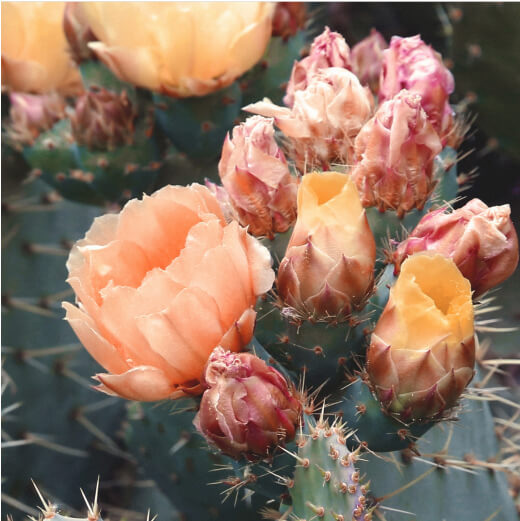 PRICKLY PEAR FLOWER
The acids from the flower of the prickly pear cactus, sourced from Tunisia, are both gentle and powerful, helping smooth away dead skin cells, dirt, and other debris to reveal a fresher appearance quickly, with improved skin clarity and texture over time.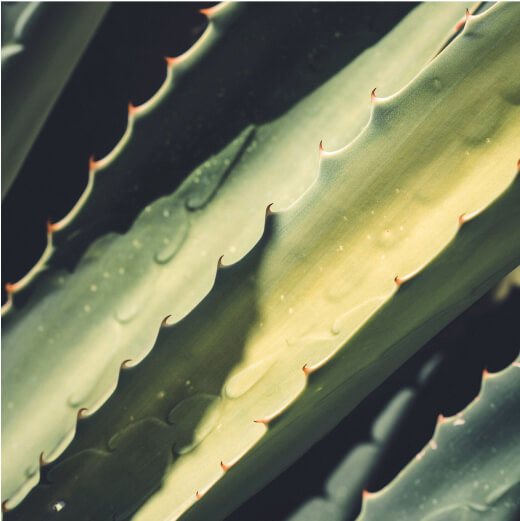 ALOE JUICE
We use a nourishing base of concentrated (200 times) aloe vera juice combined with hyaluronic acid and glycerin to make the toner both hydrating and humectant with a unique, soft, thicker-than-water texture.
Consumer Results
After just one use:*
94%
agreed formula did not leave skin feeling dry or tight.
90%
agreed the formula did not sting or burn skin.
90%
agreed the formula felt gentle and soothing on skin.
90%
agreed the product didn't leave skin feeling stripped.
After one week of use:*
97%
agreed the formula was gentle enough for everyday use.
97%
agreed skin felt refreshed.
After four weeks of use:*
94%
showed a highly significant improvement in skin texture.
90%
agreed skin felt hydrated after use.
Glowy-Skin Routines:
Gentle Flower versus Skin of Steel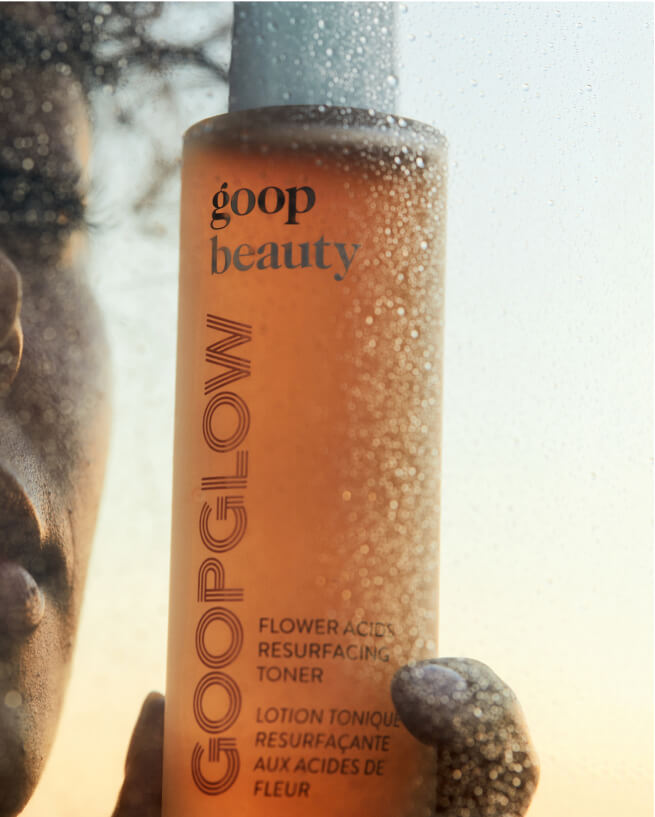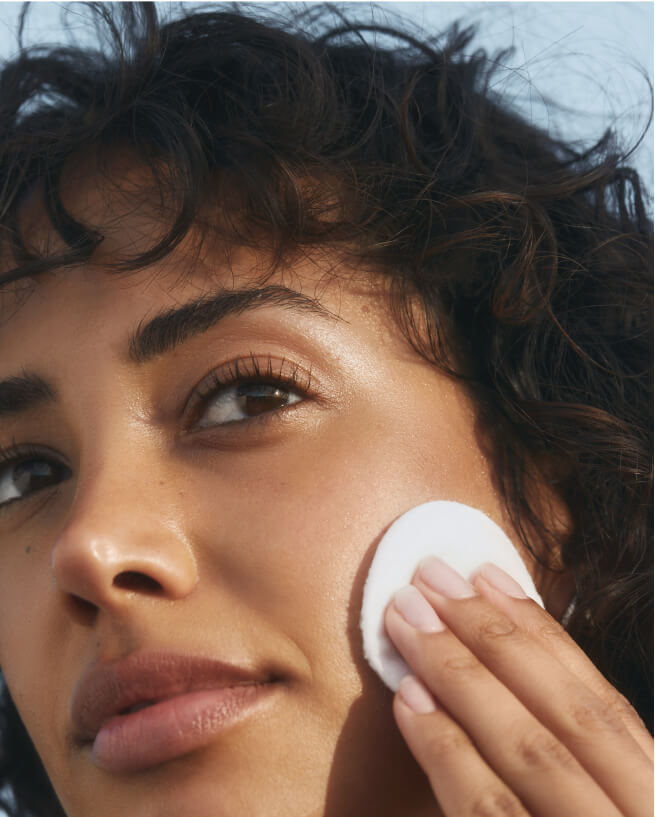 Are You a Gentle Flower?
Whether your skin needs kid-glove treatment because that's simply the way it is or because you regularly use treatments like retinoids or powerful AHAs, the best results—smoother, brighter, softer, glowier skin—come from the gentle steps you take every day.
Bonus Treatments
Consider red-light treatments—we love the HigherDOSE Red Light Face Mask—which can really soothe skin (and deliver youth-boosting benefits at the same time).

Vitamin C—GOOPGLOW 20% Vitamin C + Hyaluronic Acid Glow Serum is next-level—can have huge benefits, helping brighten, even skin tone, protect against free radical damage, and of course, boost glow. If skin is sensitive, smooth on moisturizer or oil right after the vitamin C to soothe.

Do a more intense exfoliation every so often. What's great about GOOPGLOW Microderm Instant Glow Exfoliator is you can leave it on for a shorter time (max is two minutes) if your skin is more sensitive and still get the benefits of its one-two punch of chemical and physical exfoliation.
Do You Have Skin of Steel?
If you skin takes whatever treatments you throw at it (AHAs, retinols, peptides, enzymes, etc.) and thrives, the gentle exfoliation you get every day from a jelly cleanse plus an allover swipe of flower acid toner sets the stage for your more powerful treatments to penetrate skin even deeper, ramping up results.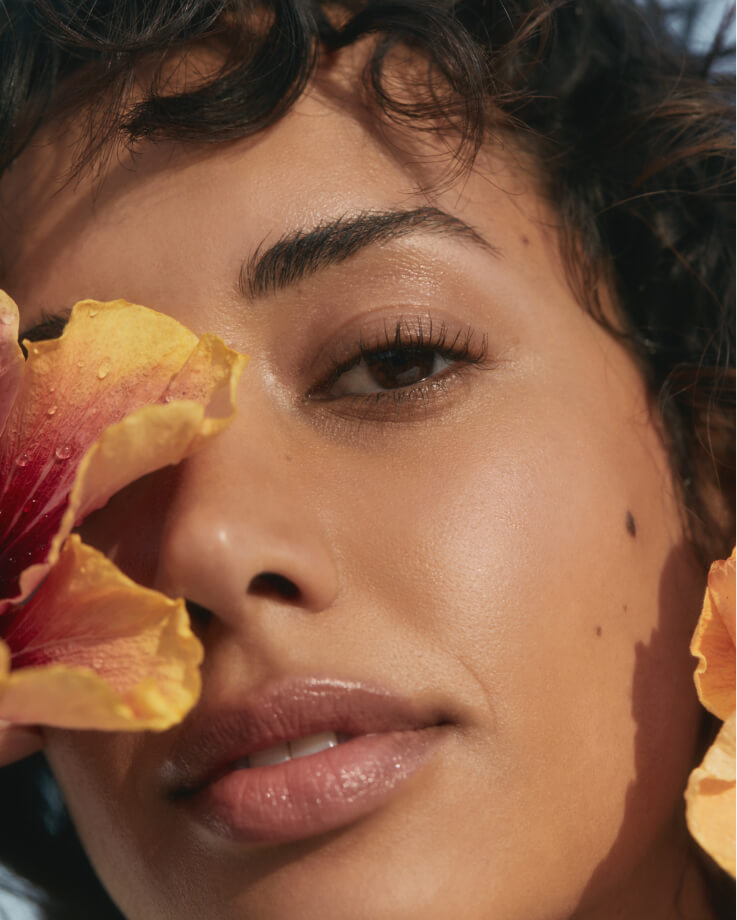 A TIP THAT WORKS BOTH WAYS
When your skin is wet, whatever you put on it has an easier time getting deeper into your skin—and thus works more powerfully on your skin.
So if you've got sensitive skin and you're trying out a higher-strength treatment like, say, vitamin C, an AHA, or retinol, do it when your skin is completely dry. Conversely, if you want to ramp up results on just about any skin treatment, apply it to wet skin. (Our secret weapon is to dampen our skin with the GOOPGLOW toner specifically, as the flower acids clear away everything that might get in the way of our treatments sinking in.)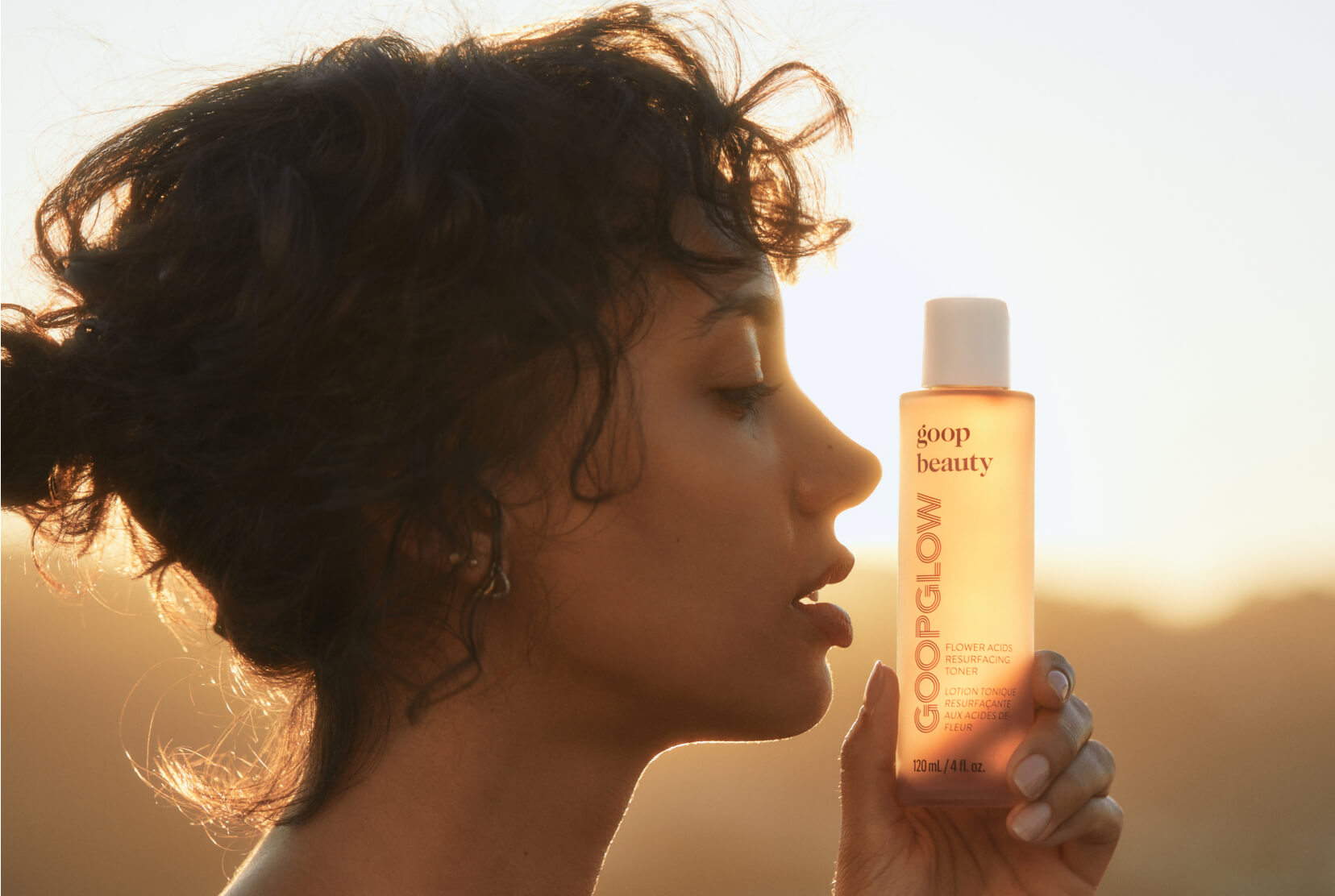 GOOPGLOW Flower Acids Resurfacing Toner