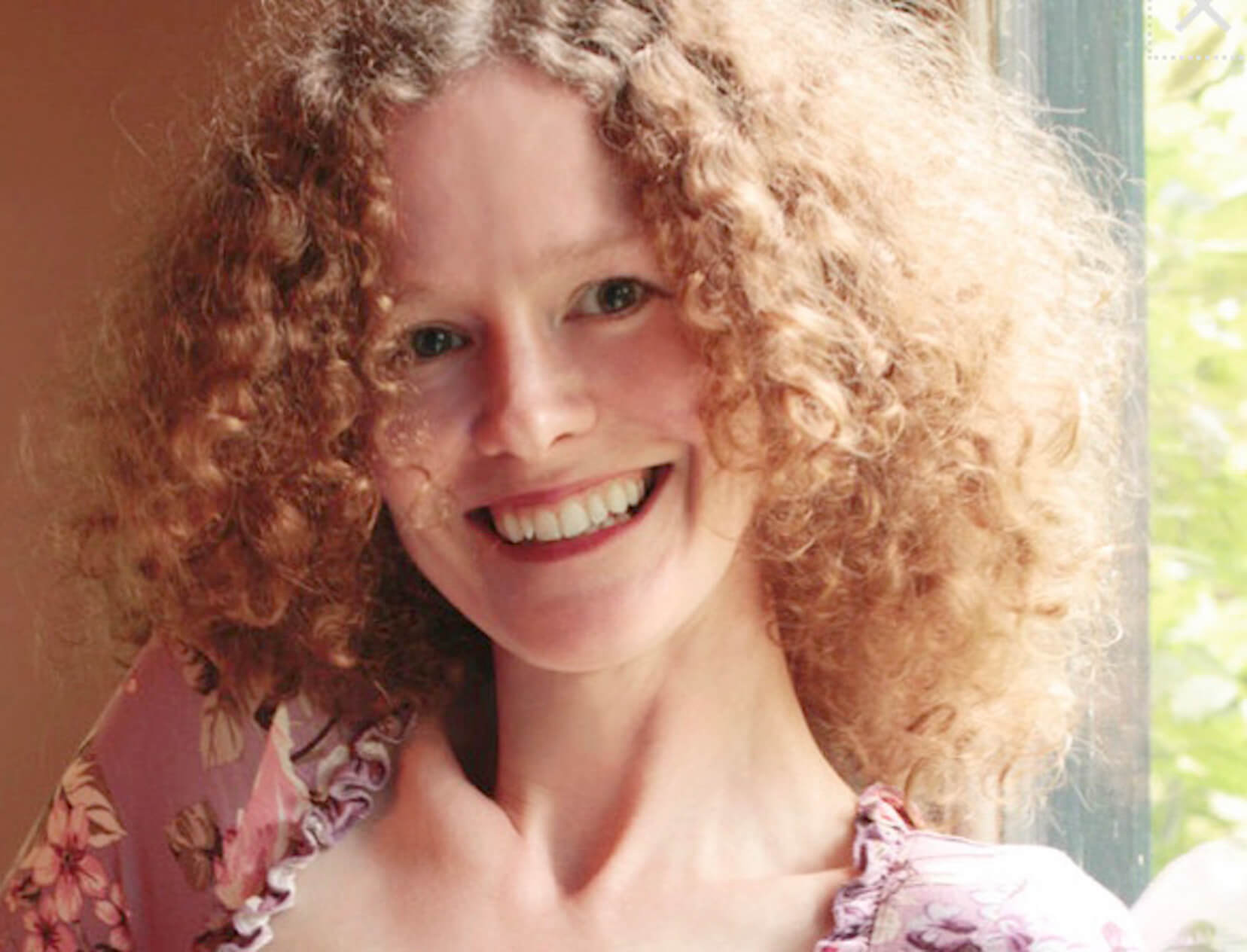 A Dab of Concealer, a Touch of Brown Pencil, and Lots of Eye Cream for Fall
Normally immersed in the world of high-end fashion (Vogue shoots! Met galas!), makeup artist Alice Lane has been getting some unconventional inspiration since lockdown began. "I started working part-time at a nursery up here," says the forty-year-old (above), who lives in New York's Hudson Valley with her son and boyfriend. "And all of a sudden, I'm noticing the vanilla strawberry hydrangeas are so fluffy and soft, with a delightful blush, and the Tess of the d'Urbervilles climbing roses just take my breath away. Gardening has completely reinvigorated my love of makeup." And she's uncovered some parallels: "The importance of the soil is paramount—you have to take care of it if you want anything to happen with the plants. It's the same with makeup: Everything hinges on your skin." Lane, who has always emphasized her subjects' glowing complexions (even as she's famously taken makeup to fanciful extremes on runways and in photo shoots) incorporates skin care every time she does makeup. "When your skin is healthy and moisturized, it changes how everything else looks," she says.
Lane says that clean skin care makes a real difference (we first heard about Vintner's Daughter from her, and her enthusiasm for it is no less fervent today) but that lifestyle choices are what show up on your face most immediately. "Being hungover or on the shame train makes you feel and look bad," she says. "Take good care of your skin with great products, eat well, and take care of your mind. It's so boring but so true."
Lane is even more adamant about shifting the ways we think about our so-called imperfections: "At this point, people can fix practically anything at the doctor, but I honestly love many of those features that are often seen as flaws," she says. "My son has little puffy eyes, and he looks so beautiful. You're going to have creases and lines. They're there, so make them happy, nourished, gorgeous beautiful lines."
Her fall-appropriate makeup tips (including a trick that makes her think of Charlotte Rampling) meld skin care with creamy pigments in concealers, pencils, and tinted balms.
1
Eye Cream Wakes Up Your Entire Face
Moisturizing and nourishing the eye area makes a huge difference in how your entire face looks for the whole day, says Lane. "The best thing you can do for puffiness around the eyes—aside from getting sleep and not drinking a ton of wine the night before—is eye cream," she says. "You want something with a balmy texture, a slightly matte finish, and the ability to melt right in, like this one." Ultramoisturizing and smoothing on contact, GOOPGENES eye cream also delivers long-term results: After four weeks of use, 91 percent of test subjects said it significantly smoothed the appearance of their crow's-feet.*
"It's so nourishing," Lane says, squeezing out a tiny dab. "I warm a little bit up between my finger and my thumb and press it into the skin around my eyes." Resist the urge to rub, she says, as it simply transfers the cream away from the area. Step back and have a look; your whole face will already look better, even without makeup. "As long as the skin is soft and juicy, even puffiness looks good," says Lane. "You don't have to try to mask it with a ton of makeup—too much makeup makes it into a bigger mountain than it actually is."
Eye cream is also Lane's secret weapon for makeup touch-ups. "If your makeup's running down your face, take a Q-tip dipped in eye cream and use that as a makeup remover to clean up, nourish, and refresh. Then you can add a little concealer back in, if you need to, and the area is nice and moisturized."
She also uses eye cream in unexpected areas. "I sometimes massage a little onto my neck or at my upper lip: I pat it in there when the area doesn't look so great. I was a teen in the '90s growing up in England, so I did smoke—smoker's lines!" she laughs.
2
Always. Be. Moisturizing.
Making sure your whole face stays as hydrated as possible makes a major difference, not just in how it looks and feels, but in how much makeup you need. "You can tell instantly if what you're putting on your face is a good cream or a bad cream," says Lane, who fell in love with GOOPGENES seconds after opening the jar. "I took a big blob and smoothed it on my face—I wasn't paying attention because I was watching John Oliver—and I was just like, I love this sh*t! It felt sooo good on my skin. Then I was horrified that I'd accidentally used up three days' worth."
Lane likes to keep it simple. "I use good creams and also oils to keep my skin moisturized—I've been a Vintner's Daughter devotee for so long," she says of the cult phytonutrient-and-antioxidant face oil.
She also swears by masks. "Masks, masks, masks! Ones for moisturizing, for exfoliating—exfoliating really helps me because I get clogged pores and break out," she says. "It's so luxurious to sit with a mask on. I love the ones from Cultivate Apothecary. On a crappy day when you don't feel your prettiest, masks are a great pick-me-up."
goop picks
Exfoliating Mask for Glow

goop Beauty

GOOPGLOW Microderm
Instant Glow Exfoliator

goop, $125/$112 with subscription

SHOP NOW

Pink Rose Water Moisture Mask

Tammy Fender

Restorative
Radiance Masque

goop, $235

SHOP NOW

Once-a-Week Detoxifying Peel

goop Beauty

GOOPGLOW 15% Glycolic Acid
Overnight Glow Peel

goop, $125/$112 with subscription

SHOP NOW
3
Concealer Plus Eye
Cream Is Magic
"If you're wearing concealer and a couple hours later it does that thing where it starts lifting from the skin, get a half-pea-size drop of eye cream and press it right over the top of the concealer to rejuvenate the entire area without having to pile on more concealer—which ends up looking dry and creating the opposite effect from what you want," says Lane. "Don't use concealer with a very different consistency from your eye cream—they should melt right in together. I like liquid pen concealers. I apply it and then pat, pat, pat it in with my finger."
4
Highlighter for a
Healthy Glow
To further wake up the face and enhance skin's own natural sheen, Lane plays with luminizing pigments. "I figured out how to apply highlighter looking at the classic paintings at the Met. I got up as close as I could so that I could see the white paint stroke right at the corner of the eyes," she says. "Ingres is one of my favorites—the luminosity he brings to his faces knocks me out. I dislike some of those old hairstyles, but what a highlight some of those women have!" Lane loves the luminizing creams from RMS: "They're not too pearly or shimmery, and they deposit this beautiful, dewy, healthy luster."
Press a bit of highlighter at the corner of the eye, she says: "Or smooth a little up high on your cheekbones. Both give you that natural-looking glow."
5
Do the Charlotte Rampling
Lane has never shied away from bright pigments in her career, but this fall, she loves this low-key yet gleamy eye look. "Get a lovely brown soft eye pencil, then use your eye cream to create your own cream shadow," she says. "Draw the brown pencil on the back of your hand and add a drop of eye cream to that. Swoosh the cream around in the pigment and then pat this new pigment you've created up against your lashes, along the lid, and it has the beautiful effect of a subtle cream shadow. It just gives me this Charlotte Rampling, mysterious fall feeling." Bonus trick: "The good thing about making your own makeup with eye cream is that you can then use the eye cream as a refresher if the color fades because the eye pencil and the eye cream are already friends."
goop pick
6
Add a Fall Lip (or Cheek)
Lane loves a brick-red or terra-cotta lipstick for autumnal vibes. "I don't think anyone feels like putting on a full face of makeup right now, but creamy details feel especially nice," she says. This palette of creamy tinted lip pigments includes both shades; we also like to dab lip stain onto both cheeks and lids for a fresh-faced, pulled-together feel.
goop picks
Buildable Lip Stain Palette

Westman Atelier

Lip Suede

goop, $85

SHOP NOW

Sexy Tinted Balm

Balmyard Beauty

Baby Love Balm Lip
+ Cheek Tint

goop, $32

SHOP NOW
7
Love the Skin You're In
Lane is passionate about aging with kindness. "I turned forty this year, and my face is changing," she says. "Some days I look at myself and I think, Yuck, as everyone does, and some days I look at myself and think, You're lovely, as everyone does. So much of how we perceive ourselves has to do with our mood. So be patient with yourself. Don't do a frowny examination in the mirror: No one has ever thought they looked good when they went into a self-assessment like that."
*Based on an eight-week third-party consumer-perception and clinical study conducted on thirty-three women ages thirty-five to sixty-five.