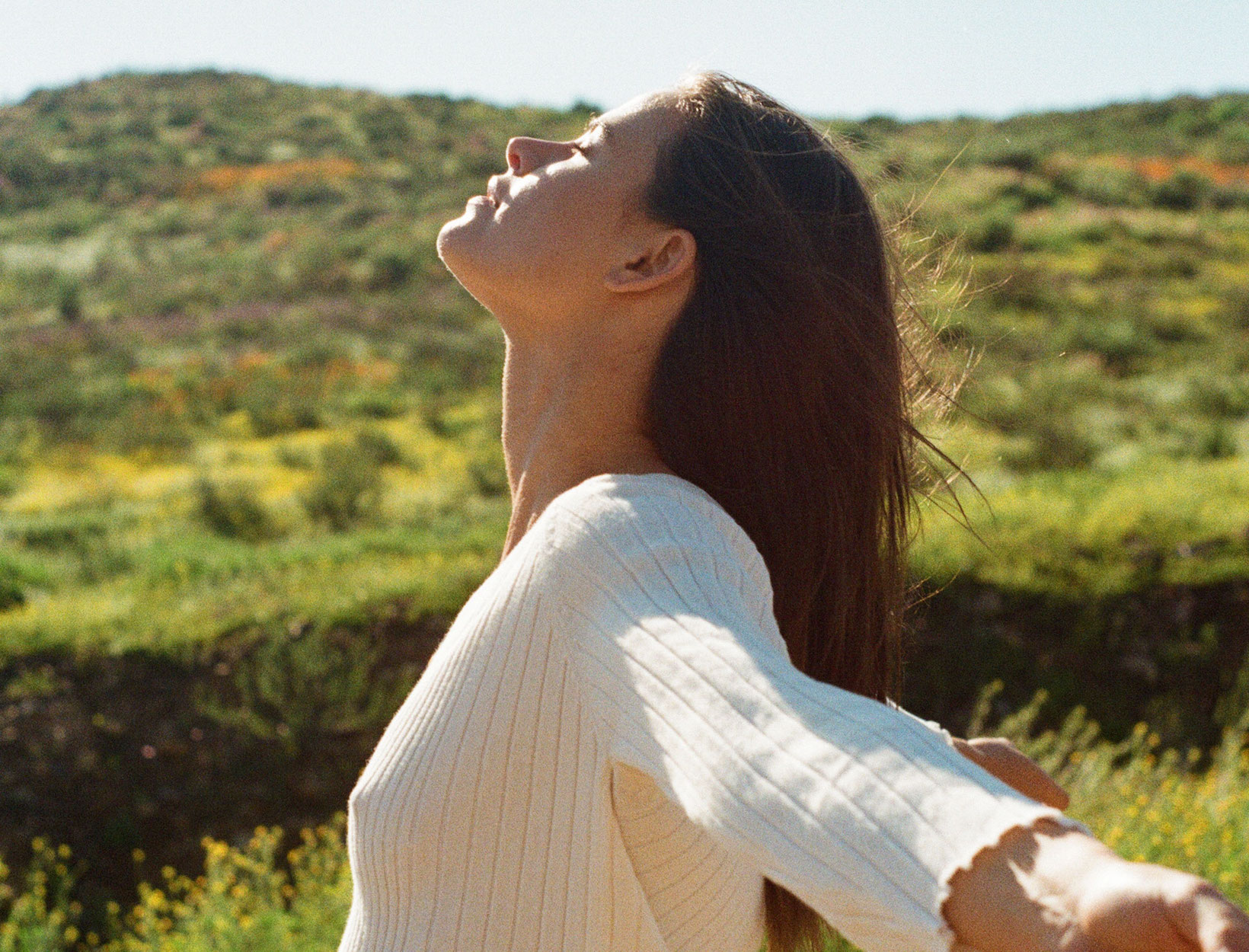 Photo courtesy of Ethan Gulley. Model: Becca Lane.
How to Help Protect Skin
from Photodamage
Whether you're outside on a blazingly sunny day or inside on a cloudy one, your skin is almost constantly exposed to ultraviolet rays that damage it over time. UV rays create free radicals, which are unstable molecules that can break down collagen and prematurely age skin (the classic example of free radical damage is the way an apple turns brown when it's cut). This photodamage—also called photoaging or sun damage—can show up as lines and wrinkles, dark spots, uneven tone, or even sagging. Photodamage is inevitable, especially if you run on the beach or amble through farmers' markets. But there are measures you can take—making sure your diet includes plenty of antioxidants, being diligent about mineral sunscreen, and focusing on skin care—to help reduce the sun's damaging effects so your skin looks healthy, supple, and glowy.
1

PROTECT WITH MINERAL SUNSCREEN

Applying clean, mineral-only sunscreen daily is one of the best ways to help protect skin from photodamage. Mineral SPF creams are made with zinc oxide and/or titanium dioxide; you can tell a formula is mineral when the only active ingredients listed are titanium dioxide and zinc oxide. (Both are soothing to skin—zinc is the ingredient that many baby-bottom creams are made with.) Mineral sunscreens work by sitting on top of skin to physically block UV rays, while chemical ones absorb rays within skin. Four major chemical sunscreens were found to be readily absorbed into the bloodstream—where they persisted—in a recent study published in JAMA. And Hawaii banned several common chemical sunscreens last year in response to the coral death they can cause. (The extra moment it takes to blend in a mineral sunscreen is definitely worth it.)
2

DRINK—AND EAT—ANTIOXIDANTS

Supercharging your diet with antioxidants, which help deactivate free radicals before they have a chance to harm healthy skin cells and degrade collagen, can also make a difference in skin. Blueberries, kale, artichokes, and green tea are all high in antioxidants; incorporating more into your diet can make a difference in both your overall health and your skin. Supplements like GOOPGLOW, a power shot of vitamins C and E, CoQ10, lutein, and other antioxidants, can help fight the effects of free radicals and preserve collagen, too. (We mix up a glass of GOOPGLOW first thing in the morning for a citrusy, refreshing, beautiful, glowing-skin ritual.)
3

WORK TOPICAL ANTIOXIDANTS INTO YOUR SKIN ROUTINE

Whether you're consuming it or applying it topically, vitamin C is a powerful antioxidant that can have a brightening, smoothing effect and support existing collagen. It's one of the best-studied antioxidants, and it's been shown to help protect skin from free radicals and photodamage. Because it's mildly exfoliating, it can also help even skin tone, soften dark spots, and make lines and wrinkles appear less noticeable. Vitamin C is water-soluble and thus notoriously difficult to stabilize; it degrades quickly, even in preservative-packed skin care. We love the powder version from True Botanicals because it stays fresh and fully potent until you mix it with water or into a serum or cream.