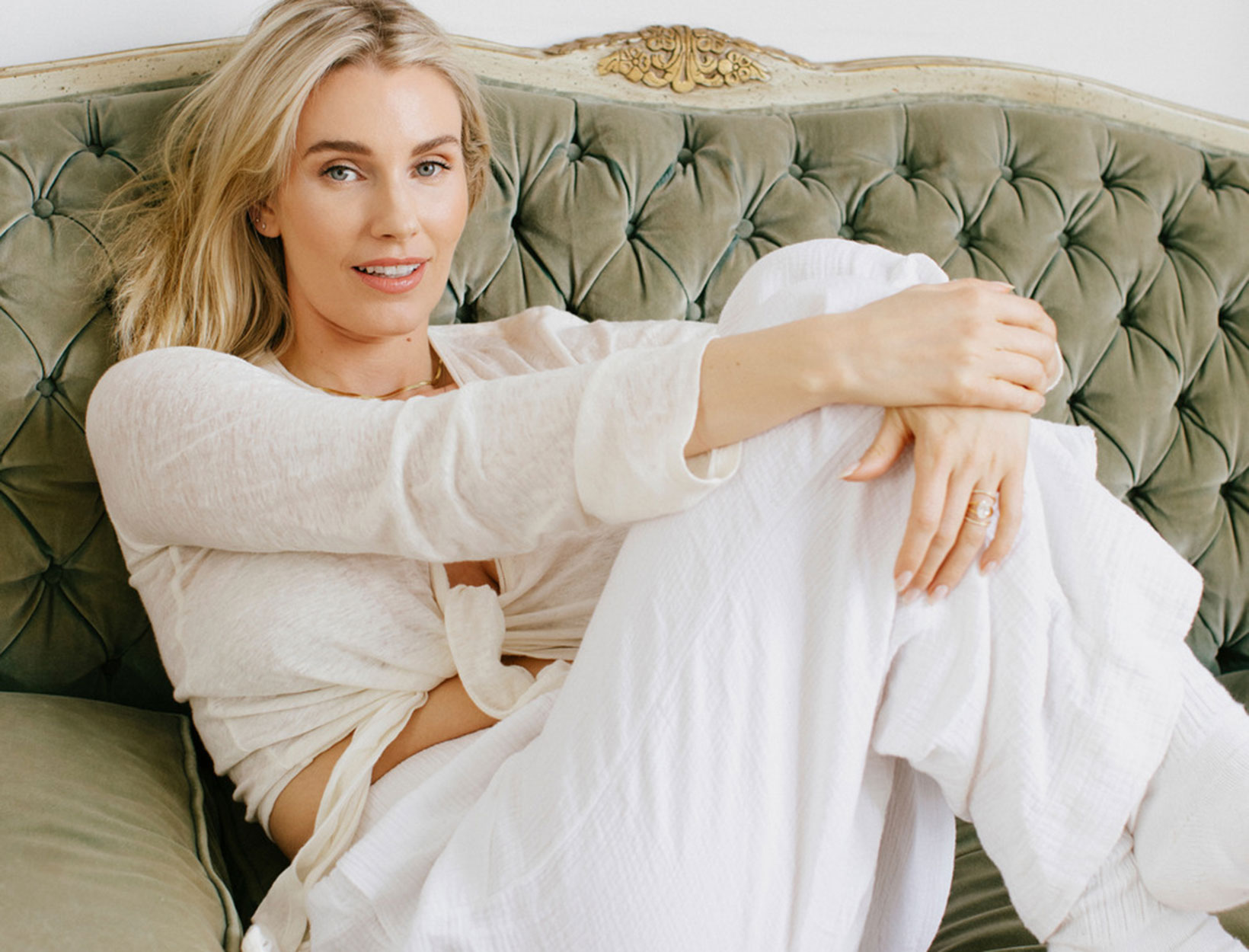 From Bathroom Sink to
Kitchen Counter, 13 Ways to Make Life
at Home More Pleasurable
Whitney Tingle (above, on her sofa at home in NYC) is that friend you beseech constantly for advice because she just knows what's good. The cofounder of Sakara Life—a health, beauty, and organic plant-based meal-delivery company that is one of the most beautiful, original wellness businesses we know—has epic style, a deep understanding of holistic health practices, and some brilliant ways to shift your home environment so that you love living in it more.
Tingle and cofounder Danielle Duboise are busy, even in lockdown. Following the success of their cookbook, Eat Clean, Play Dirty, and podcast, The Sakara Life Podcast (the two cohost, and it's great), Sakara just introduced a daily supplement called The Foundation.
On top of that, Tingle is pregnant with her first child and (like many of us) doing it all from home. "It took some adjusting, but I feel like I'm in a good groove now with working—and living—out of my New York apartment," she says. Here, her best tips—from a simplified skin-care routine to a cleared-out pantry.
1
Use Skin Care to Relax
"I've really simplified my routine being pregnant and in isolation, using some very luxurious products—and I've found that both my skin- and body-care routines have become daily rituals that are very soothing. I'm obsessed with goop's Microderm Instant Glow Exfoliator. On days I don't wash my face with that, I use the Living Libations sea buckthorn cleansing moisturizer. I recommend smoothing it off with a washcloth; I use an organic one that removes product beautifully and leaves my skin soft."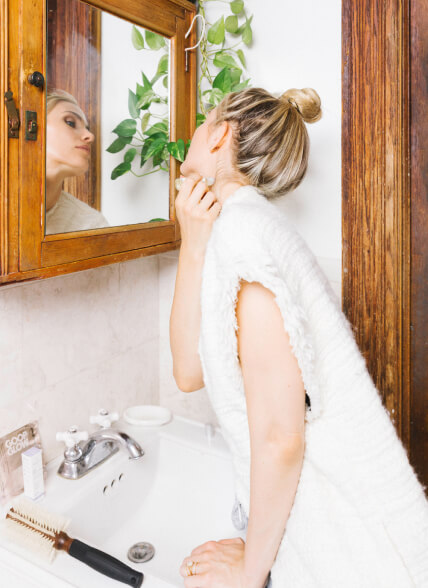 Glowy Face Scrub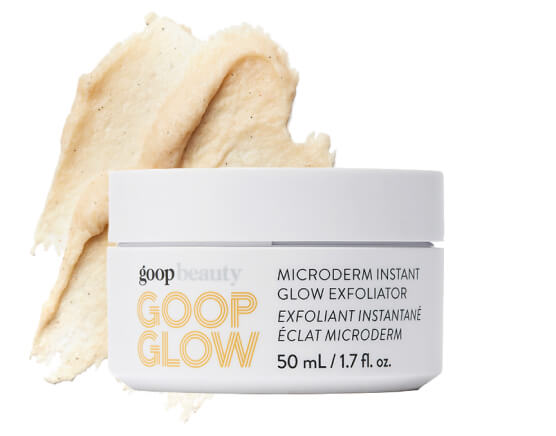 goop Beauty
GOOPGLOW Microderm
Instant Glow Exfoliator
goop, $125/$112 with subscription
SHOP NOW
Moisturizing Oil and
Cleanser in One

Living Libations
Best Skin
Ever Face
Oil Sea
Buckthorn
goop, $31
SHOP NOW
"After washing my face, I love layering Vintner's Daughter Treatment Essence with their Active Botanical Serum. It feels so good to have a simple, hassle-free routine, and my skin feels more moisturized than ever before."
Miracle Face Oil

Vintner's Daughter
Active
Botanical
Serum
goop, $185
SHOP NOW
2
Indulge Your Body
"I'm definitely more attuned to what my body needs now, whether it's making sure I'm getting enough nutrients or finding ways to unplug. I swear by the ginger and ashwagandha body wash, and I've tried many different oils and body balms, but the goop black pepper and rose hip body oil is my absolute favorite. I'm even more aware of what I'm putting on my body now that I'm pregnant."
3
Work Out (and Chant When You Can)
"I try to dedicate at least twenty minutes a day to movement, whether it's a walk or an online class. I've been into Melissa Wood Health, The Class, and Caravan Wellness, and I just added The Bloom Method, which is for pregnant mamas. If I have a big day where I'm going to be using my voice a lot—presenting in a meeting or recording an episode of The Sakara Life Podcast—I start with some chanting to warm up my vocal cords and get into a good mood. I love Mahamantra Meltdown by Krishna Das."
4
Overhaul Your Pantry
"I reorganized the pantry and cleaned out things past their expiration dates, and I also cleared out all my old vitamin bottles to make room for Sakara Rx The Foundation, our new (just launched!) daily supplement that has all the clean, high-quality nutrients we need each day. There are six pills in each packet, and they come in one beautiful box instead of the million bottles that used to line my counter. My normal New York City life involves busy days in the office followed by social events, eating out in restaurants, or getting home late and heating up a Sakara meal from my fridge. But when the lockdown started, I changed up my kitchen in order to prepare three meals a day at home. I absolutely love cookware from GreenPan, and this knife set has been a game changer. Having the right tools makes cooking so much more enjoyable. I now have my eye on this beautiful dishwashing set."
5
Bring the Outdoors In
"I miss being outside the most, so I built a plant corner in one area of my house that feels like a little houseplant jungle. I love working near it. I feel like it helps me get a bit more nature into my day. I also started an herb garden with basil, parsley, mint, and cilantro. I didn't really have the time before to nurture a garden, but I love adding fresh-cut herbs to our home-cooked meals (another thing I didn't really have the time for before but really enjoy now)."
6
Have Great Recipes in
Your Back Pocket
"My days continue to be filled with back-to-back meetings, with only a few minutes to figure out what to eat. My Sakara meals have been a saving grace—having healthy, organic, ready-to-eat meals in my fridge ensures that baby and I are getting proper nutrition throughout the day without having to stress over preparing lunch. But a few easy recipes have also become go-tos: I can never get enough Youth + Beauty Salad, the most hydrating and beautifying salad on the planet—ultrahydrating romaine lettuce and cucumber, antioxidant beets and pomegranate seeds, all topped with skin-boosting superfoods like hemp seeds and sunflower seeds. The combination helps nourish skin from the inside out, using food as medicine. It's perfect for warm summer days, and you can find the recipe in our cookbook, Eat Clean, Play Dirty.
"I discovered the secret to making the best hummus while being stuck at home: Cook the chickpeas with baking soda. I like to use canned chickpeas, because it's faster than cooking dry beans when I get a hummus craving. Rinse and drain the chickpeas. Cover them in a few inches of water in a pot on the stove and add a teaspoon of baking soda. Bring to a boil and simmer for twenty minutes until the skins are peeling off and the beans are very soft and mushy. Then make the hummus as you usually would—with fresh garlic, lemon juice, salt, a good tahini, and cold-pressed olive oil—and blend until smooth and creamy. To make the hummus and creamy salad dressings, you need a good citrus juicer, a microplane or zester for grating garlic (I find mincing it tedious), and this hand mixer—which is also great for making puréed-squash soup.
"My newest obsession is making Detox Sun Tea. I put a few teabags of our Sakara Detox Tea in a large Mason jar of water and set it in the sun for a few hours, then keep it in the fridge for a caffeine-free afternoon pick-me-up. The blend of South African red rooibos, lemongrass, and rose has a natural sweetness to it, so I don't add anything but ice cubes or a splash of almond or macadamia milk if I'm in the mood for something creamier."
7
Make Your WFH
Area Legit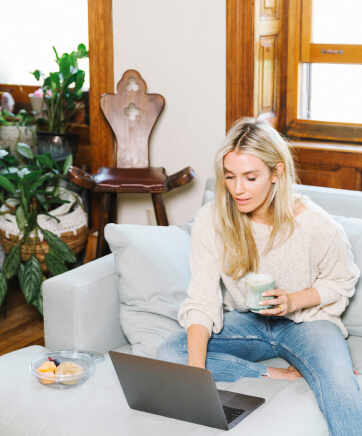 "Tech has really streamlined the transition to working from home for me: I invested in a great USB microphone and a pair of headphones for recording The Sakara Life Podcast. I ordered a tripod with a ring light on it for my phone to engage with our Sakara community via Instagram Live until we're able to host events in person again, and a DefenseShield, to help protect me and the babe from laptop radiation."
8
Send Natural Wine for
Virtual Happy Hours
"I've hosted a few virtual happy hours, and I love to send a bottle of natural wine—I love this rosé from female biodynamic winemaker Valentina Passalacqua—to my guests ahead of time when I know we'll be marking a special occasion."
9
Fill Your Brain with Ideas
"Being informed is important but not healthy if it's all-consuming. I try to fill my brain with information that will help stimulate ideas, inspiration, and creativity. I like podcasts like The Doctor's Farmacy, The On Being Project, Where Should We Begin with Esther Perel, and of course, The goop Podcast."
10
Supercharge Your Water
"The water we drink is just as important as the food we eat. My mom, who lives in Arizona, is a water fanatic who distills her water. The distilling machine is too big for my NYC counter space; I just have a good three-part filter."
11
Make Date Night
Simpler and Sexier
"My husband, Itay, loves when I make his favorite Israeli foods that remind him of home. For him, it's more special than candles and flowers or ordering in from a fancy restaurant. He appreciates gestures that show that I'm thinking of him and that I know what he likes."
12
Stretch
Premade Meals
"My husband or I cook some nights for dinner, but we're busy and aren't chefs, so one trick we do is to use a Sakara meal as a base and expand it to feed both of us by adding extra leafy greens, fresh vegetables, or even a piece of salmon or toast (he loves his with pita chips). Having a healthy base with delicious sauce makes dinner prep so much easier, allowing me to unwind from a full day. On weekends, I stop by the farmers' market for local ingredients to make an Israeli breakfast of eggs, spreads, and veggies. I enjoy shopping the farmers' market more than the grocery store: They mark out lines to make social distancing easier, and everything's outdoors. I've been craving pancakes during my pregnancy, so I'm making lots of Superfood Pancakes from our cookbook. Or I just pop a couple of those gluten-free frozen waffles that are the 'healthy' version of Eggos into the toaster oven (shhh don't tell)!"
13
Say Thank You
"Before enjoying a meal, I take a moment to pause and give thanks. Here's a Sakara blessing that I use: 'Bless this food and let it nourish my body. Gratitude for all the hands that touched it and allowed it to be on my plate. Bless the earth for providing me with everything I need to be healthy, happy, and free.'"