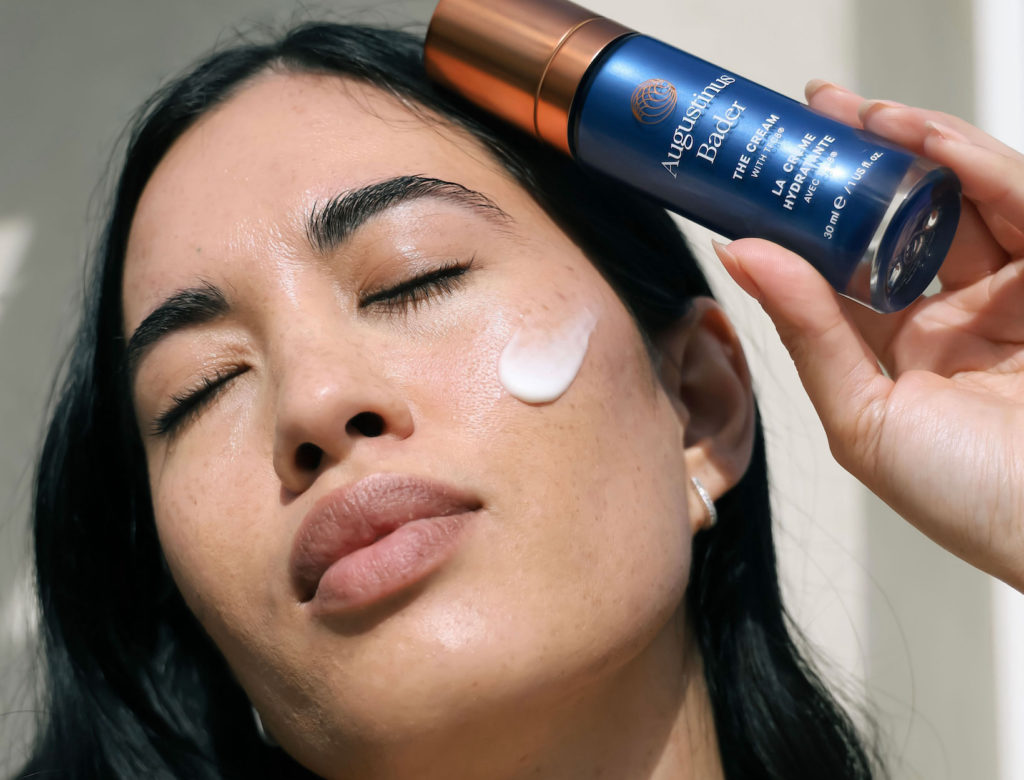 How to Help Your Skin Keep Itself Healthy
Created with Augustinus Bader
After some 30 years spent researching and developing technologies to activate and harness the human body's capacity to heal (focusing on the reawakening of cells that become dormant due to aging or trauma), Professor Augustinus Bader, now director of cell techniques and applied stem-cell biology at the University of Leipzig in Germany, was persuaded to set his sights specifically on skin. In 2008, Bader, a biomedical scientist, physician, and leading expert in the field of stem-cell biology and regenerative medicine, developed a wound gel remarkable for its ability to heal severe skin trauma without the need for surgery or skin grafts; that technique eventually inspired Augustinus Bader skin care.
While many modern strategies to boost skin involve some amount of irritation (often to goad the skin into a repair response), Bader's cult creams support the skin's natural processes—and the results are legendary. What began with a single, constantly-sold-out-around-the-world moisturizer (The Cream) has burgeoned into a bestselling clean line that most recently expanded to include hair as well as skin, powered by Bader's proprietary compound, TFC8, engineered to optimize skin and hair health. We talked with Bader to understand his deeply original approach to making our skin look and feel fantastic.
A Q&A with Augustinus Bader
Q
How did you get interested in skin care?
A
My mission started with the intention to help burn victims, particularly children with traumatic injuries. Some years ago, I developed a medical-grade hydrogel to treat children with severe burns but found it challenging to secure grants to fund the clinical testing required to bring it to market. At that point, I met Charles Rosier, who had the vision to apply similar techniques to create skin-care products to help fund more trials. It took two years of convincing, but after realizing that the cream was giving people confidence and happiness, I agreed to adapt the technology to create a more intelligent product for everyday use, and together, we founded the brand.
---
Q
Why is your patented TFC8 complex so powerful?
A
TFC8 (Trigger Factor Complex) taps into a similar self-renewing reaction as that of the medical iteration I developed; however, the formulas ended up completely different. This is because application on intact skin instead of open wounds (for reasons of accessibility) requires an entirely different set of components to navigate the body's natural repair code effectively. I eventually found a solution to provide the right precursor molecules to help restore the skin cells' youthful behavior through a complex cocktail of high-grade vitamins, amino acids, and compounds.
TFC8 contains specific molecules naturally occurring in the skin—vitamins, minerals, and amino acids—and it functions like a GPS, utilizing a novel transporting mechanism to deliver these essential building blocks of amino acids, vitamins, and nutrients to the cell microenvironment in the right concentrations, at the right location, and at the right moment. The complex supports your skin to assume a healthy renewal process rather than a dysfunctional one, which causes a loss of elasticity as we age.
---
Q
What are other important ingredients you formulate with to further boost skin?
A
We vary our ingredients to suit different skin types. For example, we put a replenishing mix of argan, avocado, and evening-primrose oils that's rich in omega-6 fatty acids and antioxidants and helps protect skin from free-radical damage in our Rich Cream, along with the TFC8.
In the original cream, on the other hand, we use soothing aloe vera, amino acids, and vitamins A, B, C, and E to help protect skin from free-radical damage and to smooth and refine the skin's surface (also along with the TFC8).
---
Q
The Rich Cream is one of those cult-hit products that people of all different skin types love. How is it (and TFC8) able to benefit such a variety of skin types?
A
Our skin-care technology moves in the field of epigenetics—in other words, it works with the skin's own intrinsic repair needs, delivering various active ingredients that positively influence the skin cells in a targeted manner, so there's the flexibility to address everything from the appearance of fine lines and wrinkles to redness and elasticity. TFC8 transforms our potent base formulations into smarter skin care that addresses your skin's individual needs while supporting your skin's natural rejuvenating processes. The products tap into the kind of biological wisdom innate to us, which becomes expressed naturally when using our products.
---
Q
Why is moisturizing such a crucial step for all skin types?
A
For adults, it regulates and replenishes the moisture and lipid content to protect the skin's delicate ecosystem, helping maintain a healthy skin microbiome. It also creates a barrier to defend against environmental aggressors that can cause signs of premature aging, thus promoting optimal skin health.
---
Q
Why is using eye cream better than simply patting a great face cream around the eye area?
A
The skin around our eyes tends to age a lot more quickly than the rest of our faces. The skin itself is around 10 times thinner to enable rapid movement and blinking, and the fat and muscle structure in that area is also a lot less dense. This leaves the skin more susceptible to issues such as sagging, puffiness, and habitual lines due to a lack of cushioning and support. Our eyes' sensitive, delicate nature requires all the hydrating, brightening, and rejuvenation of our other skin-care products, but with gentle, soothing formulas to avoid irritation. Our eye cream contains vitamins C and E, which are particularly helpful in reducing dark circles; deeply hydrating ingredients like hyaluronic acid, evening-primrose oil, and argan oil are especially beneficial for dehydration.
---
Q
How does the skin on the body age differently than the skin on the face?
A
As we all know, our skin is not limited to the face, so other areas of the skin can benefit from protection and care. However, there are different needs for skin areas outside the face. We adjusted our formulas to suit larger areas of skin; the textures and formulations of The Body Lotion and The Body Oil were adapted to be spread over larger areas than our face creams, but they contain the same unique technology (TFC8).
Your cells are your intrinsic repair specialists. They are everywhere where there is skin, not just the face—our products help utilize these amazing lifelong resources we have to keep our skin in a good state as long as possible.
---
Q
The instinct might be to invest in serum or cream, but how effective can face wash be in terms of making skin look and feel smoother, firmer, and more radiant?
A
The formulation of The Cream Cleansing Gel and The Cleansing Balm serves a different purpose than that of our moisturizers, so the composition of ingredients differs, but it still contains the same unique technology (TFC8) to set the stage for cellular regeneration. It is a gentle, nonfoaming formula packed with essential fatty acids and minerals, antioxidants, and potent actives. TFC8 contributes to targeting the skin's various needs upon contact and will penetrate during the cleansing ritual to assist in skin revitalization and improve elasticity. The Cream Cleansing Gel and The Cleansing Balm are the first of their kind to cleanse the complexion while enhancing cellular turnover.
Also, it's essential to recognize that properly cleansing the skin prepares your skin to absorb products you may put on after, such as a moisturizer. Clearing out your pores allows the moisturizer to penetrate your skin with maximum effectiveness.
---
Q
What are some things we can do to invigorate skin alongside using powerful skin care?
A
Our appearance is reflected in the quality of our whole lifestyle, from emotional health to nutrition to even the air we breathe. So, consume essential nutrients that are known to fend off damage and protect cells, including powerful antioxidants like selenium, zinc, vitamin E, vitamin C, vitamin A, polyphenols, flavonoids, and carotenoids.
Eat the rainbow to give your cells what they crave: broccoli, kale, alfalfa sprouts, sweet potatoes, onions, beets, tomatoes, blueberries, blackberries, pomegranate, and, best of all, dark chocolate.
Also, gentle exercise and dynamic routines are essential for immunity, resilience, and overall health and well-being, while gentle massaging supports blood circulation.
---
German-born scientist and physician Augustinus Bader, Univ. Prof. Dr. med. habil., was inspired to create his eponymous skin-care line after a career focused on helping heal severe skin traumas. The brand's performance-driven products incorporate the patented complex TFC8, which works to support the body's own natural processes in smoothing skin and nourishing hair. Bader is currently the director of cell techniques and applied stem-cell biology at the University of Leipzig in Germany.
---
This article is for informational purposes only, even if and regardless of whether it features the advice of physicians and medical practitioners. This article is not, nor is it intended to be, a substitute for professional medical advice, diagnosis, or treatment and should never be relied upon for specific medical advice. The views expressed in this article are the views of the expert and do not necessarily represent the views of goop.