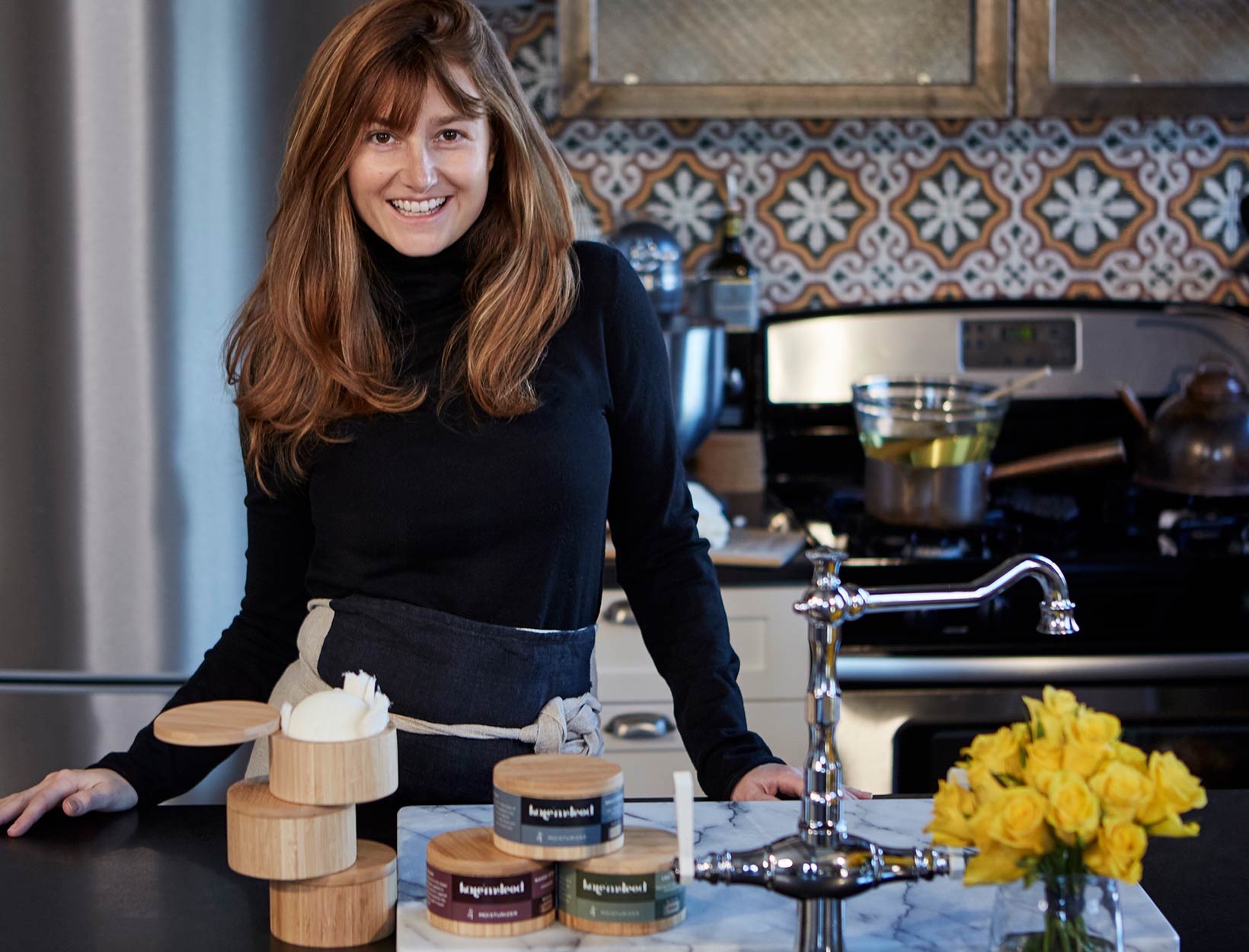 You Can Use a Body Stone for
Everything from Silkier Skin to Sexier
Sex (and Much More)
Date night looks very different all of a sudden. Body Stone founder and new mom Kate McLeod, for one, had planned a Tantra class with her husband at Reiki and meditation studio Maha Rose in Brooklyn before the world went on pause. "The surprise was, though, they ended up making it virtual," says McLeod, whose incredibly romantic relationship story with her husband, the founder of Hinge, is chronicled in the second episode of Modern Love on Amazon Prime Video (watch it; it's good). "So we got on the iPad, and this amazing teacher guided us through a dance party, breathing techniques, and massage exercises," she continues. "It was fun—and really sexy. For the massage part, we of course incorporated my Naked Stone. Let's just say it melts beautifully…"
Moisture and Massage for Sensitive Skin

Kate McLeod

The Naked Stone

goop, $45

SHOP NOW
Whether you're using one of McLeod's stones for date night, as a skin-coddling remedy for your body, or to soothe raw knuckles from incessant handwashing, each one is made with the same ultrahydrating base (cocoa, sweet almond, apricot kernel, avocado, and coconut) and swirled with essential oils for a subtle, beautiful scent (except for the Naked Stone, which contains no essential oils). The Atelier Stone has mood-shifting vetiver and citrusy bergamot, and a piece of heliotrope crystal is encased within (heliotrope, McLeod says, may inspire courage in the face of transformation). And the Daily Stone smells gorgeously of rose, neroli, and earthy frankincense.
Vetiver and
Bergamot

Kate McLeod

Atelier Stone 1

goop, $65

SHOP NOW

Rose, Neroli, and Frankincense

Kate McLeod

The Daily Stone

goop, $45

SHOP NOW
The stones grew out of McLeod's previous stint as a pastry chef in Europe. "It all started totally by accident," she says. "My sister-in-law took the bottle of lotion I was using out of my hand and replaced it with a chunk of raw cocoa butter. I was like, 'God, there's got to be a better way to apply this stuff.' So I took it into the kitchen, double boiled it, and started experimenting." (McLeod already was used to baking with French chocolate, which has a higher percentage of cocoa butter than American chocolate, so she was familiar with the silky texture.) As she melted down the cocoa butter (a natural preservative), McLeod tried blending it with nourishing botanical extracts and pouring the resulting mixture into old baking molds. "There was something so tactile and sensual about the whole process," she says.
The stones are now handmade in a factory in Brooklyn that McLeod's affectionately nicknamed the Butter Atelier, and each onepackaged in sustainably farmed, reusable bamboo canisters. "I know they're not in everyone's budget, and if they aren't, you can definitely use what you have," she says. "I love the oils many of us have in our kitchen to cook with: avocado oil, grape-seed oil, MCT oil, and refined sesame oil. A few drops are warming and moisturizing when you smooth them on your skin." If you've got one of the stones, however, you can use it for many, many purposes. The four below are our favorites.
1
Soothe Your Nerves (and Sore Muscles)
with Self-Massage
In the same way that you can't tickle yourself, it's hard to effectively massage yourself. Unless you've got something between your hand and your skin. Enter the brilliance of a body stone, which effectively short-circuits the problem of your own hand massaging your body. "I run the stone along my IT band—for the last five months of carrying my son, Ollie, he was on my right side, and my left hip and abductor are so tight from overcompensating," says McLeod. "I've also used massage balls and foam rollers, but at night I just rub the stone over those areas."
2
Give a Massage
"We're all holding so much tension right now," says McLeod. The stones are great to give a massage with—they behave much like the soap in the hand of a masseuse in a Turkish bath, for instance, to intensify the pressure. (Unlike soap, however, the stones are moisturizing.) You also never need to interrupt your massage to get more lotion or oil, because the stone is the oil. Your massage can be straightforward, or McLeod suggests a sexier version: "Give your partner a little neck massage, then, using the stone, you can start to trail down the torso and move down toward…other places," she says, laughing. "It's so much fun and way more creative than just rubbing lotion on someone. And unlike some massage oils that leave you all greased up and feeling like you have to shower, this melts right in."
3
Unwind with a Bath (for Babies and Adults)
"Laying my seven-month-old, Ollie, down and attempting to put moisturizer on him—he's like, 'F*ck no.' It's like wrestling an alligator," says McLeod. "I've been taking a paring knife or peeler and shaving off little pieces of the Naked Stone, the one without essential oils, so it works for a baby's sensitive skin (I use it for sex, too), and putting them into his bath. Ollie comes out this little buttered bean. It's super calming, and he goes right to sleep right after."
4
Make Moisturizing a Meditation
Reconnecting with your senses can create a soothing, meaningful pause to help drown out the news, what's happening on your phone, and anxiety. "Four times a week, I'm able to get a morning meditation in, but it's harder to take a moment for myself in the evening when I'm revved from the day," says McLeod. "So after my nightly shower, when my skin is still warm and damp and I can feel the heat evaporating off of it, I rub a stone over my body. There's so much power in the sensation—it helps me come out of my head and monkey mind and ground down into my body." Meditative self-care rituals, she says, can come in many forms: "It can be a calming morning beverage—my husband makes lemon-ginger water—or putting on your makeup to start the day, or putting on your jeans even though you're just walking to the kitchen table." But for McLeod, her moments with the stones are what truly work for her. "I'd always been bad at taking a minute for myself," she says. "Justin had issues with relationships, so he started Hinge; I had issues with self-care, so I started a self-care company."