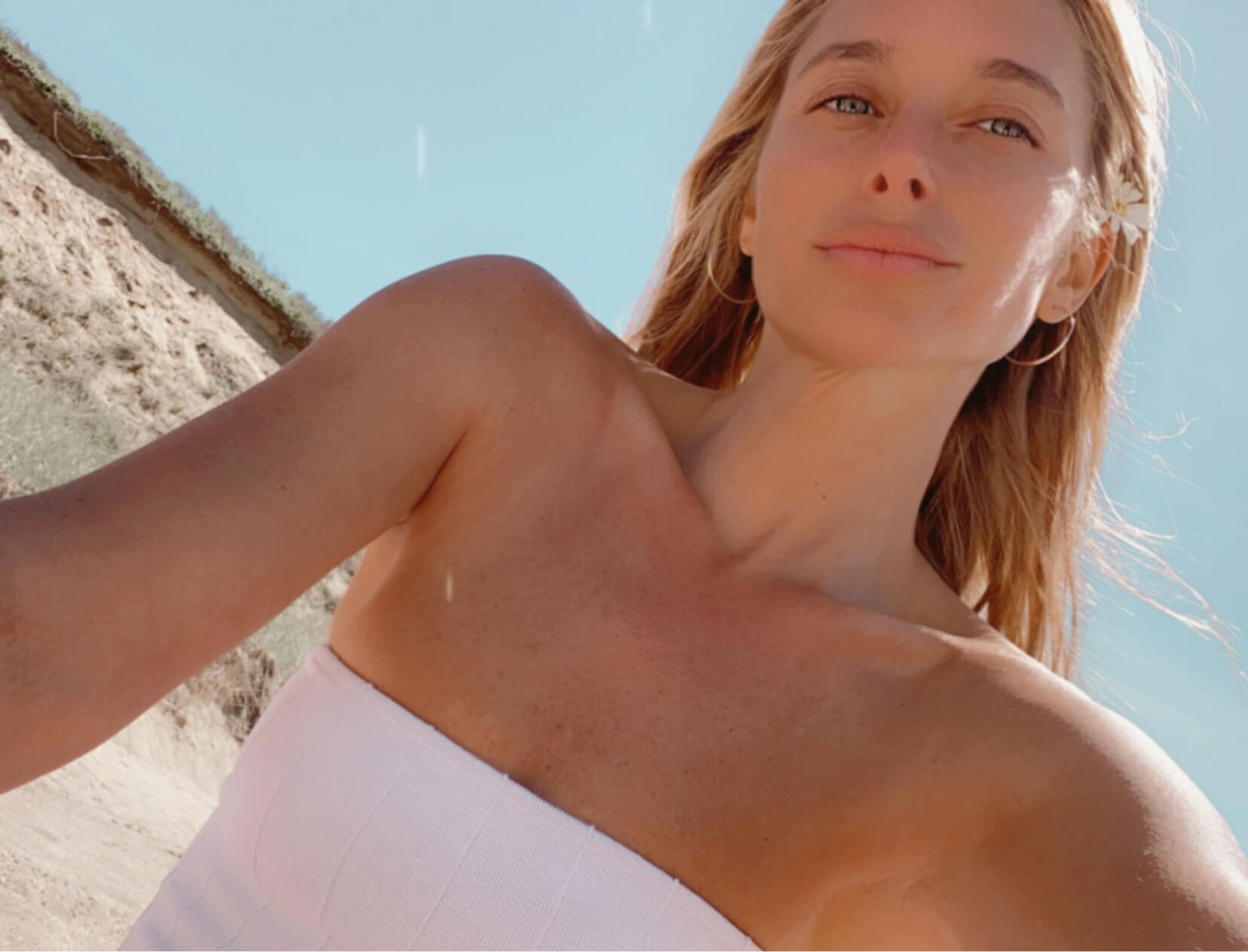 MY MORNING ROUTINE
How a Designer Gets Her Beachy Glow and Sculpted Skin
Jessie Schuster
|
34, founder and president of Jessica Schuster Design in New York City
The woman behind some of the coolest spaces in New York, interior designer Jessie Schuster, manages to look beachy—bronzy-glowy skin, casual dresses, gently mussed hair—even when you catch her, masked, along Canal Street or confined to her SoHo apartment on a Zoom call. Her secret, most mornings, involves powerful skin care, a great workout, and little to no makeup.
"I'm not into a ton of product or makeup, so the skin care I do use has to work really hard," she says. Her interior design projects, which range from hotels and restaurants to estates and penthouses, work off a similar paradigm: She balances open, airy spaces with a spare, unfussy mix of modern and antique pieces, along with the occasional pop of brilliant color, texture, or pattern. Nature, she says, guides her in design and other aspects of her life. "I'm making more of an effort to use clean ingredients, especially when it comes to my skin," says Schuster, who loads up on glow-boosting serums and moisturizers swirled with powerfully soothing botanicals in the morning so that she doesn't feel much of a need for makeup.
7:05 a.m.: My alarm goes off. I always wake up to "Mama Said" by The Shirelles. I'm big on original rhythm and blues, like Aretha and Etta.
7:15 a.m.: After reading emails in bed, I get up to take my Frenchie, Blue, for a fast-paced walk around SoHo. It's a nice way to get my body moving first thing in the morning.
7:30 a.m.: Back at home, I start in with some skin care. Three days a week I wash my face with the GOOPGLOW Microderm Glow Exfoliator. I love how soft it makes my skin feel, and it really gives me an epic glow.
If I'm not working out that day, I skip showering and apply my skin care; if I do work out, I apply it after my shower. I recently started using the vitamin C serum from goop, which I smooth on after washing my face. For me, it really complements the exfoliator.
If my skin is dry—especially in the winter—I like to layer on Tammy Fender's Plant Milk and Intensive Repair Balm. I love the balm's consistency and smell. It feels so rich and always leaves my skin dewy and clear.
goop Beauty

GOOPGLOW 20% VITAMIN C + HYALURONIC ACID GLOW SERUM

goop, $125/$112 with subscription

SHOP NOW
7:40 a.m.: After the skin care, I love to use the Jillian Dempsey sculpting bar. I bought it at the goop pop-up in Palm Beach five months ago, and I really see results in terms of lifting. It also just feels great and relieves tension in my face.
8 a.m.: On days that I work out, I stream Tracy Anderson's FundamenTAI class.
Her workouts have become a favorite with my sisters, aunts, and cousins.
Pre-COVID, I was always in too much of a rush to get to work in the morning, so I've loved making TA a more regular part of my routine to feel strong and grounded in the morning.
9 a.m.: Preshower, I dry brush. It's such an incredible ritual that energizes me and helps smooth away dead skin.
9:10 a.m.: I jump in the shower. I'm obsessed with Kahina's Moroccan beldi soap—it really wakes me up in the morning. I also love their argan oil, which I work into my wet hair as a styling product.
9:20 a.m.: After my shower, I use body oil or moisturizer—I've been loving Kate McLeod's Daily Stone because it's sort of a mix of both. I'm obsessed with the texture and how my own body heat activates the stone to melt all the moisturizing goodness on my skin.
9:30 a.m.: I make a chocolate protein shake with a frozen banana to start every morning, and then my day can really begin. I usually jump on a Zoom or hop over to my home office feeling ready to take on anything!