How Often Should You Exfoliate Your Face? Tips from Gwyneth's Skin Whisperer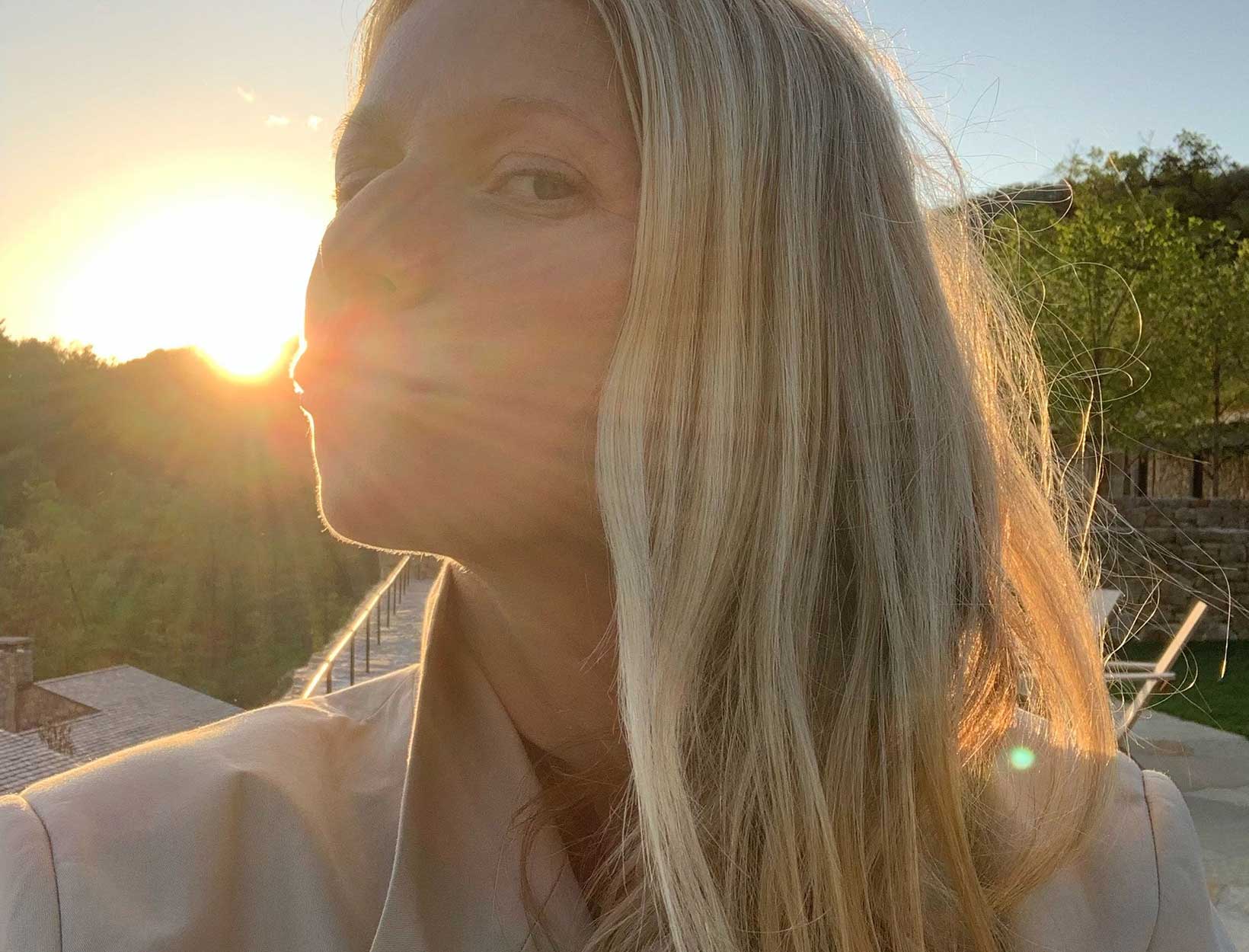 Should you exfoliate your face once a week? Every other day? What about every day, like Gwyneth (who, it should be noted, has skin of steel)? There's no one-size-fits-all recommendation when it comes to facial exfoliating. The frequency with which you do it depends on your skin type, your specific concerns, and the intensity of the formula you're using, according to London facialist Anastasia Achilleos, whom Gwyneth has gone to for years for facials. "Too little exfoliation and your skin starts to accumulate grime, pollution, sweat, self-tanner, makeup, and dead skin, clogging pores," says Achilleos. The magic, she says, lies in exfoliating enough to get the benefits, but not overexfoliating, which can irritate skin.
"Glow, texture, firmness—everything about your skin looks better when you exfoliate properly," says Achilleos. Indeed, serums, oils, and creams sink in deeper; sunscreen layers on smoother; and balmy blush blends in more easily when skin is soft, polished, and free of excess oil, dead skin cells, and debris.
WHAT TO USE—WHEN
Twice a Week

goop Beauty

GOOPGLOW Microderm Instant Glow Exfoliator

goop, $125/$112 with subscription

SHOP NOW

Daily

goop Beauty

GOOPGLOW Cloudberry Exfoliating Jelly Cleanser

goop, $35/$25 with subscription

SHOP NOW
For a retexturizing jump start, Achilleos recommends swiping on one of goop's overnight peel pads once a week before bed. "Fifteen percent glycolic is serious acid peeling and should not be taken lightly," she says. "It's as strong as something I might use in the salon. I like to use them around my time of the month, too, when I tend to break out." Achilleos says she likes to store the peels in the fridge and whip one out whenever a breakout flares up: "Don't forget that because of the sheer amount of juice in this pad, you can literally wipe any part of the body that needs a smoothing effect—like sun-damaged shoulders, for instance, or use it pre-self-tanner-application."
A regular exfoliating regimen customized to your skin type allows your skin care to work more efficiently and your makeup to go on more evenly (honestly, you may even need less makeup), Achilleos says. Here, her best tips.
1
To find the right exfoliation cadence for your skin type, err on the side of caution. Start by exfoliating once or twice a week. Notice what your skin can handle; if it feels raw or looks red, pull back immediately and go even slower (noting that your skin acclimates to exfoliation over time, so just because something might be too much at the start of a new routine doesn't mean your skin will always react to it).
3
Choosing which type of exfoliant to use is important, too: physical or chemical? "Chemical sounds wrong, doesn't it?" says Achilleos. "But chemical exfoliants are actually naturally occurring ingredients that work on the layers of the skin but aren't always visible." Chemical exfoliants work by dissolving and loosening debris and dead cells to reveal smoother, brighter skin beneath. Common chemical exfoliants in skin care are alpha hydroxy acids, like glycolic, lactic, malic, and citric acids; beta hydroxy acid, like salicylic acid; and fruit acids, like pineapple enzymes.
Chemical Exfoliators
4
For more-frequent exfoliation, Achilleos likes to add physical scrubs—goop's Microderm exfoliator, which combines physical and chemical exfoliants—in particular. "Just make sure you don't use it within 48 hours of using the overnight peel," she cautions. "That's overdoing it." The Microderm formula is a blend of four microexfoliating minerals (quartz, garnet, alumina, and silica) plus a little glycolic acid, all in a whipped marshmallow-like formula. "We massage physical exfoliants into skin, manually loosening dead skin cells on the surface for immediate vibrancy and softness," she says. "The smoothing action is pretty microscopic, but enough of the dead skin moves away from the pores and wrinkles that they appear less visible."
Combination Exfoliators
Face Polish with Glycolic Acid and Microexfoliating Minerals

goop Beauty

GOOPGLOW Microderm Instant Glow Exfoliator

goop, $125/$112 with subscription

SHOP NOW

Creamy Wash with Glycolic Acid and Rice Particles

Humanrace

Lotus Enzyme Exfoliator

goop, $46

SHOP NOW

Powder Cleanser and Enzymes

Dr. Barbara Sturm

Enzyme Cleanser

goop, $75

SHOP NOW
Physical Exfoliators
Plant-Based Microbeads

Tata Harper

Regenerating Cleanser

goop, $88

SHOP NOW

Crushed Ruby Crystals

Goldfaden MD

Doctor's Scrub Advanced

goop, $98

SHOP NOW
5
Moisturizing is key after any exfoliation. Achilleos warms up a few drops of face oil between her palms and presses it into skin. "When you've gotten rid of that debris and loosened the dead skin cells, you can benefit from natural, organic formulas even more," she says. Any treatment for skin has an easier time penetrating right after exfoliation, making its action more powerful—so for some skin types, be careful about putting on anything more active right after exfoliation, lest you irritate skin. But a rich botanical face oil or melting cream (layer the two together if your skin tends toward dryness) is perfect for most skin types; if you have oily skin, a hyaluronic acid serum moisturizes without adding oil.
Miracle Skin-Balancing Oil

Vintner's Daughter

Active Botanical Serum

goop, $195

SHOP NOW

Moisture-Replenishing Serum

Dr. Barbara Sturm

Hyaluronic Serum

goop, $320

SHOP NOW
6
Once exfoliated and moisturized, skin is at its best, Achilleos says. Sunscreen smooths right on (and is especially important to use after exfoliating) and makeup glides over skin. "I find we don't need as much coverage after the skin is polished," she says. One of her most famous, exfoliation-mad clients says the right routine keeps her skin in good enough shape that she never wears makeup on a regular office day. "It's great when you need it for events, but I'd rather get my skin to a point where I feel comfortable enough to go makeupless," says Gwyneth. "Doing regular exfoliation at home—plus a few appointments with Anastasia—makes all the difference."
Blends-Right-In Sunscreen

Saint Jane

Luxury Sun Ritual Pore Smoothing SPF 30

goop, $38

SHOP NOW

Easiest (Prettiest) Allover Pigment

Ere Perez

Beetroot Cheek & Lip Tint

goop, $29

SHOP NOW