How to Dry Brush Your Skin—and Why It's So Potent
Written by: Jean Godfrey-June
|
Published on: May 13, 2022
|
Updated on: March 31, 2023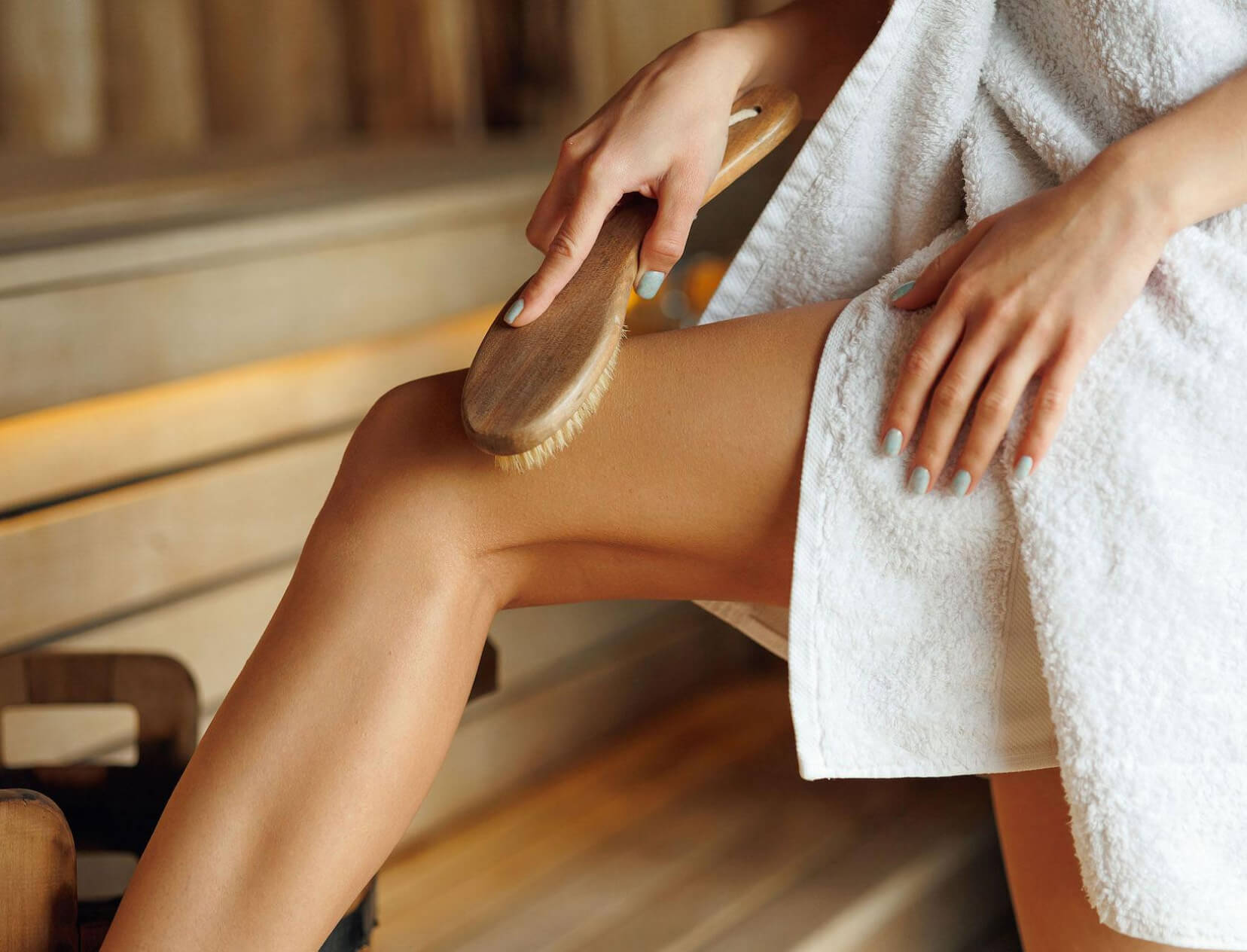 The benefits of dry brushing—it wakes your senses up like no other practice, feels absolutely incredible, and leaves you with silky-smooth skin and an allover body glow—are noticeable both instantly and in the long term. Gwyneth uses her dry brush right before her morning shower. "The bristles feel so good on my skin," she says. "There's nothing like it."
And while the practice of dry brushing the skin once or twice daily with a soft but firm brush is more common during a detox, regular users and fans report more benefits when it becomes a permanent habit.
A dry brush with a long handle (like the one from goop) allows you to get at hard-to-reach spots like the middle of your back; the shorter, marble-based one from Gilded Body fits in your hand perfectly.
Dry brushing is one of those rare things that feel just as good when you do them yourself as when someone else does them to you, and it's incredibly easy to incorporate into your self-care routine. Most experts recommend dry brushing in the morning rather than before bed because they believe it has invigorating qualities. Some people use the brush on its own; others put a bit of body oil on the brush before they use it. "Shower before skin brushing if you're using an oil on the brush," says Organic Pharmacy founder Margo Marrone. "If not, shower after skin brushing, then apply oil or lotion to combat dry skin." It's fantastic to do in conjunction with a sauna or steam, too.
HOW TO DRY BRUSH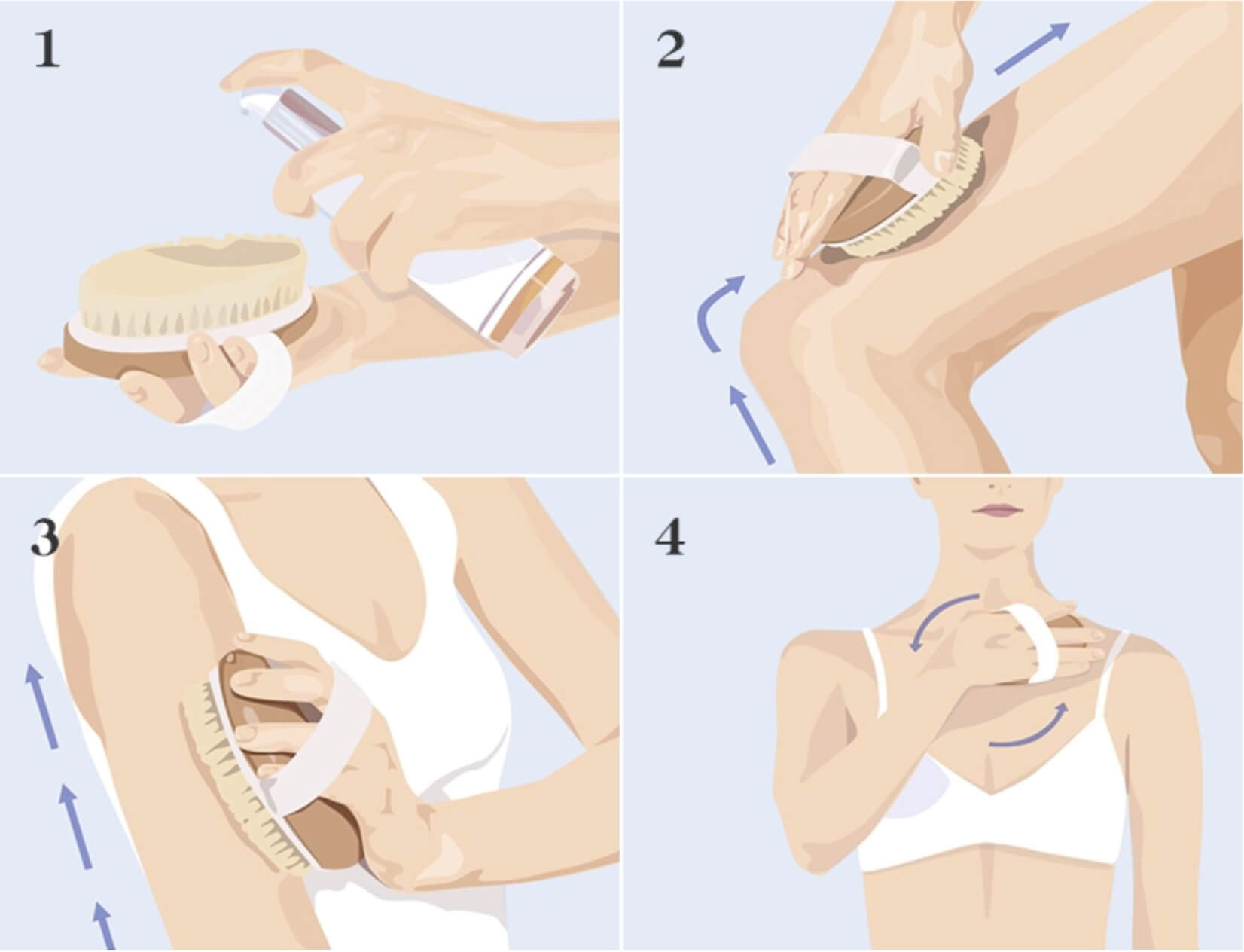 Illustrations by Louisa Cannell
To do it yourself, start at your feet and dry brush upward toward the heart.

Similarly, when you start on your arms, begin at the hands and work upward. Use firm, small strokes upward or work in a circular motion.

For the stomach, dry brush in a clockwise direction.
BENEFITS OF DRY BRUSHING
Exfoliated skin:
Dry brushing helps exfoliate away dull, dead skin cells on the surface to reveal smoother, softer skin.
Body-and-spirit-enlivening massage:
In Ayurveda, dry brushing is traditionally used to rid the body of ama (toxins built up in the body) and stimulate the lymphatic system. There is little research on dry brushing stimulating the lymphatic system. If you try dry brushing, you're likely to agree that it feels fantastic and has a way of waking up your whole self—body and spirit.
Increased circulation and blood flow:
Dry brushing can help promote local circulation to invigorate and refresh the skin.
And one myth, debunked:
Some people enthuse about the effects of dry brushing on cellulite, but there is no scientific evidence to substantiate that claim. According to the Cleveland Clinic, people are likely mistaking temporarily plumped skin (a result of increased blood circulation) for cellulite reduction.
DRY BRUSHING ESSENTIALS
All you need to make dry brushing a daily ritual.
This article is for informational purposes only, even if and regardless of whether it features the advice of physicians and medical practitioners. This article is not, nor is it intended to be, a substitute for professional medical advice, diagnosis, or treatment and should never be relied upon for specific medical advice. The views expressed in this article are the views of the expert and do not necessarily represent the views of goop.