How Often Should You Exfoliate Your Body? Easy Tips from a Top Dermatologist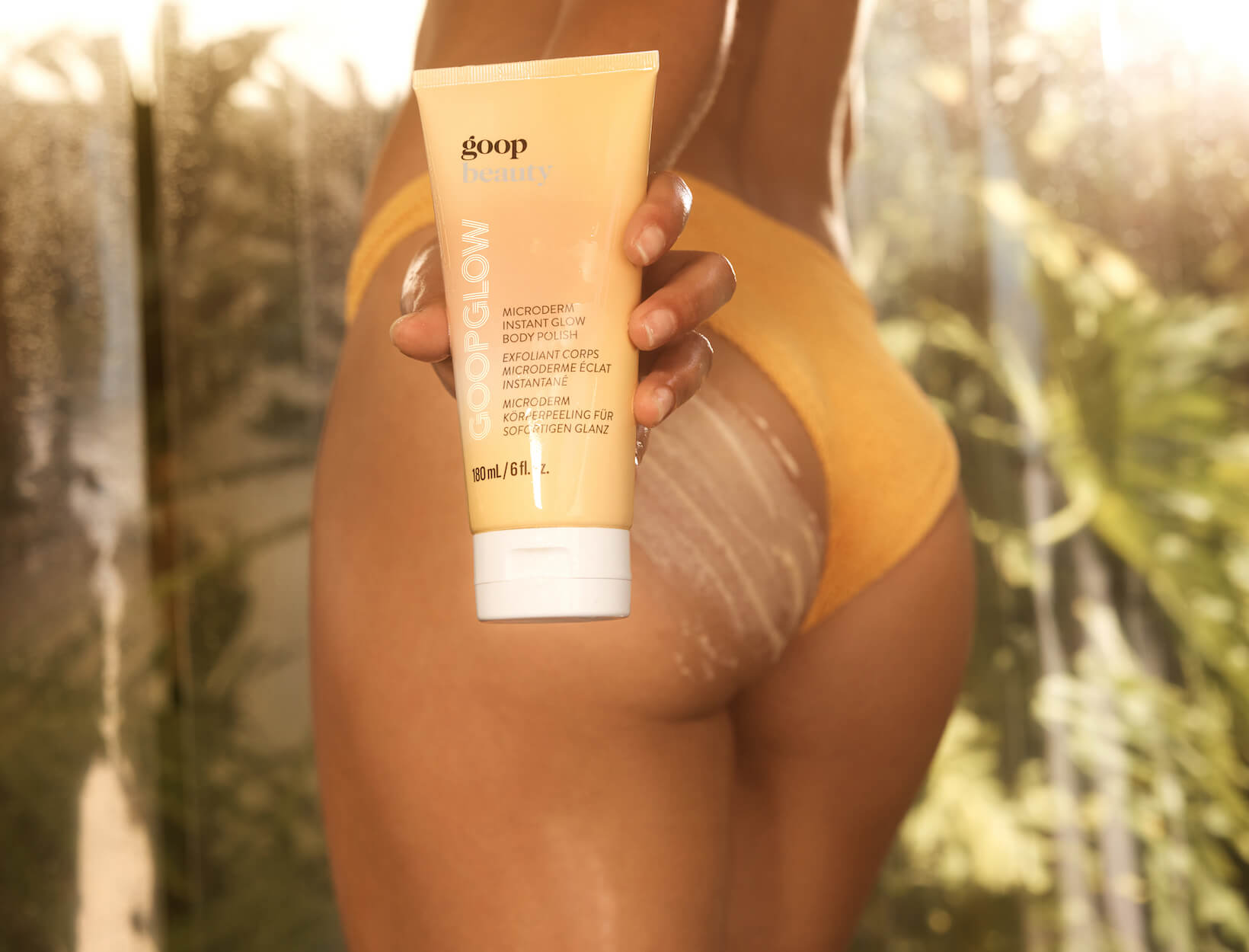 Whether your skin is dry and flaky, oily, or sensitive, exfoliating your body is key. When your skin is supple and glowing, every move you make—floating through a party with smooth shoulders on display, slipping between the sheets at night after showering—feels that much more beautiful. It helps soften the appearance of sun damage, ramp up glow, and soothe and clear your skin. Just as exfoliating is one of the best things you can do for your face, it delivers similar benefits for your body. And it feels pretty incredible, too—especially when you do it with a gorgeously lathering body scrub that leaves every inch of you invigorated.
How Often to Exfoliate Your Body
"How often you should exfoliate depends on your skin type," says top New York City dermatologist (and clinical assistant professor of dermatology at the NYU Grossman School of Medicine) Robert Anolik, MD. "If you have very dry or sensitive skin, you might want to do it less frequently. If you're not sensitive or you have oily skin, your skin can withstand—and should benefit from—a bit more." So even though many body exfoliants come with recommendations on the label, start slowly and work up to doing more.
Every Day

goop Beauty

GOOPGLOW Microderm Instant Glow Body Polish

goop, $48/$43 with subscription

SHOP NOW
What's the Best Way to Exfoliate Your Body?
"With any kind of exfoliation—physical or chemical—you're addressing dead cells to make your skin look and feel smoother and brighter," says Anolik.
Physical Exfoliants
Physical (or mechanical) exfoliation involves manually scrubbing away dead skin cells and other buildup using tools like a dry brush or a washcloth, or scrubs made with textured ingredients like ground minerals, grains, plant fibers, rice powder, or jojoba beads.
Skin-Softening Dry Brush

goop Beauty

G.Tox Ultimate Dry Brush

goop, $25

SHOP NOW




Deeply Moisturizing—and Rosemary-Grapefruit-Scented

goop Beauty

G.Tox 5 Salt Detox Body Scrub

goop, $45/$36 with subscription

SHOP NOW




Luxurious Turmeric-and-Sugar Scrub

KORA Organics

Turmeric Invigorating Body Scrub

goop, $60

SHOP NOW
Chemical Exfoliants
By contrast, chemical exfoliation uses acids (like glycolic acid, the gold standard for many dermatologists; salicylic acid; or even hibiscus flower acid) or enzymes (from fruits like papaya and guava) to sweep away cells and debris. Counterintuitively, glycolic acid was initially developed to treat ichthyosis, an extreme dry skin condition (it's still used for it today). The beauty of chemical exfoliants is their ability to exfoliate evenly and uniformly, and sweeping away dead skin in that manner helps the skin underneath function better (and allows moisturizers to work better, too).
Amazing for Blemish-Prone Skin

Kosas

Good Body Skin AHA + Enzyme Exfoliating Body Wash

goop, $22

SHOP NOW

Citrusy and Floral, with Gently Exfoliating Willow Bark Extract

Grown Alchemist

Body Cleanser: Chamomile, Bergamot, Rose

goop, $44

SHOP NOW

Green and Refreshing, with Brightening Citric Acid

Corpus

Natural Body Wash

goop, $30

SHOP NOW



Combination Exfoliants
Some of our favorite body exfoliators combine the two modalities for maximum effect; others do beautifully with one or the other.
Microexfoliating Minerals and Hibiscus Flower Acid

goop Beauty

GOOPGLOW Microderm Instant Glow Body Polish

goop, $48/$43 with subscription

SHOP NOW

Glycolic Acid and Bamboo Charcoal

Nécessaire

The Body Exfoliator

goop, $30

SHOP NOW
Where on Your Body Are You Exfoliating?
For targeted areas like the back or chest, the powerful concentration of glycolic acid in the GOOPGLOW peel pads can be terrific (use the textured side of the pad for best results). If you're exfoliating your legs and you've just shaved, however, a chemical exfoliant might sting, whereas a physical one could work perfectly. And for the bikini line, exfoliating gently can help with ingrowns—we love the lactic-acid-infused mild serum from Fur.
Chest and Back

goop Beauty

GOOPGLOW 15% Glycolic Acid Overnight Glow Peel

goop, $125/$112 with subscription

SHOP NOW

Bikini Line

Fur

Ingrown Eliminator Serum

goop, $36

SHOP NOW



What Happens If You Exfoliate Too Much?
"Aggressive exfoliation can irritate skin," Anolik says. "Too much can break down your skin's barrier and make you more susceptible to bacterial infection." (This is particularly important to take note of if you're exfoliating in a public space like a gym, where germs spread easily.) It's not always the exfoliant's fault, either: Scrub or brush too hard and you create the same irritation that a too-powerful formula might. "People think the harder they exfoliate, the better the outcome," says Anolik. "It's not true."
Consider What You Put on Your Skin after Exfoliating
"A lot of people use something like benzoyl peroxide on their bodies and then go in with a stronger mechanical or chemical exfoliator, which can lead to irritation and dryness," says Anolik. Other common skin-care ingredients like retinol and vitamin C can have exfoliating properties, too, so always be aware.
Moisturize
"Whatever type of exfoliation strategy you use, follow it with a moisturizer to further smooth the surface and help maintain the barrier," says Anolik. These luscious body oils, butters, creams, and lotions lock in moisture while flooding skin with high-performance superingredients.
Always Layer on Sunscreen
When you exfoliate, your skin does become more vulnerable to the sun, so body sunscreen—always key—becomes even more important.
Silkiest SPF 30

Humanrace

Ozone Body Protection Cream SPF 30

goop, $52

SHOP NOW

Water-Resistant SPF 30

Supergoop

PLAY 100% Mineral Lotion SPF 30 with Green Algae

goop, $36

SHOP NOW

Easy-Blending SPF 50

The Organic Pharmacy

Cellular Protection Sun Cream SPF 50

goop, $69

SHOP NOW
Your Body Exfoliation Routine, Simplified
You get full sizes of the bestselling Microderm for body and Afterglow Body Oil in one adorable kit (for an amazing price).
---
How do we test clean beauty products at goop? First they have to pass our standards for clean (goop has some of the toughest standards in the industry). Only then do they make it to our editors' showers, bathroom counters, and makeup bags, where they are rigorously hand tested (and road tested, if we happen to be going on a trip). The goop beauty department is made up of women of varied ages, races, and tastes—if we really love something, we're pretty confident you're going to love it, too.