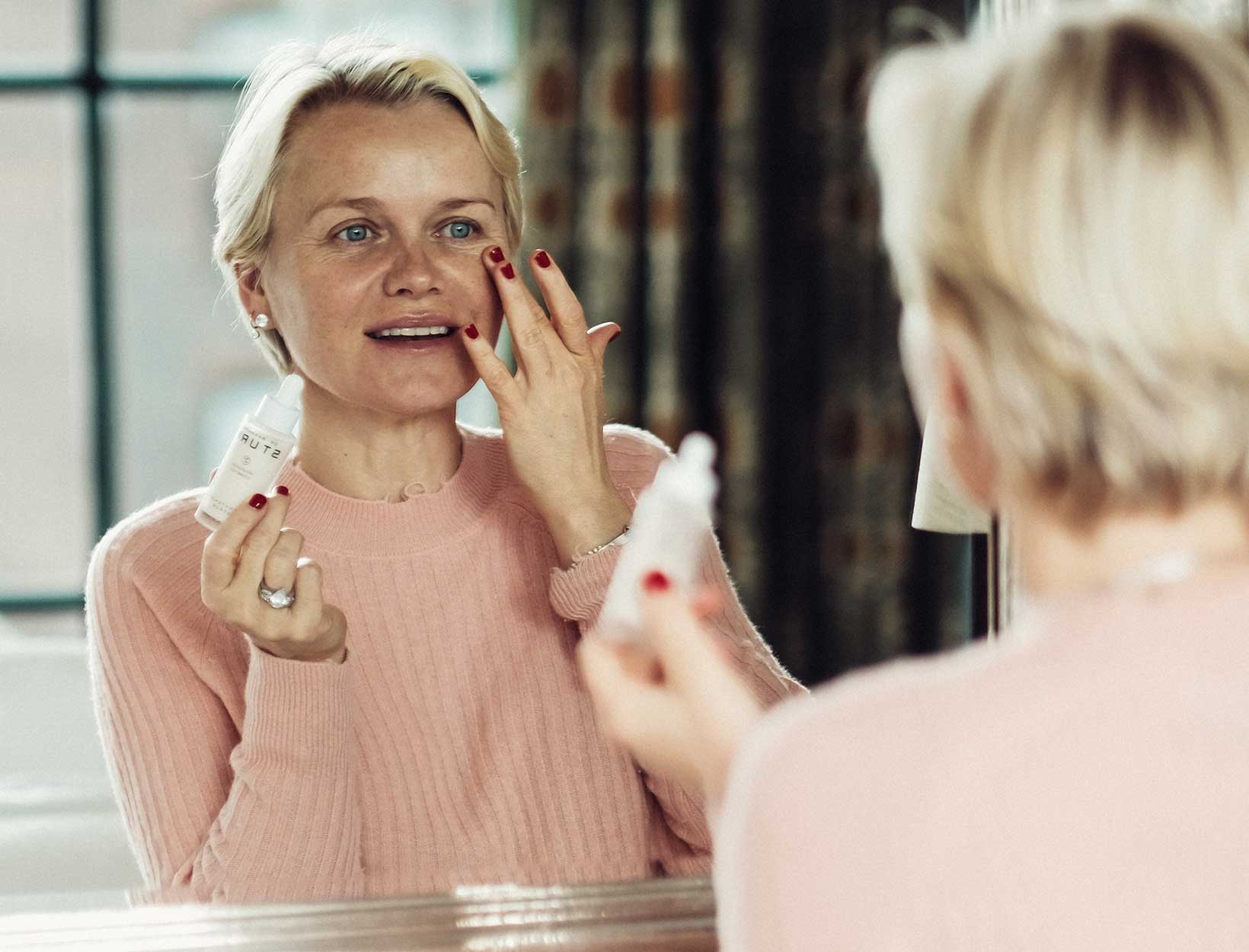 Photograph by Patrycia Lukas
What's Pollution Doing to Our Skin?
It's impossible to know precisely how much of an impact pollution has on our skin. How much pollution we're exposed to, day by day, is a moving target, obviously, and the definition of "pollution" can include (or not), environmental toxins that we're exposed to in the air, water, food, and even through our skin. What we do know is that we're being exposed to more and more pollution as the EPA relaxes air- and water-quality restrictions and emissions standards in this country and as the toxic burden grows across the world.
German physician Dr. Barbara Sturm says that the skin is an important line of defense in trying to decrease the effects of pollution on our body, since we don't just eat and breathe environmental toxins; we also absorb them through our skin. "Dozens of studies show that airborne pollutants on human skin can contribute to skin cancer, skin aging, atopic dermatitis, skin discoloration, eczema, psoriasis, and acne and can be absorbed through the skin into the body, causing a wide range of diseases," says Sturm, who, in response, has spent the last few years formulating an antipollution elixir for skin.
Sturm says we can support our skin best by maintaining healthy skin-barrier function, with the aim of blocking as many pollutants as possible from invading skin. "Pollution breaks down collagen and oxidizes the lipid layer in the skin, which impairs skin-barrier function," she says. "Smog particles are generally too large to penetrate the skin, but they can disturb the barrier, resulting in dehydration, sensitivity, uneven skin tone, dullness, acne, and premature aging."
Dealing with the potential effects of pollution on skin involves a multipronged approach. Thorough but not excessive cleansing, superficial and deep hydration, and both topical and ingestible antioxidants can all make a difference. Detoxifying ingredients (charcoal, like that in May Lindstrom's The Problem Solver mask, is a great example) can help remove pollution that's on skin, while antioxidants (like the malachite in goop G.Tox skin care, the purslane in Sturm's Anti-Pollution Drops, and the topical vitamin C in True Botanicals' powder) can help prevent the free radical damage it can cause.
Diet and lifestyle are also powerful ways to address the effects of pollution on skin, Sturm says. "Reduce stress and maximize the restorative powers of sleep," she says. "Cut down on alcohol, processed meats, sugar, fried foods, and refined flour. Antioxidants in food and supplements help fight free radicals from within. Have more cherries, blueberries, nuts, tomatoes, and leafy green vegetables." The daily GOOPGLOW drink is made with multiple antioxidants for precisely this reason.
Because mercury is tremendously toxic to skin and body, Sturm advises avoiding large Pacific predatory fish, like swordfish and tuna. "They contain dangerously high levels of toxic methylmercury emitted from Asia," says Sturm. "According to studies by NASA and others, the toxic emissions from Chinese coal burning alone travel the jet stream to the West Coast of the US, where they cause a third of California's most dangerous particulate matter and 65 percent of California's toxic ozone." Sturm says taking saunas whenever possible can contribute to the removal of heavy metals and other environmental toxins and can promote skin health. "Moisturize immediately afterward, though," she says.
Sturm also argues that overexfoliation, perfumes, petroleum-based compounds, harsh preservatives, and certain laser treatments can all make skin more vulnerable to pollution. "When you strip or irritate skin, it loses some of its barrier function, so pollution penetrates much more easily," she says. "Think of antipollution skin protection—nourishment, antioxidants, detoxifiers—the way you do sunscreen. It's about a routine, every day."