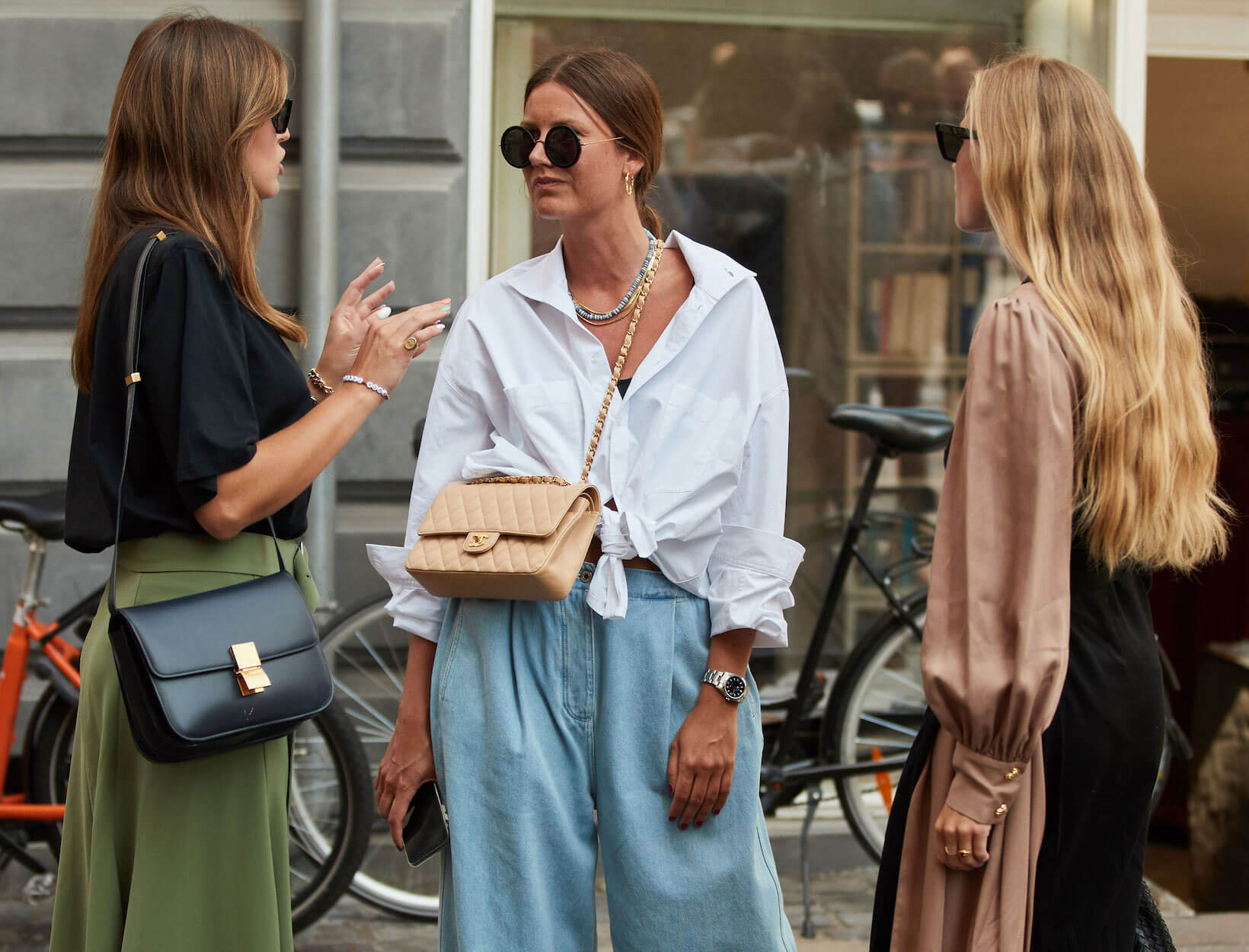 Photo courtesy of Szymon Brzóska
Are You Laid-Back or Polished?
(A Hair, Skin, and Makeup Guide)
Fresh, spanking-white sneakers or groovy organic sandals? Fringed Ulla sundress or sleek Victoria Beckham pencil skirt? Crisp red lip or just-bitten stain? Whether you stick to a signature style religiously or switch things up day by day, the hair and makeup you choose help make the statement.
No matter what your style, shiny, healthy-looking hair and glowing, nourished skin make the best foundation. From there, go as crisp or as flowy as your mood takes you. Here, the essentials for each style—right down to the scent and the skin care.
HAIR
Top hairstylist and Dove ambassador Mark Townsend explains that no matter what your style, moisturizing your hair is the key to making it look its best. "You have to get that moisture," he says. "The Augustinus Bader shampoo and conditioner are great for that," he says.
Laid-back
All-Day-at-Zuma Beachy Waves
"Beachy waves are the ultimate low-key look," says Townsend.
1

"Out of the shower, rough-dry your hair with a microfiber towel to minimize frizz, then use the Innersense volumizing foam," he says. "And you can use a diffuser to build in some volume right away."
2

"After the rough-dry, put your hair up in a loose bun with a hairpin for about ten to fifteen minutes," says Townsend.
3

"Drop the bun and you should have some loose, cool waves," he says. "Follow with a salt spray like Rahua's for beachy waves (they're never going out of style) or, for dry or damaged hair, smooth Innersense Whipped Creme at the ends to give your hair moisture and great texture."
4

"If you want more volume, there's nothing better than dry shampoo. Tease a little through your hair," he says.

Act + Acre

Plant Based Dry Shampoo

goop, $22

SHOP NOW
Polished
Just-Closed-Round-A Sleekness
For a more pulled-together look, Townsend likes a sleek and shiny braid, ponytail (high or low), or slicked-back bun. "Either way, it's not about spending hours and hours; it's about taking the frizz down and adding shine," he says.
1

"Work in Augustinus Bader hair oil; it's amazing for immediate shine," says Townsend. "Let it sit in your hair for about five minutes before you start styling.

Augustinus Bader

The Hair Oil

goop, $50

SHOP NOW

2

"A neat middle or side part makes the look clean and sleek. Even if you're not doing a part, the details of the hairline are just as important. A heat-styling brush can help slick the hair back and keep it in place," he says.

NuMe Hair

Heat Styling Brush

goop, $179

SHOP NOW
3

"For a super tight pony, braid, or bun, a balm like the one from Rahua is a great alternative to hair spray, which can be very drying. And it's great for touch-ups: I like to dip a toothbrush in the balm, then smooth through the hair to tame frizz and flyaways. You can also use a clean mascara wand to comb down baby hairs. If you have coarse, curly, or very dry hair that needs a little extra hold, use a blow dryer (try the smoothing nozzle) to warm the product while you smooth the hair down with your fingers. "
SCENT

Both of these scents are fresh and citrusy with plenty of sexy complexity.

LAID-BACK

Bohemian Rhapsody

An exquisite balance of refreshing and warm, this sexy, citrusy, beautifully complex scent mixes hibiscus, pomelo, lemon zest, starfruit, and mandarin leaves with ginger root and Virginia cedarwood.

The Maker

Libertine Eau
de Parfum

goop, $160

SHOP NOW

POLISHED

Chic and Crisp

This tart, sexy scent was a (wildly popular) candle; now it's a chic portable perfume rollerball that smells fresh, energizing, and mysterious all at once with pink grapefruit, neroli, ripe cassis berries, gunpowder tea, and Turkish rose absolute.

goop x Heretic

This Smells Like My Orgasm Roll-On

goop, $45

SHOP NOW
MAKEUP
Top LA makeup artist Omayama Ramzy layers bronzer or highlighter under to foundation in most cases, treating skin to sheer colors and glowy texture. She also loves to use one shade for both lips and cheeks: "It works no matter what your style," she says.
LAID-BACK
Fresh-Faced Glow
1

"Instead of foundation, I like to use a creamy bronzer on the high points of the face," says Ramzy. "This one has an amazing silky finish."

Saie

Sun Melt Natural
Cream Bronzer

goop, $30

SHOP NOW

2

"A little bit of the Kosas concealer under the eyes, as well as on any problem areas, is great. It's super hydrating, and it really works," she says.

Kosas

Revealer Super Creamy Brightening
Concealer + Daytime Eye Cream

goop, $28

SHOP NOW
3

"The best color for both cheeks and lips—it gives a great flushed glow," says Ramzy.

RMS Beauty

Lip2Cheek

goop, $36

SHOP NOW

4

"This sheer taupe adds beautiful warmth," she says.

Jillian Dempsey

Lid Tint

goop, $28

SHOP NOW

5

"Brush on a bit of mascara, and that's it!" says Ramzy.

ILIA

Limitless Lash Mascara

goop, $28

SHOP NOW
POLISHED
Statement Lip and Cat Eye
1

"To get a great glow-from-within look, I dab lightweight highlighter serum under foundation at the high points on the face—this is known as strobing," says Ramzy. "It looks gorgeous and polished but not like you have too much product on."
2

"A great cat eye—you can use liquid or pencil eyeliner—looks amazing," she says. "If you're using a liquid liner, hold your mirror at chin level and look down (it helps you avoid wrinkling your eye or making harsh strokes), then work your way toward the outer corners with the liner. Shift your mirror up just as you're about to do the little cat-eye flick. For pencil lovers, outline your cat eye just as you would with liquid, then use eye shadow to shape. And clean up errant liquid or pencil with a Q-tip."
3

"For lips, I love the Westman Atelier palette in Les Nudes—it has so many colors," says Ramzy. "You can use a brush or your fingertips to create a great statement lip with it, and you can blend a little on your cheeks for some warmth. You can go sheer or really build it up, too."
4

"I brush brows up with a spooley, then go in with a brow pencil to fill in sparse areas. I finish with Saie's brow butter; it's amazing for a powerful brow to make you look put-together," she says.

Saie

Brow Butter

goop, $20

SHOP NOW

5

"This is great for a bold eye," says Ramzy.

Westman Atelier

Eye Love You Mascara

goop, $58

SHOP NOW
SKIN
Does the laid-back person do less, and the polished, more? Counterintuitively, no: Both look best with glowing skin that needs less makeup, so the number of steps is the same. It's more the vibe of each product lineup that makes the difference.
The Laid-Back Routine
The Polished Routine
---
*Based on an eight-week third-party consumer-perception and clinical study conducted on thirty-three women ages thirty-five to sixty-five.