Gwyneth's Dry-Skin Routine
You'd never know it, but Gwyneth has had dry skin for most of her 50 years. "My skin tends to get really, really parched," she says. "I'm one of those people who are constantly layering on face oil, then moisturizer—all the time." Her strategy—a series of clean moisture-bomb essentials—works to keep her skin dewy-fresh, soft, hydrated, and remarkably youthful.
As it is for many people, winter is typically the worst time for her dry skin, especially on ski trips. "LA's always dry, but altitude exacerbates the dryness even more," she says. "I do love a ski trip. I grew up skiing with my family, so it's something I've tried to continue with my own kids, too. Brad's a better skier: He does trees and bumps and all that stuff—I'm too old for that sh*t at this point."
While her routine works for extreme situations, she relishes it at home, too. "I love a good staycation—stay in front of the fire and cook and read and hibernate. Winter's a great time to be at home and be cozy." Below, Gwyneth's essentials for dry skin—almost every step does double duty in terms of delivering major moisture and nourishment, along with long-term results like glow, firmness, and elasticity.
1
"Dry skin makes your crow's-feet more pronounced. And I get puffy, too. If you're at altitude, it's even more intense. So we made these eye masks super active, with a really potent, concentrated serum. I've never had an eye mask this good—10 minutes really changes the way your eyes look."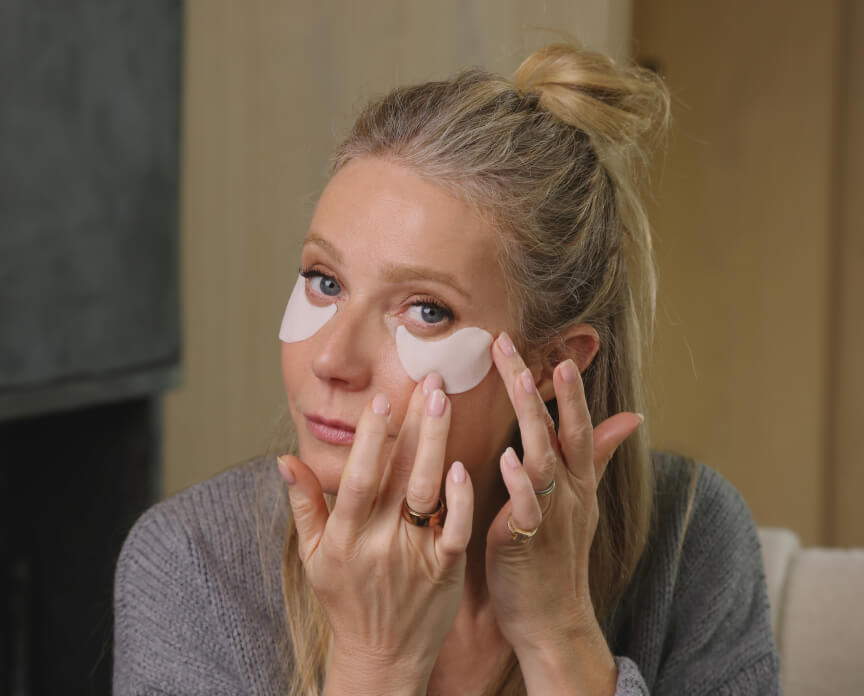 2
"I think everybody knows by now how in love I am with our face oil. I use it multiple times a day. Your skin looks firmer. Wrinkles look smoothed out. You glow. It's the best."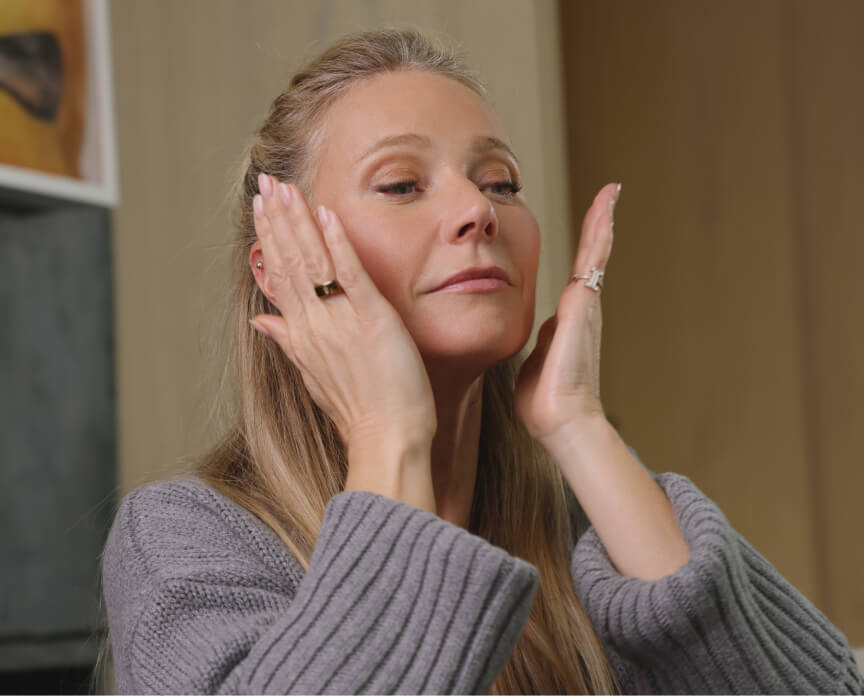 3
"This cream—I could not live without. When people say, 'Your legs look so good,' I swear, this is the reason. The way it makes the light hit your legs is incredible: If you have an event to go to and you're going to be showing your legs, this is it. It's rich, it's hydrating, and it's ultra, ultranourishing. It just gives you this beautiful, moisturized sheen, and it's amazing."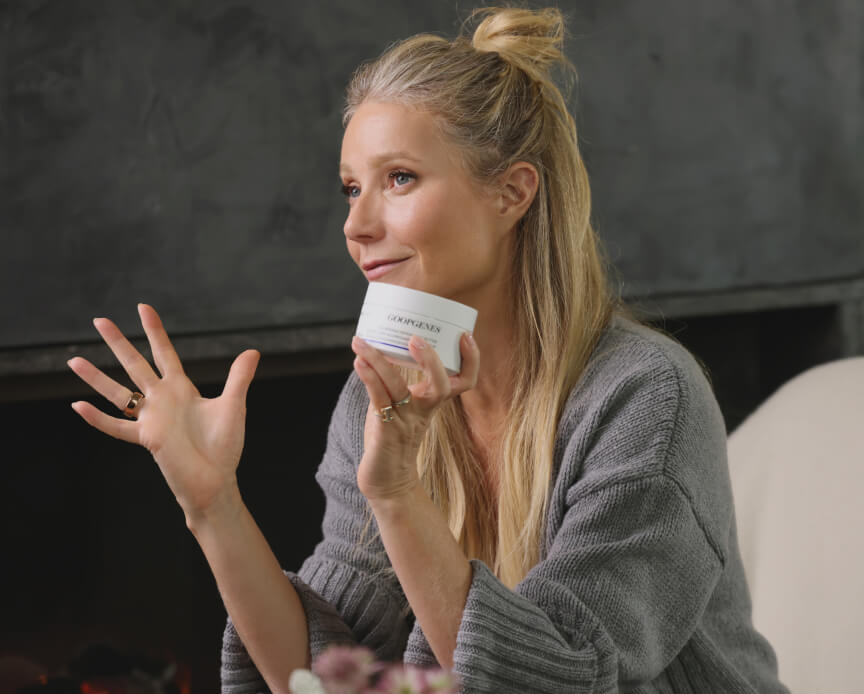 4
"This is the 911-emergency balm. It's really rich and concentrated, and it will solve all your problems—from head to toe. Not to overstate, but it's true. It helps to repair the skin barrier in just 30 minutes. I like it on my lips, for example, if they're really chapped, cuticles, elbows—really just anywhere you need an extra hit of intense, concentrated moisture, and it helps lock it into your skin for up to 48 hours."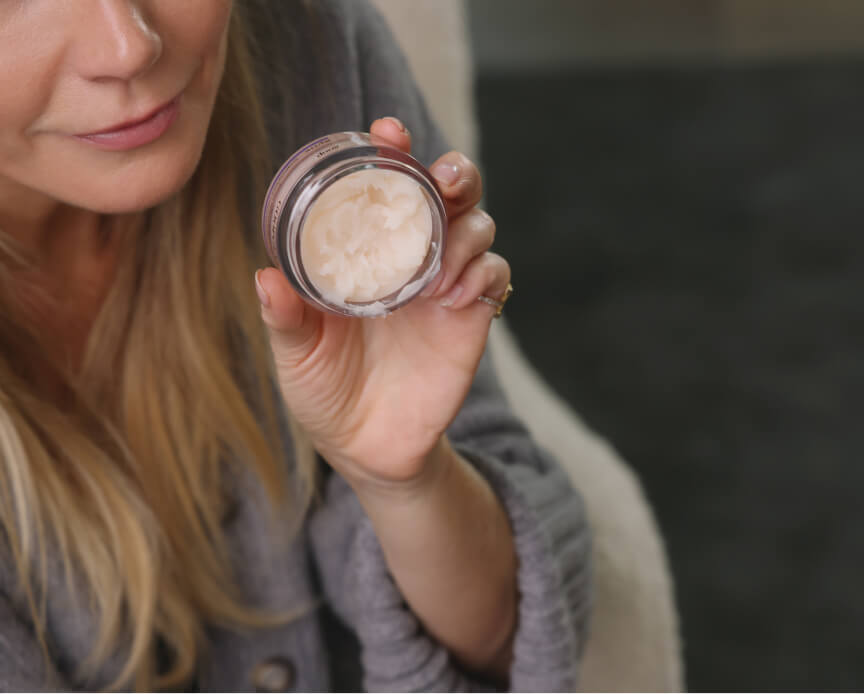 5
"Our new lip balm trio follows our first lip balm trio, which was so popular. We had to make a couple of new colors, which I'm very excited about. It's a clean lip balm with this super moisturizing formula, really cushiony and nourishing. Peony is a really nice soft pink—you can also apply to your cheeks for a little extra hit of color. My favorite one for nighttime is Tomato—this is me going out of my comfort zone and wearing a bright lip, and I love it. The clear balm is the one that I have in every pocket, every handbag, in my car. I need lip balm every two minutes, basically."