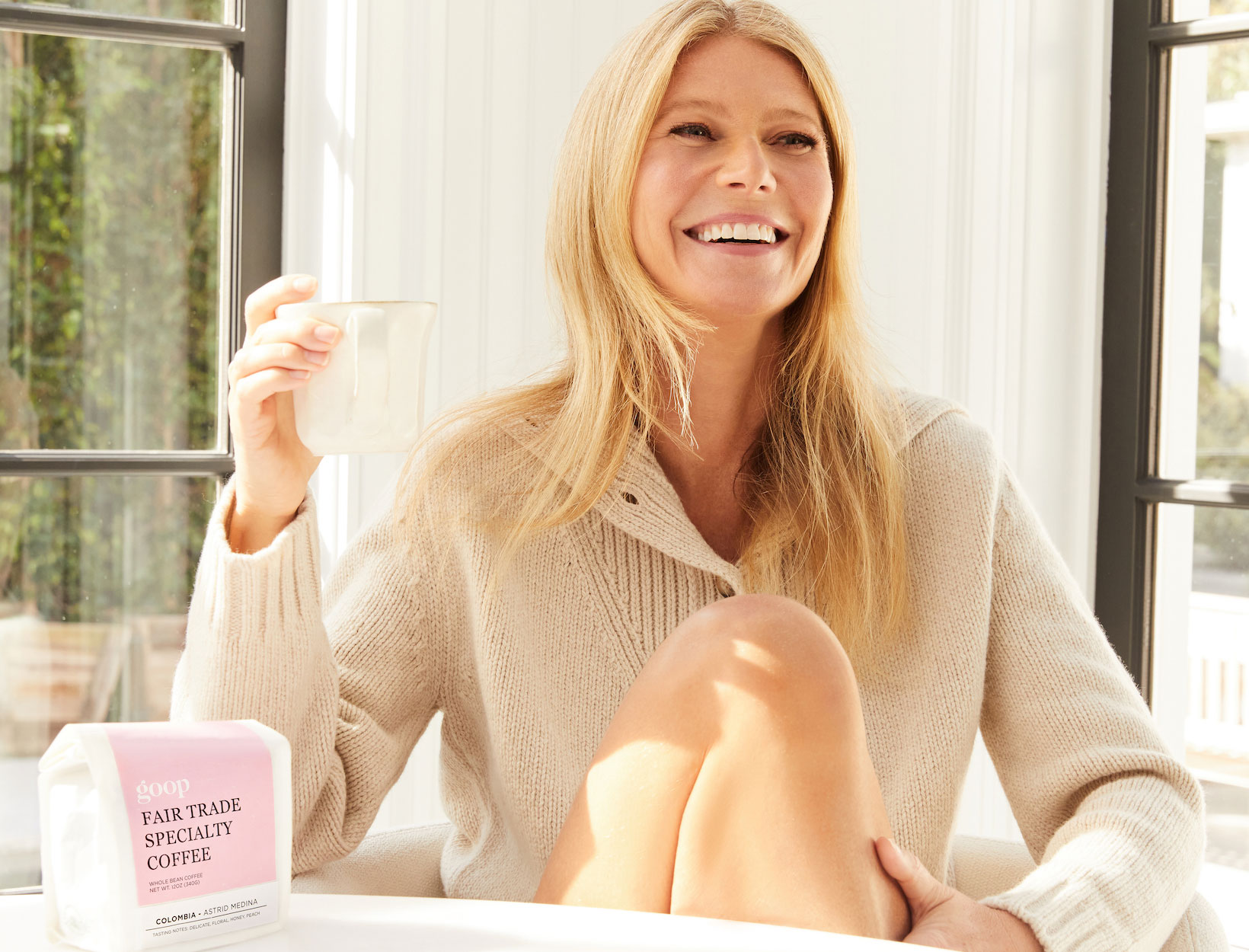 G. LABEL CORIE BUTTON-COLLAR SWEATER, goop, $595
My Morning Routine
Rise and Shine
My mornings have slowed down considerably. School drop-offs and rushing to an exercise class to cram in a workout before my first meeting seem like a distant memory. But a new set of constants have taken their place. Since quarantine began, I've started every morning with meditation. I use the Insight Timer during TM sessions, Headspace when I'm struggling to get deep and need some guidance, and The Breathing App when anxiety is concentrating in my body rather than my mind. Afterward, there's an hour or so before the kids wake up when Brad and I hang out in the kitchen and I'm able to get some work in over a hot cup of coffee with half-and-half—a ritual that's a meditation in its own right. Our new, next-level, ultradelicious goop Fair Trade Specialty coffee is deep, creamy, and mellow—and equally good in the afternoons, when I have a second cup, this time over ice with a splash of macadamia-nut milk.
We created goop Fair Trade Specialty Coffee to be the richest, best-tasting coffee we could find—and it really is. Together with our friends at Common Room Roasters and third-generation Colombian farmer Astrid Medina, we created a whole-bean medium-roast Arabica that smells incredible right out of the bag, as it's brewing, and as you're sipping it.
I've always been into working out daily; it's such an important part of maintaining overall health and the immune system. I put two GOOPGLOW packets into my water bottle and drink it before, during, and after Tracy Anderson Method, yoga, or The Class by Taryn Toomey (I've been doing it all year, and it's a giant emotional release, a spiritual cleanse, and an intense workout).

Working out every day can be a grind. I find that a workout clothes upgrade can be a motivator, which is why I love the G. Sport x Proenza Schouler collaboration. And I wear Hoka sneakers because they're so comfortable to walk or dance in.
Some days, instead of a high-intensity workout, I'll do a morning walk and listen to a podcast. In rotation now are The Peter Attia Drive, The goop Podcast, Harvard Business Review, Equity by Techcrunch, and On Being when I want something uplifting (Krista Tippett is magical).
I'm not a big-breakfast person and will usually follow my workout with a smoothie.
Smoothie Recipe 1
protein powder + almond butter +
adaptogens + banana +
GOOPGLOW Marine Collagen Superpowder
Smoothie Recipe 2
For a quick hit of energy and sweetness:
frozen cherries or berries +
raw cacao + protein powder

The G.Tox Himalayan Salt Scalp Scrub Shampoo is a hero product that's stayed under the radar but is incredible. It lathers into thick, rich suds; it's so moisturizing; and the salt crystals give the best scalp massage. It's a visceral experience, leaving my hair feeling clean, full of volume, and shiny. Following shampoo is the one nonclean product I still use: conditioner. (We're working on a clean version—fingers crossed for next year.)

I discovered the Crown Affair kit in the goop shop after reading Jean's story about it. If you're keeping conditioner use to a minimum, the serum works great to seal in shine. There's also a comb, a silk scrunchie, a towel, and a hairbrush—plus a little hourglass to time your brushing.

In the warmer months, I smooth on G.Day body oil while my skin's still wet postshower. It smells like spice—vaguely like your dad or boyfriend. Once it starts to get cold, it's GOOPGENES body butter head to toe.

Or I'll use this Sadhu oil, which is so good after the shower if you have sore muscles or joints. You can massage it on pre- or postworkout, too.

G. LABEL PROPST ROUND-SLEEVE CARDIGAN, goop, $595; G. LABEL FLORENCE KNIT BUSTIER, goop, $295; GANNI SHORTS, goop, $345; BIRKENSTOCK ARIZONA, goop, $135

I stole a tester bottle of our forthcoming GOOPGENES face oil from the product development team and have been savoring it drop by drop until the official launch next year. I layer this clinically proven moisturizer on top to help with fine lines and wrinkles. It's a family favorite: From my daughter to my mom, we all swear by it.