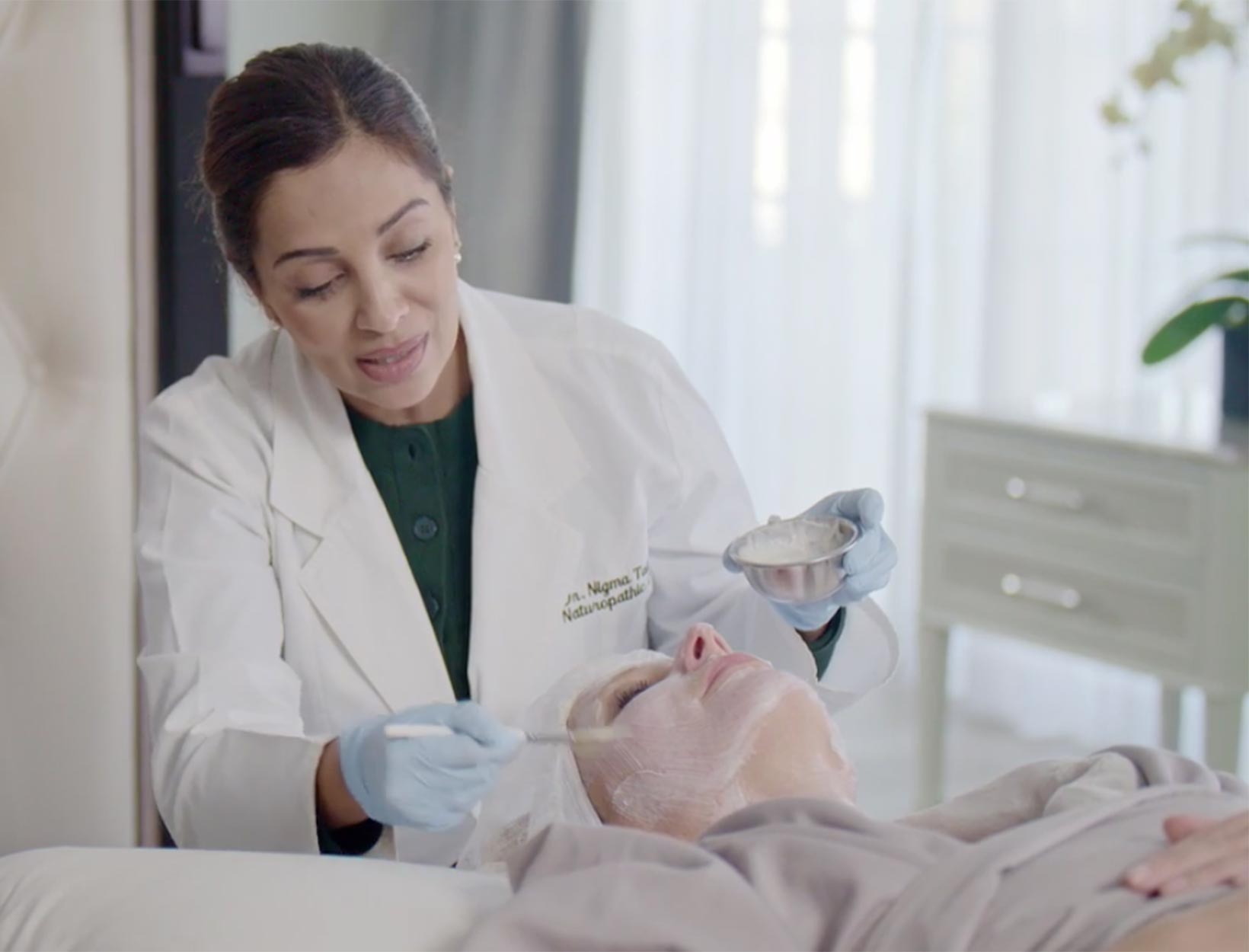 GP's PRP Facial on Netflix—and the New Essential Dr. Nigma Is Making for Skin
"Whoa. Worth it," GP exclaims several weeks after getting a PRP (platelet-rich plasma) facial with Nigma Talib, the Los Angeles–based naturopathic doctor and trained medical aesthetician she's worked with for years. But the secret to Talib's clients' glow (including GP's) goes far beyond a single treatment. Talib combines gut-health knowledge (more on that in her book Younger Skin Starts in the Gut), traditional Chinese face-mapping, and powerful treatment protocols for glowing, clear, healthy skin. "It's not about erasing all your wrinkles," says Talib. "Having some wrinkles, but with really clear, firm, nonpigmented skin—that, to me, is youthful skin."
The first step, Talib explains, isn't an office visit. "Cleansing is where it all starts," she says. To that end, Talib's new product is a creamy, foamy, skin-softening cleanser designed to work for all skin types and all ages. "The cleansing step is often overlooked, because you wash it off," says Talib. "But people live in these toxic, polluted cities. And they're not cleaning their skin properly, not taking the makeup off at night; they're traveling. I see how much dirt comes off people's skin. A few pumps of this cleanser takes off all your makeup. I had a patient who tried it after the Golden Globes, and it was all she needed to remove a full face of makeup."
"What people get wrong about cleansing is they don't realize you need something that's going to pull off all the crap on your face before you put a serum on," Talib continues. She formulated her cleanser with zeolites, found in volcanic ash. "Volcanic ash is a beautiful component," she says. "Like how a sponge sucks in water, this sucks out stuff from the skin." Glycolic and salicylic acids gently exfoliate, fermented mangosteen and hyssop extract fight free radicals, hyaluronic acid moisturizes, and chamomile soothes. It feels incredible going on, which, Talib says, is part of the point: "If you don't love cleansing, you're not going to do it enough."
All About the PRP Facial
by Nigma Talib, ND
What it is: Fifteen years ago, I trained in PRP (platelet-rich plasma) treatments. I later began including PRF (platelet-rich fibrin). Both are produced from an individual's own blood: After a blood sample is obtained from a patient, the blood is put into a centrifuge, which is a tool that separates the PRP or PRF from the blood. PRP and PRF microneedling have a lot of similarities, but there are also some big differences. I've been using both, but what I've noticed clinically is PRF has better results—patients have said that their skin elasticity greatly improved and their skin healed more quickly with PRF.
How it works: With either procedure, you apply the PRP or PRF directly onto the skin, then the serum is microneedled into the skin; this stimulates the natural healing process and the creation of collagen. It gets your own platelets to induct the collagen further, sending messages down to the fibroblasts that say, "Okay, we need to pick it up here; we need to increase collagen production." Your skin becomes extremely dry because it's trying to repair. You want that—dry, red, swollen, and inflamed are all signs that the skin is injured, and collagen production is going to increase as the skin repairs itself.
Aftercare: No exercise for twenty-four to forty-eight hours, no steam room, no sauna, no one can lick your face (especially a dog!). You've opened up microchannels, so don't touch your face; just keep it really lubricated. Stay away from alcohol, because your skin is really dehydrated. Taking GOOPGLOW Morning Skin Superpowder or the G.Tox Detoxifying Superpowder afterward would be nice—I would actually pair those.
Your skin will stay pink for up to five days, depending on how healthy it is. Within a week, it will start to peel, and after two weeks, you can exfoliate to get rid of a lot of those dead skin cells—I love the GOOPGLOW Microderm.
The results: Both treatments help with pigmentation and pore size; help get your skin a bit stronger; help with fine lines, wrinkles, and crow's-feet; firm and even skin tone; and increase collagen and elastin. We also see the color and texture of the skin improve, even with acne scarring and surgical scarring. It brightens the skin and helps with stretch marks and sun damage, and it's FDA-cleared and scientifically proven.