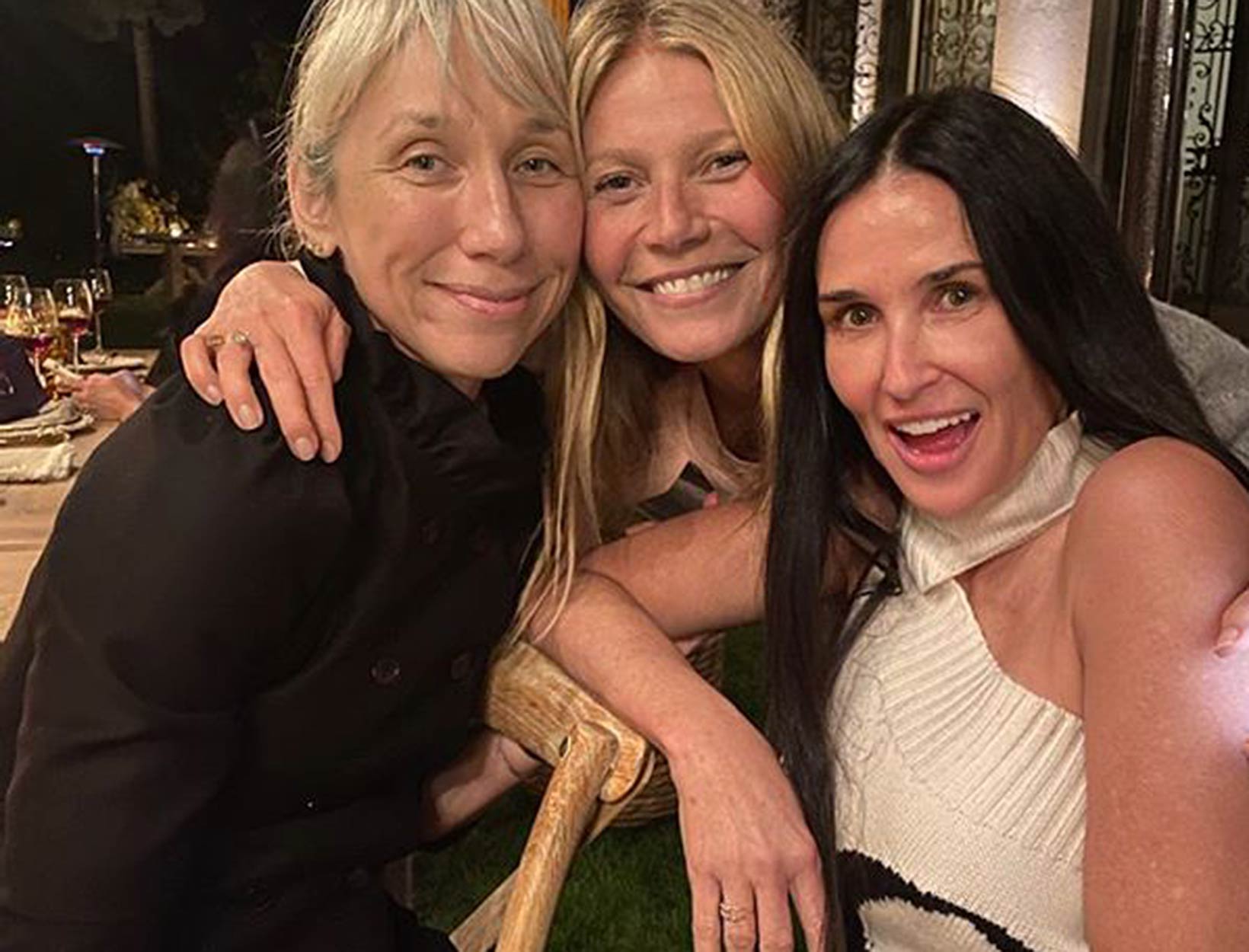 What Really Happened at
GP's No-Makeup Dinner Party
On one of those clear nights when the stars look close enough to pluck, in the backyard of an estate in the Hollywood Hills where Cher once lived, GP threw a dinner party for an especially glowy, fresh-looking crowd of friends. "No concealer. No mascara. No blush. Just you, in all your natural glory," GP had written on the invite. Pretty much everyone—from Demi Moore and Alexandra Grant (above with GP) to Kate Hudson—complied and came without makeup. "I felt a little shy about showing the bags under my eyes tonight, but you all look beautiful," said GP, sipping a peach-and-orange-blossom spritz. At least part of the reason for the remarkable glow around the table was the skin-care starter kit GP had sent along with the invite: her personal favorites from the GOOPGLOW collection. "These work for just about everyone," she said, looking around at her friends, luminous in the candlelight. "They really feed your skin, and the glow you get is very real." Here's what came in GP's kit:
The Kit GP Sent Before the Party
"I have nothing against makeup, though," insisted GP, glowy in a petal-pink minidress from Oscar de la Renta. "I do think that with great skin care, you can wear a lot less of it if you want to."

There was, of course, plenty of GOOPGLOW, which guests had seriously dipped into leading up to the night. "Walking into dinner was definitely nerve-racking, but seeing so many similarly barefaced friends supporting one another made me feel more comfortable–plus I had a lot of glow luminizer on my face," said Kelly Sawyer, copresident of the nonprofit Baby2Baby. "I also drank lots of green juice and lemon water and used my GOOPGLOW scrub to get me in makeup-free shape." Model TyLynn Nguyen also did some skin-pampering before arriving. "I'm usually barefaced, so I felt right at home," she said. "It was nice to have that on the invitation. There was no pressure to glam."

GP and Alexandra Grant

Vitamin C Serum for

Brighter Skin

Vitamin C Serum for
Brighter Skin

goop Beauty

GOOPGLOW 20% VITAMIN C +

HYALURONIC
ACID
GLOW SERUM

goop, $125/$112 with subscription

SHOP NOW

GP and Kate Hudson.

ON GP: CUSTOM OSCAR DE LA RENTA DRESS; ANA KHOURI EAR PIECE, Ana Khouri, $39,300; ANA KHOURI EAR PIECE, Ana Khouri, $9,000; REPOSSI RING, available at Saks Fifth Avenue Beverly Hills, $229,600; JIMMY CHOO FLATS, Jimmy Choo, $575
GP and Alexandra Grant.

Physical and Chemical
Exfoliating
Face Scrub

Physical and Chemical
Exfoliating Face Scrub

goop Beauty

GOOPGLOW Microderm
Instant Glow Exfoliator

goop, $125/$112 with subscription

SHOP NOW

There was also plenty of sampling: Guests smoothed the new vitamin C and hyaluronic acid serum over their faces ("You really see the results on your skin," noted GP) and tried bits of the marshmallow-textured Microderm face scrub on the backs of their hands.

As cocktails rolled into dinner, everyone found their seats at a long farm table festooned with flowers, and GP and LA-based artist Alexandra Grant—the unofficial guest of honor—began an open conversation. "There's this idea that we're not enough as women," Grant said. "But beauty is something you can see with your eyes closed. It's loving yourself, your community, and people who are completely different than you are." GP nodded in agreement: "It's knowing with your whole heart that you're beautiful just the way you came." There was plenty of chiming in around the table—the conversation ranged from cultural perceptions about beauty to feminism, aging, and the media maelstrom of sexist comments over Grant's hair (she prefers not to dye it). Just as many questions were raised as answers were landed upon. Our favorite question came from Grant: "How do we examine ourselves first to make sure we're not carrying the patriarchy virus?"

Thanks to our friends at Compass, the event was held at the Owlwood Estate, a Viewpoint Collection property.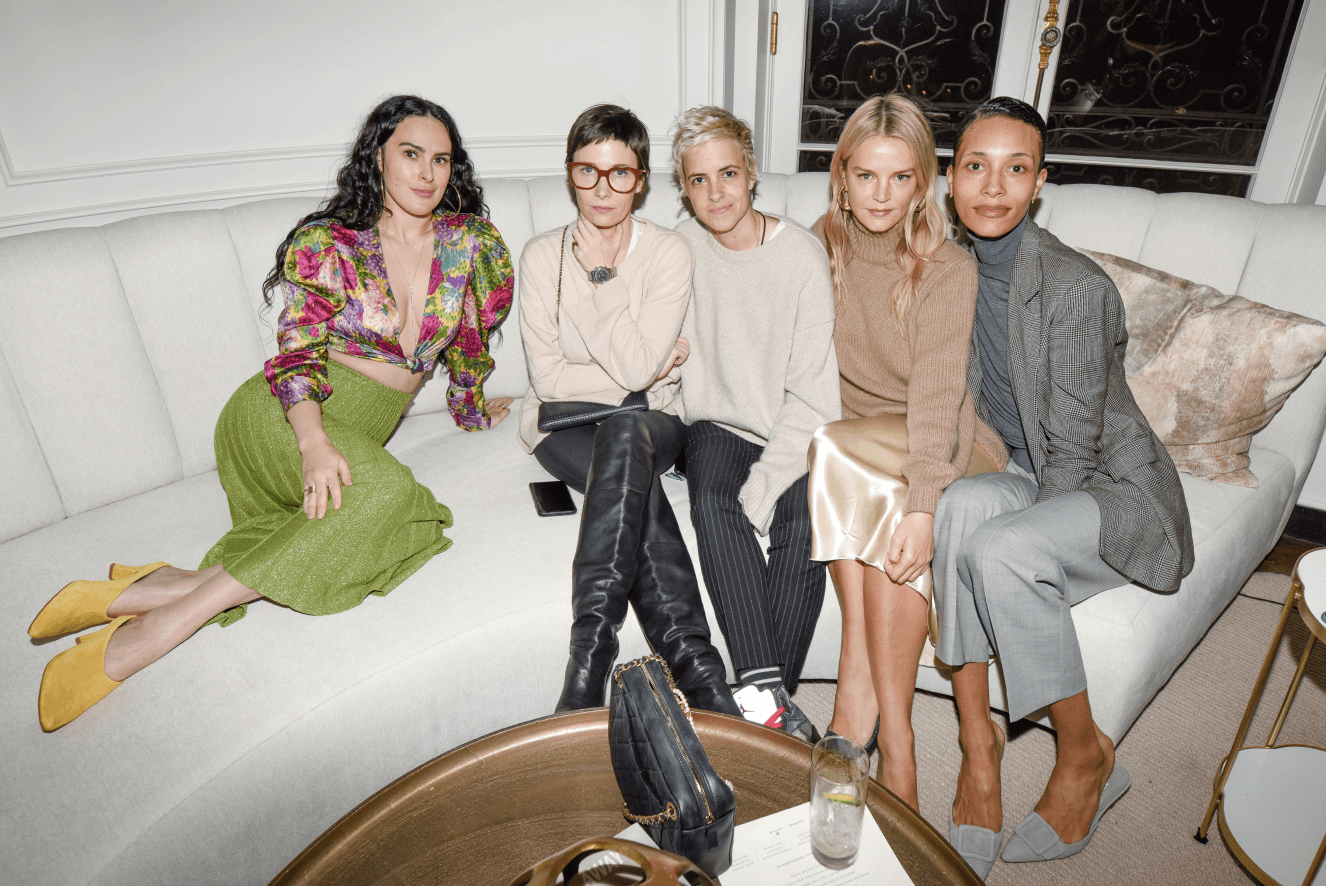 From left: Rumer Willis, Cassandra Grey, Samantha Ronson, Kelly Sawyer, and TyLynn Nguyen.