Gwyneth's Morning Skin Routine
Written by: Gwyneth Paltrow
|
Published on: May 5, 2022
|
Updated on: May 5, 2022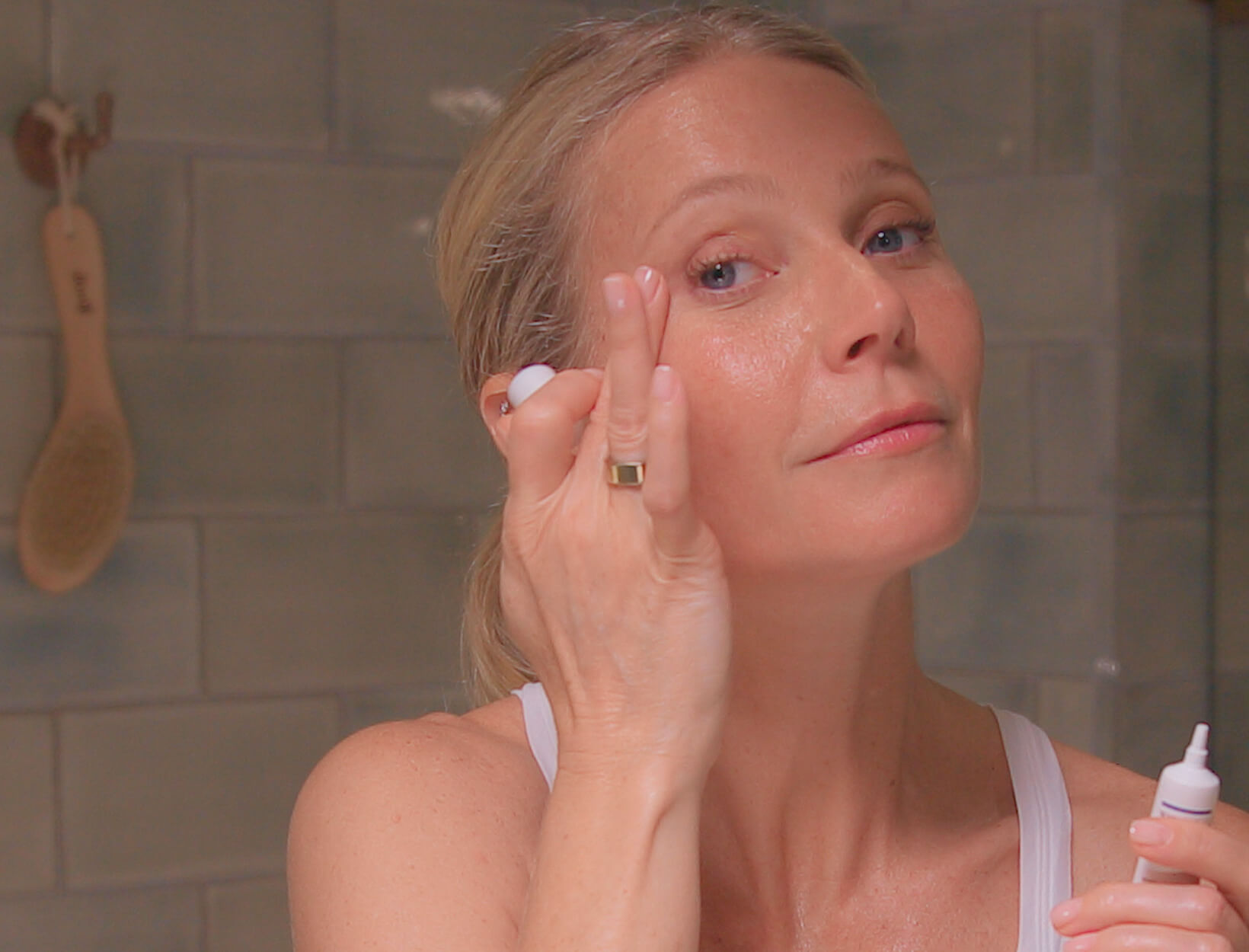 I don't generally wear makeup to the office—or on the weekends, for that matter. So my routine is all about getting a natural glow: great sleep, exercise, nutrition, and a skin-care ritual that also helps me get mentally ready for the day.
If I take the time to care for my skin first thing, that's a big part of feeling comfortable and confident all day long. I think that's partly why that phrase "feeling good in your skin" resonates so profoundly with people. It sounds like a little thing, but it's important.
6:30 a.m.
I get up, put on a robe and slippers, and do oil pulling—you swish minty-herby coconut oil around your mouth for a minimum of five minutes (10 is better)—and brush my teeth.
6:45 a.m.
Brad and I meditate for 20 minutes. We practice TM, which I learned seven or eight years ago. I initially did it sporadically, and it didn't really become a routine until Brad learned it, too, and it became more easily integrated into our mornings. It's been nice to do together during the pandemic, and we've kept it up.
7:15 a.m.
Brad makes breakfast for himself, and I have my coffee. (I intermittent fast most days, so I finish eating around 7 in the evening and have my first meal of the day sometime between 11 and noon.) The kids come in, so everyone's getting ready for school and ready for the day.
8 a.m.
Once they're off for school, I mix up some GOOPGLOW Morning Skin Superpowder in my water bottle (I dissolve two packets in my water bottle before I leave the house—I also sometimes have more as a little pick-me-up later on in the afternoon). It's packed with vitamin C and CoQ10, and I love it because it really is skin care that you drink.*
I take that GOOPGLOW water bottle to my workout at Tracy Anderson—I do a cardio class for a half hour, then a mat work class for another 30 to 45 minutes. I love it, and I do it five days a week.
9:20 a.m.
Back home, I do my skin-care ritual—which is also part of my mental ritual to get ready for the day.
9:30 a.m.
Whether it's an office or a work-from-home day, I like to be at my desk by 9:30, latest.
On the weekends, I try to avoid my desk (I don't always succeed), but I definitely sleep in—usually until 7:30 or 8, and I make a "boyfriend breakfast" for Brad.
Have It All?
Buy GP's morning skin care essentials together and the price is decidedly gentler. You get a daily exfoliating cleanser, the bestselling vitamin C serum, a flower-acids toner, a firming and moisturizing face cream, and the silkiest eye cream for instant wide-awake eyes.