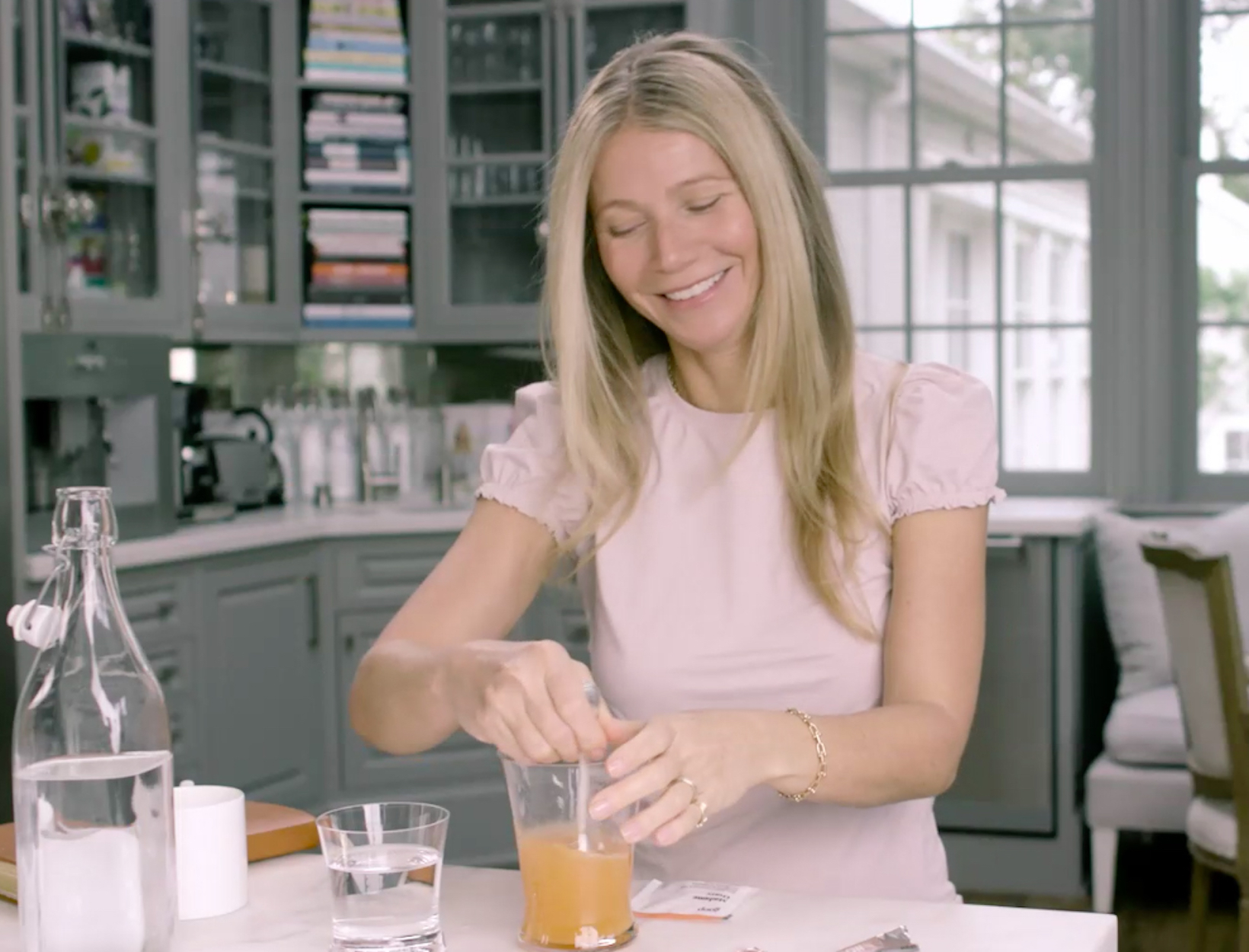 Why GP Drinks Her Antioxidants
GP doesn't wear makeup most days. Instead, she focuses on skin care (so she'll need less makeup or none, depending on the day). Antioxidants are a big part of that effort—and she doesn't just apply them to her skin. Every morning, she drinks a big glass of GOOPGLOW morning skin superpowder. "I think it makes a serious difference in my skin all day," she says. "It's a power shot of vitamins for skin—just as you need a moisturizer, you need antioxidants."
GP'S GLOW ESSENTIALS

Once a week:

Every few days:

Every night:

Once a week:

goop Beauty
GOOPGLOW 15% Glycolic


Overnight Glow Peel
goop, $125/$112 with subscription

SHOP NOW

Every few days:

goop Beauty
GOOPGLOW Microderm


Instant Glow Exfoliator
goop, $125/$112 with subscription

SHOP NOW

Every day:

For body:

Every day:

Olio E Osso
Balm
goop, $28

SHOP NOW
We know by now that what we eat can enormously impact the way our skin looks and feels. Skin care can make a big difference, but even the best topical formulas work most effectively alongside a nutritious diet that's rich in antioxidants, the compounds that help prevent free radical damage throughout the body (free radicals are the reason an apple turns brown after you slice it and leave it exposed to air).

So a potent, skin-specific, antioxidant-and-phytonutrient drink, like GOOPGLOW—which contains key ingredients lutein and zeaxanthin at clinically active levels to support healthy-looking, glowing skin—can make a huge difference in optimizing your skin care from within.

Just as with topical skin care, a consistent routine amplifies the results—so drink GOOPGLOW every morning to get the best benefits for your skin. Taken as a daily beauty vitamin, it is designed to help reduce the free radical effects of the sun, pollution, and stress, targeting the dullness, uneven tone, and loss of firmness brought on by photodamage. In a single serving, you get a supercharged dose of six skin-supporting ingredients: vitamins C and E (antioxidants for your skin), a grape-seed proanthocyanidins (a phytonutrient that supports antioxidant activity), lutein and zeaxanthin (carotenoids shown to help preserve elastin and collagen), and coenzyme Q10 (another powerful vitamin-like, antioxidant-supporting molecule shown in preliminary research to benefit collagen production within skin cells).

GOOPGLOW powder comes premeasured in individual sachets, so it's easy to mix into water—and to take with you to drink at the gym, at the office, on a plane, anywhere. The drink itself is the color of an epic sunset and tastes addictively refreshing and citrusy. Drink it daily as GP does and the results—especially the glow—are going to blow you away.