What Can a Plastic Surgeon Teach Us about Skin? Gwyneth Sits Down with Dr. Julius Few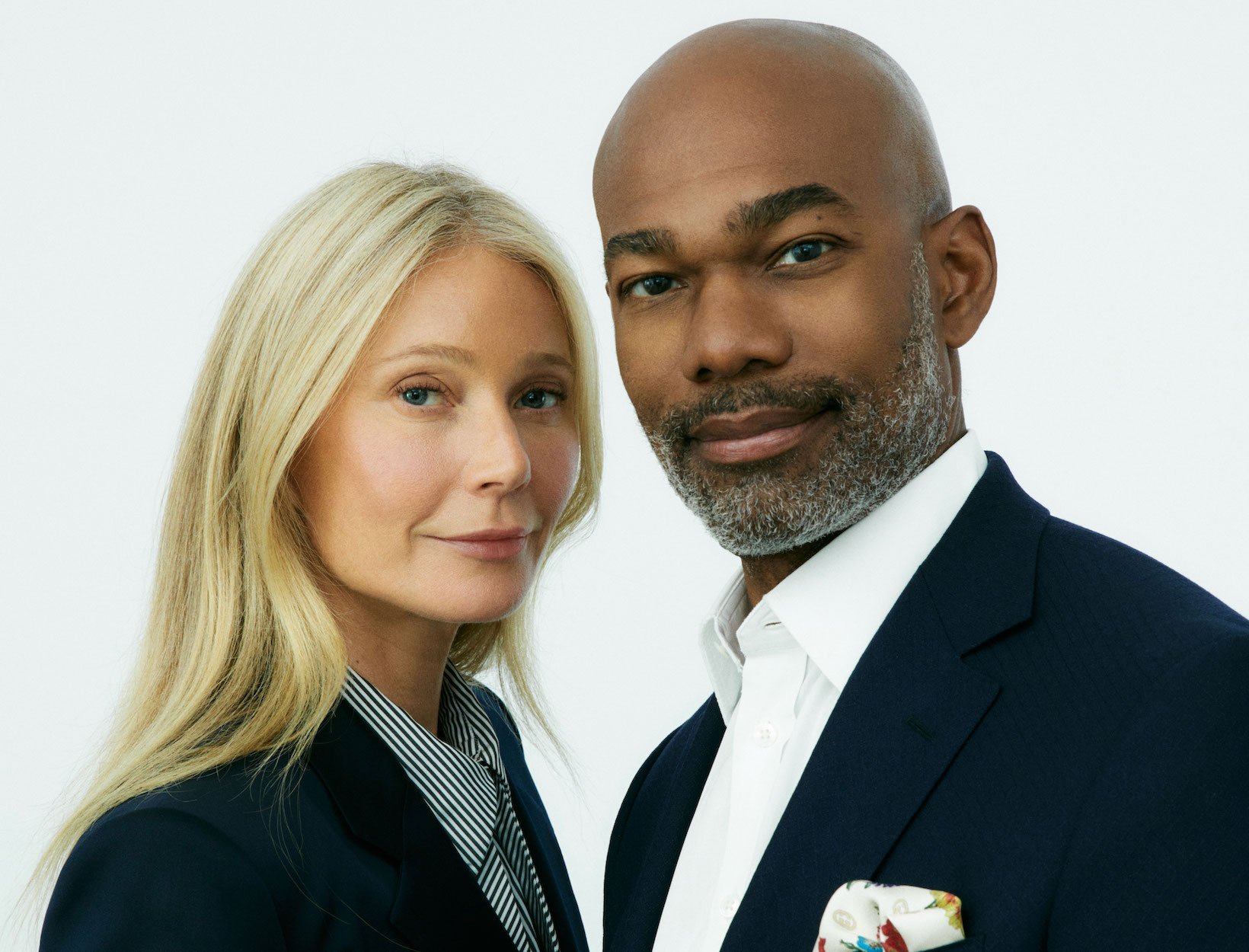 From a brand-new does-it-all peptide serum to Botox, fillers, lasers, and even surgical procedures, Dr. Julius Few approaches aesthetics in a way that embraces the fact that we all age. The renowned plastic surgeon, based in Chicago and LA, has been a friend of Gwyneth's for years; both were excited to finally work together, on goop's new Youth-Boost Peptide Serum. "I could never have anticipated how good this product would turn out to be—I'm thrilled with it," said Gwyneth when the two got together recently for the launch. "The results you saw in the clinical study are unbelievable, but so is the way it's working personally for me on my skin."
"Good skin care, especially when it's clean, can be an investment," she added. "You want it to work really well, and this one has surpassed every expectation that I had." After talking about their kids going off to college led them to the subject of getting older, the two went into depth on the serum details as they talked about aging, plastic surgery, Botox, fillers, and more.
"I'm happy to embrace aging," said Gwyneth. "And I also want to look kind of as fresh and healthy as I can look while I'm aging. So something like this—that addresses elasticity and skin quality and wrinkles—is a miracle for somebody like me, you know, who's 50 years old and not ready to do a full intervention."
Will I Want a Face-Lift?
The full intervention, Few explained, is an older way of thinking: "The old concept—of waiting until everything's broken down and then undergoing a major surgical procedure? That's changed, which not everyone realizes. Now we've moved from doing a full face-lift, say, in your 60s, to doing things that are nonsurgical to stave off surgery much longer or to get to a point where you'd no longer need it. Ultimately, I believe, we'll move further in that direction, especially with the topical options and great skin care we have, but also these less-invasive techniques. People in our kids' generation probably will not have to think about surgery."
Few characterized his current philosophy in terms of PPR: "Prevention, preservation, and then restoration," he explained. "With the lead point being prevention—where we can use tools that capture signs of aging before they become obvious to the world. I have a number of minimally invasive techniques I like to use, and we really see dramatic results with them."
Stacking: Lasers, Skin Care, Botox, and More
Few developed the concept of stacking less-invasive treatments—from fillers and lasers to topical skin care—together to deliver more powerful results for his patients over 12 years ago, publishing the concept in a dermatologic journal. "I got the idea from watching my kids playing with their blocks," he said. "I was working on a presentation for a meeting, and I realized, Wait a minute, that's all I'm doing. I'm combining skin care and fillers and forms of Botox, lifting nonsurgically, working with different modalities in terms of lasers, and stacking the techniques together to create a synergistic effect."
It Starts with Skin Care
Few took Gwyneth through the interventions he considers when consulting with a patient. "You're targeting the quality of skin through, typically, skin care and different kinds of lasers, then restoring volume through fillers, selectively modifying movement with things like Botox, addressing lift with nonsurgical threads—that's really what stacking is," he said. "The quality of the skin is critical when you're looking at plastic surgery, and for that reason, I've been interested in skin-care development for a long time," he said. "I actually have a patent for a skin-care-ingredient delivery mechanism from 20 years ago."
But working on this project, he told Gwyneth, was different. "When I first met with the goop product development team, what was supposed to be a half hour turned into a couple of hours, going back and forth on ingredients and the kinds of things we wanted to see in a product," he said.
How Gwyneth Uses the Serum
A.M.: Easy Routine
"Dr. Few says to put the serum on in the morning right after cleansing, then put moisturizer on top, and then sunscreen at the end," she says.
P.M.: Skin Cycling
"In the evenings, Dr. Few says it's great to mix it up," she says. "One night I'll use the peptide serum; another, the Sleep Milk; and on another, Dr. Few's retinol. Then, once a week, I swipe on a peel pad for serious exfoliation."
skin lasers
In addition to skin care, Few uses laser treatments to improve the skin's quality; his favorite at the moment is called Halo. "Right now, I think it's the one that delivers the best result with the easiest application," he said. "It's a form of fractionated erbium laser technology: Erbium is the gas that the light passes through, and it's delivered along a very specific computer grid. And it does it in a way that you can use on all different skin types to treat different conditions, whether it's pigment or somebody who wants more matte-finish skin. It's very effective, and the downtime can be as little as three or four days."
Nonsurgical Ways to Lift
Beyond skin change, Few looks to address volume change as well as laxity. "The sagging or laxity is the hardest to fix," he said. "So to lift that up is one of the first things I like to do. It used to be pretty much a surgical question, but now lifting can be nonsurgical, whether it's with a technology like thread-lifting or with an energy-based technology like Thermage, or the microfocused ultrasound Sofwave, which is the newest for that."
"You were one of the pioneers in making threading really work for people," added Gwyneth.
Fillers, Botox, and the Urge to Do Too Much
"I've been very fortunate to be historically at the right place at the right time at the development of many of these technologies," said Few. "We took problems we saw with early threading technology and helped evolve it into something better, something really powerful. I saw the birth of Botox, the birth of fillers as we know them. And I helped do some of the original research on them."
Done right, filler can be an important tool, Few explained. "As we all age, we lose volume," he said. "And we lose volume in our face in a way that's very specific to each person," he continued. "So with a patient, you see where the volume deficits are and strategize softening those with different types of filler in conjunction with lifting or with smoothing, using a neuromodulator like Botox. The latter, incidentally, appears to be able to improve results with energy-based devices like Sofwave."
Gwyneth asked the question Few says he gets most often: How do you know whether you're doing too much? "Typically, doing anything to an extreme is not a good thing. In the case of something like Botox or fillers, they were designed to restore something that was lost or to help modulate something in need of healthy balance," said Few. "Like, if somebody has a frown line, Botox helps soften that so they won't get a deep, etched line. That's really what it was intended for. But what has happened is you have people who are trying to do extra in the hopes that either it lasts longer or it's going to do a better job of preventing lines in the first place. But the truth is the exact opposite: Overdoing it actually causes the tissue to age, which is part of my kind of current research."
How do you avoid losing perspective? "I try to focus on the positives," Few explained. "I like the idea of looking at pictures maybe just before they started doing this and then pointing out that even if you look at our children, they have lines, they have wrinkles—so getting rid of every wrinkle doesn't necessarily make you look youthful. It's bringing it into relatable terms, not being judgmental but rather just, 'I can understand how you want to go this direction, but here are the reasons why you don't want to.'"
The Peptide Serum Study (and What Few Found)
The measures you take on a daily basis—as opposed to large interventions—can really add up, Few said. "It's about everyday tools, the most obvious one being sunscreen." Few said that he had expected the peptide serum to perform well but was nonetheless surprised by what he saw in a blinded controlled study: "I've helped run a number of studies around different cosmetic agents and plastic surgery techniques and even in dermatology. So we subjected the serum to that rigor, including an institutional review board-certified study. We looked at a series of very diverse patients, both men and women, all skin types, from the lightest skin to the darkest skin. And the results were amazing." (Indeed, the peer-reviewed double-blinded study has now been published in Aesthetic Surgery Journal Open Forum.)
"I was stunned when I saw the photographs of the before-and-afters," said Gwyneth. "You were texting me some of the pictures and it seemed like you were pretty stunned as well."
"You're right," he said. "I knew all the ingredients should have certain scientific effects on skin, but what we saw, and especially in a short period of time, was kind of amazing. You could see the change at one week. I had thought, Okay, maybe at six or seven weeks we're going to see some real differences. But across the board, we were seeing changes and then the patients were putting in their diaries that they were seeing changes at a week, which is really unusual and powerful."
"We tracked a number of variables and all were extremely positive in terms of feedback," said Few. "We looked at hydration. We looked at pore and texture size. We looked at pigmentation, wrinkles, laxity. The female patients who wore makeup reported they were wearing less makeup. As a subcomponent of the study, we lasered both forearms and then we had them apply the serum—one side got a placebo that was the same serum without the active ingredients. And the differences between the two sides were significant."
Why This Peptide Cocktail Is So Great for Skin
Plenty of skin care on the market is made with peptides, Few pointed out. "A peptide is basically a series of amino acids that are reparative to the skin. And the peptide is the cornerstone of this formula. By its very nature, it's reparative, restorative. But what it's combined with makes the difference. And how they're combined to be synergistic is what makes it so remarkable. The serum is made with ceramides, which are a kind of thick oil that plants secrete that makes an incredible barrier to keep moisture in the skin, which is so important. There are great lifting and firming components in the serum; one in particular is astaxanthin, which has powerful antioxidant properties, and it also enhances protection against the sun. Then there's something called dragon's blood, which is not blood or anything like that but an exotic plant originally from Asia. It's been used traditionally for centuries for skin—it's got a lot of science and history behind it."
"The key benefits—helping reduce fine lines and wrinkles, helping with hydration to the skin, helping to really improve the texture and the feel of the skin, reducing the look of pore size and increasing luminosity, the way the light hits the skin and reflects back—come from not just the ingredients but the way the ingredients work with each other," Few explained.
The two looked at each other. "I'm so excited to bring this into my practice for my patients," said Few.
"People are going to love it," said Gwyneth. "I know my skin loves it."