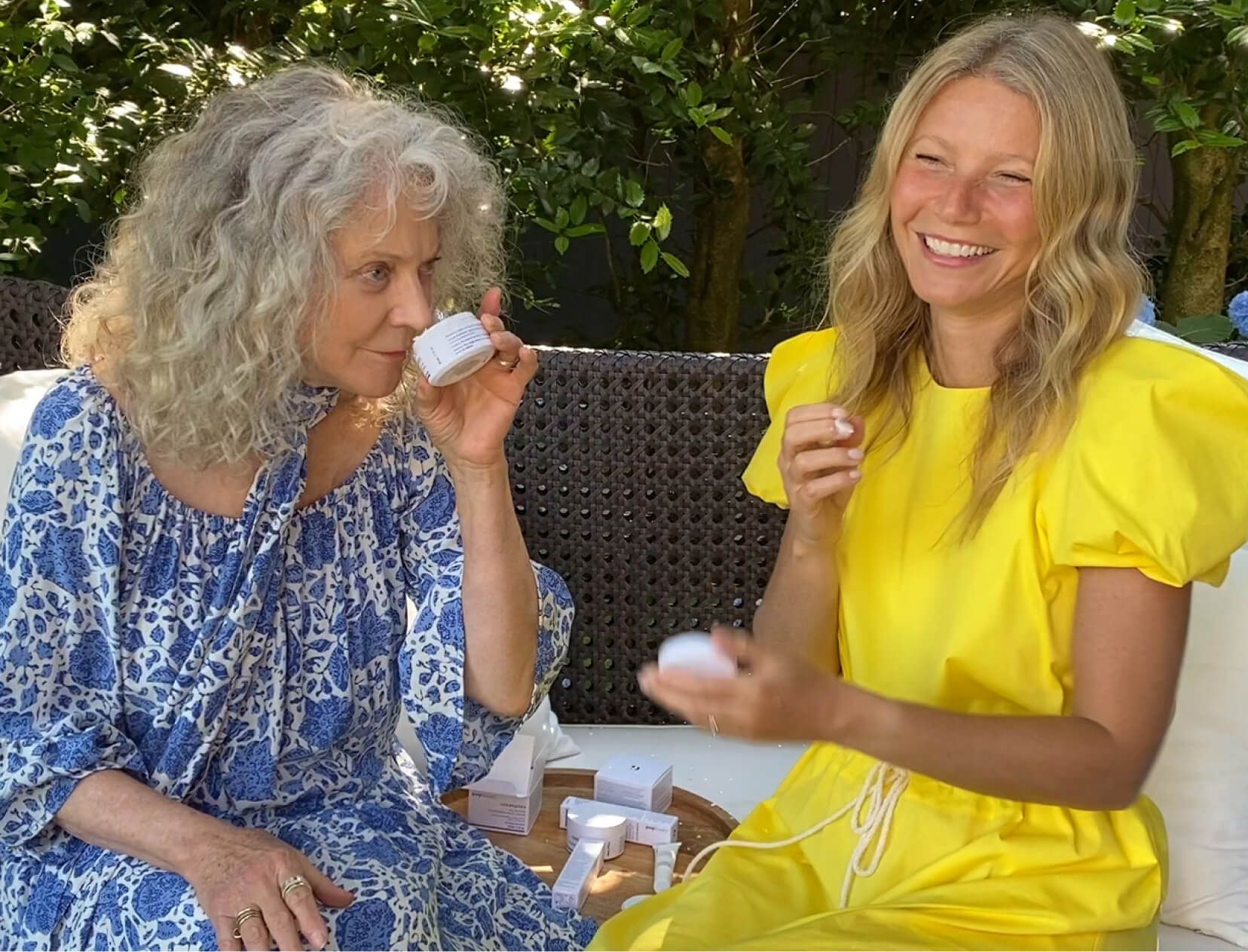 GP and Her Mom on Beauty at Every Age
You know when a cream works so well on your skin that you have to share it with your mom? To introduce GOOPGENES, goop's new hero supercream and its brilliant eye-cream sidekick, GP had her mom, Blythe Danner, try them. GP's daughter, Apple Martin, filmed the conversation—which ranged from creams and routines to the ages they felt their prettiest—in their backyard. "I've been trying GOOPGENES for months, and the results are amazing," says GP. "I can't wait for you to try, too.
At forty-seven, seventy-seven, and sixteen respectively, the three have pretty incredible skin to begin with; it clearly runs in the family. "But your skin does change as you age," says GP. "What we're learning is that epigenetics—how your lifestyle interacts with your genetics—has a lot to do with those changes. Exercise, sun exposure, diet, smart supplementation, sleep, and all sorts of other factors play a role. The idea behind the cream is to optimize as much as we can."
Indeed, the clinical and consumer results are unequivocal: After four weeks of using the cream, 100 percent of women tested saw improved skin firmness and smoothness, and 97 percent saw improvement in fine lines and wrinkles. After using it just once, 100 percent noticed the increased moisturization—and the effect lasts for forty-eight hours. It improves skin texture, brightness, and elasticity, and it's as nourishing as it gets.
"I got this trick from my mom—using night cream during the day; we both have dry skin," says GP. "So I wanted a cream that was that nourishing, one that I could use night and day and my skin would just keep reaping the benefits. This one leaves my skin so soft that I just keep touching it all day."
"And it helps with wrinkles?" Danner wants to know.
"It helps with fine lines and wrinkles for sure," says GP. "It's actually really a challenge to get a clean formula that's this rich and nourishing and with results like this," she says. "I love it so much. You're going to love it—and then Apple, who doesn't have to worry about fine lines and wrinkles, it's great for creating that beautiful glow in your skin that you love."
To keep skin nourished, smooth, firm, even-toned, and glowing, the cream is made with active concentrations of powerful botanical extracts, oils, nutrients, and ceramides; all three women dip into the cream, smoothing it onto their faces. "Ooh, I smell a little thyme or lemon verbena?" says Danner. "And it's sort of light, even though it's so rich."
The ultimate skin-coddling routine, GP says, is to swipe on a peel pad before bed one night a week, then wake up the next morning and smooth the cream on. "It's just incredible, the way your skin looks and feels," she says. "On those mornings, I do a little eye cream, too, because I skip eye cream (and everything else) on peel nights."
From behind the camera, Martin wants to know: "What does this eye cream do?"
"It smooths out all the fine lines and wrinkles, and it sort of rejuvenates your eye," says GP. "I always put it on at night and sleep with it." Danner's curious about puffiness and dark circles. "It totally reduces puffiness—clinically proven," says GP. "And circles. It's a miracle!"
Both GP and her mom are beauty minimalists ("That's where we differ," notes Apple, dryly). "When you're acting and on sets and people are putting stuff on you all the time…," Danner winces, "it gets boring."
GP agrees: "I always had a very minimal routine, but I got that idea of always having moisturizer from you, because you have dry skin, and I have dry skin. I feel like you are so natural with stuff, like you never fussed in the bathroom. You never had a big getting-ready routine. Mom, who taught you about skin care?"
"Actually, my mother!" says Danner, adding that the moisturizer in question was Vaseline.
What They're Wearing
Blythe is in a gorgeous geranium-print Natalie Martin Mesa maxidress, and GP is in…a special preview of our new G. Label Dress Collection. The full collection launches next week, but you can get early access to the dress GP is wearing!
"At what age did you guys feel the prettiest?" Martin asks.
"I felt really great in my late thirties," says GP. "I think aging is hard. It's definitely a process, and I think when you see your face start to change, you don't necessarily feel your most beautiful externally. But the irony is it's that time in your life when you actually really like yourself and love yourself. So you sort of internally feel really beautiful."
"I think I felt prettiest at fifty," says Danner. "Maybe because of what you just said!"
Martin asks the two what advice they'd give to their younger selves, and their responses are similar: "Grow up!" says Danner. "Get your sh*t together, man," says GP to her former self.
Danner, however, asks the final question: "Can I take this home?"