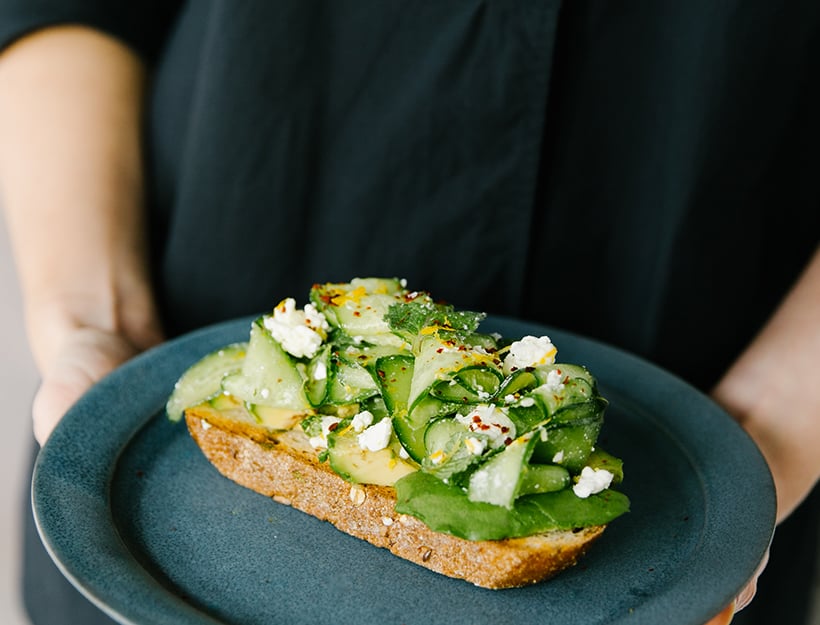 Great Skin—Inside & Out: Superpowered Avocado Toast
Our food editor Thea Baumann shares her skincare routine and gives us her favorite recipe with healthy, glowy, ageless skin in mind—a loaded variation on avocado toast. As early adopters and disciples (see GP's cookbooks), the portable benefits of avocado toast are part of pretty much every goop staffer's weekly routine—and Thea's version is a fast favorite.
Thea Baumann, food editor
In a nutshell, my skincare philosophy is "less is more." This is probably mostly laziness, but I tell myself it's because my skin seems happiest when I (mostly) leave it alone. Although my routine is minimal, there are a couple of things I do to keep my skin happy—now and hopefully in the future, too.
I'm militant about sunscreen on my face. Genetics gave me thin skin, prone to freckles and wrinkles. Fortunately, my three older sisters impressed the importance of sunscreen on me early, so I wear a moisturizer with SPF every day. I also always wear a big hat or completely cover my face at the beach because, as my oldest sister says: "A freckle mustache is not a good look for anyone."
I'm not great about washing my face, but I do make a point of exfoliating a few times a week. I, like Jean (our beauty director), use a Clarisonic in the shower or an exfoliating scrub to get rid of dirt and dead skin.
I try to drink a ton of water every day. I've always made an effort to hydrate because it's great for my skin, but when I was pregnant with my first child, my doctor told me that while I shouldn't be eating for two (bummer), I should be drinking water for two—so I started drinking at least eight cups (usually with a little lemon squeezed in for extra magnesium) every day.
I truly believe that what you eat directly affects how you look and feel, so I try to eat a balanced diet rich in healthy fats and superfoods that are good for me, but also happen to be great for my skin and hair. I start my day with either a smoothie (I freeze overripe bananas and blend them with whatever fruits and veggies I have on hand, coconut water, hemp seeds, flax seeds, and sometimes chia seeds), greek yogurt with goop's detox granola, and honey. Or, if it's cold outside or I'm feeling a little under the weather, a hot cup of bone broth (packed with protein, good fats, collagen, and keratin) with ginger and chili.
For lunch I normally eat a big salad—my current favorite has spinach (full of iron), grilled salmon, chickpeas, avocado, roasted beets, and hard-boiled egg. It's relatively quick to make, packed with nutrients, and tends to keep me full until dinner. By the time I get home, I'm usually pretty pooped, so my husband and I tend to keep things fairly simple for dinner. We'll have grilled protein like salmon, chicken, or grass-fed beef a couple times a week; other nights it's something like scrambled eggs, a quick whole wheat pasta dish with pancetta and whatever veggies we have in the fridge, a simple soup from the freezer with grilled cheese, or even delivery pizza now and then. I don't beat myself up too much about dinner—my one rule is that I always include a large portion of some sort of vegetable, whether it's roasted, steamed, grilled, sautéed (we tend to have a ton of rapini growing in the garden, which is full of iron, calcium, potassium, fiber, and vitamins, so we'll eat it sautéed with olive oil, garlic, chili, and lemon zest), or in the form of a big green salad.
From my third trimester of pregnancy—when the baby's brain does most of its developing—to post-pregnancy, I've made an effort to eat even more healthy fats like oily fish, olive oil, coconut oil, avocados, and nuts. Avocados just might be my favorite food, and they're full of good fat. They make a perfect snack sprinkled with sea salt, lime juice, and chili—and eaten straight out of their skin with a spoon—but I particularly love them in the form of avocado toast. This version, loaded with shaved cucumber, mint, and lemon, is not only super-refreshing and satisfying, but also packed with nutrients: good fat from the avocado, hydration and vitamins from the cucumber, antioxidants and digestion aid from fresh mint, and vitamin C, which is great for your skin, from the lemon. I find myself eating this for lunch or as an afternoon snack at least three times a week.
If peeling the cucumber feels too laborious, you can quickly slick it into coins, too.

If you can't find a Meyer lemon, a regular lemon will do just as great.

Photographer: Angi Welsch
Hair & Makeup: Bethany Brill
Prop Stylist: Jaimi Holker / Aubri Balk Inc.
Special thanks to Mint Locations
Avocado toast will always be a diet essential. This version is loaded up with mint, shaved cucumber, lemon, chili, and sea salt; it makes a perfect snack or meal any time of day.