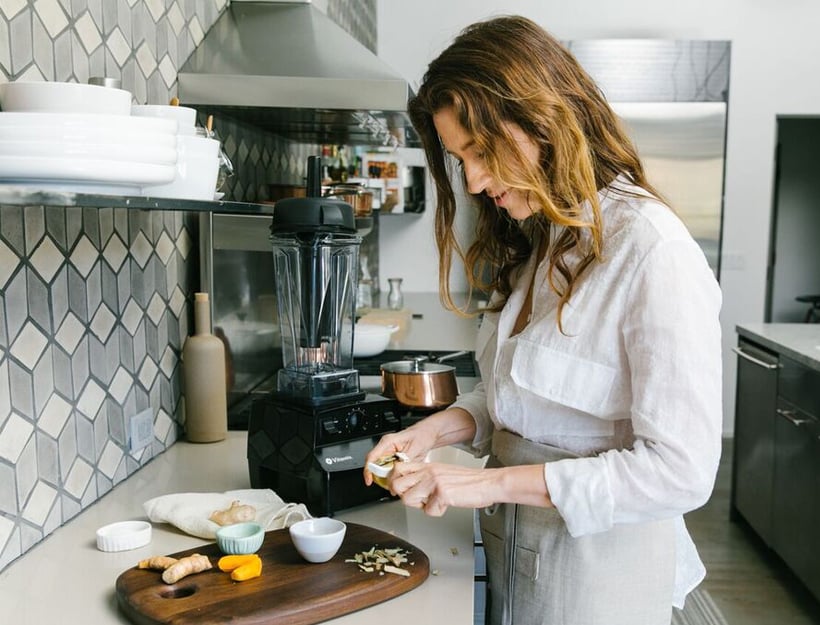 Great Skin—Inside and Out: A Turmeric Latte
They all have different approaches, but the end goal is the same for goop editorial director Elise Loehnen, food editor Thea Baumann, and beauty director Jean Godfrey-June—at least in terms of the way they want their skin to look: healthy, glowy, happy. Using the optimum ingredients—in terms of their skin routines and in terms of the way they eat—makes a huge difference, whether it's avocado on toast or natural sunflower oil in the formula of a favorite moisturizer. Here, in our three-part series, each reveals her skincare strategies, along with favorite recipes designed with healthy, glowy, ageless skin in mind.
Jean Godfrey June, goop Beauty Director: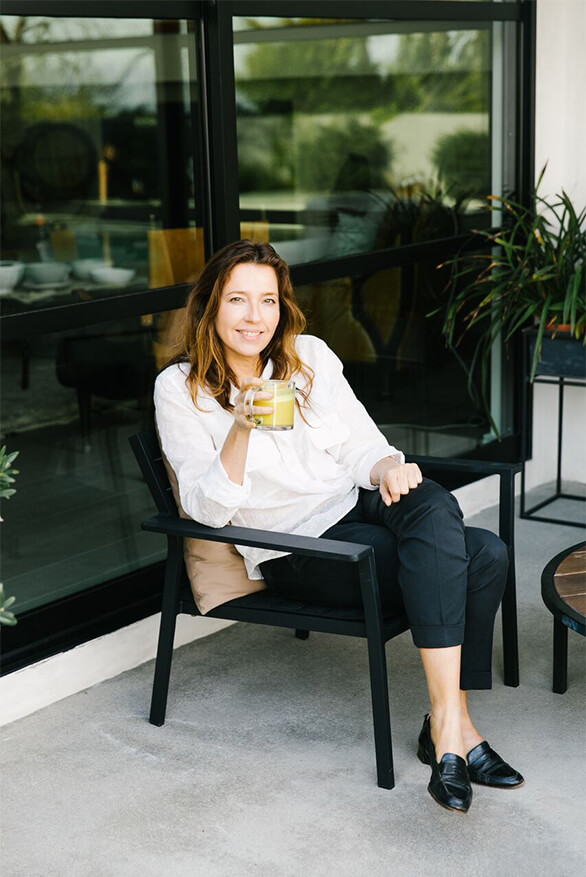 People are often surprised when I tell them I'm a beauty editor: "But you don't wear any makeup!" Of course I usually am actually wearing it when they say that—good makeup should make you look like you're not wearing any. Or maybe like you've got a smidge of an eye or a touch of some lip and that's it.
Great skin, though, is the key. Ask any makeup artist on earth: You can do all the makeup you like, but the skin is what makes the difference. In fact, the most important makeup tip I've ever gotten is to let as much skin shine through as possible: Use concealer to cover flaws instead of paving everything over with thick foundation. Real, living breathing skin is what other human beings love to look at—don't hide it. For that reason I like everything sheer and translucent, a moisturizing tint, rather than a heavily pigmented cream or powder.
Skincare is kind of everything: The most important element is physical (not chemical) sunscreen. The sun's rays seriously accelerate aging; a regular routine with sunscreen in the morning will keep you younger-looking, longer, than anything else. And it's never too late to start: The minute you start blocking it from the sun, your skin can go from defense mode to repair mode, and start fixing damage you've already wrought.
I love moisturizer and oils; I kind of apply them all day long, whenever I think of it. Moisturizer plumps up lines, increases elasticity, and just makes you look better, instantly. I love really thick ones—Antioxidants, like vitamins C and E, have a huge impact on skin, both protective and reparative. I'm especially into vitamin C, so I often apply it topically in a serum or moisturizer: it truly brightens up and clarifies your skin.
Because of my moisture fixation, I only use oil cleanser: Trust me, It doesn't make you break out. It leaves your skin soft and calm instead of tight and irritated and thus more vulnerable to breakouts. I cleanse mostly at night—your skin generally isn't actually dirty when you wake up, so why mess with things?
I exfoliate in the shower every other day, either with a gentle scrub or a Clarisonic brush, which I use with oil cleanser. Getting rid of the extra dead skin cells leaves your skin fresh and glowy.
I think food makes an enormous difference in the look of your skin, too. Too much sugar starts an inflammatory glycation process that's not just super-aging in the long-term, it makes you look puffy and lethargic in the short-term. Inflammation has been proven to be a huge factor in aging in general, and in the way your skin ages, in particular, so anti-inflammatory foods help—my current personal anti-inflammatory obsessions are turmeric and sour cherry. And avocados, like everyone else on the planet!
Fats got such a bad name for so long, and I truly believe they're critical, especially for people with dry or aging skin: Avocado, sunflower, olive, and coconut oils are all incredible, plus I like to take wild salmon oil capsules. And eat oily fish: My boyfriend and I grilled some fresh herring from the farmer's market and they were—so good. I'm a huge egg person also. I'm in favor of full-fat milk if you're going to have milk for the same reason.
And again, antioxidants—in many of the foods I've already mentioned, but pretty much every fruit, vegetable, and nut in existence—are important to take internally as well as topically.
Turmeric is incredibly anti-inflammatory and incredibly delicious. My boyfriend got a pound of turmeric powder one day, and that started the whole craze. Fresh turmeric takes it to whole new level; put it with fresh ginger and the flavor is just…heaven.
This latte is pure comfort food, the creamy almond milk, the rich coconut, a little salty a little sweet, warm, spicy: Everything I love!
If you can't find fresh turmeric, use 1 teaspoon of ground instead.

Heat the almond milk until it's just simmering.

Photographer: Angi Welsch
Hair & Makeup: Bethany Brill
Prop Stylist: Jaimi Holker / Aubri Balk Inc.
Special thanks to Mint Locations 
Both ginger and turmeric have incredible anti-inflammatory properties, which means this soothing and delicious latte is also really good for you.