GP's Overnight Routine
We're all much busier than we used to be—there's just no getting around it. So as me time gets compressed into smaller and smaller moments, even it needs to work a little harder.
I used to go to the dermatologist for a great chemical peel that really made a difference in my skin. I love a healthy glow, particularly for the way it makes me feel about my skin—and myself. I don't really wear makeup except for shoots or special occasions, so feeling comfortable and confident in my skin is key.
While I loved the results from my dermatologist's peel, I found myself doing it less and less. Like all women, my life is super packed with family, kids, and work, and I rarely have an hour or two to spare.
The GOOPGLOW peel was born out of my missing those results and wishing there were something I could do in my not so many minutes of me time at the end of the day that could make a real difference in the way my skin looked the next morning. I wanted something that could be done at home and was easy to use—something that fit right into your nighttime routine. Most of all, it had to give really powerful results.
What we came up with are these pretty incredible peel pads made with 15% glycolic acid plus fruit extracts—for intense exfoliation that works while you sleep to really refine and retexturize your skin.*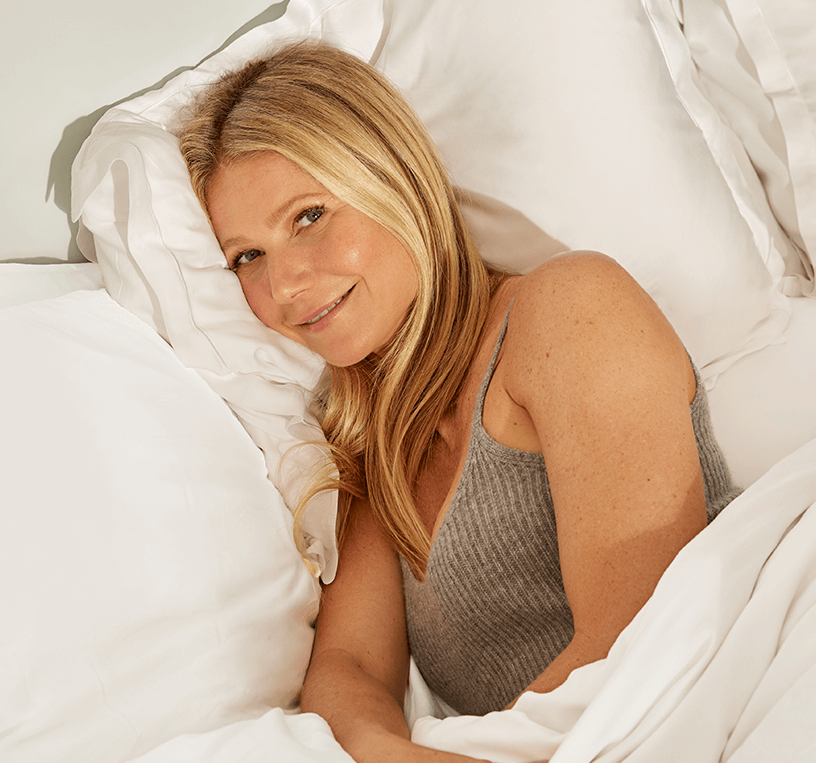 Here's how I use them: Once a week, right before bed (as the kids are finally settling down and the emails have started to slow), I wash my face, pat it dry, and rip open a pad. The pads themselves are so cool—they come soaked in a solution that contains 15% glycolic acid and powerful fruit extracts that together are what's going to give you the intense exfoliation that brightens skin while you sleep. You put your fingertips inside them almost like a little glove, and they're
dual-textured—you use the softer part on your face, and the more textured one, which feels almost like gauze, on your neck, chest, and shoulders. (I have a lot of sun damage, which I see not just on my face but also on my chest and shoulders, and the peel really helps smooth the texture and even the tone.)
Swipe it on and you will definitely feel it tingling, so you know it's working. And…that's it! Leave it on overnight, and rinse it off in the morning—it's that easy. I love how soft my skin looks and feels when I wake up: fresh, smooth, bright, and glowing, ready for the day.
*The results of the clinical trials we put them through are pretty amazing: The pads were shown to visibly improve skin texture, leaving it dramatically softer, smoother, brighter, more radiant, more refined, and healthier-looking. They're quite different from many other peels in that they preserve your skin's barrier function (most peels break it down and compromise it). We used three different-size molecules of hyaluronic acid to keep your skin hydrated throughout night.