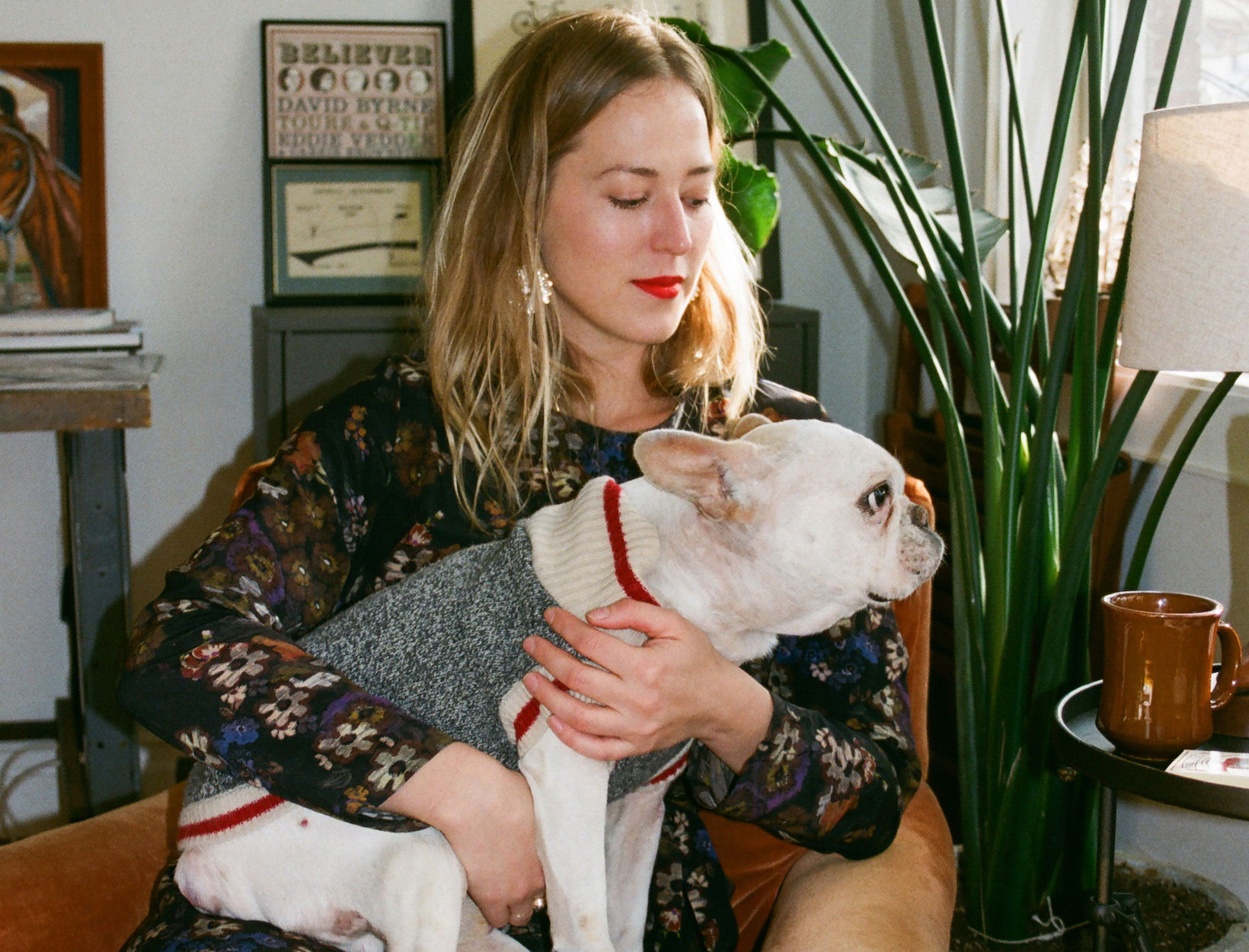 Photo courtesy of Clémence Polès
MY MORNING ROUTINE
Dry Brushing,
a Glowy-Skin
Drink, and
(Just
a Little) Cannabis
VERENA VON PFETTEN

| cofounder, Gossamer

When we first heard of Gossamer, we were instantly enchanted with the romantic, moody name. And we were equally intrigued by a platform geared entirely toward cannabis culture. The lush images, wildly entertaining writing, profiles of people as dazzling-looking as they are fascinating, and decidedly sybaritic vibe are all extensions of cofounder Verena von Pfetten's passions.

7 a.m.: I like to think that I'm an aspirational morning person, which is to say: I'm much better first thing than I am past 5 p.m. But I'm not exactly up and out of bed when the sun rises.

I try really hard to get at least eight hours of sleep, which means giving myself at least nine hours between lights out and my alarm, plus a dropperful of Dusk, Gossamer's sleep-focused CBD tincture, before I brush my teeth. If all goes well, I wake up naturally a bit before my alarm. I use that time to read in bed; I'm happiest when I'm able to start and end my days with a book.
7:30 a.m.: Once my phone alarm actually goes off, I get stuck for five to fifteen minutes, looking at my phone: checking for urgent emails, updating Gossamer's social feeds, and reading the news. This is easily my least favorite part of the morning; I keep meaning to buy an old analog alarm clock in order to exorcise this step entirely.

7:40 a.m.: I've just gotten into dry-brushing; I do it for a few minutes before I get into the shower. It's so invigorating and has made a real difference in my skin: If you're someone who gets ingrown hairs or those pesky bumps on the backs of your arms, I strongly suggest trying it. If I feel like my face needs a little extra something, I'll multitask and put on goop's Exfoliating Instant Facial while I dry-brush. It's usually good and tingly by the time I'm done brushing. I can rinse it off in the shower.
Every couple of days, I wash my hair, finger-comb it, and then let it air-dry while I moisturize. I swear by oils as opposed to lotions. I put them on right out of the shower while I'm still a little damp. goop's black pepper body oil is particularly suited to mornings, I think—it's spicy and refreshing. I put a healthy amount of Vintner's Daughter on my face, and both oils have a little time to soak in while my bathroom's still steamy. A couple times a week, I follow with Invisi Foaming Tan Water, which goes on almost like a toner and is great if you're someone like me who layers on a lot of products.
8:10 a.m.: I'm not great about eating breakfast, but I try to drink a liter of water before I leave the house. Most of this is cold and straight from the tap, but I put one glass aside and mix in GOOPGLOW antioxidant powder. All of this liquid intake also serves as a good reminder to take my Seed probiotic. I still don't entirely understand how probiotics work, but I can feel the difference in my digestion when I forget to take them. If I have a few extra minutes and have managed to get to the grocery store at any point in the week, I eat a piece of fruit.

My boyfriend makes pour-over coffee most mornings, which is the loveliest of luxuries. I drink it while I walk my ancient French bulldog. I also use this time to test my outfit for the day: You know when you put something on, and it's not until you leave the house that you realize something just isn't quite working? Walking the dog gives me a second chance to get it right.

8:30 a.m.: Post-walk, I mix a dollop of Dr. Sturm's Glow Drops with my face moisturizer before moving onto makeup, which I keep pretty low-key. I use concealer to cover any spots or redness and RMS Lip2Cheek in Beloved on my cheeks, but other than that and curling my lashes, I leave my skin pretty bare. I never leave the house without red lipstick, which is part of the reason I keep the rest of my makeup minimal.

8:45 a.m.: I live in Red Hook, which is like a little seaside village nestled in south Brooklyn that has one catch: no subway. My commute to our Chinatown office sometimes runs close to an hour. If I'm feeling particularly indulgent, I'll take exactly one hit off my Dosist pen (I love the Arouse formula), which is just enough to make for a delightful commute.

9:30 a.m.: The effects of the Dosist are gone by the time I sit down at my desk, so I'm fresh and really ready to start my day.