My Morning Routine
A goop Beauty Product Magician Loves Pure Linen—and Lots of Skin Care
Created with Avocado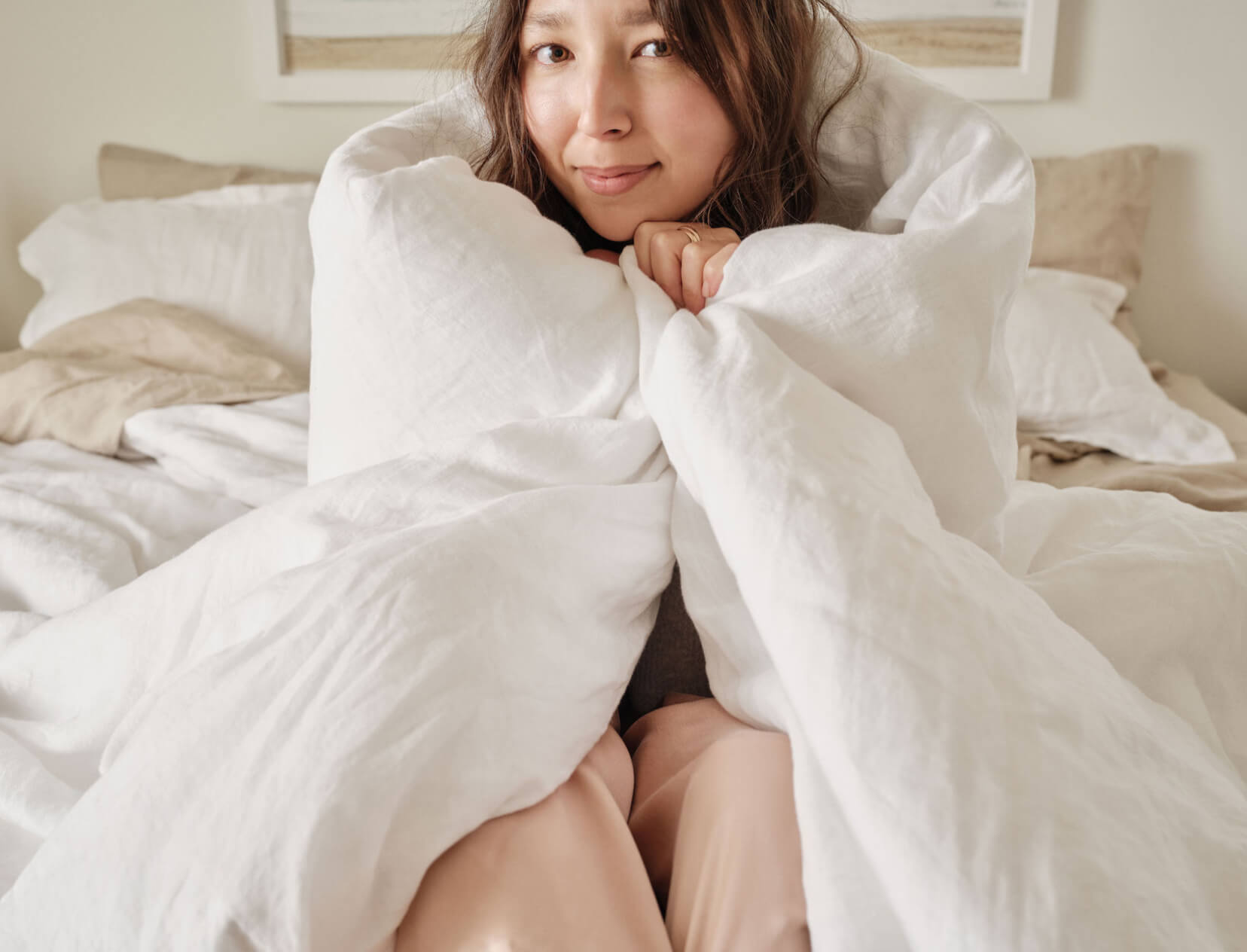 AVOCADO ORGANIC LINEN SHEETS, Avocado, from $422 for a limited time; AVOCADO ORGANIC LINEN DUVET COVER, Avocado, from $395 for a limited time
KATE VAUGHT |
associate director, product development, beauty
She helps bring bestsellers like our Sleep Milk and depuffing eye masks and what might be the world's silkiest lip color to life, but Kate Vaught is endlessly trying out potential new beauty products. "I like to think we're making more than just products," she says. "I get deep pleasure from helping people foster that moment of self-connection that using a beautiful formula helps you tap into."
Perhaps unsurprisingly, Vaught's skin is flawless and fresh, the kind you spot from across the conference room at goop HQ in Santa Monica and marvel at. But it's not just skin care, she says: "I'm always learning about which habits I want to establish to best show up for myself and body."
Number one priority: sleep. "I've absolutely perfected my bed," she laughs, referring to the cocoon of organic bedding—buttery-soft, loomed-in-France linen sheets, chic silk pillowcases (said to help both skin and hair look better in the morning), the coziest linen duvet cover, and more—that she says really helps her sleep.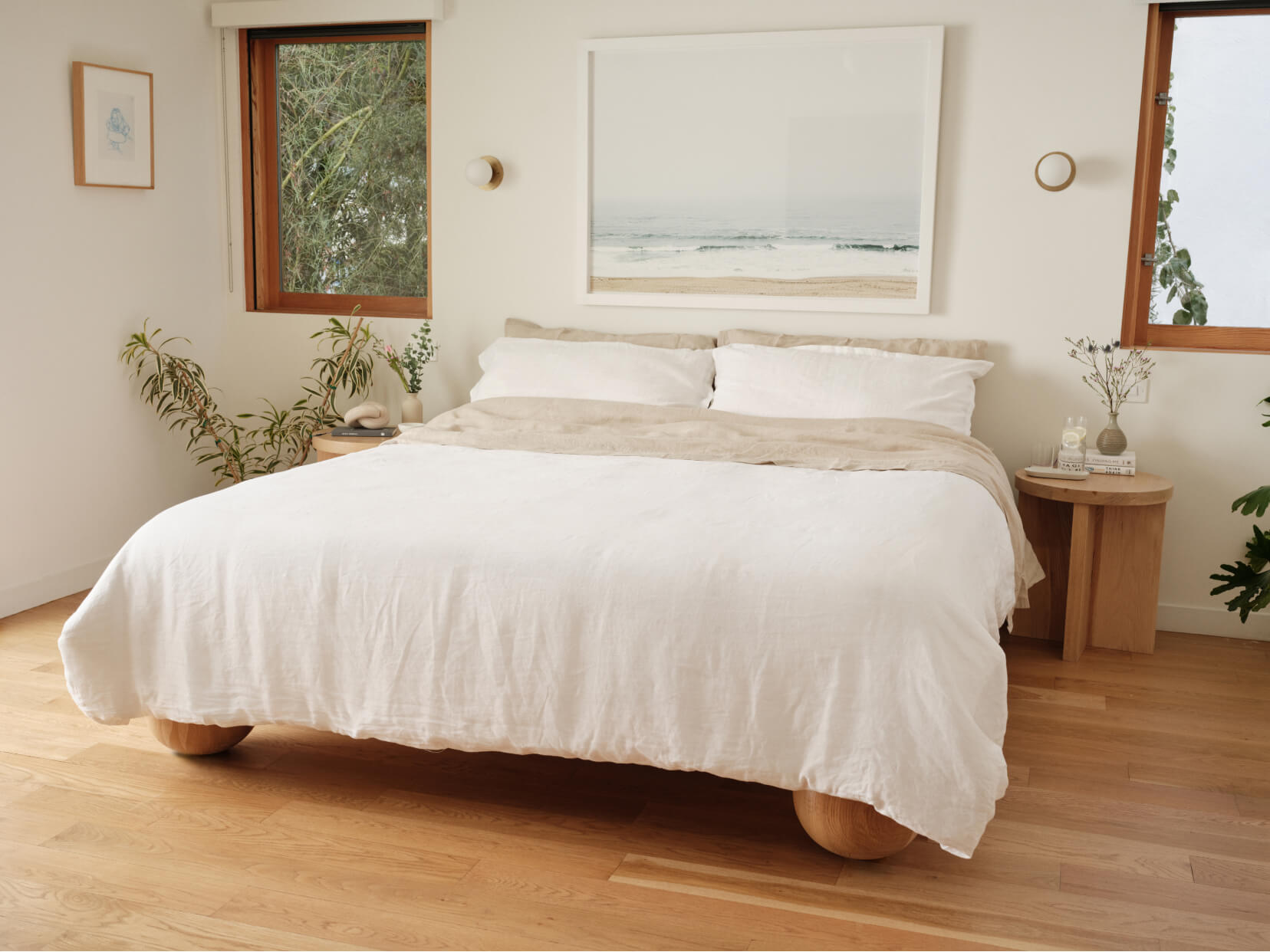 Vaught wakes up to Korean-spa-intensity exfoliation (the secret, she says, to why her Korean mom looks so fantastic) and a layering strategy to help her skin care penetrate better—but first, she has to get out of bed.
7:13 a.m.
I'm up. (Coincidentally, 7 and 13 are my birthday numbers; I love numerology.) I try to meditate first thing, in bed. I learned TM—Transcendental Meditation—in my early 20s, and it makes a difference. I have a prosthetic leg, which can make it a bit taxing to get out of bed: The prosthetic's liner is ice-cold on my skin in winter—it's the closest I will ever get to doing a daily cold plunge, ha.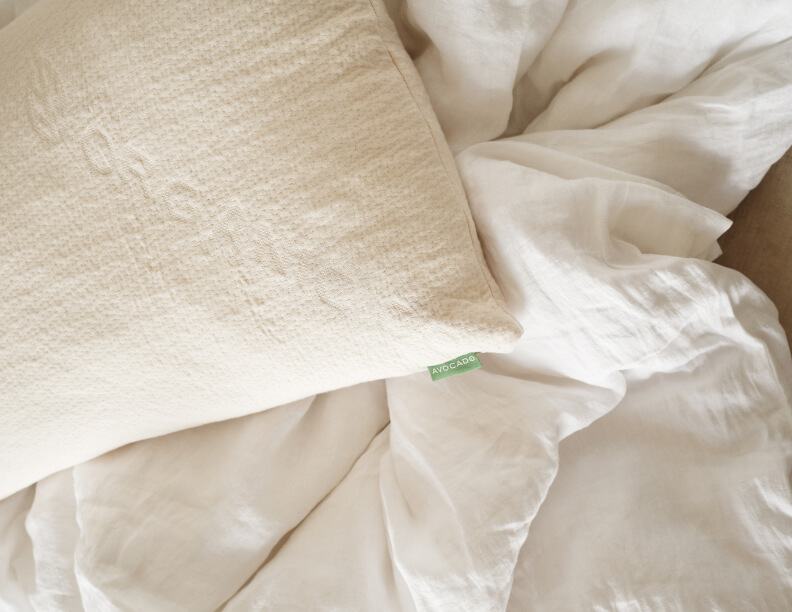 And I also just love my cozy bed. I'm a pillow fiend—I'm that person who would bring her pillow everywhere, and eventually it just got too worn and old (I'm embarrassed to admit how old). I went down a rabbit hole searching for a replacement and landed on these from Avocado. The filling inside is adjustable—each pillow comes with extra stuffing, so you can make it more or less fluffy and firm by adding or removing it: It's totally customizable.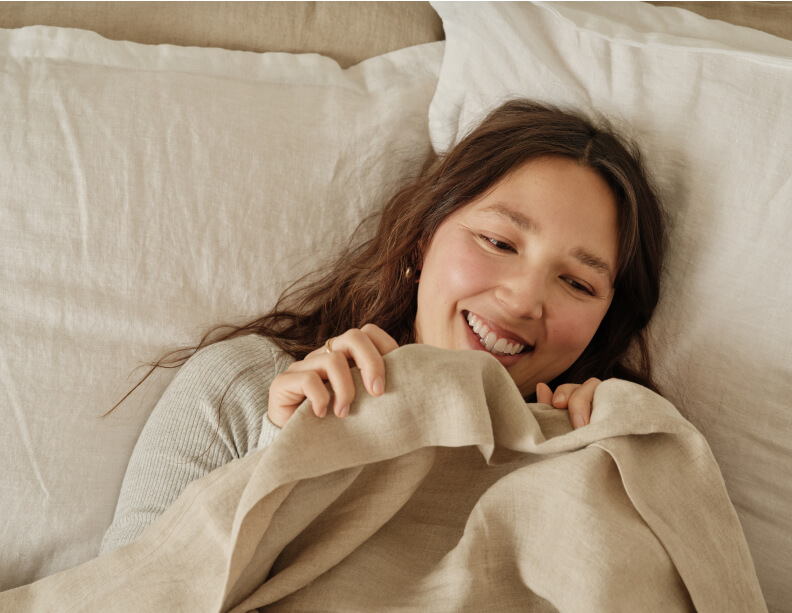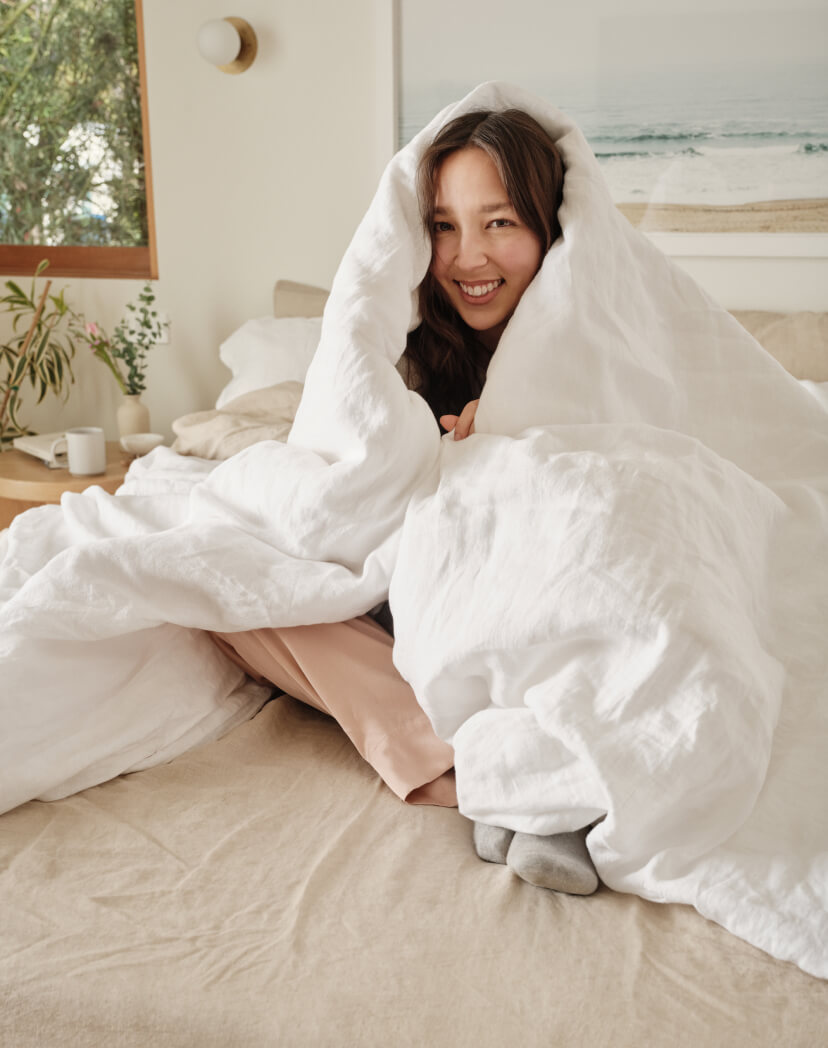 7:30(ish) a.m.
I'm sensitive to caffeine, but I'm a barista at heart—I worked at a café in college—and brewing my morning drink is meditative. I make a chicory coffee, matcha if I'm going to eat breakfast with it, or a loose-leaf tea from San Francisco–based Song Tea & Ceramics (my partner gifted me the collection box and it changed my life). If I'm having a slow morning, I make diner-style hash browns with organic red potatoes; that reminds me of my parents and home. After I eat, I love this daily multivitamin: It's a liquid-in-capsule with vitamins A, C, D, and E, along with iron, so it covers all the bases.*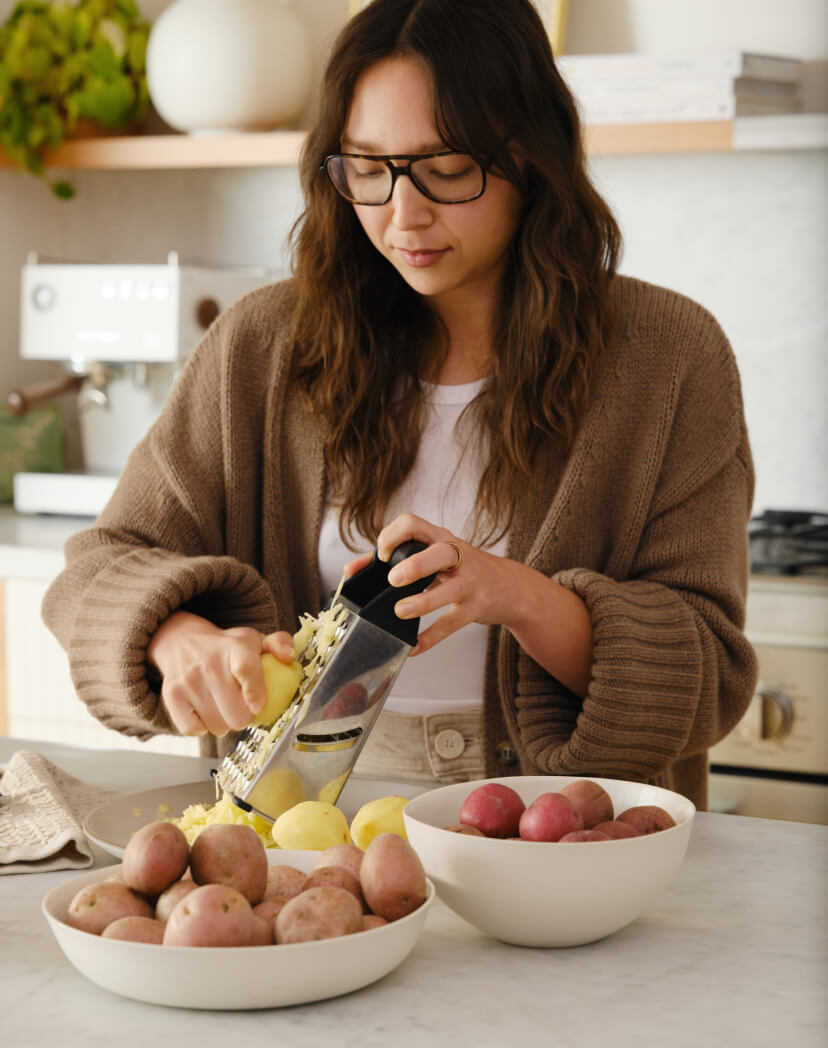 7:50 a.m.
I write my morning pages. I have three different journals I float between, depending on my mood. On the best days, I head outside to journal or enjoy my tea—there's nothing I love more than morning sun on my face and listening to the birds chirping.
8 a.m.
Before showering, I dry brush. On weekends, I treat my skin to even more of a shebang, adding in a Korean exfoliating towel. I love the boost I get from exfoliating my skin.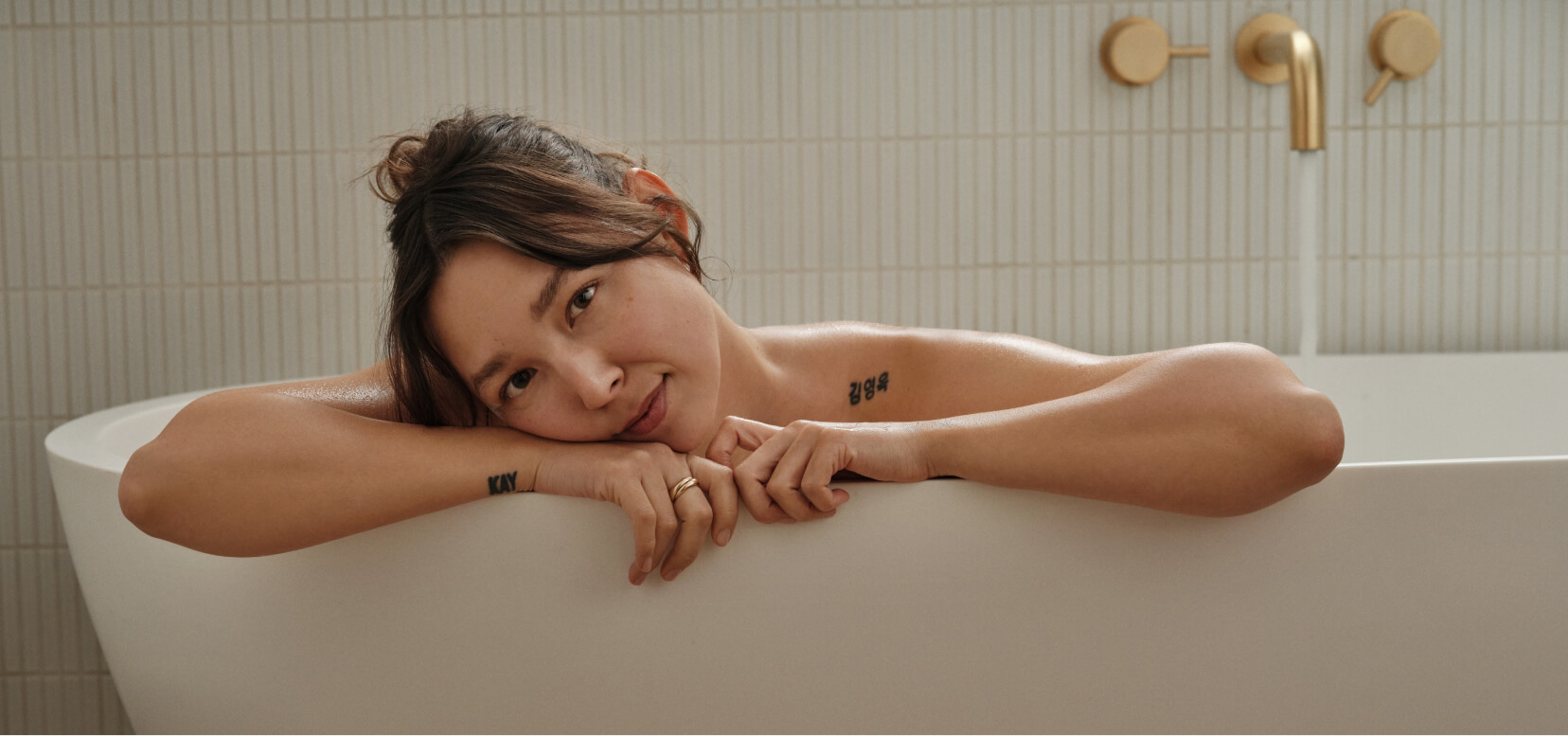 8:03 a.m.
In the shower, I keep the exfoliation going—I lather up with Microderm body polish. The woodsy scent of juniper berry and balsam fir makes me feel like I'm bathing in a forest (talk about a spa moment). My mother is Korean, and I've witnessed firsthand the glorious results of body exfoliation: She has the smoothest skin ever.
8:15 a.m.
I get out, dry off, and smooth on body butter. It's thick and creamy with satisfying meringue peaks—I literally get so happy just opening the jar in anticipation. Massage it on and it instantly absorbs. It's got this firming-cocooning effect, and the woodsy-mandarin scent just does it for me.
When my skin is super dry, I layer this glowy body oil on top. It smells gingery, warm, and cozy yet somehow also uplifting. My partner uses it, too, because it melts right in (his pet peeve is anything greasy). The best is smoothing it on after a Korean scrubdown—it feels especially great on freshly exfoliated skin. It also doubles as a seriously buttery bath oil.
8:23 a.m.
(Side note: These numbers are my close friend's birthday, and I always think of her when I see them.) Now for my face: I smooth on flower acids toner to cleanse and dampen my skin so that anything I apply after will absorb better. The texture is juicy with a little body, and the playtime is long—perfect for layering. It's a moisture bomb with light resurfacing benefits. I can count on one hand the days I've missed cleansing my face.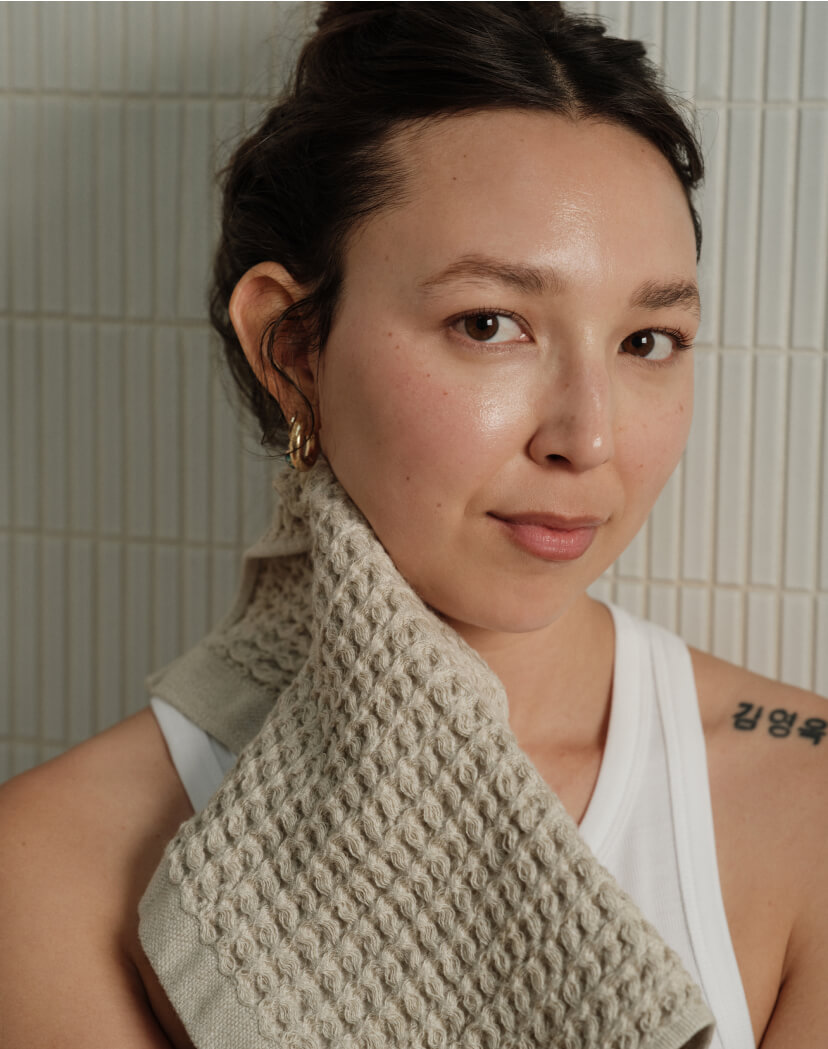 goop Beauty

GOOPGLOW 20% Vitamin C + Hyaluronic Acid Glow Serum

goop, $125/$112 with subscription

SHOP NOW

Nothing beats the goop vitamin C serum. It's made with fresh L-ascorbic acid, the purest and best-for-skin form of vitamin C, according to the research. It's mixed into a base of hyaluronic acid, so you get the best of both worlds—brightening and moisturizing.
Clark's Botanicals

Jasmine Vital Cream

goop, $125

SHOP NOW

I smooth on this light jasmine face gel-cream—it's a love note to all jasmine lovers, and it's so moisturizing. It just coddles my skin. I love it year-round.
If I need it, I layer this face oil over moisturizer. It feels so cushiony, and my skin drinks up the nutrients.
Or sometimes I smooth in My Only Oil, which my friend and fellow product developer Arie Noji makes. I love her, and I love this six-ingredient upcycled multitasking oil in chic Miron violet glass packaging. It's an unfussy way to get moisture anywhere—you can use it on your face, body, hair—and leaves my skin velvety every time.
goop Beauty

GOOPGENES Fix and Restore Balm

goop, $125/$112 with subscription

SHOP NOW

When I have to go into the office, I add the thinnest sheen of Fix and Restore Balm or Maya Chia pressed serum over my face-oil-lotion combination. The heating system at goop HQ is relentless.
goop Pick

Tower 28 Beauty

SunnyDays SPF 30 Tinted Sunscreen Foundation

goop, $32

SHOP NOW

I finish with a tinted mineral SPF—Suntegrity can do no wrong—and dab on a pigment or some other lab sample I might be testing at the moment.
8:50 a.m.
I do a quick blow-dry on my bangs with a round brush to accentuate my natural waves and I'm either out the door headed to the office or at my antique Korean wood desk to start the workday brainstorming new goop products.