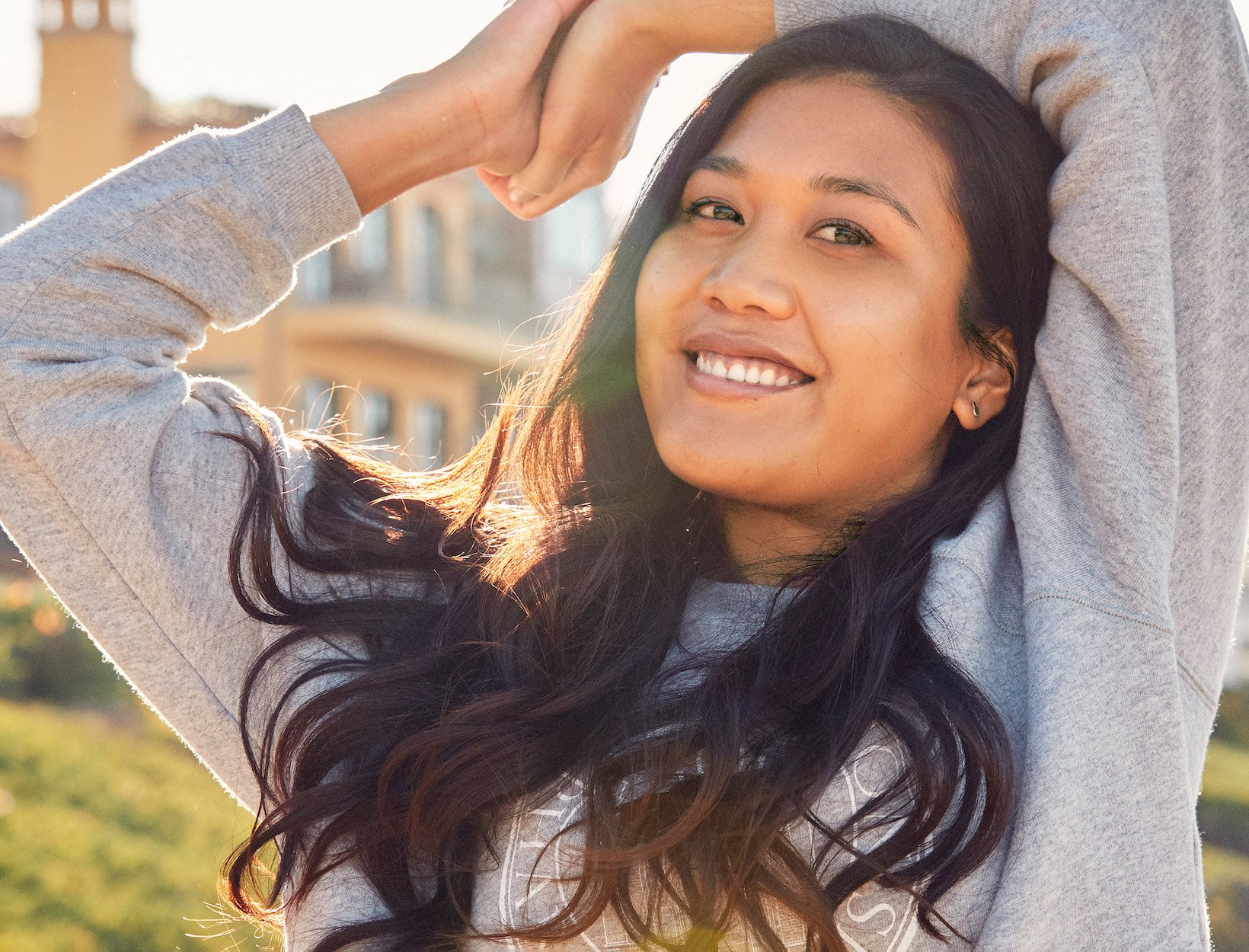 my morning routine
The Scientist-Magician behind Glow Lotion Is Also Its Biggest Fan
Leslie Santijanna |
associate director, product development, goop
"Glow Lotion is my new main squeeze," says Manhattan Beach–based Santijanna, thirty-five, whose background is in skin biology and chemistry. "My skin drinks it up—it has everything I need in a moisturizer, including the super effective THD version of vitamin C, which I love." She helped develop the multitasking, your-skin-but-glowier treatment from concept to finished product. "We saw a white space for a clean, active moisturizer that's light enough to work for all different skin types and comes power-packed with great benefits," she says. "In the short term, you get that really amazing, dewy, glowy skin, and those results make you want to use it every day—and of course, when you do that, you get the major long-term benefits: brighter, smoother, more moisturized, healthier-looking skin."
The ingredients and how they work together are what excited Santijanna the most. "We got this interesting combination of an amino acid derivative that's clinically tested to work synergistically with the THD," she says. "The two ingredients boost each other to be more effective and longer-lasting." Then, from the algae spirulina, there are an enzyme and a light-harvesting protein that help protect skin from a wide variety of light aggressors, including sunlight and blue light. "It doesn't protect as an SPF or even an antioxidant would," she says. "It's tackling the problem from another angle—you should do all three." For antioxidant protection, she notes, the formula is made with a powerful one: Australian kakadu plum.
Since she started working from home a year ago, Santijanna's schedule has evolved to include both a morning and a night routine to help her set healthy boundaries. "It's been key," she says. "It can be so easy to open up your laptop and just start tackling emails first thing in the morning, but that seems to lead almost invariably to burnout. I'm more of a night owl, but I've forced myself to be more of a morning person, since I find mornings to be the most productive time of the day—my mind is still fresh." To keep her skin as fresh as her endlessly inventive mind, she's got some morning skin-care secrets up her sleeve. "Of course I'm biased," she says. "But try the combination of our vitamin C serum plus the Glow Lotion every day and tell me you don't see a huge difference!"
6:30 a.m.: I usually wake up before my alarm goes off. My dog starts moving around and getting restless in bed, so I get up and take her out for a quick walk.
7 a.m.: I head out for my morning jog on the beach. I feel very lucky to live right near the ocean—running along the beach is just really relaxing.
8 a.m.: After getting my endorphins up, I hit the shower. I usually go through my mental checklist at this time. I use one of my favorite products we make, our Himalayan salt scrub for hair, almost every day. You're supposed to use it only two or three times a week, but my hair's on the oilier side, and it works so well for me. There's this great foam buildup, and it leaves my hair clean but not squeaky-clean or stripped. The five-salt body scrub leaves my skin so hydrated and soft afterward, I rarely need body lotion. And because I love a good exfoliation, I do Microderm in the shower several days a week. I looove this particular formula—the results and the way it feels. I find myself looking forward to the days I use it.
8:15 a.m.: Once I'm out and my skin is nice and clean, I do some quick self-care (as opposed to makeup), focused on looking and feeling refreshed by focusing on my skin. It makes me feel ready for Zoom meetings, without a lot of fuss.
Vitamin C is my first step, because I love how my skin looks after using it. I use it morning and night to even out my skin tone and leave my skin brighter, softer, and smoother. This formula is made with a different type of vitamin C, L-ascorbic acid, because it's a water-based formula (the Glow Lotion uses THD, which is oil-soluble). Use both and I'm telling you: It's ultimate glow combination.
I smooth in this eye cream (this might sound weird, but I also sometimes use it as an allover night cream), then curl my lashes, which are naturally stick-straight and barely visible. The combination of the eye cream and curling my eyelashes changes everything for me: My eyes look more awake and refreshed than they do after a solid eight hours.
After this, it's on to Glow Lotion—it's just the best daily moisturizer, and it's got that THD version of vitamin C, which is hydrating as well as long-lasting. I love the glow I get right away and the results that build over time.
Last of all, I like to smooth on a little lip tint to bring some more life to my face, put on gold hoops—I love the way they elevate whatever I'm wearing and make any outfit look more pulled-together—and spritz on a little goop Edition 4 – Orchard. It's got notes of apricot and hay and earth, and I wear it year-round. It's beautiful, evocative, and uplifting. I like using scents that are comforting and take me to a place of good vibes.
8:30 a.m.: If I have the time—which honestly isn't often enough—I'll make myself a berry smoothie or toast with peanut butter or avocado. The rest of the day can get pretty busy, so I fuel up while I can, usually with a tall glass of water with lemon. Then it's off to the races!