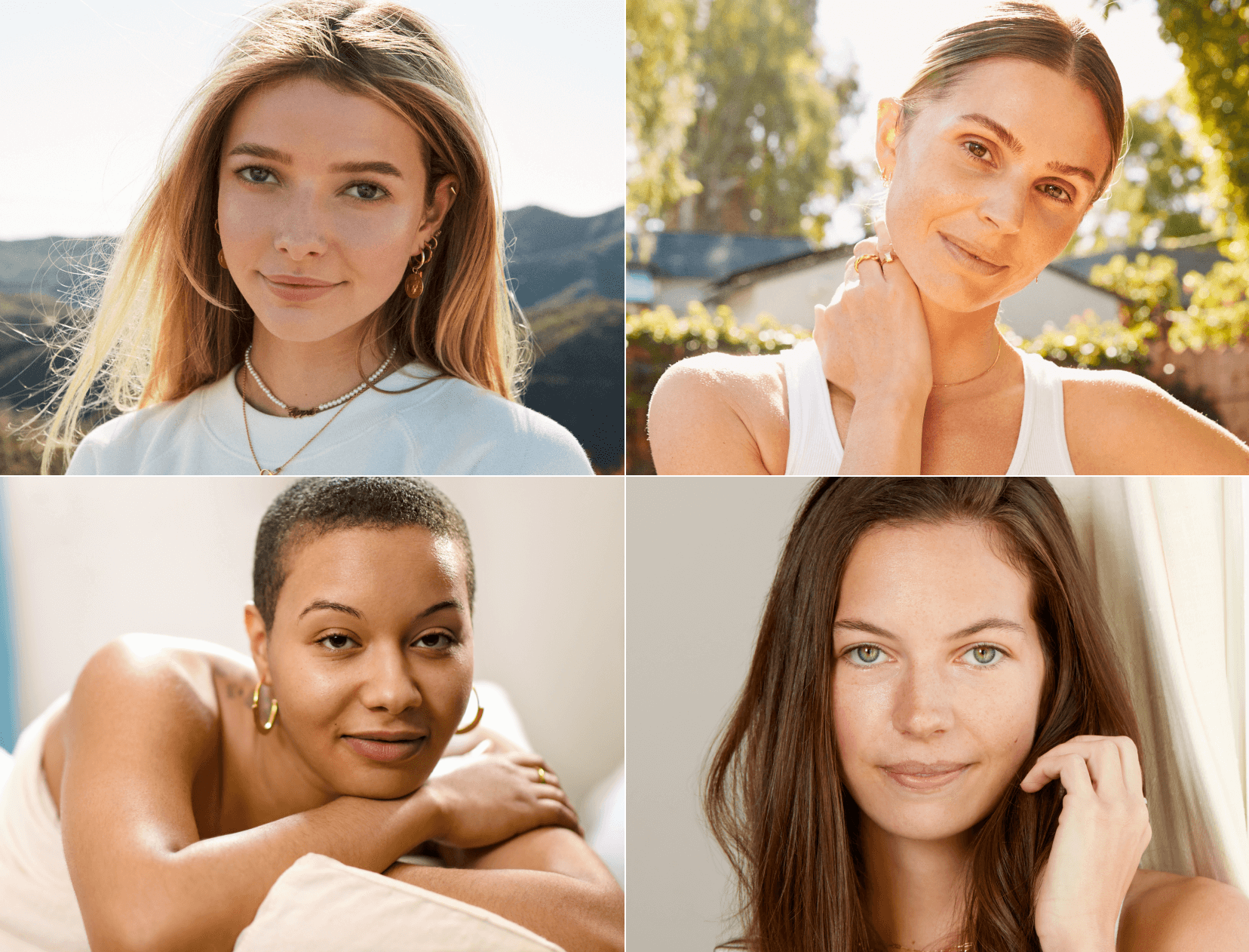 The New Secret to a
(No-Makeup) Glow
What does it mean to feel put-together now? At goop, it's a sense of energy and confidence that starts with glowy, healthy skin. For many of us, it might also involve a particular puff-sleeve top, a favorite necklace, or even a bright-red lip, but the underpinnings are always the same: glowing, even-toned skin that looks its prettiest naked, makeup-free. So we've created a skin-care secret weapon—it's super hydrating and featherweight, and it leaves a subtle, dewy, beautiful glow—that works no matter what your age, skin type, or style.
"I'm obsessed," says Apple Martin, sixteen, who's been using it first thing every morning for several months now. "It really gives your skin this amazing glow."
Made to leave your skin looking instantly more luminous, fresh, and silky-smooth with active levels of a spirulina enzyme and a light-harvesting protein, plus antioxidant vitamin C and kakadu plum for radiance, Glow Lotion instantly brightens and moisturizes (with sugar-derived squalane and Brazilian curupay extract), so your real, natural beauty shines right through. And while it's true that your skin looks glowier and healthier the second you smooth Glow Lotion on, the results get even better—and glowier—from there. In clinical tests, it improved glow, hydration, smoothness, brightness, and skin texture over time, too.
The goop staffers and friends who got a coveted early bottle have been amazed at how it's changed the way their skin looks and feels. It's also changed their routines: When your skin looks this good, you need to fuss less—you don't have to take as much (or any) time with makeup beyond sunscreen, and putting yourself together in general tends to go easier. Here, some of their new morning routines, along with the skin essentials and a video where Martin takes us through her morning.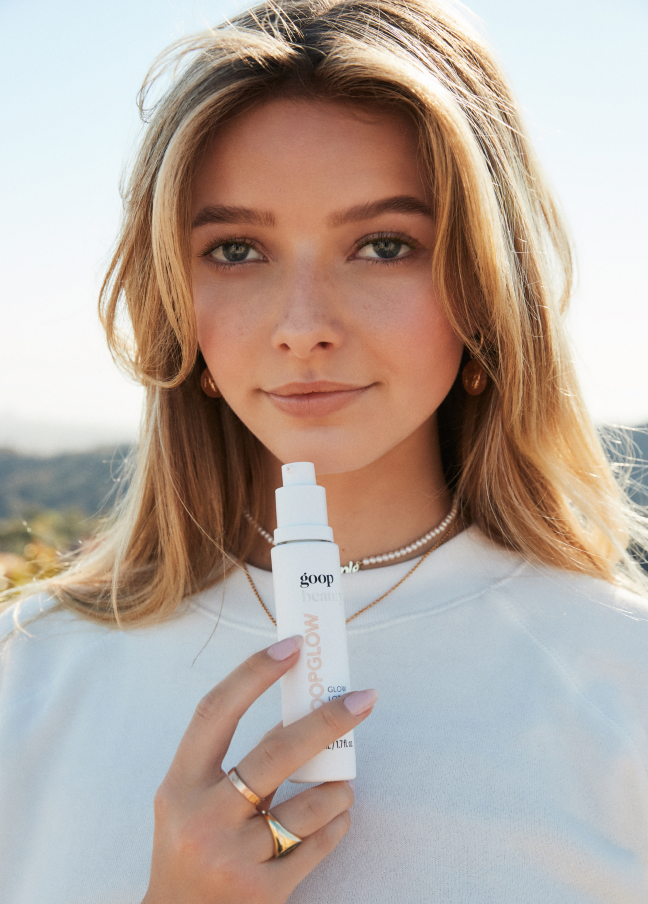 Apple Martin
16, student
"I wake up and check my texts, Instagram, TikTok—just catch up with everything," says Martin, who's spent the past year, like most of America's teenagers, in Zoom high school classes. "I brush my teeth, and after a night of sleep, my hair's a little crazy, so I put it up."
Martin's skin-care routine is simple: cleanser, Glow Lotion, and sunscreen. "Since I have very dry skin, the Glow Lotion is so nice—it keeps me hydrated but not oily. It's super lightweight," she says. "It gives me a little…I don't know—it feels like silk going on your skin." If she's dressing up, which has been rare during the last year but still happens, Martin adds little touches of makeup. "Glow Lotion is great underneath," she says. "I love a '90s vibe with makeup. But most often, besides a quick swipe of lip balm, the Glow Lotion and mineral sunscreen are all I need."
1
"I love this green goop cleanser! I wash my face with it first thing, and it leaves my skin feeling so soft and clean and fresh (I use it at night, too)."
2
"My skin looks and feels better the instant I put this on. It's brightening, and it makes my skin really soft and smooth. And the glow is next-level."
3
"I love this lip balm—under makeup or just on its own, it's smooth and moisturizing, and it smells so good."
She gets dressed, writes in her journal or practices a little guitar ("My main practicing time is in the evenings," she says), and then it's time for coffee. "I love to make coffee in a French press; if I have time, I froth it with cinnamon and nutmeg using a hand frother, then pour it over ice. I don't love hot coffee."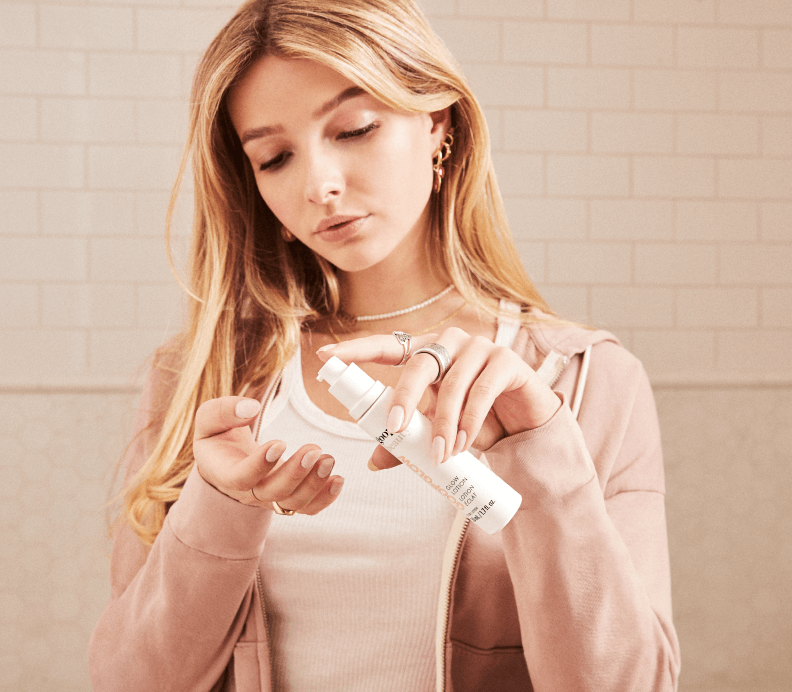 Breakfast is next. "I make a really good gluten-free avocado toast," says Martin. "I mix up the avocado with garlic, chili flakes, pepper, and salt, then layer it on the toast with tomato and onion and put the secret—everything bagel seasoning—on it. You have to try it to believe it."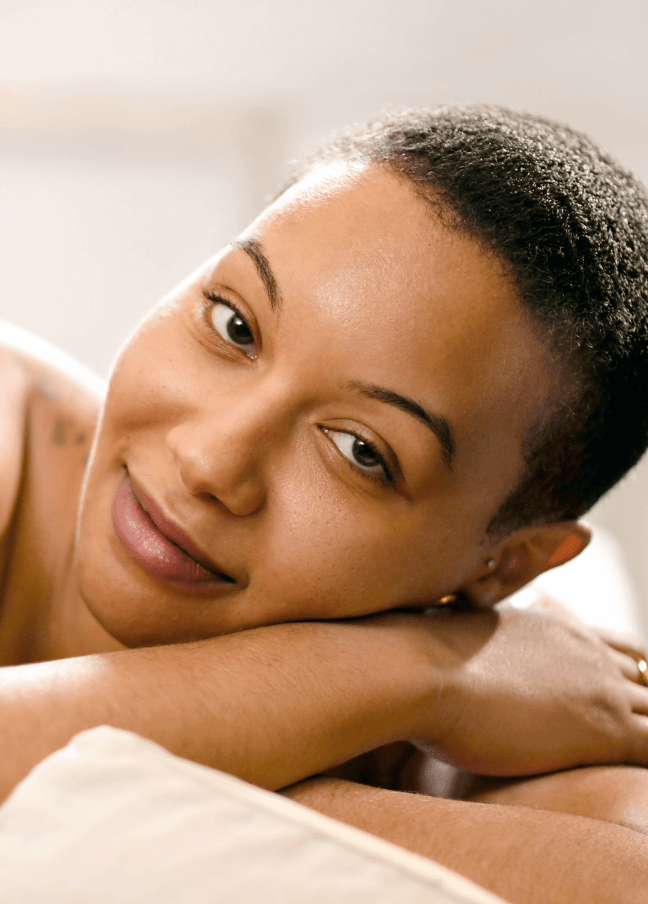 Marina Leslie
29, goop operations specialist
A harsh East Coast winter wreaked more than the usual havoc on Leslie's skin, but Glow Lotion has changed both her sensitive skin and her mornings. "I've got vibrant, hydrated, glowy-soft skin in place of my usual postwinter dullness," says Leslie. "As we started phasing out of winter, I got to try the lotion, and I worried it might irritate my skin—it doesn't at all but instead leaves it feeling so good." Her routine starts with a brisk walk with her dog, Pepper-Ann, and progresses to the shower, then to a gentle, moisturizing skin routine. "I cleanse, pat in a serum—my holy grail, couldn't-live-without, favorite one is from The Organic Pharmacy—then eye cream, Glow Lotion, and sunscreen. A glow, and some coffee in hand, and I'm ready for work at 9," she says. "I love that radiant feeling."
1
"After cleansing and a serum, I smooth this in. My skin used to get dull by the end of winter, but since I've been using this every day, it's the opposite: fresh and luminous."
2
"I'm at the beginning stages of using eye cream, and so far, I love it. After my Glow Lotion, I like to dab on this one—a few dots under my eyes freshens up my whole look."
3
"Last of all, I apply sunscreen, every day. The right one—this one—smooths into my skin in seconds. It's SPF 30, and it's absolutely amazing."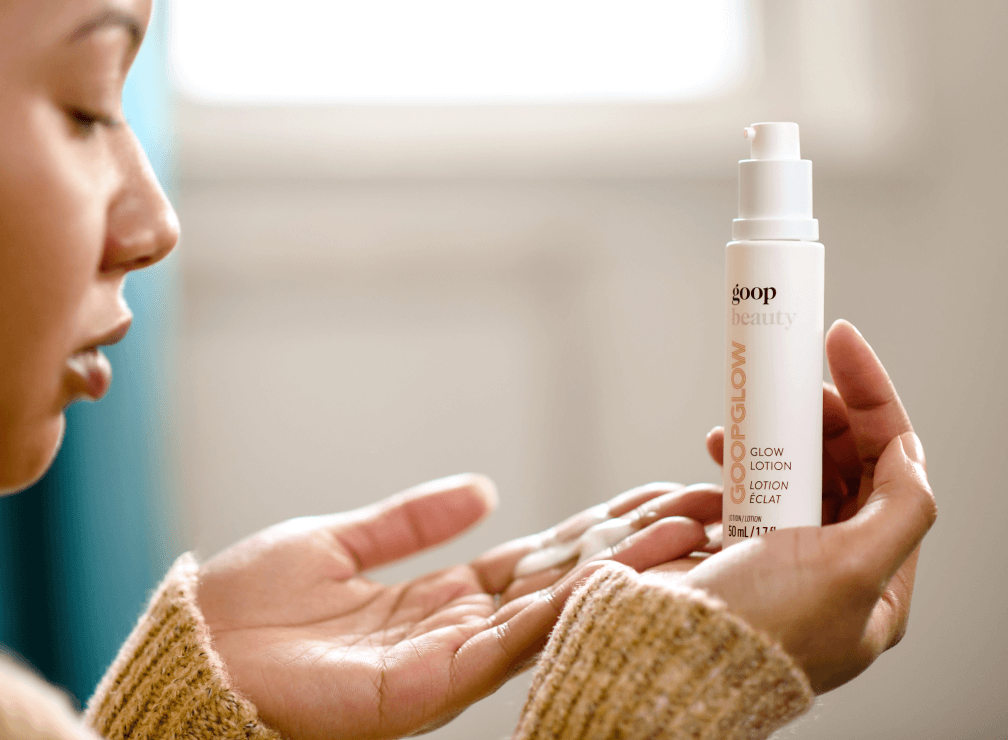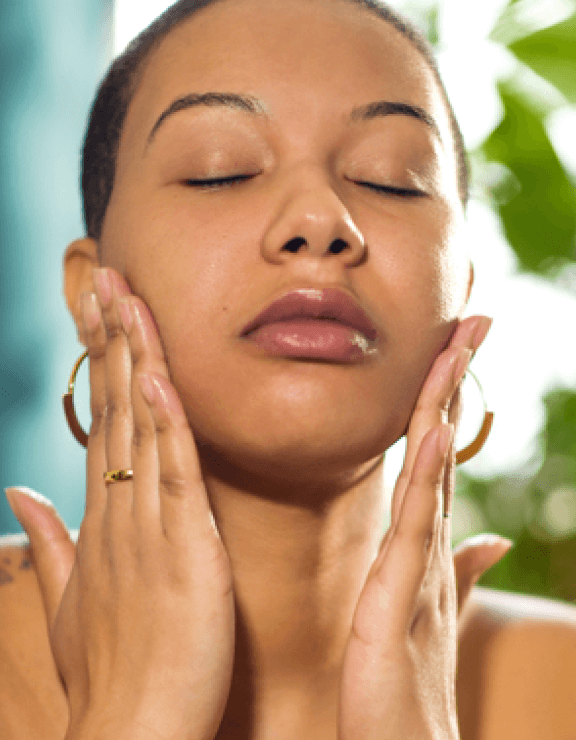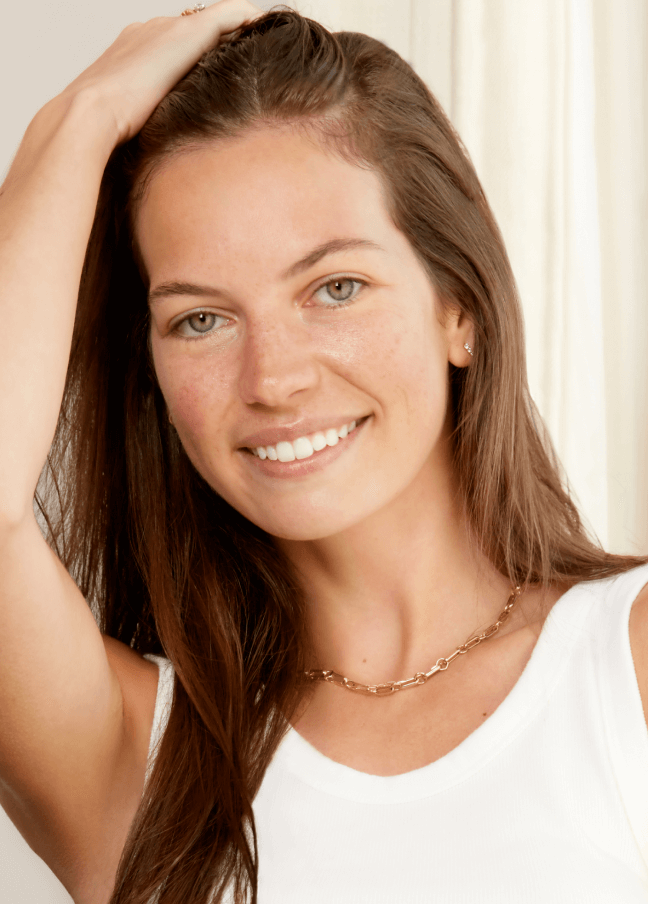 Emma Elliott
26, goop senior designer
Like most of us, Elliott's been wearing less makeup over the last year. "Since I ditched my makeup routine, the Glow Lotion, lip balm, eye cream, sometimes face oil, and Beautycounter Dew Skin SPF 20 are the things that make me feel a little fresher and glowier," she says. "I start with meditation, journaling, and a workout, and then my skin care starts in the shower with Alpyn cleanser or, every few days, goop Microderm Exfoliator. I get out and smooth in eye cream, my Glow Lotion, and sometimes a little face oil." Her other tips for going makeup-free: Step up your style before, say, getting on Zoom. "I swap my everyday stud earrings for hoops and put on a necklace or two, take the time to blow-dry and straighten my hair, put on something other than lounge- or activewear, and spritz on some perfume."
1
"Every morning, I put on the kettle for warm water with lemon, then make a smoothie and sit down to start my workday. As I get going, I treat myself to a glass of GOOPGLOW and a matcha latte. I feel like the whole routine is great for my skin—especially all the antioxidants in the GOOPGLOW."
2
"The second I put this on, my skin is softer, brighter, glowier, dewier—and it feels so good. It's really moisturizing, but it's so light and fresh."
3
"This lip balm is the one beauty step I never skip—plus it's pretty enough that I like to leave it on my desk all day. It's so nourishing, it smells so good, and it leaves a subtle sheen that's the perfect finish."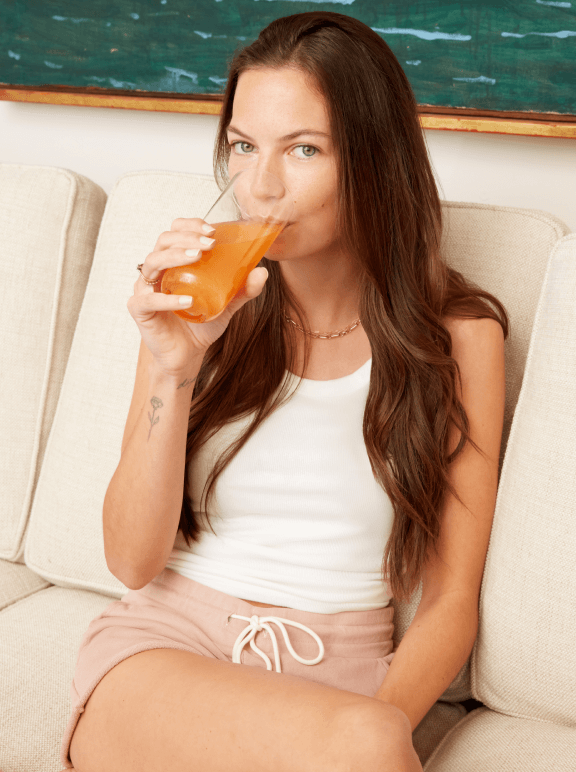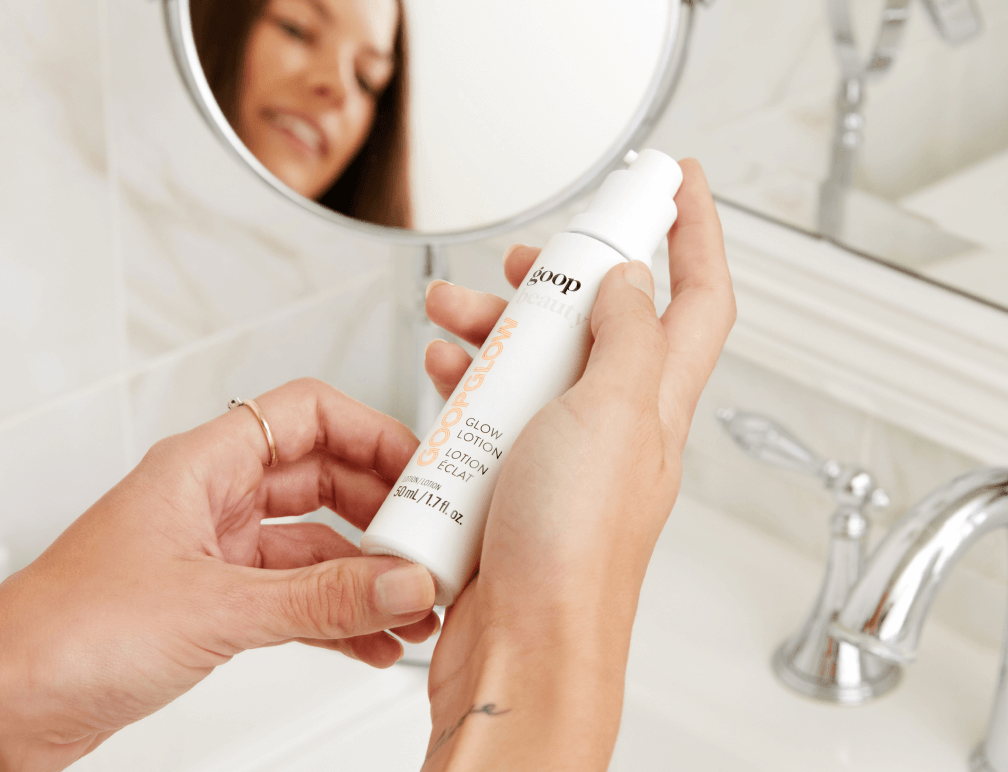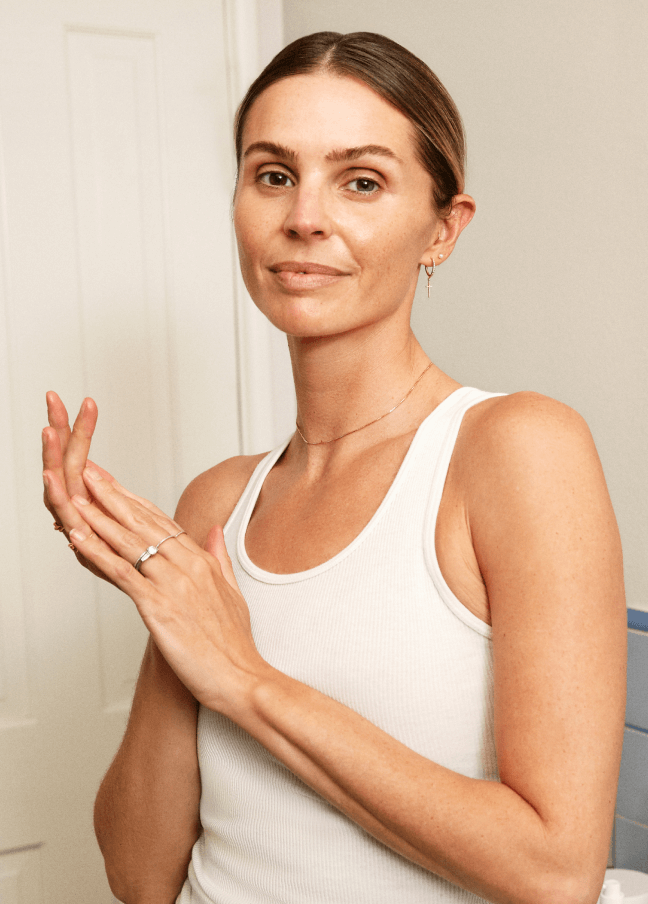 Roxanne Marie
38, buying director for fashion and home
"There's aspirational me, and there's reality me, and their morning routines are really different," says Marie, who's a busy mom to a busy toddler. "Reality me is up at 5:45 to put coffee on, make a bottle, and cook no fewer than four different breakfasts, which no one will eat, before getting my toddler to daycare. Aspirational me might use that time to zip down Topanga Canyon for a sunrise surf, call my mom in Australia on the scenic drive back, and arrive home to a short stack of pancakes and a perfectly clean kitchen." Aspirational Marie takes a longer shower than the reality version, but both have two nonnegotiables: Glow Lotion ("A miracle, especially if I didn't get my beauty sleep," she laughs) and "soap brows." "I drag an eyebrow brush wand across a moistened bar of glycerin soap, then feather my eyebrows up and into shape," she says. "They stay put all day, and I have no self-respect unless this ritual is performed."
1
"My skin is by no means perfect, but I just don't see the sense in trying to cover it up when I can improve how it looks and feels with skin care. This vitamin C really works—I use it every other morning, and it brightens and smooths my skin."
2
"I feel like a clown or some sort of imposter in makeup, so I throw all my effort into skin care. This wakes my entire face right up: It leaves my skin smoother, plumper, fully moisturized, and noticeably radiant."
3
"I hope to preserve the way my skin looks now, so I apply SPF 50 if I plan to leave the house. This smells citrusy and smooths right in. I take it with me in my bag because you invariably need to reapply—the tube is so cute and portable."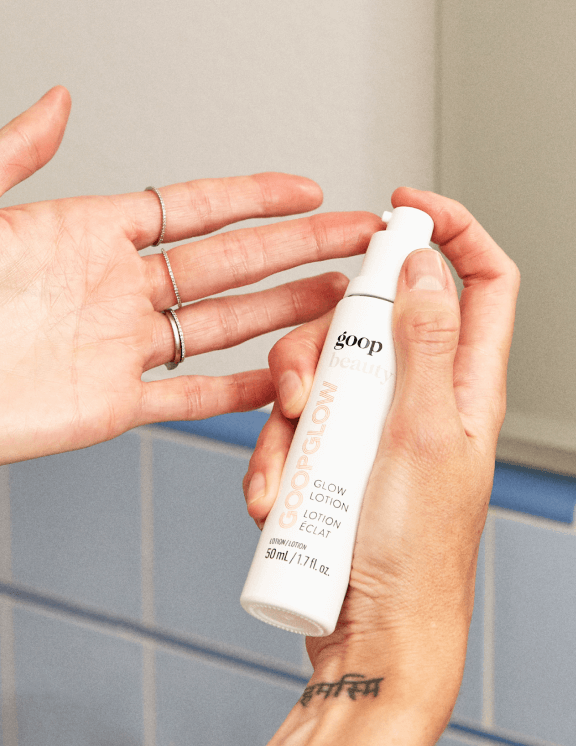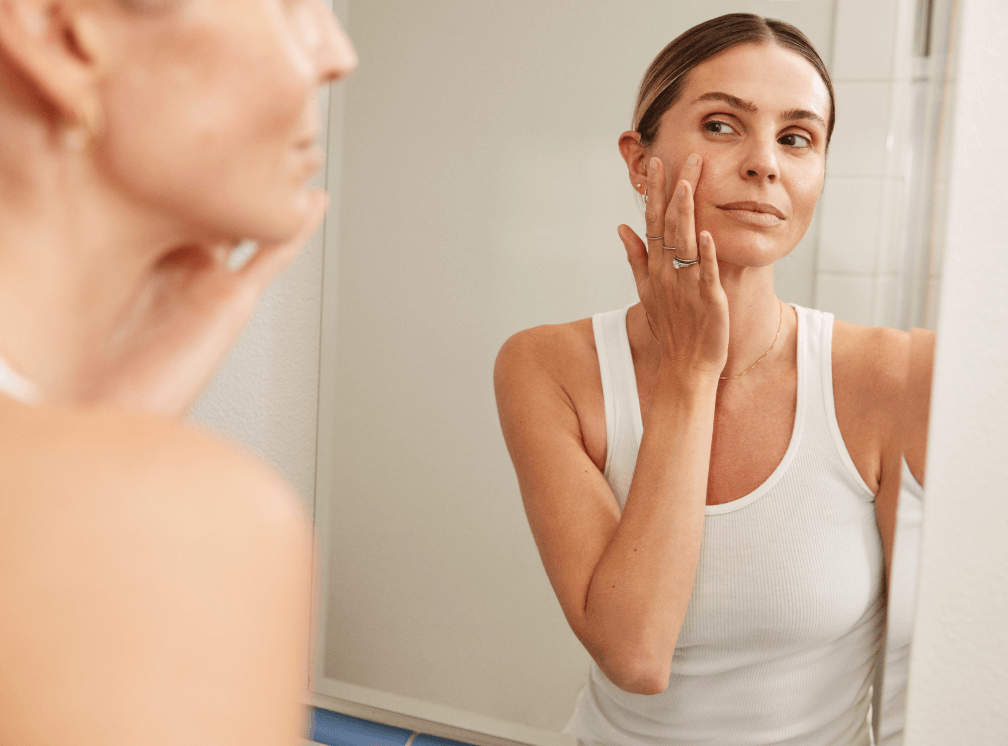 shop the goopglow collection