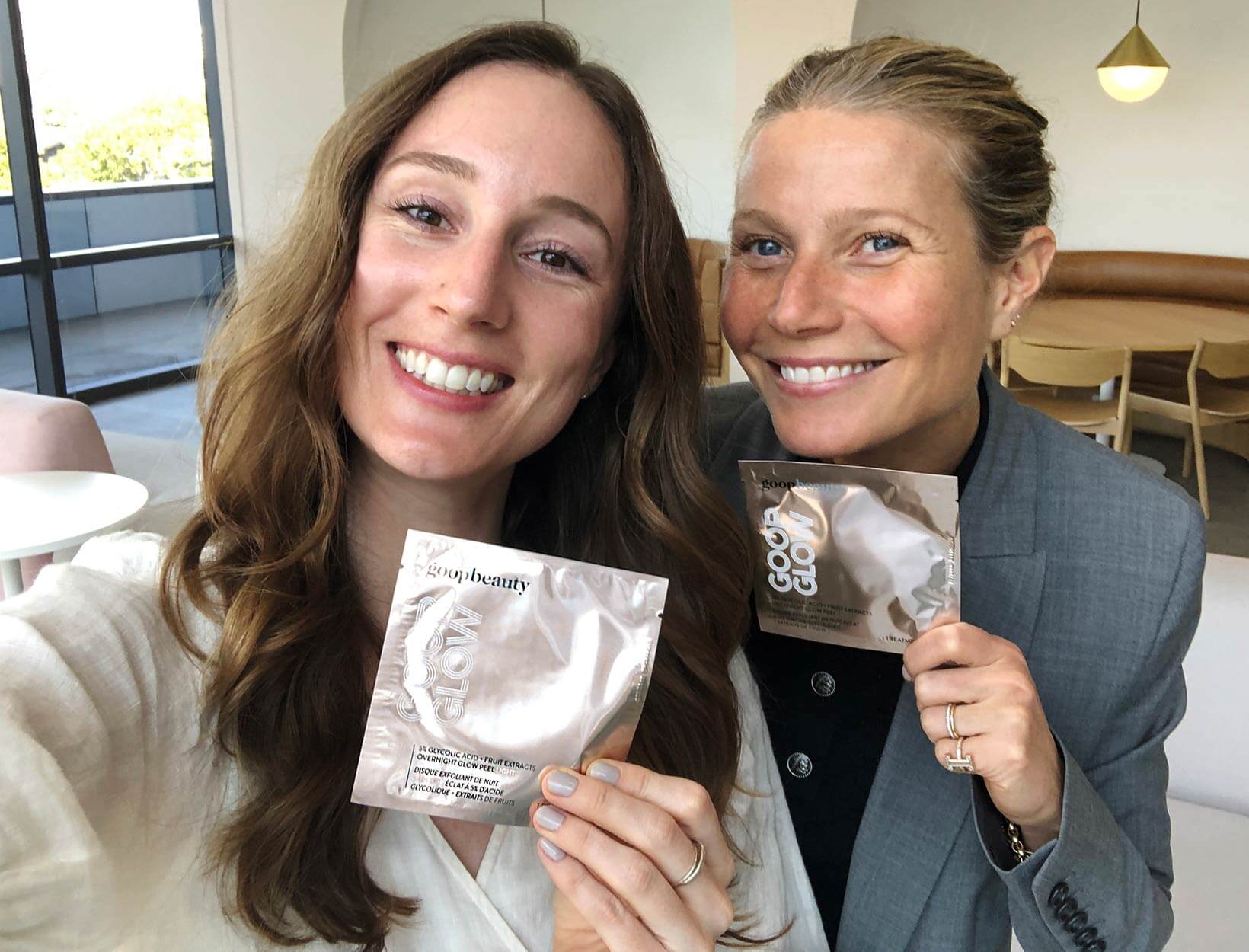 A Glycolic Acid Peel for Every Skin Type (Even Sensitive)
We all love the famous goop glow—healthy-looking, bright, smooth, luminous skin. One of the easiest ways to get it is with our bestselling overnight 15% glycolic acid peel: "The results are just amazing," says GP. "I swipe it on before bed, and the glow I wake up to lasts all week." But because the peel's so powerful, it can be too much for more-sensitive skin. Now, we've made a solution.
GP-Strength

goop Beauty

GOOPGLOW 15% Glycolic
Overnight Glow Peel

goop, $125/$112 with subscription

SHOP NOW
"I've always had sensitive skin," says Liz Martindale, a senior graphic designer here at goop (that's her with GP, above). "I have reactions to certain detergents and fragrances, I developed eczema in my college years, and products with too many acids in them make my skin very photosensitive. So I never really tried exfoliating products. I was tempted and tried the peel pads when they came out, but they made my skin feel too tight." Every product we make here at goop is a clean solution to a problem we're experiencing—so we knew we needed a gentler but still effective version of the peel pad for people with sensitive skin.
WHAT'S DIFFERENT
The secret turned out to be simply taking down the percentage of the glycolic acid to 5%, which makes the pads safe for sensitive skin while still delivering results. What stayed the same? The unique blend of fruit extracts and the moisturizing hyaluronic acid that help power the original, and the same strategy for the pad itself: a rougher texture on one side for exfoliating, a smoother one on the other for polishing. The pads look similar, but the textures on them are different, to optimize results depending on your skin type.
When Martindale tried the new, 5% version, she was excited but a little nervous. "It tingled when I put it on, but it didn't sting," she says. "It didn't feel tight the way the 15% had, so I left it on and went to bed. The next morning, my skin was noticeably smoother and softer. And I love the glow."
A NEW ROUTINE FOR SENSITIVE SKIN
The results inspired her to try physical exfoliating, too, with a sample of goop's Microderm face scrub. (Note: Whether you're using the 15% or the 5% peel, it's important not to use any other exfoliants within twenty-four hours of using the peel. This is especially important if you have sensitive skin, but even GP, our pro exfoliator, makes sure not to do this.) "I actually got some great results," Martindale says of her new routine. "True story: Two women on my team were like, 'Whoa, Liz, your skin is glowing!'"
If your skin is sensitive, sunscreen is crucial, particularly as you work exfoliating into your routine. "I've got classic fair, sensitive skin: burns very easily, quite sensitive to heat and sunlight, flushes easily, acne-prone—the whole kit and kaboodle," says Martindale. "SPF is sensitive skin's best friend."
The same can be said of moisturizer, and Martindale definitely has a favorite. "I'm actually obsessed with the goop cream," she says. "The thickness works wonders on my thirsty skin, and it's so soothing."
IMPORTANT CAVEAT
Sensitive skin is mercurial and extremely individual, so what works for one person's routine may not for another. Martindale's skin feels and looks great with this combination of products, but yours might need less, more, or something altogether different. As you would with any new product, go slowly, do patch tests, introduce only one at a time, and never use two exfoliating products in the same twenty-four-hour period.
That said, the new 5% glycolic acid peel pad works for everyone here at goop—including people who don't have sensitive skin. "Sometimes I just want the 5%," says beauty director Jean Godfrey-June. "When my skin's feeling not quite up to the full-on, rip-your-face-off (as GP puts it) effect, I still get a glow overnight. And I tell anyone who's never exfoliated to start with the 5%, then move on if they feel that their skin can take the more intense 15%. It's brilliant to have both."