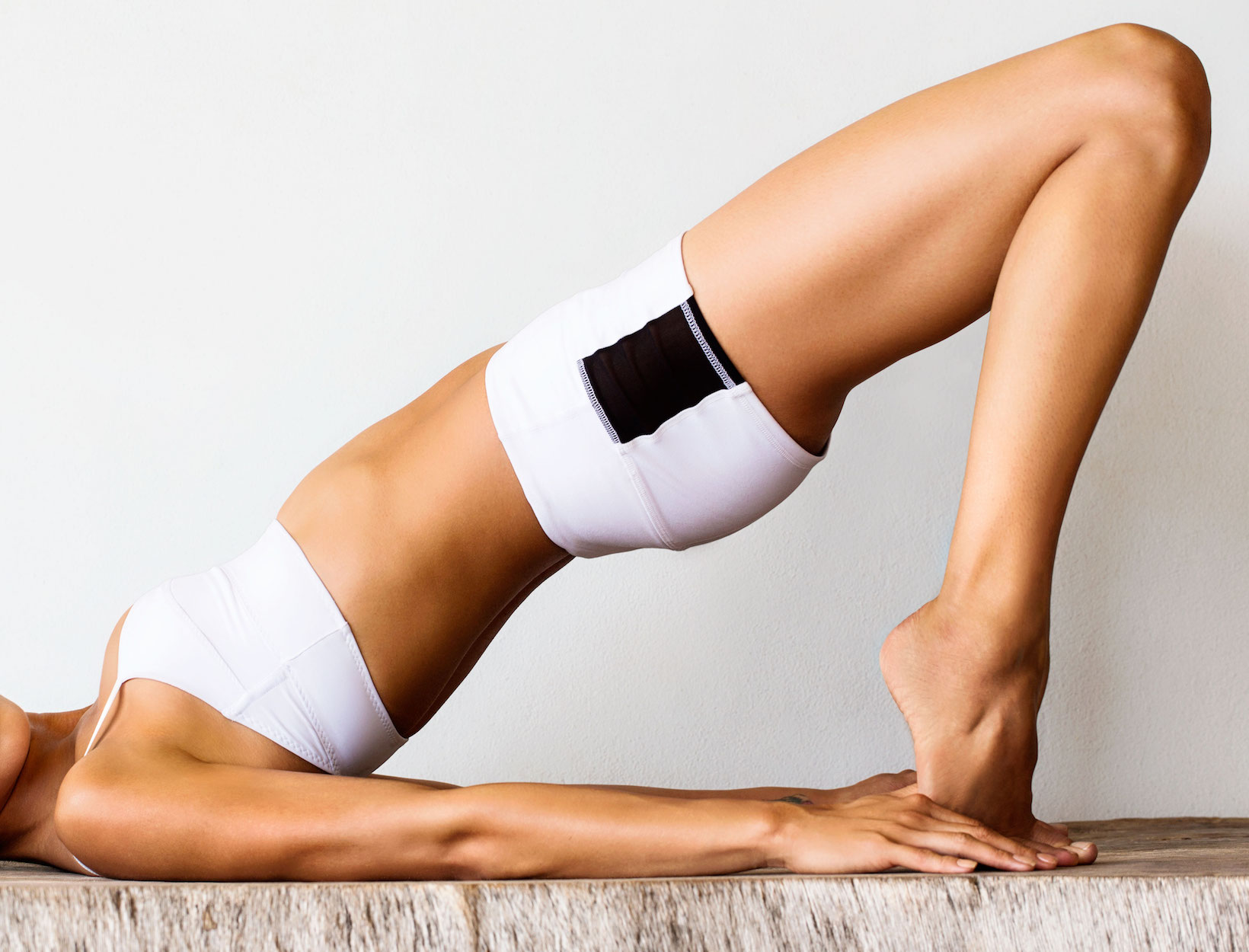 Model. Not an actual patient.
Can You Really Freeze Away Fat?
In partnership with our friends at CoolSculpting®
A friend we hadn't seen in a while showed up at a dinner in a short, body-skimming dress from Vuitton—and it wasn't just the dress. She looked absolutely amazing, from head to toe. Her eyes and hair shone, her legs seemed to go on forever, her arms curved gracefully around her very cute summer bag. We all exclaimed over how incredible she looked, and she nodded. "It's been a lot of work," she laughed. There's nothing more charming than someone who tells it like it is, rather than claiming to have woken up one day newly sleek and healthy-looking.
The work, she explained, involved all manner of exercise classes—Pilates, Tracy Anderson—and a serious change in diet. "No sugar, low carbs, no cocktails!" she wailed. "A lot of vegetables and a lot of water."
"And," she continued, "some CoolSculpting where nothing else worked." We pressed for specifics. "Okay," she said. "My stomach, under my chin, and my thigh area."
Did it hurt? Was there downtime? Not much, and for her, no. She was able to go back to her regular routine later that day. (For most patients, there is little to no downtime.) Did she really notice a difference? An unqualified yes.
"It works!" says Dr. Amy Wechsler, a New York dermatologist whose office has done thousands of CoolSculpting treatments. "You don't see the results right away—they usually take about three months to show up—but when you do, it can be pretty exciting." To get those results, most people need to treat the area in question at least twice and, Wechsler says, have the area massaged (not quite as pleasant as it sounds) immediately after treatment.
Wechsler says she gets the best results under the chin and on the abdomen, flanks, bra rolls, and upper arms. "But it's also great for thighs," she says.
Dr. Robert Anolik, a clinical assistant professor of dermatology at the NYU School of Medicine, also loves the technology and sees the best results for his patients on the stomach, love handles, inner thighs, and bra fat areas. "These all tend to work well, I believe, because we can trap a substantial quantity of fat into the applicator," he says.
At-Home Body-Sculpting
These are small miracles—nothing on the scale of what you'd get at a dermatologist's office, but pretty incredible nonetheless.
"Exercise and diet, of course, can make a difference—though they're not necessary for the technology to work," says Anolik. "And I find CoolSculpting is incidentally a great motivator for exercise in some of my patients."
Most people get the best results when they have two treatments, spaced about one to two months apart. "Once your treated fat cells are exposed to CoolSculpting, the treated fat cells solidify, freeze, and then die during the course of the treatment. It takes your body about three months to fully dispose of the treated fat cells, but once they are gone, they are gone gone for good," says Wechsler.
Much of what we perceive to be plastic surgery or dermatology gone wrong involves adding something to the face or body (overfilled lips or problematic butt augmentations, for example). But taking something away, whether it's fat in a stubborn spot or the contour of a feature that's always bugged us, tends to be a less-obvious tweak. "It's a safe and effective procedure," says Anolik. "The treatment has been done more than 8 million times worldwide." Still, Wechsler notes, get the procedure from someone you trust: "If not done by an experienced practitioner, CoolSculpting can be done improperly," she says. "We see—and fix—other practitioners' asymmetries in our office."
Side effects, both Anolik and Wechsler say, are temporary. "Side effects are redness at the treatment site for a couple of hours, a little swelling for a day or two, and potential numbness or tingling for up to two weeks," says Wechsler. And depending on whom you go to, you can have multiple areas treated at the same time.
Individual results and experiences may vary.
---
Information from CoolSculpting
Uses
The CoolSculpting® procedure is FDA-cleared for the treatment of visible fat bulges in the submental (under the chin) and submandibular (under the jawline) areas, thigh, abdomen, and flank, along with bra fat, back fat, underneath the buttocks (also known as banana roll), and upper arm. It is also FDA-cleared to affect the appearance of lax tissue with submental area treatments. The CoolSculpting® procedure is not a treatment for weight loss.
Important Safety Information
The CoolSculpting® procedure is not for everyone. You should not have the CoolSculpting® procedure if you suffer from cryoglobulinemia, cold agglutinin disease, or paroxysmal cold hemoglobinuria.
Tell your doctor if you have any medical conditions including recent surgery, preexisting hernia, and any known sensitivities or allergies.
During the procedure you may experience sensations of pulling, tugging, mild pinching, intense cold, tingling, stinging, aching, and cramping at the treatment site. These sensations subside as the area becomes numb. Following the procedure, typical side effects include temporary redness, swelling, blanching, bruising, firmness, tingling, stinging, tenderness, cramping, aching, itching, or skin sensitivity and sensation of fullness in the back of the throat after submental or submandibular area treatment.
Rare side effects may also occur. CoolSculpting® may cause a visible enlargement in the treated area which may develop two to five months after treatment and requires surgical intervention for correction. To learn more about CoolSculpting®, visit CoolSculpting.com or ask your doctor if it is right for you.
Please see full Important Safety Information for additional information.